(Family Features) School is back in session and so are hectic weeknights with little time to cook dinner. Instead of reaching for ready-made meals or takeout, make a kid-friendly, south-of-the-border casserole. All of the ingredients – from the whole grain elbow macaroni to the ground beef – are cooked in one skillet, meaning minimal cleanup and maximum quality time spent reconnecting around the dinner table.
"This simple three-step recipe is perfect for busy weeknights because it's quick, family-friendly and just as good re-heated for leftovers," said McCormick Executive Chef Kevan Vetter. "You don't need a second pot to cook the pasta; it's cooked in the skillet along with the ground beef, fresh tomatoes and corn. Season with organic taco seasoning and sprinkle with cheddar cheese and you're sure to have a meal the kids will beg to add to the dinner rotation."
For more one-dish meals for the back-to-school season, visit McCormick.com, and check out McCormick Spice on Facebook and Pinterest.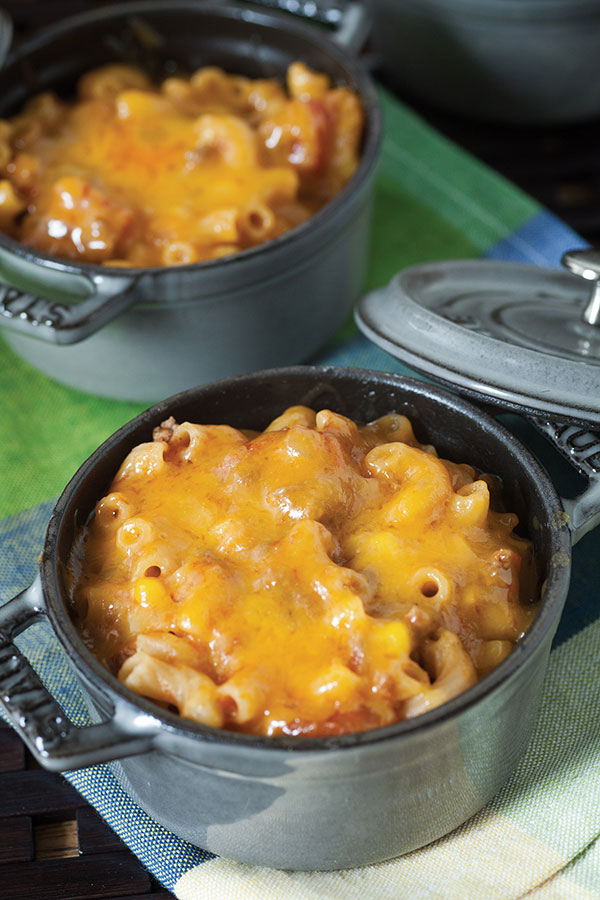 Tex-Mex Macaroni Casserole
Ingredients
Makes 8 (1-cup) servings
1 pound lean ground beef
1 medium onion, chopped
1 package McCormick Organics Taco Seasoning Mix
2 cups water
2 cups fresh chopped tomatoes
1 cup frozen whole kernel corn
2 cups uncooked whole grain elbow macaroni
1 cup shredded Cheddar cheese
Directions
Brown beef and onion in large skillet on medium-high heat. Drain fat.
Stir in seasoning mix, water, chopped tomatoes and corn. Bring to boil. Add pasta. Reduce heat to low; cover and simmer 12 minutes, stirring occasionally.
Sprinkle with cheese, cover. Let stand 5 minutes or until cheese is melted.
Source: McCormick
(Family Features) It's true that classics never go out of style, but they can also evolve to keep current while still maintaining their original appeal.
For example, take the iconic tomato soup and grilled cheese sandwich duo. Today's tomato soup might be seasoned with herbs and garlic, and the grilled cheese might swap goat cheese and mozzarella for the traditional American or cheddar. Meatloaf could be prepared with sriracha replacing Worcestershire sauce or other seasonings.
Another updated idea is for stuffed peppers. It's easy to give them a Tex-Mex spin simply by using a can of READ Southwestern Bean Salad as the base for the filling. The salad already has black and kidney beans, hominy and corn in it, as well as a slightly spicy dressing. Build on that flavorful combination by adding browned ground beef or turkey, cheese and tortilla chips. Poblano peppers could be substituted for bell peppers for an even more authentic south-of-the-border flair.
While this meal in a pepper bakes, make a salad of spinach or other greens topped with avocado slices and orange segments. Dinner is done and on the table in under an hour. For more easy, flavorful dinner ideas, visit READsalads.com.
Southwestern Bean Salad Stuffed Peppers
Prep time: 20 minutes
Cook time: 25 minutes
Servings: 6
1 can (15 ounces) READ Southwestern Bean Salad
1 teaspoon ground cumin
1 small jalapeno pepper, minced (optional)
1/2 pound ground lean beef (90 percent lean)
1/2 cup chopped onion
3 large bell peppers, any color or combination
nonstick cooking spray
1 cup crushed tortilla chips, plus 1/4 cup (optional), divided
1 cup shredded Mexican cheese blend, divided
Drain bean salad; discard liquid. With fork, mash half of beans until chunky. Combine with remaining beans. Stir in cumin and jalapeno, if desired; set aside.
In medium skillet over medium-high heat, cook ground beef and onion 8-10 minutes until ground beef is completely cooked, stirring frequently.
Cut bell peppers in half, lengthwise. Remove membranes and seeds. Line baking pan with aluminum foil. Spray with nonstick cooking spray (or brush lightly with vegetable oil).
Heat oven to 350° F.
Combine ground beef and onion mixture with bean mixture. Stir in 1 cup tortilla chips and 1/2 cup cheese. Divide evenly among peppers. Arrange peppers cut-side up in prepared pan; peppers should fit snugly. Top with remaining crushed tortilla chips, if desired. Bake, covered, 25 minutes, or until peppers are tender and filling is heated through. Sprinkle with remaining cheese and bake, uncovered, until cheese melts.
Variation: Ground chicken or turkey breast may be substituted for ground beef. Add 2 teaspoons vegetable oil to skillet and heat until hot before adding ground chicken or turkey and onion to skillet.
Nutritional information per serving: 252 calories; 15 g protein; 20 g carbohydrate;
13 g total fat; 370 mg sodium; 40 mg cholesterol; 5 g dietary fiber; 9 mg iron; 0.07 mg thiamin;
708 IU vitamin A; 34 mg vitamin C.
Source: READ