(Family Features) As summer comes to an end and the reality of back-to-school season sets in, it can be challenging to get organized and jump back into your day-to-day routine. But even as things get hectic, it's still possible to create delicious dishes that leave you plenty of time to savor meals together as a family using a few simple tips and tricks.
Whether the weeknight dinner rush puts you in a panic or you're simply looking to spice up the same old lunchbox staples, these three steps will make it easy to assemble quick, flavorful dishes ideal for the busy back-to-school season.
1. Plan a weekly menu and shop accordingly so you can avoid scrounging to piece together a meal from the odds and ends in the pantry on a night when you're already pressed for time. Meal planning eliminates all of the guesswork, so your family can enjoy healthy, home-cooked meals while also saving time, money and stress.
2. Rely on a versatile, easy meal-helper that lends itself to a variety of preparations, such as Smithfield Marinated Fresh Pork. Packed with protein and already seasoned with juicy, delicious flavor, it's the perfect base for any weeknight meal. For a hassle-free dinner, try Pork with Balsamic Glaze and Rosemary, which is ready in just 30 minutes from start to finish - less time than it takes the kids to finish their homework.
3. Opt for simple, flavorful dishes that don't require a ton of ingredients or multiple sides. A zesty take on a traditional favorite, this South of the Border Pizza is convenient, kid-friendly and a great way to banish lunchtime boredom. Use this recipe as a starting point then experiment with more toppings to create your own unique family recipe.
Find more family friendly and time-saving recipe ideas at Smithfield.com.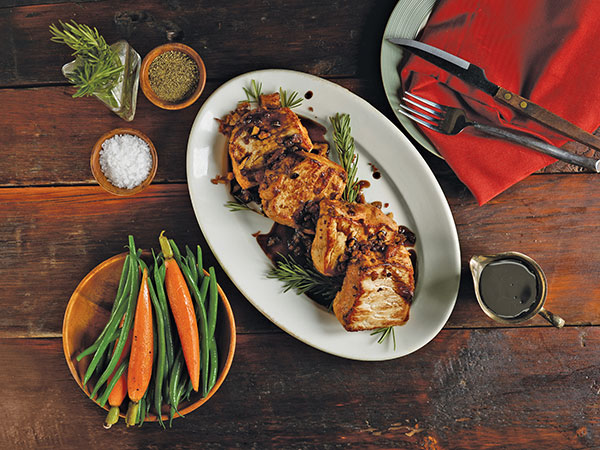 Pork with Balsamic Glaze and Rosemary
Prep time: 5 minutes
Cook time: 25 minutes
1 tablespoon olive oil
1 Smithfield Applewood Smoked Bacon Marinated Fresh Pork Loin Filet, cut into 3/4- to 1-inch thick chops
1/4 cup prepared balsamic vinegar glaze
1 teaspoon chopped fresh rosemary
In large, nonstick skillet, heat half the oil over medium heat.
Working in two batches, cook pork chops 4-5 minutes on each side until internal temperature reaches 150 F. Remove pork from skillet and place on rimmed serving platter; cover to keep warm. Repeat with remaining oil and pork chops.
Serve pork chops drizzled with balsamic glaze and sprinkled with rosemary.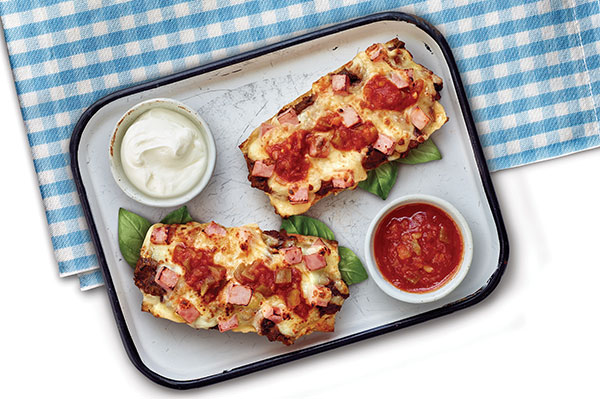 South of the Border Pizza
Prep time: 5 minutes
Cook time: 15 minutes
2 French bread sandwich rolls, halved
8 tablespoons refried black beans
8 tablespoons (2 ounces) Smithfield Anytime Favorites Hickory Smoked Diced Ham
8 slices pepper jack cheese
4 tablespoons picante sauce
4 tablespoons low-fat sour cream
Heat oven to 375 F.
Place four French bread halves on ungreased sheet pan. Spread 2 tablespoons beans evenly over each bread half.
Top each half with 2 tablespoons ham and two cheese slices.
Bake 8-10 minutes, or until cheese is melted and lightly browned.
Remove from oven; top each pizza with 1 tablespoon picante sauce and 1 tablespoon sour cream.
Source: Smithfield
Add tasty, crunchy grapes to seasonal dishes
(Family Features) The holiday season is typically marked by gatherings of friends and family. Whether you're hosting overnight guests, drop-in visitors or an important seasonal meal, taking a fresh approach to the menu can make the get-together more special.
As you prepare for the festivities, consider recipes that feature healthy ingredients such as versatile California grapes, which come in three vibrant colors – red, green and black – and can add a palate-pleasing crunch and plenty of taste to everything from main dishes to sides and even desserts. Heart-healthy grapes are also perfect on their own as a snack and their natural beauty can help enhance any table as an edible garnish or fresh centerpiece.
Using grapes as a featured ingredient in your holiday dishes can provide a fresh twist on seasonal dishes, such as this Grape Dutch Baby or these Roasted Brussels Sprouts with Grapes and Balsamic Glaze. For dessert, use the natural sweetness of grapes to create a smooth Grape Caramel Sauce that can be served as a topping for ice cream or other seasonal desserts.
Seasonal Entertaining with Grapes
While the beautiful, vibrant colors of grapes can add visual interest to recipes, they can also serve a variety of purposes when hosting:
Grapes can make for easy decorations when placed in bowls, on platters or draped from a cake plate.
Grapes can be "frosted" with sugar, spices and chopped nuts then served as a finger food or used as a garnish to decorate cakes, cookies, puddings, mousses and other seasonal desserts. Simply dip grape clusters in liquid gelatin then roll in your desired mixture.
Grapes make for a quick and easy hostess gift. Wrap multi-colored grape clusters in tissue paper then place them in a basket or tin tied with ribbon.
Find more holiday recipes at GrapesfromCalifornia.com.

Roasted Brussels Sprouts with Grapes and Balsamic Glaze
Prep time: 15 minutes
Cook time: 20 minutes
Servings: 4
1 pound Brussels sprouts, trimmed and halved lengthwise
2 tablespoons extra-virgin olive oil
pinch of salt
freshly ground black pepper, to taste
1 cup red California grapes
2 tablespoons ready-to-use balsamic glaze
Heat oven to 450° F.
On baking sheet, toss sprouts with olive oil, salt and pepper, to taste, until sprouts are well-coated. Roast until deep golden brown, about 17-20 minutes, turning sprouts halfway through roasting. Stir in grapes and roast 3-5 minutes. Transfer to bowl and drizzle with glaze or drizzle platter with glaze and pile sprouts on top.
Nutritional information per serving: 150 calories; 3 g protein; 20 g carbohydrates; 7 g fat (42% calories from fat); 1 g saturated fat (6% calories from saturated fat); 0 mg cholesterol; 30 mg sodium; 4 g fiber.

Grape Caramel Sauce
Prep time: 5 minutes
Cook time: 15 minutes
Servings: 6
1 pound green or red California grapes, divided
1 tablespoon lemon juice
3/4 cup sugar
1/4 cup water
1/3 cup heavy cream (optional)
large pinch of salt
ice cream
In blender or food processor, combine 12 ounces grapes with lemon juice and puree. Set aside. Coarsely chop remaining grapes.
In medium saucepan, combine sugar and water then bring to boil, stirring a few times. Simmer without stirring, brushing down sides of pot with brush dipped in water if crystals start forming. When mixture has turned deep, golden brown, remove from heat and whisk in pureed grapes until smooth sauce has formed. Turn on heat and simmer until mixture has reduced by one-third and forms smooth caramel sauce. Whisk in cream and salt; stir in chopped grapes and serve over ice cream.
Nutritional information per serving of sauce: 200 calories; 40 g carbohydrates; 5 g fat (22% calories from fat); 3 g saturated fat (14% calories from saturated fat); 15 mg cholesterol; 60 mg sodium; 1 g fiber.

Grape Dutch Baby
Prep time: 15 minutes
Cook time: 20 minutes
Servings: 4
3 large eggs
2/3 cup all-purpose flour
2/3 cup low-fat milk
1/2 teaspoon vanilla
1/2 teaspoon salt
5 tablespoons unsalted
butter, divided
2 cups red California
grapes, halved
2 tablespoons brown sugar
1/8 teaspoon cinnamon (optional)
confectioners' sugar
Heat oven to 450° F. Put large (10-inch) cast-iron or ovenproof skillet in oven.
With electric mixer on high speed, beat eggs until frothy then beat in flour, milk, vanilla and salt, and beat until smooth, about 1 minute (batter will be thin). Remove skillet from oven and add 2 tablespoons butter, swirling to cover pan. Pour in batter and return to oven. Bake until puffed and golden brown, 14-19 minutes.
While pancake is baking, in another skillet over high heat, melt remaining butter and add grapes, brown sugar and cinnamon, if desired. Cook until grapes are heated through and sugar has melted. Spoon grapes over pancake, sprinkle with confectioners' sugar and serve.
Nutritional information per serving: 280 calories; 6 g protein; 22 g carbohydrates; 18 g fat (58% calories from fat); 10 g saturated fat (32% calories from saturated fat); 180 mg cholesterol; 380 mg sodium; 1 g fiber.