(Family Features) When fall comes around, it brings many iconic flavors, festive traditions and family meals, along with cravings for warm, hearty dishes. For your next gathering of loved ones, whether it's a special occasion, sporting event or simply spending quality time together, serve a classic comfort food perfect for a small crowd.
While a roast leg of lamb may be considered time-intensive or best-suited for special occasions, it can be a surprisingly stress-free dish to prepare at home. A simple way to update familiar dishes, grass-fed lamb, available at your local Whole Foods Market, is easy to cook; prepare it the same way you would grass-fed beef.
This grass-fed leg of lamb recipe, for example, requires little fuss and the oven does the work for you. Infused with garlic and thyme, topped with a creamy meat sauce and garnished with a side of seasonal produce, you can delight your family and friends with this tender and delicious meal. Plus, New Zealand grass-fed lamb is a lean, finely textured and flavorful protein, well-suited for a variety of dishes.
For more information, cooking tips and recipes, visit beefandlambnz.com.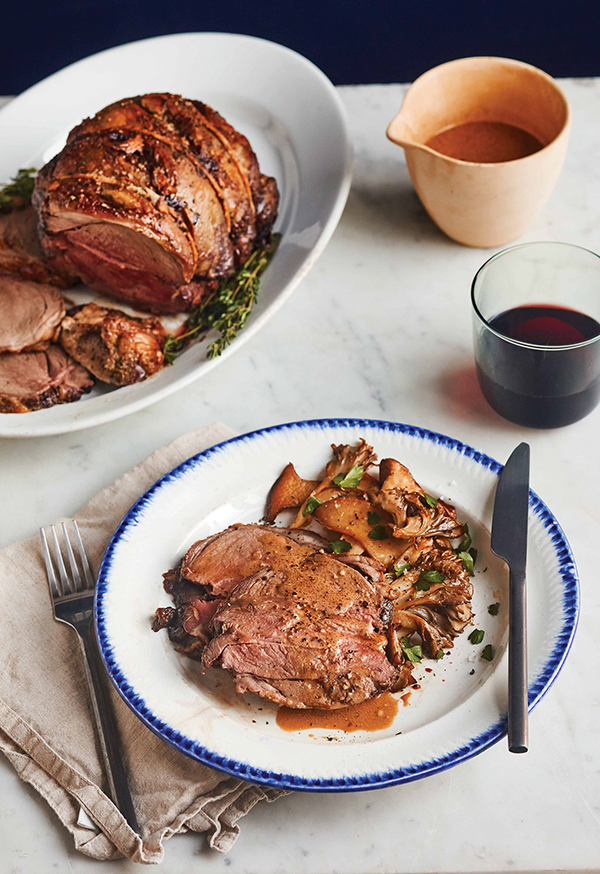 Grass-Fed Leg of Lamb
Prep time: 10 minutes
Cook time: 2 hours, 45 minutes
Servings: 8
Lamb:
4 1/2-5 1/2 pounds Atkins Ranch grass-fed leg of lamb, at room temperature
1 3/4 ounces butter, softened
3 cloves garlic, crushed
1 teaspoon roughly chopped thyme leaves
salt, to taste
ground black pepper, to taste
1-2 handfuls thyme sprigs
1 onion, sliced
1/2 cup olive oil
Meat Sauce:
1 cup beef stock
3/4 cup creme fraiche or sour cream
lemon zest, finely grated
1 tablespoon wine vinegar
1 bay leaf
salt, to taste
sauteed mushrooms (optional)
sauteed green beans (optional)
steamed carrots and snap peas (optional)
Heat oven to 320° F.
To prepare lamb: Using sharp knife, make 4-5 shallow slits in lamb. In bowl, mix butter, garlic and chopped thyme. Coat butter mixture in slits and sprinkle lamb with salt and pepper, to taste.
Place thyme sprigs and sliced onion in base of roasting tin and place lamb on top. Drizzle olive oil over lamb. Roast 2 hours, 45 minutes.
To make meat sauce: Remove lamb from oven 30 minutes before end of cooking time. Place lamb on board then tip juices into saucepan. Place lamb back in roasting tin and return to oven.
Skim fat off roasting juices. Add beef stock to remaining juices and bring to boil.
Reduce heat and add creme fraiche or sour cream, lemon zest, vinegar and bay leaf. Simmer until sauce reduces some. Season with salt, to taste, to counteract acidity.
Remove lamb from oven and rest covered loosely with foil and tea towel 10 minutes before carving.
Strain sauce into bowl or gravy boat and serve hot with lamb and sauteed mushrooms, green beans or steamed carrots and snap peas, if desired.
Source: Beef + Lamb New Zealand
(Family Features) Holiday meals are all about creating memories with loved ones at the family table. One way to make those special moments truly stand out is to fill your table with delicious recipes and the perfect wine pairings to help make the meal unforgettable.
Begin the dining experience with a perfect light bite like scallops to tease the taste buds. Try pairing this starter with a versatile option from an established producer like Louis Jadot Mâcon-Villages (SRP: $14.99) – which shows floral, apple and citrus aromas and flavors – to help bring out the distinct flavor profile. Choosing wines from an established producer is one way to help ensure you will select crowd-pleasing wines. For example, Jadot – one of the most trusted names in Burgundy – offers consistency and quality at an affordable price point.
"The scallops and truffles complement the wine's crisp, bright and refreshing fruit finish beautifully," said Allison Fasano, resident chef at Urbani Truffles. "The light citrus notes awaken the flavors of the scallops. The beurre blanc is buttery, and the earthiness of the truffles throughout makes for a perfect match with the wine."
A hearty main course like Beef Tenderloin with Truffles alongside Louis Jadot Beaujolais-Villages (SRP: $13.99) – a crisp, fruit-forward, juicy wine with expressive aromas and flavors of ripe red berries – can help fulfill guests' desires for a savory meal.
Find more affordable, versatile wines to pair with holiday recipes at Facebook.com/LoveJadot.
Beef Tenderloin with Truffles
(Filetto Di Manzo con Tartufo)
Recipe courtesy of Allison Fasano, Urbani Truffles resident chef
1 center-cut beef tenderloin, about 3 pounds
salt
freshly ground black pepper
4 tablespoons olive oil
1 teaspoon cornstarch (optional)
1/2 ounce Urbani Black Truffles
2 cloves garlic, minced
1 carrot, diced
1 stalk celery, diced
1 white onion, diced
2 sprigs rosemary
2 bay leaves
3 sage leaves
2 tablespoons Urbani Truffle Butter
2 cups dry wine, divided
2 shallots
1 cup beef stock
Heat oven to 350° F. Season beef on all sides with salt and pepper.
Heat skillet or pan to high with olive oil; add beef and sear all sides, about 3-4 minutes on each side, until brown and crust forms.
Remove beef from pan and let rest. Add cornstarch, truffles, garlic, carrot, celery, onion, rosemary, bay leaves and sage leaves to skillet and lower heat to medium-low. Allow to cook 10-15 minutes, or until vegetables are soft. Add beef back to skillet.
Deglaze skillet with 1 cup wine, scraping up brown bits from bottom of pan.
Place skillet in oven to allow beef to finish cooking at desired temperature.
While tenderloin is roasting, in saucepan over medium heat, melt truffle butter. Add shallots and saute until softened and lightly golden, 8-10 minutes. Add remaining wine and simmer until almost completely reduced. Add stock and simmer until it reduces and thickens slightly, about 10 minutes. Remove sauce from heat and season with salt and pepper.
Source: Kobrand Importers