Use on-hand ingredients for a quick-fix meal
(Family Features) Between juggling the ever-shifting to-do list and busy weeknights, there's not always time left in the day to comb through cookbooks to find the perfect recipe. Even with a potential meal plan in mind, life can get in the way, and running to the grocery store might not be a top priority.
For a quick meal without a lot of hassle, an option such as Eckrich Smoked Sausage can be paired with whatever you have in the refrigerator or pantry for a fast, foolproof meal the whole family can enjoy. Since it is pre-cooked, all you have to do is heat and eat, taking the guesswork out of cook time while offering a rich and savory protein option for a balanced and delicious meal.
With flavors and forms ranging from the Original Skinless Smoked Sausage Rope to spicy Jalapeno & Cheddar Smoked Sausage Links, a home-cooked breakfast, lunch or dinner is just moments away – no instructions or plans needed. You can be a rebel without a cookbook and deliver diverse and delightful meals for your loved ones, such as this Veggie Smoked Sausage Stir-Fry.
For more mealtime inspiration, visit Eckrich.com.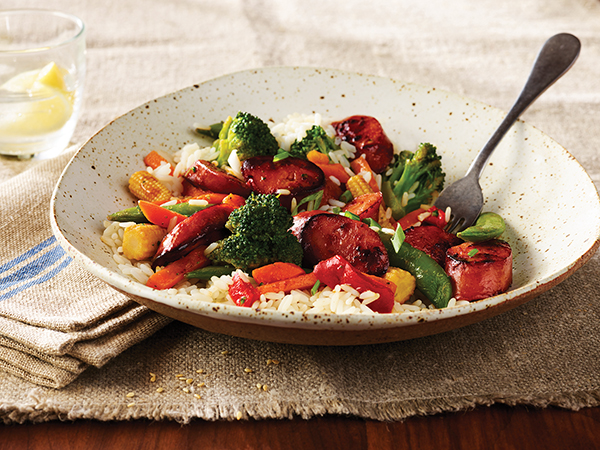 Veggie Smoked Sausage Stir-Fry
Cook time: 20 minutes
Servings: 4
1 package Eckrich smoked sausage, sliced into 1/2-inch pieces
4 servings premade white or brown rice
1 tablespoon peanut oil
1 bag (16 ounces) frozen stir-fry vegetable mix
1 package stir-fry dry seasoning mix
2 tablespoons honey
1 teaspoon vinegar
2 tablespoons sesame oil
toasted sesame seeds (optional)
sliced green onions (optional)
In pan over medium-high heat, brown sausage; set aside.
Heat white or brown rice according to package instructions.
In same pan over medium-high heat, heat peanut oil and stir-fry vegetable mix. Add stir-fry dry seasoning mix, honey, vinegar and sesame oil.
Divide rice, sausage and stir-fry mixture among four bowls.
Sprinkle each with toasted sesame seeds and sliced green onions, if desired.
Source: Eckrich
(Family Features) With a new school year beginning, it's important for parents to be prepared and help their children start forming good habits. For example, most children function better on a routine. They wake up every day at a certain time, they practice the same sports and eat nutritious, fresh foods that fuel their bodies.
One healthy option for kids is seafood. When kids eat at least two servings of seafood each week, as recommended by the American Academy of Pediatrics, they can receive big benefits. Fish and shellfish supply nutrients such as vitamins B and D, choline and essential omega-3 fatty acids, which are all needed for strong bones, brain development, healthy immune systems and cardiovascular systems.
In fact, research published in "Acta Paediatrica" shows an association between kids who eat fish at least once a week and better grades.
With a new routine in place, it can sometimes be hard for parents to keep up, but with fast-cooking seafood like thin fish fillets and shrimp, a healthy dinner can be ready in minutes. However, since some kids can be picky eaters, consider these tips from Joe Urban, director of food and nutrition services for Greenville County Schools, to add seafood to your family's table.
Start creating meals featuring seafood early in their lives, as children who are exposed to seafood at an early age may develop a fondness for the cuisine.
Introduce them to mild varieties such as cod, pollock and haddock, then have them try other species as they become accustomed to the taste.
Seafood can be substituted in nearly any dish that normally calls for chicken, beef, pork or other proteins. Serving seafood in familiar dishes like tacos, enchiladas, soups, salads, burgers and baked dishes can be a beneficial way for kids to eat more seafood.
Canned seafoods like tuna and salmon make for quick, budget-friendly options when time is short, plus they can be mixed in with a variety of recipes.
For more seafood recipes and meal inspiration, visit seafoodnutrition.org or follow #Seafood2xWk on social media.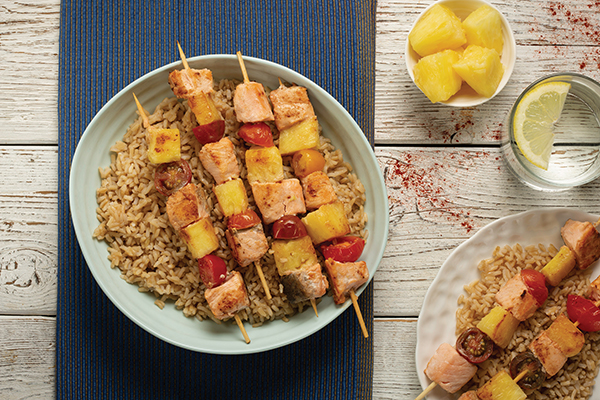 Hearty Salmon Skewers over Brown Rice
Prep time: 15 minutes
Cook time: 10 minutes
Servings: 4
1 pound salmon, cut into 1/2-inch cubes
kosher salt, to taste
freshly ground pepper, to taste
paprika, to taste
8 skewers
1/4 cup cherry tomatoes, halved
1 cup pineapple, cubed
1/2 cup canola oil
1 lemon
2 cups cooked brown rice
Coat salmon with kosher salt, freshly ground pepper and paprika, to taste. Slide piece of salmon onto skewer, followed by tomato and then pineapple. Repeat three times on each skewer, or until skewer is full.
In large skillet over medium-high heat, heat 1/2 cup canola oil 1 minute.
Place skewers in pan and turn every 2 minutes per side. Squeeze lemon on skewers while cooking.
To serve, place 1/2 cup rice on each plate and two skewers on top. Squeeze hint of lemon over each serving, if desired.
Source: Seafood Nutrition Partnership