Family Features) If you're looking for tasty ways to improve your diet, you're in luck. You can get big taste and big benefits from a little fruit - Wild Blueberries.
The Color Connection
A diet rich in fruits and vegetables can help maintain a healthy weight and reduce the risk of chronic diseases like diabetes, heart disease and some cancers. Eating across the color spectrum is important so you get a variety of nutritional benefits.
Wild Blueberries get their color from naturally occurring phytochemicals, which are primarily responsible for antioxidant activity. Wild Blueberries are antioxidant rich, making them a great choice for their nutritional benefits and disease fighting potential. In fact,
USDA studies rank Wild Blueberries highest in antioxidant capacity per serving, compared with more than 20 other fruits including cranberries, strawberries, apples and even cultivated blueberries.
Health magazine has named Wild Blueberries high on its list of "America's Healthiest Superfoods for Women," singling out their variety of potential health benefits, including preventing memory loss, improving motor skills, lowering blood pressure, and fighting wrinkles.
Wild Blueberries are available year-round in supermarkets nationwide. Frozen at the peak of ripeness, all the farm-fresh taste and nutritional benefits are locked-in. Most studies show that frozen fruits and vegetables are higher in vitamins, minerals and phytonutrients because they are frozen near the time of harvest.
Great taste, good nutrition and really convenient - no wonder so many people are wild about blueberries. Learn more about this superfruit and get more great recipes at www.wildblueberries.com.
Did You Know?
Wild Blueberries are a different berry from cultivated blueberries. They grow naturally in the fields and barrens of Maine and Canada. They are smaller in size, have a unique sweet-tart taste, and are only available frozen.
Freezer Facts
Here are some of the reasons frozen produce is a perfect option for people looking to fill the pantry with healthy foods all year round.
Frozen offers great value when compared to in-season pricing.
No aging or spoiling means no waste, saving you money.
Frozen produce is ideal for smoothies, entrees, desserts, breakfast, and most recipes that call for blueberries.
Frozen Wild Blueberries are thoroughly washed and have no caloric syrups or additives.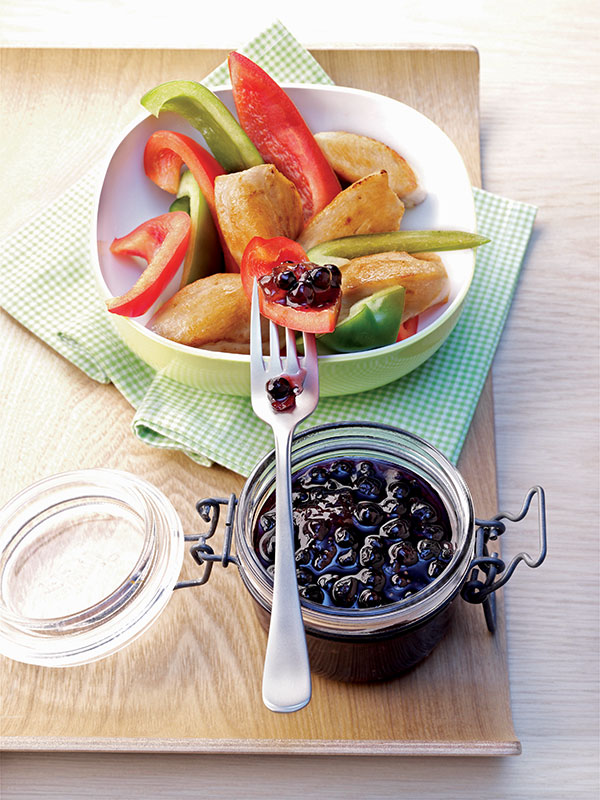 Chicken Breast with Sweet and Sour Wild Blueberry Sauce
Prep Time: Approximately 20 minutes
Serves 1
1 6-ounce skinless, boneless chicken breast
Salt and pepper to taste
1 teaspoon oil
1 small red pepper
1 small green pepper
2 tablespoons fig jam (or apricot jam)
4 teaspoons balsamic vinegar
1/4 teaspoon sugar
2 tablespoons sweet and sour chili sauce
2/3 cup frozen Wild Blueberries, thawed and drained
Season chicken breast with salt and pepper. Heat oil in small, non-stick frying pan. Fry chicken breast for 12 to 15 minutes. Remove from heat and let cool.
Wash, seed and cut peppers into bite-sized pieces. Cut cooked chicken breast into bite-sized pieces; combine with peppers. Mix jam with balsamic vinegar, sugar and chili sauce. Gently stir in Wild Blueberries.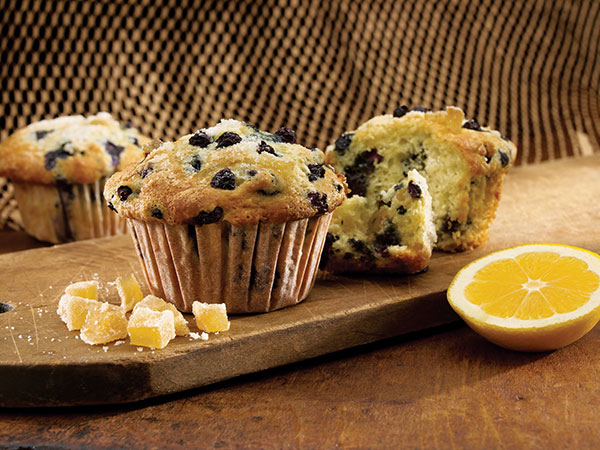 Wild Blueberry Gingered Lemon Muffins
Prep Time: 30 minutes
Yield: approximately 36 muffins
6 cups cake flour
2 tablespoons baking powder
2 teaspoons baking soda
1/2 teaspoon salt
2 cups low-fat buttermilk
1 1/2 cups (12 ounces) egg substitute
1 1/2 cups granulated sugar
1/2 cup canola oil
4 cups frozen Wild Blueberries
1/3 cup (3 ounces) crystallized ginger, chopped
1/3 cup granulated sugar, for topping
2 tablespoons lemon zest
In bowl combine flour, baking powder, baking soda and salt; reserve.
In another bowl beat together buttermilk, egg substitute, 1 1/2 cups sugar and oil; stir into flour mixture just to blend. Fold in Wild Blueberries, ginger and lemon zest.
Scoop 1/4 cup batter into each greased 1/3-cup muffin tin. Sprinkle each muffin with sugar. Bake in 400°F conventional oven or 375°F convection oven 18 to 22 minutes or until firm to the touch. Serve warm.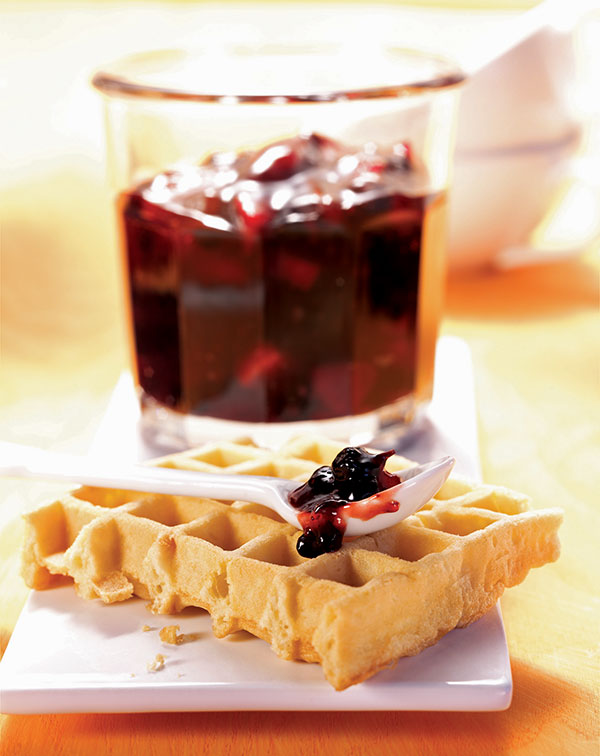 Wild Blueberry Lemon Jam
Prep Time: 25 to 30 minutes
Yield: about 8 half-pints
5 cups frozen Wild Blueberries
1 package dry pectin
5 cups sugar
1 tablespoon lemon zest
1/3 cup lemon juice
Crush thawed Wild Blueberries one layer at a time, or chop frozen in food processor.
Combine thawed, crushed Wild Blueberries and pectin in a large saucepot. Bring to a boil, stirring frequently. Add sugar, stirring until dissolved. Stir in grated lemon zest and lemon juice. Return to a rolling boil. Boil hard 1 minute, stirring constantly.
Remove from heat. Skim foam if necessary. Ladle hot jam into hot jars, leaving 1/4-inch headspace. Adjust two-piece caps. Process 15 minutes in a boiling water canner.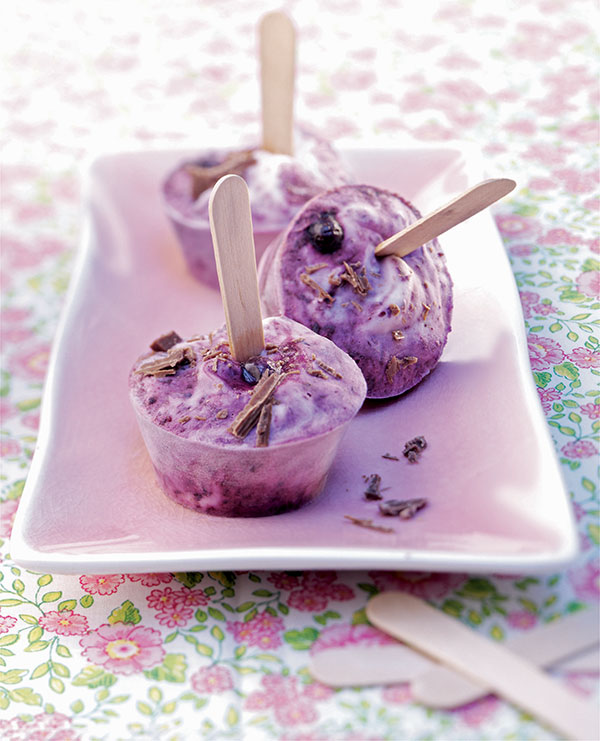 Wild Blueberry Ice Cream Pops
Prep Time: Approximately 15 minutes, plus thaw and freezing time
Yield: 6 Pops
1 cup frozen Wild Blueberries
1 ounce milk chocolate chips
2 cups fat-free vanilla frozen
yogurt, softened slightly
Materials: small wooden or plastic sticks
Thaw Wild Blueberries and purée. In a bowl, combine puréed Wild Blueberries, chocolate and frozen yogurt. Mix thoroughly.
Rinse 6 standard muffin cups with cold water and spoon in Wild Blueberry mixture, dividing it evenly between the cups (silicone muffin cups need not be rinsed first). Place a stick in the center of each "muffin" and freeze until firm, at least 2 hours.
Tip: Mixture can also be frozen with plastic sticks in small glasses or espresso cups.
Source:Wild Blueberry Association
New seasonings make it easy
(Family Features) Exotic flavors common in the Middle Eastern region of the world like harissa, za'atar and shawarma are having a moment, appearing on restaurant menus and in popular make-at-home recipes.

Now is the perfect time to give these flavors a try. Thanks to new global seasonings from McCormick Gourmet, the spice combinations are already blended for the ultimate taste and simplicity.
Made from high-quality herbs and spices, the seasonings are USDA-Organic certified and Non-GMO Project verified so you can feel good about the ingredients used in your cooking. The expertly blended spices help create distinctive global-inspired dishes that take your home dining experience to the next level so you can explore these flavors from around the world without leaving the comfort of home.
Za'atar: This traditional Middle Eastern blend of spices including thyme, oregano and sesame seeds is perfect for sprinkling on flatbreads, roasted vegetables, nuts
or popcorn. It can also be mixed into hummus or oil
for dipping.
Harissa: A spicy flavor found in North African cuisine, this seasoning is made from a combination of chilies, warm spices and mint. Add it to meat and veggies before roasting, stir it into cooked rice and grains, mix it into yogurt to make a dip or combine it with roasted bell peppers and oil to turn this spice into its namesake sauce.
Shawarma: Often associated with the slow roasting of meat, this Middle Eastern street food favorite is made with cinnamon, coriander, cardamom and more. Use this seasoning to flavor an easy marinade for chicken, pork or steak.
Look for these flavors as well as new Peruvian and Berbere seasonings in the spice section of retailers nationwide. Find more recipe ideas at McCormickGourmet.com.

Grilled Chicken Shawarma
Prep time: 10 minutes
Cook time: 16 minutes
Servings: 8
1 1/4 cup plain Greek yogurt, divided
5 teaspoons McCormick Gourmet Organic Shawarma Seasoning, divided
2 tablespoons olive oil
1 tablespoon fresh lemon juice
1 teaspoon McCormick Gourmet Sicilian Sea Salt
2 pounds boneless, skinless chicken breast
4 pita pockets, halved
1 medium seedless cucumber, thinly sliced
8 lettuce leaves
In small bowl, mix 1 cup yogurt and 1 teaspoon shawarma seasoning. Cover and refrigerate until ready to serve.
In small bowl, mix oil, lemon juice, remaining yogurt, remaining shawarma seasoning and sea salt. Reserve 2 tablespoons of mixture; set aside.
Place chicken in large re-sealable plastic bag or glass dish. Add marinade; turn to coat well. Refrigerate 1 hour, or longer for extra flavor.
Heat grill or skillet to medium heat.
Remove chicken from marinade. Discard remaining marinade. Grill or saute 6-8 minutes per side, or until cooked through and internal temperature reaches 165 F, brushing with reserved marinade.
Slice chicken into thin strips. Serve in pitas with cucumber, lettuce and yogurt dressing.
Shaved Carrot Salad with Pomegranate Harissa Dressing
Prep time: 20 minutes
Servings: 5
1/4 cup chopped fresh mint
3 tablespoons pomegranate juice
1 tablespoon honey
2 teaspoons McCormick Gourmet Organic Harissa Seasoning
1/2 teaspoon McCormick Gourmet Sicilian Sea Salt
1/4 teaspoon McCormick Gourmet Organic Black Pepper, coarse ground
3 tablespoons extra-virgin olive oil
1/2 pound multicolor carrots, washed and peeled
1/2 cup shelled roasted pistachios
1/2 cup dried cranberries
3 cups baby arugula
1/4 cup crumbled feta cheese
In large bowl, mix mint, pomegranate juice, honey, harissa seasoning, sea salt and pepper. Gradually add oil while mixing with wire whisk until well mixed. Set aside.
Trim carrot ends. Slice each carrot lengthwise into ribbons with vegetable peeler or mandoline. In medium bowl, toss carrots with 1/4 cup prepared dressing. Stir in pistachios and cranberries.
Arrange arugula on serving platter. Drizzle with remaining dressing and top with carrot mixture. Sprinkle with feta before serving.
Za'atar Labneh
Prep time: 5 minutes
Servings: 8 (2 tablespoons each)
1 cup labneh (yogurt cheese)
2 teaspoons McCormick Gourmet Organic Za'atar Seasoning, divided
1 tablespoon olive oil
pita bread, for serving (optional)
pita chips, for serving (optional)
sliced fresh vegetables, for serving (optional)
In small bowl, mix labneh and 1 teaspoon seasoning until well blended.
Drizzle with olive oil and sprinkle with remaining seasoning.
Serve with fresh pita bread, pita chips or sliced fresh vegetables, as desired.
Source: McCormick