(Family Features) No matter what kind of events you have on your social calendar, you can pop up delicious treats that are sure to be a hit.
Whether hosting a get-together for the guys and tuning into the game or having a night in with the girls, freshly popped popcorn, which is naturally low in fat and calories, non-GMO and gluten free, can help you please every palate.
Sweet, spicy, salty or served in more non-traditional ways, the possibilities are endless, and perfect for everything from date night to a family movie night or even a sleepover or kids' party. And since it's healthy and whole grain, popcorn is a satisfying snack suitable for every occasion that you can feel good about serving.
Find more versatile, nutritious recipes for your next event at popcorn.org.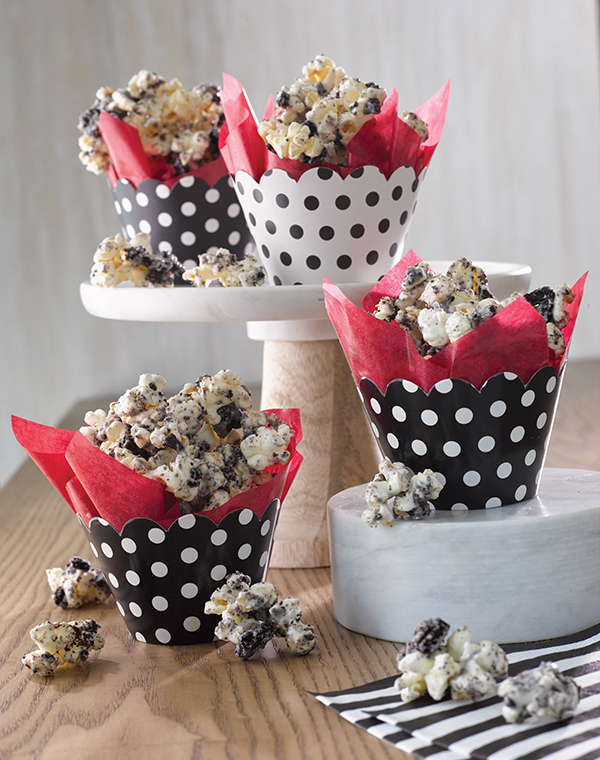 Cookies 'N Cream Popcorn
12 cups popped popcorn
1 package (11 ounces) white chocolate chips
2 teaspoons coconut oil
15 Oreo cookies, coarsely chopped
Place popcorn in large bowl; set aside.
In medium saucepan on low heat, melt chocolate chips and coconut oil; stir until blended.
Pour melted chocolate over popcorn, stirring until well-coated. Stir in chopped Oreos.
Spread mixture on baking sheet and chill until chocolate has set. Break into pieces to serve.
Serves
12 cups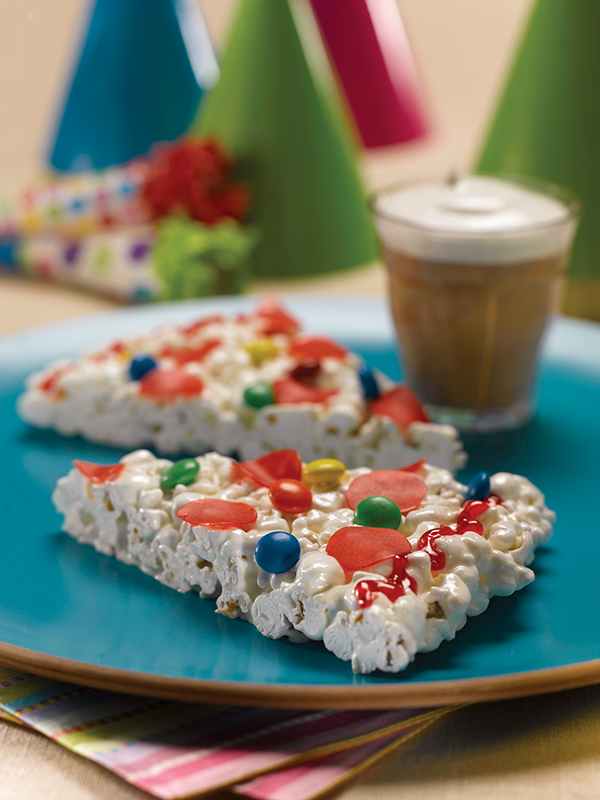 Popcorn Party Pizza
3 tablespoons butter
1 bag (10.5 ounces) mini marshmallows
2 quarts popped popcorn
1 tube (.68 ounces) red piping gel
1 package red raspberry fruit roll-ups
green jelly beans
coconut
candy-coated chocolate pieces
Spray 12-inch pizza pan with cooking spray; set aside.
In large saucepan over medium heat, heat butter.
Stir in marshmallows until melted.
Stir in popcorn until well coated.
Spread mixture evenly onto prepared pizza pan.
Drizzle red piping gel over "pizza" to make "sauce."
Cut small circles (about 1 1/4 inches in diameter) from fruit roll-up and place on pizza for "pepperoni" slices.
Decorate as desired with jelly beans, coconut and candies. Allow to cool completely before cutting into wedges to serve.
Serves
8 slices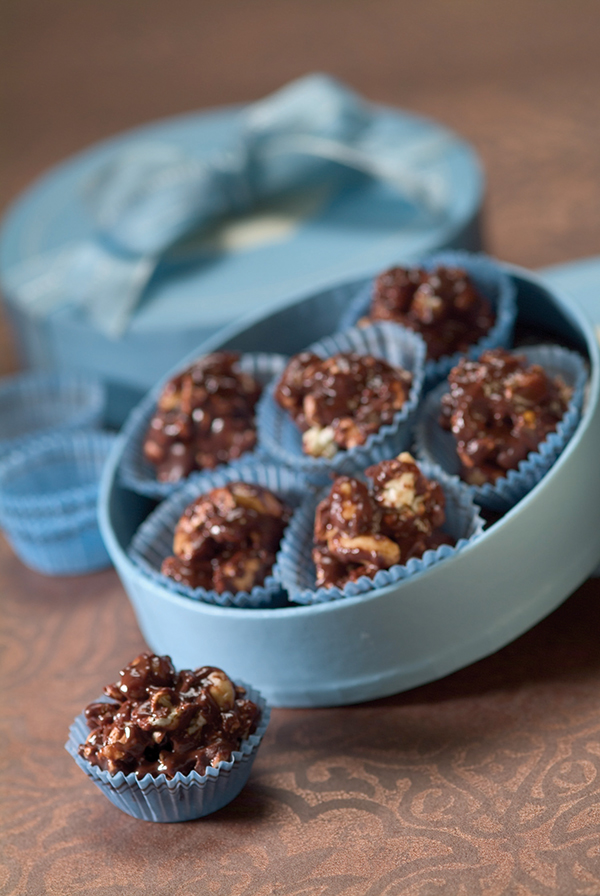 Popcorn and Peanut Truffles
6 cups popped popcorn
1 cup roasted and salted peanuts
1 package (12 ounces) semisweet chocolate chips
1/2 cup honey
In large bowl, stir popcorn and peanuts together; set aside.
In microwave-safe bowl, heat chocolate chips 10 seconds. Stir chips and repeat, stirring after each 10 seconds, until chips are melted. Warm honey in microwave 10 seconds and stir into chocolate until well blended.
Pour chocolate mixture over popcorn mixture and stir until popcorn is evenly coated. With small ice cream scoop, push popcorn mixture into scoop and release onto wax paper to form truffles. Refrigerate until firm.
Serves
30 pieces
Notes, Tips & Suggestions
Truffles can be stored in an airtight container up to 5 days.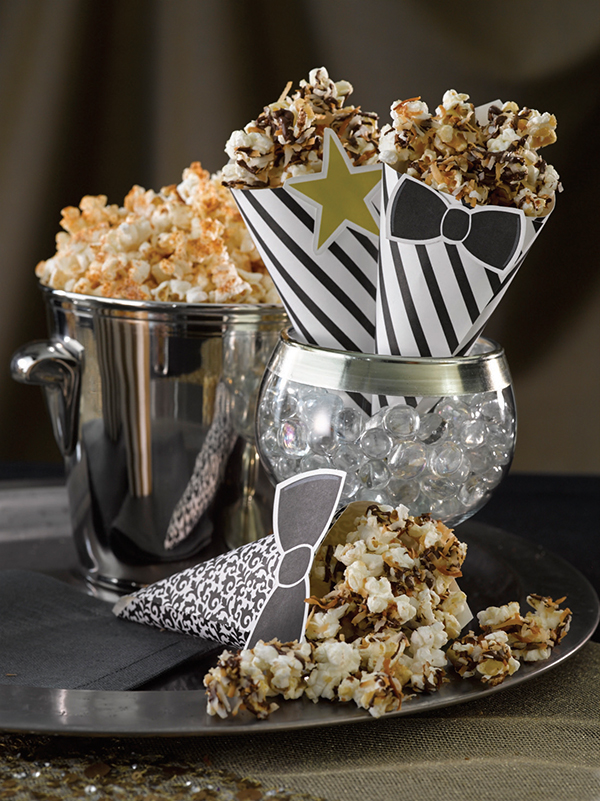 Toasted Coconut and Chocolate Popcorn
10 cups popped popcorn
2 tablespoons butter or margarine
2 tablespoons light brown sugar
1/2 teaspoon coconut extract (optional)
1 cup chocolate chips
1 teaspoon vegetable oil
1 bag (7 ounces) shredded coconut, toasted
Place popcorn in large bowl; set aside.
In small saucepan, combine butter, brown sugar and coconut extract; stir until melted and combined.
Pour over popcorn, coating well. Spread popcorn onto large cookie sheet.
In glass measuring cup, melt chocolate chips and vegetable oil in microwave on low heat until smooth. Drizzle over popcorn. Immediately sprinkle coconut over popcorn mixture; cool.
Break into pieces and serve.
Serves
10 cups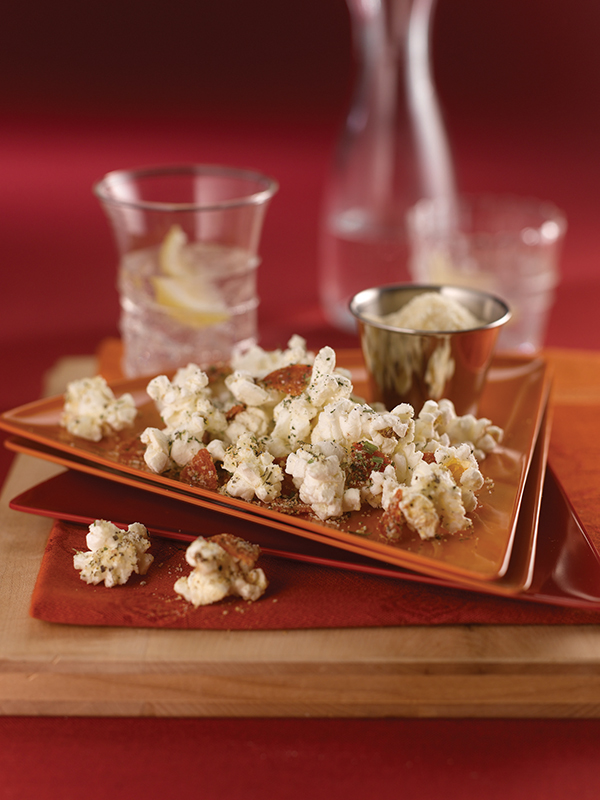 Cheesy Pepperoni Popcorn
1/4 cup nonfat Parmesan cheese
2 teaspoons garlic powder
1/4 teaspoon dried oregano
1/4 teaspoon dried marjoram leaves
1/4 teaspoon dried basil leaves
1/8 teaspoon dried sage
black pepper, to taste
12 cups popped popcorn
3/4 cup turkey pepperoni, cut into bite-size bits
olive oil cooking spray
In small bowl, combine Parmesan cheese, garlic powder, oregano, marjoram, basil, sage and pepper; mix well.
Place cooked popcorn and turkey pepperoni in large bowl; spray lightly with cooking spray.
Sprinkle popcorn and pepperoni with cheese mixture and toss to coat evenly.
Serves
6-8 cups
Source: Popcorn Board
(Family Features) For many people, the New Year brings the resolve to just say no to indulgent food and drink, to inactivity and to a host of other unhealthy habits.
However, you can also approach your reset with balance and positive thinking. This can be your year to say "yes" and rework the all-or-nothing mentality, which can be a more mindful way to reach your goals.
From eating with purpose to finding healthier options for tasty meals, making small changes can help you reap rewards throughout the year. Start 2018 with a clean slate of practical and attainable eating goals that are realistic for the life you want to lead by shopping at a grocery store like ALDI, a one-stop shop with a wide selection of high-quality, affordable food choices. Whether you follow a paleo, plant-based or organic eating plan, all of the following nutritious options can be incorporated into your lifestyle and budget for less than $20:
SimplyNature Organic Coconut Oil: This trendy ingredient can elevate better-for-you recipes like this Cranberry Orange Chia Granola. You can also use it as a replacement for butter or vegetable oil because it's a versatile choice for both sweet and savory dishes.
SimplyNature Chia Seeds: Use chia seeds to top your smoothie, overnight oats or make chia pudding in the morning for an easy way to power up the most important meal of the day. Chia seeds serve up protein, fiber and antioxidants.
Earth Grown Black Bean or Veggie Burgers: If you follow a vegetarian or vegan diet, or just want to join the Meatless Monday movement, black bean burgers are one option to try.
Earth Grown Vegan Shredded Cheese: This dairy-free cheese is a tasty addition to vegan recipes.
SimplyNature Organic Popcorn: Movie nights call for popcorn, and this organic version can quickly become a family favorite. Each serving provides 3 grams of both fiber and protein.
Part of making healthy choices includes finding quick and easy recipes. Discover how easy it is to make fresh meals at home with this better-for-you recipe and find more options at aldi.us.
Cranberry Orange Chia Granola
Recipe courtesy of Chef Linsey, ALDI Test Kitchen
2 1/2 cups Millville Old Fashioned Oats
6 ounces Southern Grove Shelled Pistachios, chopped
1/4 cup SimplyNature Chia Seeds
5 ounces Southern Grove Dried Cranberries
1 tablespoon orange zest
3/4 cup SimplyNature Organic Wildflower Honey
3 tablespoons SimplyNature Organic Coconut Oil
1 teaspoon Stonemill Essentials Pure Vanilla
1/2 teaspoon Stonemill Essentials Ground Cinnamon
1/2 teaspoon ground Stonemill Essentials Sea Salt Grinder
Heat oven to 325 F.
In large bowl, combine oats, pistachios, chia seeds, cranberries and orange zest. Toss until orange zest is evenly distributed.
In separate medium bowl, combine honey, coconut oil, vanilla, cinnamon and salt. Heat in microwave 1 minute; stir. Continue cooking in 30-second intervals until coconut oil is melted.
Add honey mixture to oat mixture. Toss until thoroughly coated. Transfer to parchment- or foil-lined baking sheet. Spread into even layer and bake in center of oven 20 minutes. Stir and continue cooking until evenly browned, about 10-15 minutes.
Remove from oven and cool to room temperature. Serve with yogurt or enjoy on its own.
Note: Granola can be stored in airtight container up to 3 weeks.
Source: ALDI