(Family Features) Summer means it's time to heat up the grill. If you're looking to add some sizzle to your summer grilling menu, shake things up all summer long with the convenience and versatility of fresh pork. From tender ribs to juicy pork loins, chops, roasts and more, the possibilities are endless.

With mouthwatering flavor and no artificial ingredients, Farmer John California Natural Fresh Pork offers a wide variety of convenient, versatile fresh pork cuts that can take your cookout to the next level. Try out these recipes for Triple Threat Burgers or Chipotle Glazed Spare Ribs, which are sure to be crowd-pleasers at your next barbecue.
Find more grilling tips and recipe inspiration at farmerjohn.com.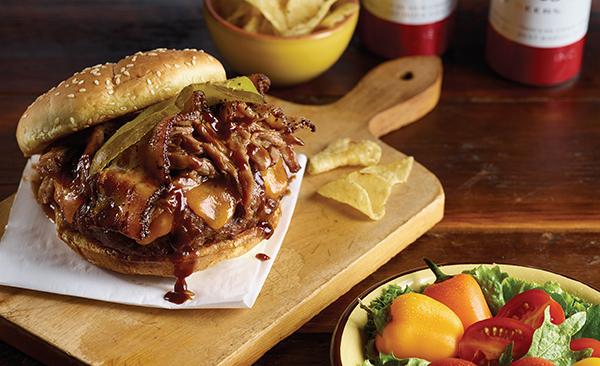 Triple Threat Burger
Prep time: 30 minutes
Cook time: 8 1/2 hours
Servings: 6
Pulled Pork:
1 Farmer John Boneless Fresh Pork Shoulder Roast
1/4 cup barbecue seasoning blend
3/4 cup pale lager beer
1 1/2 teaspoons liquid hickory smoke
Triple Threat Sauce:
1 jar (12 ounces) seedless raspberry jam
1 cup barbecue sauce
3/4 cup pale lager beer
1 teaspoon dry mustard
1/4 teaspoon chipotle powder
Burgers:
1 pound Farmer John Ground Pork
1 pound 80 percent lean ground beef
1/4 cup pale lager beer
2 tablespoons barbecue seasoning blend
6 slices cheddar cheese
6 sandwich buns, toasted
6 slices Farmer John Bacon, cooked crisp
6 dill pickle planks
To make pulled pork: Rub pork roast with seasoning and place in 4-5-quart slow cooker. Pour beer and liquid smoke around sides. Cover and cook 8-10 hours on low or 4-5 hours on high.
Remove roast from slow cooker with tongs and place in large container. Using tongs or two forks, shred pork and set aside 2 cups. Cover and refrigerate.
To make sauce: In medium saucepan, combine raspberry jam, barbecue sauce, beer, mustard and chipotle powder; bring to boil over medium-high heat; boil 5 minutes, stirring constantly. Reduce heat and simmer 15 minutes. Stir 1/2 cup sauce into reserved pulled pork.
To make burgers: Heat charcoal or gas grill to medium. Combine ground pork, ground beef, beer and seasoning; form into six (1-inch thick) burger patties. Grill 5 minutes per side until internal temperature reaches 160° F. Top each burger with slice of cheese; let melt.
Place burgers on bottom buns; spoon about 1/3 cup pulled pork with barbecue sauce onto each burger. Top each with one slice bacon and one pickle plank then close with top bun.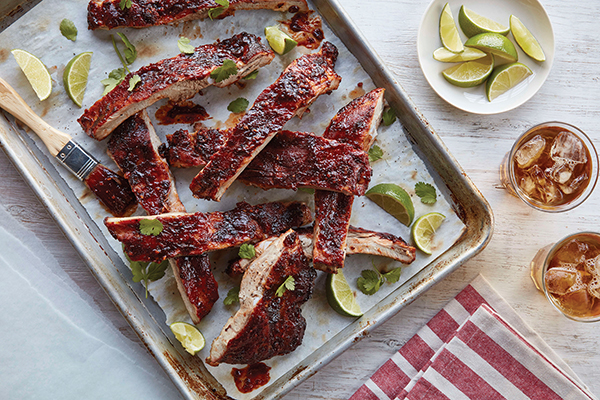 Chipotle Glazed Spare Ribs
Prep time: 25 minutes
Cook time: 1 hour, 40 minutes
Servings: 6
2 racks Farmer John Pork Spareribs, membranes removed
4 tablespoons salt
4 tablespoons pepper
6 cloves chopped garlic
1 cup honey
brown sugar
1/2 can (7 ounces) chipotle chilies in adobo sauce
1/2 cup barbecue sauce
2 limes, zest and juice only, plus additional lime juice
1/2 cup cilantro, chopped
Heat oven to 325° F. Season ribs with salt and pepper. Place on rimmed baking sheet and cover tightly with foil. Bake 1 1/2 hours until ribs reach internal temperature of 195° F. Let cool.
While ribs bake, blend garlic, honey, brown sugar, chipotle chilies, barbecue sauce and lime zest and juice. Blend until smooth. Set aside.
Heat charcoal or gas grill to medium-high. Place ribs on grill and baste with sauce mixture, turning frequently until well-coated with sauce and charred, about 10 minutes. Transfer to cutting board and let rest. Serve with remaining sauce mixture, additional lime juice and chopped cilantro.
Source: Farmer John
(Family Features) If you're like many families, this time of year is filled with celebrations including everything from graduations to weddings, and they all have one thing in common: food, food and more food.
Whether you're organizing a party of your own or taking a dish for a potluck, these ideas are perfect for creating a standout dish that fellow revelers will truly enjoy:
Make a DIY delight. Guests of all ages enjoy creating custom treats, and it's easy to set up a DIY station for all kinds of snacks. Grab a handful of coordinating containers for all the ingredients and supply serving-size bags then let your imagination soar with a candy medley, trail mix or even a popcorn bar.
Go ahead, take a shortcut. This busy season, you get a pass on making everything from scratch, and options like Armour Original Meatballs are terrific for entertaining because the work is already done for you. With a few simple additions, you'll have a delish dish to share in no time. Barbecue Glazed Meatballs make for a simple and easy recipe. If you're looking for something fun and creative, try these Barbecue Meatball Bites.
Get clever and sweet. Every party needs dessert and if you're honoring "one smart cookie" of a grad, why not sweeten things up with a table filled with cookies of every flavor. The sentiment will earn almost as much appreciation as all those guests who get their taste buds tickled.
These recipes and more can be found at ArmourMeats.com.
Barbecue Glazed Meatballs
Prep time: 20 minutes
Total time: 20 minutes
Servings: 16
1-1 1/2 cups grape jelly
1 cup barbecue sauce
1 bag (14 ounces) Armour Original Meatballs
In large saucepan, combine jelly and barbecue sauce. Cook and stir over medium heat until jelly melts.
Add meatballs and heat over medium-low heat for 15 minutes, or until meatballs are hot and glazed, stirring occasionally.
Serve in slow cooker set on low, if desired.
Barbecue Meatball Bites
Prep time: 10 minutes
Total time: 25 minutes
Servings: 12
Nonstick cooking spray
1 can (8 ounces) refrigerated crescent dough
1/3 cup barbecue sauce, divided
1 1/2 cups shredded sharp cheddar cheese, divided
12 Armour Original Meatballs
chopped dill pickles
crispy fried onions
Heat oven to 425° F. Coat 12 muffin tin cups with nonstick cooking spray. Roll out dough and cut into 12 squares; press into bottom and up sides of each muffin cup.
Spoon 1 teaspoon barbecue sauce into bottom of each cup and top each with about 1 tablespoon cheese. Place meatballs on top of cheese. Spoon another 1/2 teaspoon barbecue sauce over meatballs and sprinkle with more cheese.
Top with desired amount of dill pickles and fried onions.
Bake 13-17 minutes until dough is browned and meatballs are hot. Let stand 10 minutes before removing from muffin tins to serve.
Source: Armour