Refreshing, dairy-infused dishes for warm days
(Family Features) Keep your kitchen cool and comfortable with grilled meals that banish the heat to the outdoors. Crisp, fresh greens and a perfect blend of spices and savory ingredients make each of these refreshing dishes perfect solutions for toasty days.

Featuring ingredients across the food groups, these dairy-fueled recipes from Milk Means More are ideal for well-rounded meals filled with nutritious flavor. Zesty mustard, spicy Sriracha and rich buttermilk lend a marinated flavor upgrade to traditional grilled chicken, while homemade pesto, fresh corn and ham create a perfect harmony for a cheesy grilled pizza. Or make a salad the star of your dinner table with a simply seasoned sirloin steak, plenty of veggies and a tart twist on a creamy dressing made with yogurt and milk.
Find more refreshing meal solutions at milkmeansmore.org.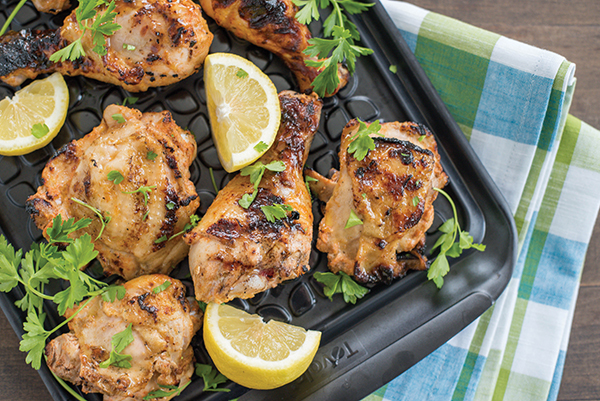 Grilled Buttermilk Chicken
Recipe courtesy of Lori Yates of Foxes Love Lemons on behalf of Milk Means More
Prep time: 10 minutes
Cook time: 16 minutes
Servings: 4
1 1/2 cups buttermilk
1 tablespoon mustard powder
1 tablespoon Sriracha
2 teaspoons minced garlic
2 teaspoons paprika
4 chicken drumsticks, bone in, skin on
4 chicken thighs, bone in, skin on
vegetable oil, for grill
1/4 cup chopped fresh parsley
1 lemon, cut into wedges (optional)
In medium bowl, whisk buttermilk, mustard powder, Sriracha, garlic and paprika.
Place chicken in large zip-top bag; pour buttermilk mixture over chicken. Seal bag and refrigerate 2 hours or overnight.
Heat outdoor grill for direct grilling over medium heat. Remove chicken from marinade, shaking off excess; discard marinade. Lightly oil grill grates. Transfer chicken to grill and cook, turning occasionally, 16-18 minutes, or until internal temperature reaches 165° F.
Transfer chicken to serving platter. Sprinkle with parsley and serve with lemon wedges, if desired.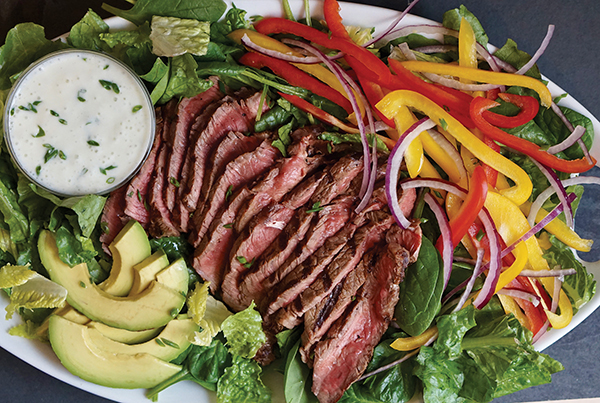 Grilled Steak Salad with Chive Yogurt Dressing
Recipe courtesy of Kirsten Kubert of Comfortably Domestic on behalf of Milk Means More
Prep time: 15 minutes
Cook time: 10 minutes
Servings: 6
Dressing:
1 cup plain yogurt
3 tablespoons freshly squeezed lime juice (3 small limes)
2 tablespoons milk
2 tablespoons chopped fresh chives
1 clove garlic, peeled and minced
1/4 teaspoon kosher salt
1/8 teaspoon black pepper
Steak:
1 teaspoon kosher salt
1/4 teaspoon black pepper
1/4 teaspoon granulated garlic
20 ounces boneless petite sirloin steak
Salad:
3 cups baby spinach
3 cups chopped romaine lettuce hearts
1/2 cup sweet red pepper rings
1/2 cup sweet yellow pepper rings
1 cup avocado chunks
1/4 cup thinly shaved red onion
To make dressing: In blender, combine yogurt, lime juice, milk, chives, garlic, salt and pepper. Blend on low until smooth consistency forms and chives are completely incorporated. Transfer dressing to jar with tight-fitting lid and refrigerate until serving.
Heat grill to medium.
To prepare steak: Combine kosher salt, black pepper and granulated garlic to create rub. Sprinkle half of seasoning mix over one side of steak, pressing it into meat. Repeat with remaining seasoning on opposite side of steak.
Grill steak over direct medium heat to desired level of doneness, approximately 4-5 minutes per side for medium pink center. Remove steak from grill and let rest 7-10 minutes on cutting board.
To make salad: Toss spinach and romaine on large platter. Scatter red and yellow peppers, avocado and onion over greens. Slice grilled sirloin thinly against grain. Arrange meat slices along center of salad.
Drizzle dressing over salad just prior to serving.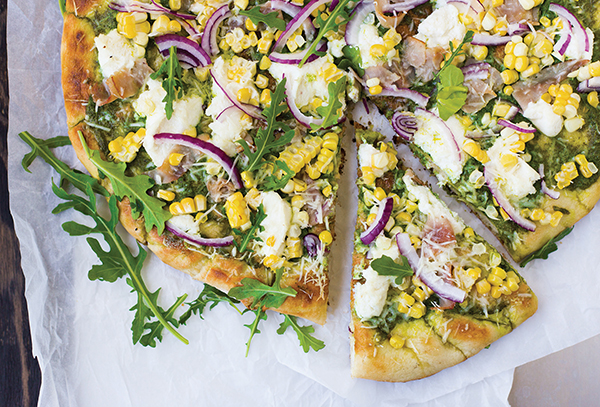 Grilled Pizza with Arugula Pesto, Corn and Ham
Recipe courtesy of Rachel Gurk of Rachel Cooks on behalf of Milk Means More
Prep time: 20 minutes
Cook time: 10 minutes
Servings: 6
Arugula Pesto:
2 cups fresh arugula, tightly packed
1 clove garlic
1 tablespoon lemon juice
pinch red pepper flakes, (optional)
1/3 cup shredded Parmesan cheese
1/2 cup extra-virgin olive oil
salt, to taste
pepper, to taste
Grilled Pizza:
2 tablespoons flour, divided
1 pound pizza crust dough (at room temperature if using refrigerated dough)
vegetable oil, for grill
1/2 cup Arugula Pesto
1/2 cup part-skim ricotta cheese
1/2 cup diced deli ham
1/2-3/4 cup fresh corn kernels (about 1 cob)
1/4 cup thinly sliced red onion
1/4 cup shredded Parmesan cheese
Heat grill to medium heat (350-400° F).
To make Arugula Pesto: In food processor, combine arugula, garlic, lemon juice, red pepper flakes and Parmesan. Pulse until combined then, with food processor on, drizzle in olive oil until pesto forms, scraping down sides as needed. Taste and season with salt and pepper, to taste.
To make Grilled Pizza: Flour pizza dough lightly and stretch or roll to about 1/2-inch thickness (14-16-inch diameter).
Sprinkle remaining flour on large rimless baking sheet, pizza peel or pizza stone. Transfer dough to baking surface.
Clean grill grate and grease with oil-soaked paper towel and tongs. Slide dough off baking surface onto grill. Cover and cook until dough is bubbling on top and golden brown on bottom, 2-3 minutes.
Carefully flip dough over using peel or tongs. Remove crust from grill to add toppings. Spread Arugula Pesto over dough. Top with ricotta, ham, corn kernels, onion and Parmesan. Return pizza to grill, cover and cook until toppings are heated through and bottom of crust is crispy, 5-7 minutes.
Remove from grill, slice and serve.
(Family Features) Good things come in pairs, and flavor is no exception. Professional chefs know the secret to combining sweet, hot, tangy, salty, bitter and sour for crave-worthy dishes, and now everyday cooks are discovering this concept as well. The right combinations can turn basic main dish meals into tasty adventures. With a greater variety of ingredients and influences at our fingertips — in restaurants, grocery stores and on TV cooking shows — experimenting with flavor pairings has never been easier or more exciting.
The palate-pleasing combination of salty and sweet goes upscale with crystallized ginger and salted pistachio. While it is an ideal pairing for desserts, the dynamic duo is equally delicious in main dish recipes, such as Ginger-Pistachio Crusted Chicken With Tangerine Sauce.
Watch out when wasabi and maple — the ultimate in sweet heat — team up. Accented by ginger and garlic, Maple Wasabi Glazed Salmon features an exciting twist on teriyaki. This combination is also great for enhancing the flavor of stir-fries, ribs and chicken.
Though their appearance is tiny, when mustard and fennel seeds join forces, the result is a mighty punch of flavor and texture. For a light, delicious main dish salad, try Fennel and Mustard Seed Crusted Shrimp With Apricot Dressing. Toasting the seeds adds depth to their flavor.
For additional recipes, visit www.mccormick.com.
Toasting spices is fast and easy:
Place dry skillet over medium heat.
Once pan is hot, pour in desired amount of seeds.
Using a spatula, stir seeds in pan until they become fragrant, approximately 1 to 2 minutes.
Fennel and Mustard Crusted Shrimp With Apricot Dressing
Prep Time:15 minutes
Cook Time: 5 minutes
Makes: 4 servings
1 tablespoon McCormick Gourmet Collection Mustard Seed
1 teaspoon McCormick Gourmet Collection Fennel Seed
1 teaspoon hot water
1/8 teaspoon McCormick Gourmet Collection Ground Turmeric
1 pound extra large shrimp (16 to 20 count), peeled and deveined
1/4 cup apricot preserves
2 tablespoons fresh lime juice
1 tablespoon light soy sauce
1/4 teaspoon coarse sea salt
2 tablespoons oil
4 cups field greens
Heat a small skillet on medium heat. Add mustard and fennel seeds; cook and stir about 2 minutes or until fragrant. Immediately pour out of hot pan to avoid over-toasting. Finely crush seeds using a small food processor, a clean coffee grinder, a rolling pin or a mortar and pestle. Pour into small bowl. Stir in hot water and turmeric. Let stand 5 minutes. Coat shrimp evenly with seed mixture.
Mix apricot preserves, lime juice, soy sauce and sea salt in small bowl with wire whisk until well blended. Set aside.
Heat oil in large skillet on medium heat. Add shrimp; cook 3 to 5 minutes or just until shrimp turn pink, turning once. Divide greens among 4 serving plates. Top with shrimp. Serve with apricot dressing.
Maple Wasabi Glazed Salmon
Prep Time: 10 minutes
Cook Time: 20 minutes
Makes: 8 servings
2 teaspoons McCormick Gourmet Collection Wasabi Powder
1 teaspoon water
1/3 cup maple syrup
1/3 cup thinly sliced green onions
2 tablespoons soy sauce
1 teaspoon McCormick Gourmet Collection Garlic Powder
1 teaspoon McCormick Gourmet Collection Ground Ginger
2 pounds salmon fillets
Mix wasabi with water in small bowl until well blended. Add remaining ingredients, except salmon; stir until well mixed. Place salmon in 13- by 9-inch baking dish. Spoon wasabi mixture evenly over salmon.
Bake in preheated 375°F oven 15 to 20 minutes or until fish flakes easily with a fork, basting occasionally with wasabi mixture.
Ginger-Pistachio Crusted Chicken With Tangerine Sauce
Prep Time: 10 minutes
Cook Time: 20 minutes
Makes: 4 servings
3/4 cup shelled salted pistachio nuts
1/4 cup McCormick Gourmet Collection Crystallized Ginger
1/3 cup tangerine or orange juice
2 tablespoons honey
1 tablespoon soy sauce
4 boneless skinless chicken breast halves
1 egg white, lightly beaten
Place pistachios and crystallized ginger in food processor; process until mixture is chopped. Stir tangerine juice, honey and soy sauce in small bowl with wire whisk until smooth. Set aside.
Place chicken in foil-lined shallow baking pan; brush chicken with egg white. Coat evenly with ginger-pistachio mixture.
Bake in preheated 350°F oven 15 to 20 minutes or until chicken is cooked through. Slice chicken and serve with tangerine sauce.
Source: McCormick