(Family Features) Rally the family together to make and eat these bite-sized versions of corn dogs for an enjoyable, kid-friendly activity and snack. Parents will enjoy them, too, because they're easy to make, easy to eat and clean up is a snap.
Find more family-friendly recipes at culinary.net.
Watch video to see how to make this delicious recipe!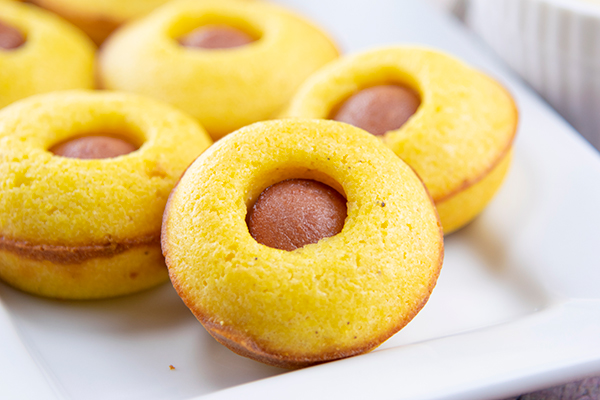 Mini Corn Dog Bites
Nonstick cooking spray
1 package all-beef bun-length hot dogs
1 cup flour
1 cup yellow cornmeal
2 tablespoons sugar
1 teaspoon salt
1/2 teaspoon baking powder
1 stick butter, melted
1 cup milk
1/4 cup sour cream
2 eggs
Dipping Sauce:
2/3 cup sour cream
3 tablespoons Dijon Mustard
2 tablespoons honey
Heat oven 375°F.
Prepare muffin pan with nonstick cooking spray.
Cut each hot dog into six pieces.
In large bowl, whisk flour, cornmeal, sugar, salt and baking powder.
In medium bowl, whisk melted butter, milk, sour cream and eggs. Combine butter mixture with flour mixture.
Fill each muffin cavity halfway with batter. Place one hot dog piece in center of each cavity.
Bake 14-16 minutes. Cool completely.
To make dipping sauce: In small bowl, stir sour cream, mustard and honey. Serve with corn dogs.
Recipe adapted from Wilton.
Source: Culinary.net
(Family Features) Celebrating the holidays with family meals and activities is what the season is all about, and when those moments and at-home projects are kid-friendly, you can get the whole gang involved.
A simple weeknight at home during the holiday season can turn into family fun time starting with a recipe like these Reindeer Hot Dogs, a dish that requires little prep time and allows for help from little ones. Made with Gwaltney Hot Dogs, a tasty, kid-friendly dinner solution requires just a handful of easy-to-find ingredients.
Once everyone is finished eating and all have pitched in to help with cleanup, turn your attention to a family activity that transforms everyday supplies into this Wooden Snowman Ornament for seasonal decor to hang on a tree or elsewhere in the house.
Find more kid-friendly recipes to involve the whole family at gwaltneyfoods.com.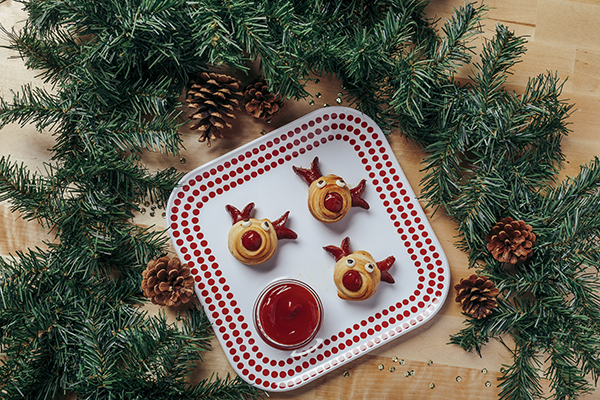 Reindeer Hot Dogs
Prep time: 20 minutes
Servings: 10
1 can refrigerated crescent rolls
1 package Gwaltney Hot Dogs
1 slice white cheese
black olives
ketchup
Heat oven according to crescent roll package directions.
Cut hot dogs into three equal sections.
Lay out crescent rolls and wrap around middle sections of hot dog pieces.
Cut triangles out of end sections to look like antlers.
Cut two slits at top of dough; press end hot dog pieces into slits.
Bake according to crescent roll package directions. Cut out small circles from sliced cheese for reindeer eyes. Cover cheese pieces with small slices of black olives for pupils. Add ketchup to hot dogs for red noses.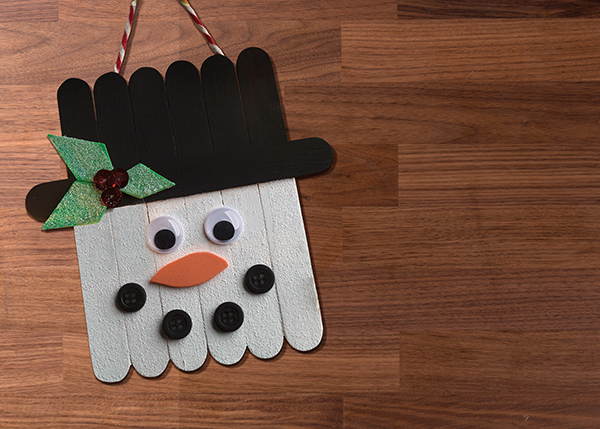 Wooden Snowman Ornament
Craft courtesy of Gwaltney
7ice pop sticks
Hot glue gun
Foam paintbrush
Black paint
Glitter
White paint
Googly eyes
Colored craft foam
Sequins
Buttons
String
Line up six ice pop sticks next to each other vertically.
Place line of hot glue horizontally across sticks, about one-third of the way down, and adhere seventh stick to create brim of snowman's hat.
Using black paint, brush top third (brim to top of hat) and let dry.
Mix glitter into white paint and brush lower two-thirds of sticks, creating snowman's face.
Use googly eyes, colored craft foam, sequins and buttons to create details of face and hat, such as mouth, nose and hat decor.
Glue piece of string to backside to hang ornament.
Source: Gwaltney