(Family Features) What better way to serve a hungry gang than with two crowd-pleasers: meatballs and BBQ? Anyone hosting a big game gathering needs to have recipes on-hand that are hearty and tasty, while still being easy to prepare.
The easiest and fastest way to find what you need to feed the fans is by utilizing local club stores like Sam's, where shoppers can huddle and find great game-day foods and entertaining items at affordable prices. These crowd-pleasing recipes start off with Byron's Hand Pulled Pork BBQ and Casa Di Bertacchi Meatballs, both sold at Sam's Clubs nationwide.
The Mini Meatball Hamburgers are made from fully-cooked meatballs crafted from an outstanding, authentic family recipe. The seasoned and lightly steamed meatballs can be warmed up quickly and paired with a tasty sauce for some super-star sliders.
BBQ Nachos take game-day appetizers to a whole new level. Made with hickory-smoked pulled pork that's finished with a sweet and spicy sauce, this BBQ is ready to be warmed up and loaded up with fan-favorite nacho toppings for an appetizer that will have your guests calling for a replay.
For more information about Byron's Hand Pulled Pork BBQ, Casa Di Bertacchi Meatballs, or for additional recipes, visit www.ClubEntertaining.com.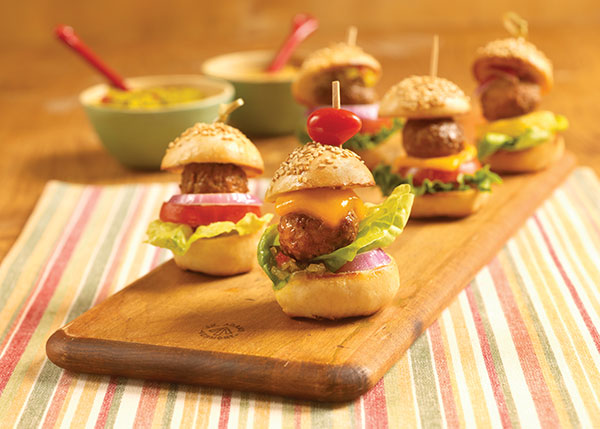 Mini Meatball Hamburgers
Makes 26 appetizers
26 frozen Casa Di Bertacchi fully cooked meatballs (1 pound)
1 cup ketchup
3 tablespoons Dijon honey mustard
26 2-inch rolls, sliced in half horizontally
1 1/2 cups sweet pickle relish
Preheat oven to 400°F.
Place meatballs in 8 x 8 or 9 x 9-inch pan. Bake for 25 to 30 minutes, or until thoroughly heated.
In a small bowl, combine ketchup and mustard. Place a heaping teaspoon of ketchup mixture on the bottom of roll. Place a meatball on top. Follow with a rounded teaspoon of pickle relish. Place top half of roll over top. Repeat for remaining meatballs and rolls. Serve immediately on a large platter.
Cheeseburger Variation: Place a small slice of cheddar cheese over each meatball.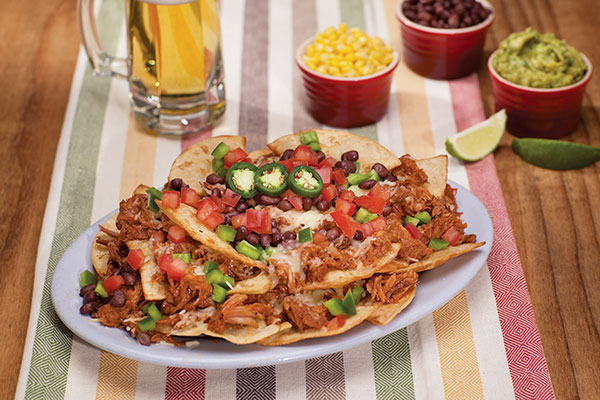 BBQ Nachos
Serves 4
Byron's BBQ
1 cup shredded Monterrey Jack cheese
1/2 cup red onion, diced
1 green bell pepper, diced
1 tomato, diced
1 15-ounce can black beans, rinsed and drained
Tortilla chips
Whole kernel corn
Sliced jalapeño
Fresh guacamole
Sour cream
On a large oven safe serving plate, arrange a layer of tortilla chips; top with BBQ. Sprinkle with cheese, onions, bell peppers, diced tomato and black beans. Heat in microwave (or in oven) until cheese is melted. Garnish with whole kernel corn, sliced jalapeño, fresh guacamole, and sour cream.
Source: Byron's BBQ / Casa Di Bertacchi Meatballs
(Family Features) - There's nothing better than a sizzling steak hot off the grill. If you're the grill master, you may be looking to brush up on the right techniques to make sure you have a great beef meal every time.
The Featured Cut
"Boneless top sirloin steak is perfect for the grill. It's versatile, tender and flavorful," says Chef Dave Zino, executive director of the Culinary Center for the National Cattlemen's Beef Association. "Top sirloin partners well with rubs, marinades and sauces that add complimentary accents - and it's perfect for cutting into pieces for kabobs, a great way to stretch your grilling budget. Although it seems so decadently delicious, top sirloin is one of the 29 cuts of beef that meet the government guidelines for lean, providing 156 calories and 4.6 grams of fat - as well as 10 essential nutrients - per 3-ounce cooked serving."
Three Easy Steps
Step 1:
Prepare gas or charcoal grill according to manufacturer's directions for medium heat.
Step 2:
Remove beef from refrigerator and season with a spice blend or marinade as desired. Place on preheated cooking grid.
Step 3:
Cook boneless top sirloin steak (1 inch thick) 17 to 21 minutes uncovered (charcoal grill) or 13 to 16 minutes covered (gas grill), turning occasionally. To determine doneness, insert an instant-read thermometer horizontally from the side, penetrating the thickest part or center of the steak. Allow 10 to 15 seconds for the thermometer to register the internal temperature. Steaks should be cooked to 145°F (medium rare) or 160°F (medium). After cooking, season with salt, as desired.
BeefItsWhatsForDinner.com is the one-stop resource for tips and recipes that will help you make the most of your time at the grill.
Hoisin Beef Kabobs with Pineapple Salsa
Ingredients
1-1/4 pounds boneless beef top sirloin steak, cut 1 inch thick
1/3 cup ketchup
2 tablespoons hoisin sauce
1/2 teaspoon black pepper
Pineapple Salsa
1 cup diced fresh pineapple
1/2 cup diced red bell pepper
1/2 cup diced cucumber
2 teaspoons rice vinegar
Preparation
Combine Pineapple Salsa ingredients in small bowl; set aside. Combine ketchup and hoisin sauce in another small bowl; set aside.
Cut beef steak into 1 inch pieces. Thread beef pieces evenly onto four 10 to 12 inch metal skewers. Season kabobs evenly with pepper.
Place kabobs on grid over medium, ash-covered coals. Brush beef generously with some of reserved sauce mixture. Grill kabobs, covered, 6 to 8 minutes (over medium heat on preheated gas grill, covered, 7 to 9 minutes) for medium rare (145°F) to medium (160°F) doneness, turning occasionally and brushing with remaining sauce mixture. Season beef with salt, as desired. Serve kabobs topped with Pineapple Salsa.
Total Time
25 to 30 minutes
Serves
4 servings
SOURCE: The Beef Checkoff