(Family Features) If the very notion of holiday hosting has you feeling a bit overwhelmed, get organized with these simple ideas that can help you serve up a successful holiday celebration.
Entertainment: Ensure guests enjoy a good time by offering entertainment that is suitable for their personality types. If your guests are more drawn to energetic activities, choose light-hearted, competitive games like charades. For guests who are more laid back, organize classic board games. There are many popular games available in special holiday editions for extra-festive fun. You can also simply play holiday movies and music in the background for crowds that would rather just mingle.
Beverages: Stock up on refreshments all ages can enjoy. Keep a kid-friendly favorite like lemonade on hand, and tea is a traditionally well-received option for the grownups. Put a special holiday touch on your drink menu with a recipe like this Holiday Hot Tea featuring Milo's Famous Sweet Tea, which has been fresh brewed from custom-blended tea leaves with no added acids or preservatives for generations.
Favors: Send guests home with a sweet memory of the event, such as an ornament that connects to the party's theme or a bag of seasonal treats like homemade cookies or candy to nibble on during the trip back home.
Simple Snacks: Building your menu around simple snacks and finger foods guests can nibble on while they mingle is perfectly acceptable for almost any type of holiday gathering. Include options that can satisfy all the taste buds. You can even combine sweet and sour with a seasonal crowd-pleaser like this Lemonade Cranberry Orange Bread, which draws its flavor from a secret ingredient: Milo's All Natural Lemonade.
Find more holiday hosting ideas and recipes at drinkmilos.com .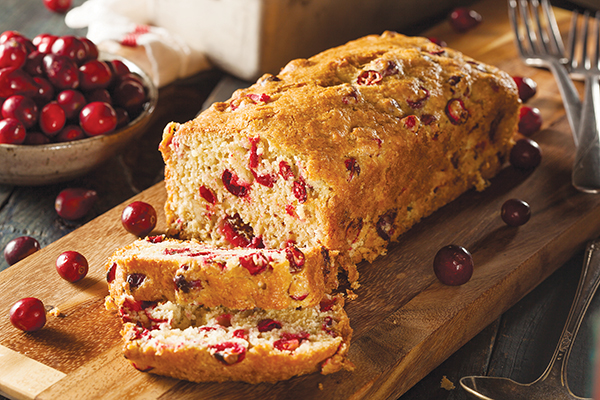 Lemonade Cranberry Orange Bread
Prep time: 15 minutes
Cook time: 1 hour
Servings: 8
1 can cranberry sauce
3/4 cup Milo's All Natural Lemonade
1 orange, zest only
2 tablespoons vegetable oil
1 egg
2 cups flour
1 cup sugar
1 1/2 teaspoons baking powder
1 teaspoon salt
1/2 teaspoon baking soda
Heat oven to 350° F.
In large bowl, mash cranberry sauce into small pieces. Add lemonade, orange zest, vegetable oil and egg; mix until blended.
In separate bowl, combine flour, sugar, baking powder, salt and baking soda. Combine wet and dry ingredients; mix until batter is formed.
Pour batter into greased loaf pan. Bake 1 hour. Let cool 20 minutes before slicing and serving.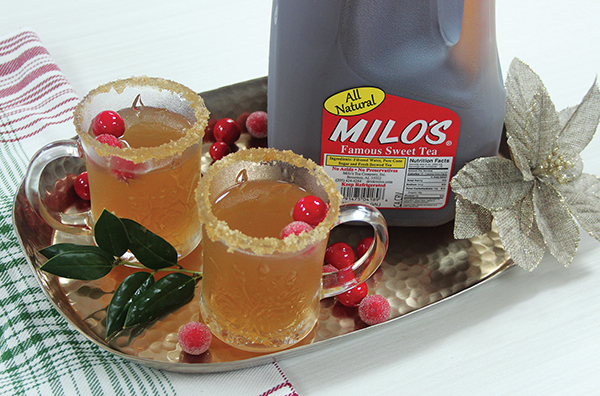 Holiday Hot Tea
Prep time: 5 minutes
Cook time: 2 hours, 30 minutes
Servings: 12
12 cups Milo's Famous Sweet Tea
2 cans (12 ounces each) frozen limeade juice concentrate
1 orange, thinly sliced, plus additional for garnish (optional)
12 whole cloves
4 cinnamon sticks
1 teaspoon vanilla
1 cup fresh cranberries
1 cup ginger ale
raw sugar, for garnish (optional)
In large slow-cooker, combine sweet tea, limeade concentrate, orange slices, cloves, cinnamon sticks, vanilla, cranberries and ginger ale; stir.
Heat on high 30 minutes then reduce heat to low for 2 hours, or heat on low 2 hours then reduce setting to warm overnight.
Invert moistened glass rims in sugar then fit orange slice over rim, if desired.
Note: For easier serving, place cloves in tea ball or double layer of coffee filters sealed with kitchen twine.
Photo courtesy of Getty Images (Lemonade Cranberry Orange Bread)
Source: Milo's Tea Company
Swing into summer with a basketful of delicious picnic fare ready to share in minutes
(Family Features) Good friends, great food, and the best season for outdoor entertaining add up to one thing — a glorious picnic season. If you're just warming up to the idea of planning a picnic at the park or a backyard potluck, it's the prime time to prepare and make your plans.
First set the date with your best mates. Then grab the gingham tablecloth and break out the picnic basket. What to serve? Start simple with a menu that's casual, delicious, and easy to make and take, especially if you're off to the perfect picnic destination.
Choose light, flavorful pasta salads that combine summertime flavors, such as creamy ranch and Dijon mustard, or chicken with marinated artichoke hearts. Be prepared to pass the deviled eggs more than once. Bring along fresh fruit for a refreshing dessert. And, try a cool lemonade that combines two favorite summertime flavors — watermelon and kiwi. All that's left is to savor every moment and every bite!
Picnic Season's Top Tips
Consider these hints for summer gatherings:
An "eggs-cellent" way to tote deviled eggs: sandwich two halves with filling sides together, wrap well with plastic wrap, and place in a chilled, insulated box.
When the ants begin their march, reach for a natural deterrent — vinegar. Fill a spray bottle with white vinegar to have at the ready.
Cooking for a crowd? Streamline your menu by choosing convenience products, such as boxed salad mixes that only require a few on-hand ingredients. Reach for prewashed, precut veggies. And, sprinkle a bit of flavor onto grilled potatoes and salads by adding a tasty topper, such as Bac~Os (an easy option that is less messy than frying bacon).
Got sunscreen? Make sure it's in your pack.
For more great summertime recipes and tips, visit www.bettycrocker.com.
Creamy Ranch Pasta Salad
Makes: 6 servings
1 box Betty Crocker Suddenly Salad ranch and bacon pasta salad mix
1/2 cup mayonnaise or salad dressing
1 tablespoon Dijon mustard
4 medium green onions, chopped
1 medium stalk celery, thinly sliced
3 hard-cooked eggs, coarsely chopped
1 hard-cooked egg, sliced
Paprika
Empty pasta into 3-quart (or larger) saucepan 2/3 full of boiling water. Gently boil uncovered 15 minutes, stirring occasionally. Drain pasta; rinse with cold water. Shake to drain well.
In large bowl, stir together seasoning mix, mayonnaise, mustard, onions and celery. Add pasta and chopped eggs and stir until evenly coated. Garnish with egg slices and paprika.
Store in refrigerator.
Chicken and Artichoke Pasta Salad
Makes: 6 servings
1 box Betty Crocker Suddenly Salad classic pasta salad mix
3 tablespoons cold water
2 tablespoons vegetable oil
1 cup cubed, cooked chicken
1 6-ounce jar marinated artichoke hearts, drained
1/4 cup sliced ripe olives
2 tablespoons grated Parmesan cheese
Empty pasta into 3-quart (or larger) saucepan 2/3 full of boiling water. Gently boil uncovered 12 minutes, stirring occasionally. Drain pasta; rinse with cold water. Shake to drain well.
In large bowl, stir together seasoning mix, cold water, and oil. Stir in pasta, chicken, artichokes, olives, and cheese. Store in refrigerator.
Watermelon Lemonade With Kiwifruit Splash
Makes: 6 1-cup servings
2 kiwifruit, peeled and cut into fourths
1 1/2 teaspoons sugar
4 cups cubed, seedless watermelon
1 12-ounce can frozen lemonade concentrate
2 cups water
Place kiwifruit and sugar in blender; cover and blend on medium just until smooth. Pour into another container; freeze 1 to 2 hours or until firm.
Place watermelon in blender; cover and blend on medium until smooth. Place frozen lemonade concentrate and water in large pitcher. Add watermelon mixture; mix well.
Pour watermelon lemonade into glasses. Spoon a dollop of frozen kiwifruit mixture on top. Serve immediately.
Poppy Seed Salad
Makes: 6 servings
1/4 cup honey
1/4 cup frozen limeade concentrate, thawed
2 teaspoons poppy seeds
1 cup strawberries, halved
1 cup cubed pineapple
1 cup fresh blueberries
1 cup cubed watermelon
In large bowl, mix honey, limeade concentrate, and poppy seeds.
Carefully toss in fruits.
Devilishly Good Eggs
Makes: 6 servings
6 hard-cooked eggs
1/4 cup mayonnaise or salad dressing
2 tablespoons Betty Crocker Bac~Os bacon-flavored bits or chips
2 teaspoons lemon juice
1 1/2 teaspoons Worcestershire sauce
1 teaspoon Dijon or yellow mustard
1/4 teaspoon salt
1/8 teaspoon pepper
Cut eggs lengthwise in half. In small bowl, slip out yolks and mash with fork.
Stir in remaining ingredients except egg white halves.
Fill egg white halves with egg yolk mixture, heaping it lightly.
Source: Suddenly Salad