(Family Features) Macaroni and cheese, the classic American comfort food staple beloved by kids and adults alike, just got easier to prepare. No, not packaged or frozen-from your own stovetop (no baking) in under 30 minutes.
Stovetop Mac & Cheese begins with Dreamfields pasta, a premium pasta made from durum wheat semolina - just like traditional pasta, but with a healthful twist. A one cup serving of Dreamfields not only tastes great, but also has only five grams of digestible carbohydrates and five grams of fiber - which is twice the amount in traditional pasta. The fiber comes from inulin, a 100 percent natural prebiotic fiber (which may help promote healthy digestion) found in common foods like asparagus, raisins and chicory root.
To prepare this one pot, four ingredient, stovetop mac and cheese, simply cook the pasta according to package directions, drain, then add the prepared light Alfredo sauce, shredded reduced-fat cheddar cheese and nonfat milk. Stir for a couple of minutes and you'll be rewarded with a creamy, delicious dish.
Many people don't realize how versatile this iconic favorite is. Try different cheeses -Colby, Swiss, goat, Gouda, blue, or a combination. Don't stop there. Vegetables like broccoli florets, green peas and cherry tomatoes make great stir-ins, as do protein choices such as cooked turkey, chicken or ham, even meatballs. It's a deliciously doable winner...one pot, four ingredients, on the table in under 30 minutes.
For this and more amazing recipes, visit www.dreamfieldsfoods.com.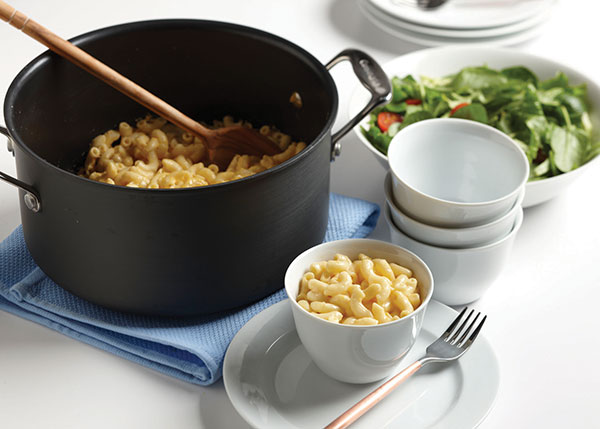 Stovetop Mac & Cheese
Makes 6 servings
Preparation Time: 10 minutes
Cook Time: 13 minutes
1 box Dreamfields Elbows
1 cup prepared light Alfredo sauce
2 cups shredded reduced-fat cheddar cheese or part-skim mozzarella cheese or a combination
1/2 cup skim milk
Cook pasta according to package directions. Drain and return to pan; remove from heat.
Immediately add Alfredo sauce, cheese and milk to pasta; stir constantly until cheese is melted. Add additional milk if necessary for desired consistency. Serve immediately.
Stir-ins: Cooked chicken, turkey, ham cubes, hot dog pieces, meatballs, cooked chicken or turkey sausage, cooked broccoli florets, green peas, chopped tomato or halved cherry tomatoes.
Nutrition information (1/6 of recipe): 385 calories; 20 g protein; 11 g digestible carbohydrates*; 13 g total fat; 7 g saturated fat; 35 mg cholesterol; 570 mg sodium; 6 g total dietary fiber.
NOTE: If traditional pasta is used in this recipe there is a total of 51 g carbohydrate. For more information go to www.dreamfieldsfoods.com.
Source: Dreamfields Foods
(Family Features) Preparing side dishes can be time consuming. Save those precious minutes to enjoy the holidays by using refrigerated, never-frozen options like mashed potatoes, mashed sweet potatoes, baked apples and even macaroni and cheese that can be heated in the microwave and ready to serve in minutes.
Like many hosts, you are likely searching for perfection in your holiday get-togethers. With an ever-expanding guest list, each year may seem more and more difficult to pull off the perfect gathering. Make things easier and still delicious by serving ready-to-eat options like refrigerated macaroni and cheese made with real milk and cheese.
Perfect Holiday Potatoes
Mashed potatoes are a staple on many holiday menus, but all that peeling and mashing can take hours. This year, save time by using refrigerated, ready-to-eat mashed potatoes, such as Bob Evans Original Mashed Potatoes, which taste just like homemade.
Add your family's special ingredient, like sage butter, and no one will know they aren't homemade.
Microwave the mashed potatoes just before dinner or throw them in a crockpot on low and pitch the packaging so no one knows you didn't make them ahead of time.
Buy a couple extra and store them in the fridge in case you have unexpected holiday guests.
Find more ideas to make your holiday sides simply delicious at bobevansgrocery.com.

Fancy Mac
Prep time: 20 minutes
Cook time: 20 minutes
Serves: 4
Nonstick cooking spray
1 package Bob Evans Macaroni and Cheese
1 package (10 ounces) frozen chopped spinach, thawed and drained
1 1/4 cups shredded Gouda cheese, divided
1 package Bob Evans Thick Sliced Hardwood Smoked Bacon, cooked and broken into pieces
1/2 teaspoon salt
1/2 teaspoon freshly ground black pepper
2 eggs, lightly beaten
Heat oven to 400° F. Spray four ramekins with cooking spray.
Heat macaroni and cheese according to package directions. Once cooked, stir in spinach, 1 cup cheese, bacon, salt and pepper.
Let mixture stand 10-15 minutes to cool. Add eggs. Spoon evenly into ramekins. Sprinkle with remaining cheese.
Bake 20 minutes, or until centers are set.
Watch video to see how to make this delicious recipe!
Sweet Potato Cookies
Prep time: 28-33 minutes
Cook time: 10-12 minutes
Serves: 36
3/4 cup vegetable shortening
3/4 cup brown sugar
1 large egg
1 cup Bob Evans Mashed Sweet Potatoes
2 cups all-purpose flour
1 teaspoon baking soda
1 teaspoon kosher salt
1 teaspoon pumpkin pie spice
1 cup butter, unsalted
3 cups powdered sugar
1/2 teaspoon maple extract
chopped honey roasted pecans (optional)
mini marshmallows (optional)
Heat oven to 350° F.
In large bowl, using hand mixer or paddle attachment, cream shortening and brown sugar. Add egg and sweet potatoes; mix until combined.
In small bowl, combine flour, baking soda, salt and pumpkin pie spice. With mixer on low speed, slowly add flour mixture to egg mixture until well mixed. Using small cookie scoop, drop rounds onto greased baking sheets.
Bake 10-12 minutes, or until golden brown. Cool completely before frosting.
In separate bowl, beat together butter, powdered sugar and maple extract until frosting is light and fluffy. Frost each cooled cookie with maple butter cream frosting.
Sprinkle with pecans and mini marshmallows, if desired. Carefully toast marshmallows with culinary torch, if desired, while avoiding melting frosting.
Mini Hash Brown Casseroles
Prep time: 10 minutes
Cook time: 30 minutes
Serves: 24
1 pound Bob Evans Original Roll Sausage
4 large eggs
1/2 cup milk
1 package (20 ounces) Simply Potatoes Shredded Hash Browns
3 tablespoons butter, melted
1 cup ham, cubed
1/2 teaspoon black pepper
1 cup shredded cheddar cheese
In skillet, cook sausage according to package directions.
Heat oven to 350° F. Lightly grease two 12-cup muffin tins.
In bowl, whisk eggs and milk. Add hash browns, butter, ham, black pepper and cheese; mix thoroughly. Fill muffin tins two-thirds full. Bake 27-30 minutes, or until toothpick or knife inserted in center comes out clean.
Substitution: For healthier alternative, substitute 1 cup AllWhites liquid egg whites instead of eggs.
Watch video to see how to make this delicious recipe!
Bacon-Wrapped Jalapeno Poppers
Prep time: 30 minutes
Cook time: 30 minutes
Serves: 40
2 packages Bob Evans Thick Sliced Hardwood Smoked Bacon, slices cut in half
1 package Bob Evans White Cheddar Mashed Potatoes
1 package garlic herb cheese spread
20 jalapeno peppers, halved, seeded with membranes removed
1/4 cup brown sugar
1 teaspoon ground cayenne pepper
Heat oven to 400° F. Set bacon out to thaw to room temperature so it is pliable.
In mixing bowl, use rubber spatula to combine mashed potatoes and garlic herb cheese. Stir until incorporated. Spread 1 teaspoon mashed potato mixture in each jalapeno half; level each with butter knife or spatula.
Wrap each jalapeno with bacon; use three half slices for large jalapenos or two halves for smaller sizes. Be sure bacon is wrapped sealing in mashed potato mixture tightly.
In small mixing bowl, combine brown sugar and cayenne pepper. Generously sprinkle over bacon and pat gently to make it stick.
Line cookie sheet with piece of parchment paper so sugar does not burn to pan. Bake until bacon reaches desired crispiness, around 25-35 minutes.
Let peppers cool slightly before serving, about 5 minutes.
Source: Bob Evans