(Family Features) Summertime entertaining should be easy and fun. And it can be - with some simple solutions and fresh recipes.
Start with Simple Recipes
For this tropical dessert pizza, make the cookie crust the day before. Mix the filling and store it in an airtight plastic container, then cut up fruit and store in individual resealable plastic bags. Be creative and substitute your family's favorite fruits. Kids will have fun arranging the sliced fruit on this yummy dessert pizza!
Three ingredients plus three minutes equals one tasty marinade. Let the kids help pour the ingredients into a resealable plastic bag to flavor juicy pork tenderloins with a subtly sweet, spicy marinade.
The combination of crisp watermelon, juicy tomatoes and fresh basil with balsamic vinegar creates a fantastic and refreshing light salad. Just cut up ingredients and store in separate plastic containers, then toss together right before the party to keep the flavors fresh.
Simply Entertaining
For picnics on damp ground, placing an inexpensive plastic tablecloth under a blanket helps keep dampness from reaching picnickers - and keeps your blanket cleaner, too.
Wash, chop, measure and prepare your ingredients 1 to 2 days before an event or party. They can be stored in resealable plastic bags or airtight containers in the refrigerator to make putting together recipes much easier the day of the party.
Save plastic grocery bags to send guests home with leftovers. Placing an empty plastic grocery bag in a picnic basket is also a great solution for collecting trash after a picnic in the park - it doesn't take up much room and will act as a waterproof barrier to prevent spills.
Create a dipping station for barbeque and grill sauces using reusable plastic storage containers with lids. Guests can spoon sauces onto their plates; when the party is over, simply place the lids back on the sauces and store in the refrigerator. They come in all different shapes and sizes and even fun colors.
Use resealable plastic bags for marinades. Put meat in the bags with marinade and refrigerate overnight. It helps save space in the refrigerator and clean up is easy. This also works for coating and breading.
For more tips on ways to make summer entertaining a breeze, visit www.PlasticsMakeitPossible.com.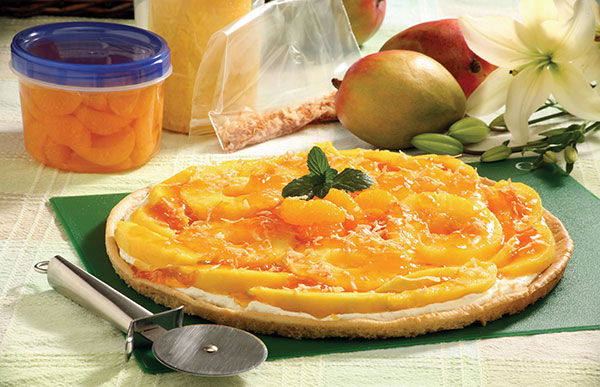 Tropical Fruit Dessert Pizza
Makes 12 servings
1 18-ounce roll refrigerated ready-to-slice sugar cookie dough
1/3 cup sugar
1 8-ounce package fat-free cream cheese
1 teaspoon coconut extract
1 1/2 teaspoons grated orange rind
1 cup fat-free frozen whipped topping, thawed
1 26-ounce jar mango slices, drained, or 2 fresh mangoes, sliced
1 16-ounce can pineapple slices, drained, or 1 fresh pineapple, sliced
1 11-ounce can mandarin orange segments, drained
1/2 cup apricot preserves
2 tablespoons orange liqueur or orange juice
2 tablespoons coconut, toasted, optional
Preheat oven 350°F.
Press cookie dough into a 12 to 14-inch pizza pan coated with nonstick cooking spray. Bake 12 minutes, cool completely.
In medium mixing bowl, blend together sugar, cream cheese, coconut extract until well mixed. Stir in orange rind and whipped topping, mixing until smooth. Spread cream cheese mixture on top of cooled crust.
Arrange mango slices around edge of iced pizza. Then, arrange pineapple slices around edge. Next, arrange mandarin orange slices in another ring to fill center of pizza.
In small saucepan or in microwave, heat apricot preserves and orange liqueur just until melted. Spoon glaze over fruit. Sprinkle with toasted coconut, if desired. Refrigerate until serving.
Terrific Tidbit: Go ahead and grate more orange rind than you'll need for the recipe - you can grate a whole orange or lemon and freeze the rind in a plastic freezer bag until needed.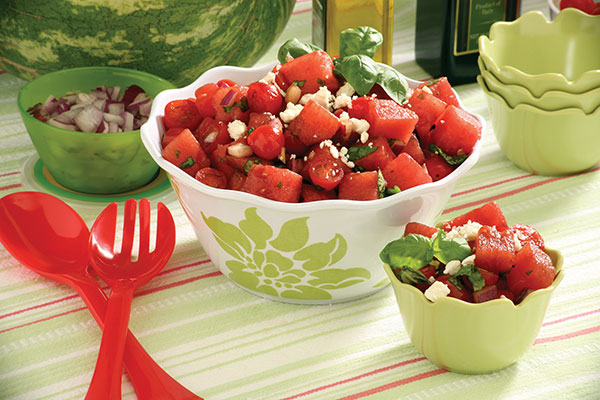 Watermelon and Tomato Salad
Makes 10 (1/2-cup) servings
4 cups scooped out watermelon balls or chunks
1/2 cup chopped red onion
1 pint cherry tomatoes, halved
2 tablespoons fresh chopped basil
1 tablespoon olive oil
2 tablespoons balsamic vinegar
Salt to taste
1/3 cup crumbled reduced fat feta cheese, optional
In bowl, combine watermelon, onion, tomatoes and basil. Whisk together oil and vinegar and toss with salad. Season to taste. Refrigerate until serving.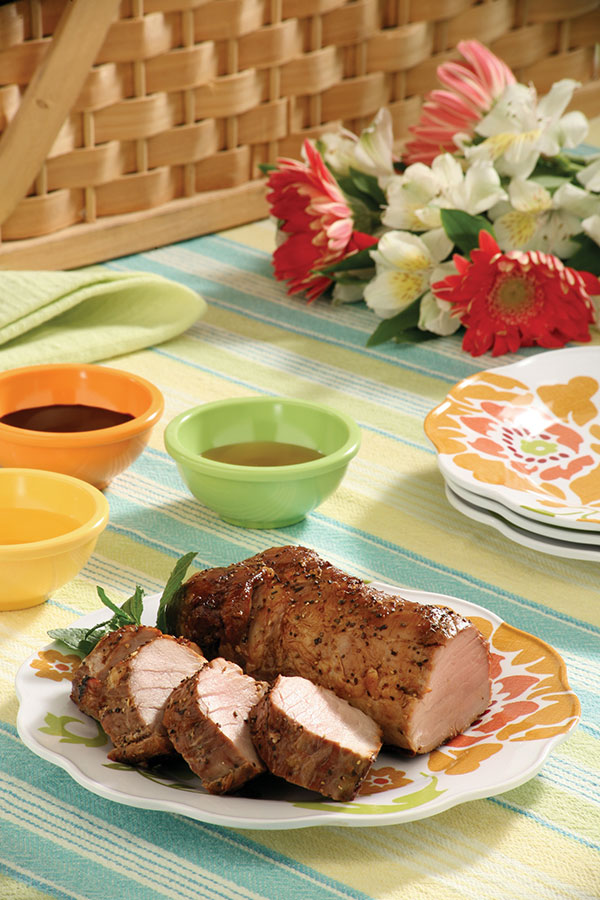 3-Ingredient Marinade for Pork Tenderloin
Makes 6 to 8 servings
2 1-pound pork tenderloins, trimmed of excess fat
1/4 cup reduced sodium soy sauce
1/4 cup roasted garlic seasoned rice vinegar
2 tablespoons honey
Preheat oven 350°F.
In bowl, combine all ingredients except tenderloins. Place meat in dish or large resealable plastic bag, pour marinade over meat. If time permits, refrigerate overnight, turning meat several times.
Bake 40 to 45 minutes or until meat thermometer inserted into the thickest portion of the tenderloin registers 160°F. Slice tenderloin, serve.
Quick Tip: Tenderloins come two to a package. If one will be enough for you to serve, halve recipe, freeze other tenderloin in freezable plastic bag.
Source: American Chemistry Council
(Family Features) Dozens of streaming video providers are making it easier than ever to watch the TV programming you want when you want it, and exclusive programming released an entire season at a time is transforming the way Americans watch TV. The flip side of this convenience is a surge in binge-watching, which can have some negative side effects, including binge eating.
When your favorite show is available back-to-back, it's easy to let substantial blocks of time get away as you watch "just one more" episode to follow the twists and turns of the plot. In fact, according to a recent survey by Dole, the average binge-watching session clocks in around 5 hours. The same survey found that more than two-thirds of people prefer healthy snacks to fuel their marathon viewing.
Treating yourself to an occasional binge session may give your brain a well-earned break, and it's easy to do many forms of exercise in front of the screen. The trick to keeping your binge-watching session in check and getting rid of the guilt is to exercise good habits when you head to the kitchen.
Opt for snacks that include valuable vitamins and minerals.
Keep your kitchen stocked with ingredients such as high quality, ready-to-eat Dole Jarred Fruit so you can create quick and easy snacks with a serving of fruit in between episodes or during a commercial break.
Look for quick solutions that help trim prep time and skip the cutting, peeling and mess.
Avoid waste or spoilage with convenient, re-sealable lids that let you use what you need for a single serving and save the rest for later.
Get creative to satisfy cravings. Instead of reaching for cookies or cake, dip fruit in melted chocolate and pop it in the freezer. Let it sit while you watch a few episodes of your favorite show and then enjoy.
Find more quick and easy snacks that can be made during a commercial break at dolesunshine.com.
Fruity Flatbread
Pre-made flatbread crust
Broccoli rabe
Cooked and chopped turkey bacon
Dole Jarred Mandarin Oranges
Cover flatbread with chopped broccoli rabe, turkey bacon and oranges.
Peach Parfaits
Low-fat yogurt
Granola
Dole Jarred Sliced Peaches
Mint
In cup or jar, alternate layering yogurt, granola and chopped peaches. Top with mint and serve immediately.
Brightened Up Caprese Salad
Fresh mozzarella cheese
Dole Jarred Sliced Peaches
Fresh basil
Salt, to taste
Pepper, to taste
Balsamic glaze
Arrange alternate slices of mozzarella and peaches. Sprinkle fresh basil, season with salt and pepper, to taste, and drizzle with balsamic glaze.
Avocado Toast
Avocado
Whole-wheat bread
Dole Jarred Sliced Peaches
Salt
Pepper
Crushed red pepper flakes
Slice avocado in half, remove pit and scoop out avocado into bowl. Smash until desired consistency.
Toast bread, layer with avocado and top with peaches. Season with salt, pepper and crushed red pepper flakes.
1-2-3 Chicken Wrap
Whole-wheat tortilla
Spinach
Dole Jarred Mandarin Oranges
Cooked chicken, chopped
Yogurt-based dressing of choice
Lay tortilla flat and add spinach, oranges and chicken. Top with dressing. Fold, cut and serve.
Substitution: Preferred greens can be added in place of or in addition to spinach
Tropical Fruit Salsa
Dole Jarred Tropical Fruit
1 white onion
1 bunch cilantro
1 jalapeno
1 lime, juiced
Tortilla chips
Chop 2 cups fruit, dice onion, chop cilantro and seed and mince jalapeno.
Combine ingredients and stir in lime juice. Serve alongside tortilla chips.
Source: Dole Jarred Fruit