(Family Features) Watermelon rinds make for more than just attractive containers for serving cold dishes and beverages. The rind can also be used in creative, edible ways and is good for your heart.
Watermelon, both the flesh and the rind, is a good source of a compound called citrulline, an amino acid that raises levels of arginine in the blood, which in turn helps maintain blood flow, healthy blood vessels and heart health.

Whether you're eating for good health or good taste (or both), you can use the rind to make pickles and relishes, grate into salads and slaws, toss into stir-fry and add to smoothies and juice. The key to chowing down on watermelon rind is knowing how to prepare it. These three preparation methods can help you put that rind to good use:

Pickled: Watermelon rind is similar to a cucumber, which is why it's no surprise that pickled watermelon rind is a popular option.
Juiced: Most people know you can enjoy juice from red flesh of the melon, but you can juice the rind, too. Just like the watermelon flesh, the rind is loaded with water and nutrients.
Stir-Fried: When it's cut up, watermelon rind is just like a vegetable, which means it can be tossed in a pan and stir-fried right alongside broccoli and carrots.
Look for more creative ways to use your watermelon rind at watermelon.org.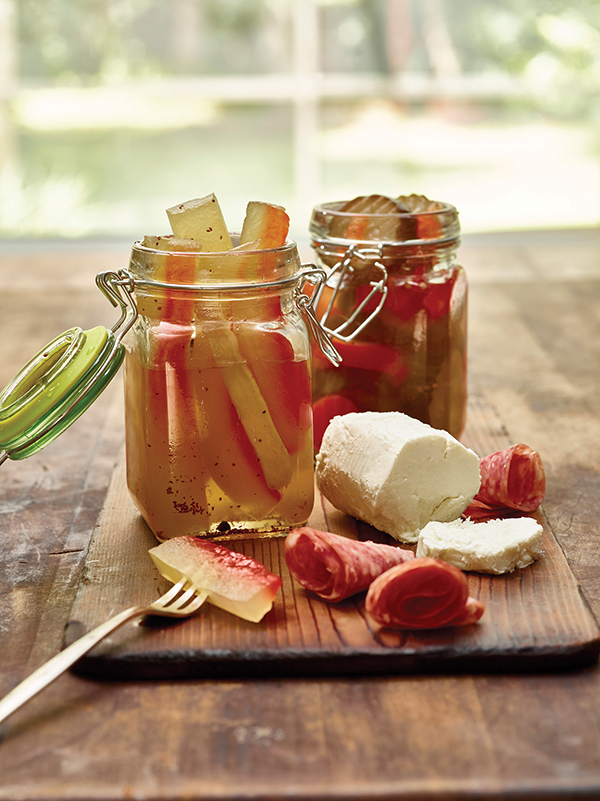 Watermelon Rind Pickles
4 cups water
1 tablespoon coarse salt
2 cups peeled watermelon rind, cut into 1-1/2-by-2-inch pieces (leave thin layer of pink)
3/4 cup granulated sugar
1 allspice berry
1/2 cup cider vinegar
4 peppercorns
4 whole cloves
1/2 teaspoon pickling spice
1 long slice of fresh gingerroot
1/4 teaspoon celery seeds
In large pot over medium-high heat, bring water and salt to boil. Add rind pieces and boil until tender, about 5 minutes. Strain. Transfer rinds to large metal bowl.
In saucepan, combine watermelon rind, sugar, berries, vinegar, peppercorns, cloves, pickling spice, gingerroot and celery seeds. Bring to boil over medium-high heat, stirring until sugar dissolves. Simmer 15 minutes until slightly reduced. Pour over watermelon rinds in bowl. Place plate over top to keep rinds submerged in liquid.
Cover and refrigerate 1 day. Transfer to glass jar and keep sealed in refrigerator up to 2 weeks.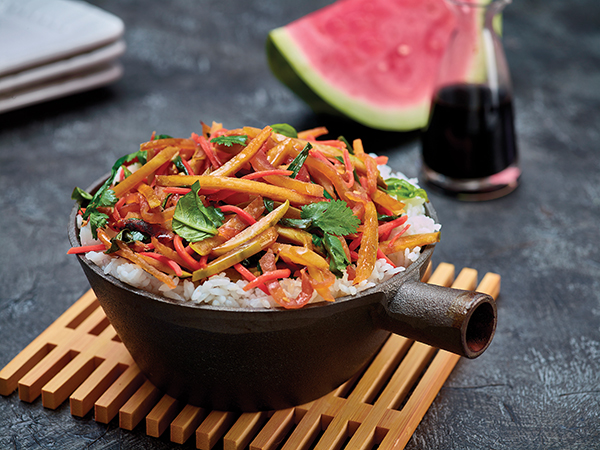 Watermelon Rind Stir-Fry
2 teaspoons sesame oil
2 cups watermelon rind, julienned (white part only, from about 1/2 of seedless watermelon)
1 cup julienned carrots
1/2 cup chives, cut into 3-inch pieces
1 tablespoon honey
1 tablespoon soy sauce
1 tablespoon fish sauce
1 clove garlic, minced
1 piece (about 1 inch) ginger, minced
1/2 cup fresh basil leaves, torn
1/4 cup cilantro leaves
1/4 cup mint leaves
crushed red pepper flakes (optional)
In wok over high heat, heat sesame oil. Add watermelon rind and carrots and fry, stirring constantly, 1-2 minutes. Let sit over high heat 1 additional minute without stirring. Add chives and stir to combine.
In small bowl, whisk together honey, soy sauce, fish sauce, garlic and ginger. Pour sauce over watermelon rind and cook, stirring, 30 seconds-1 minute, until fragrant.
Transfer to serving dish. Add basil, cilantro and mint, tossing to combine. Sprinkle with red pepper flakes, if desired, and serve.
Exciting Flavors for Every Day
(Family Features) In restaurant kitchens nationwide — and at home — Latin American flavors continue to be a hot trend — and it's not because of spiciness. The unique culture and geography of countries such as Chile offer exciting possibilities for everyday cooking, adding flavor and excitement to American dishes and dinner tables.
Chilean cuisine is full of flavor and color and owes its delicious variety to a combination of cultural influences: native Indian, Spanish (including Arab and Jewish), French, German, English and Italian.
Chile is about twice the size of California and stretches along the Pacific coastline of South America. This narrow country — only 265 miles at its widest point — boasts a variety of climates, allowing for richly varied agriculture. Also, the seasons in the southern hemisphere are opposite those in the northern hemisphere, so fresh fruits and vegetables associated with summer in the U.S. are available from Chile during the winter.
Chilean products you may already have in your kitchen include:
Grapes
Kiwis
Avocados
Olive oil
Stone fruits such as peaches, nectarines and plums
Chilean Treasures
Seafood. With nearly 3,000 miles of coastline, Chile offers an extraordinary bounty of seafood. The clean Pacific waters teem with oysters, prawns, salmon, abalone, sea bass and more.
Wine. Chile is the world's fifth largest wine exporter, and culinary writers regularly sing praises for Chilean wines. Michael Green, the wine and spirits consultant for Gourmet Magazine, said, "Chile is a sleeping giant in terms of the quality, diversity and value of its wines. The region is home to some of the most thrilling and tasty wines in the world."
Spices. One of the most unique flavors of Chilean cooking comes from a spice blend called merkén from the Mapuches, a native people of Chile. It's an aromatic mixture of dried and smoked red chilis, toasted coriander seeds, cumin and salt. Merkén is an extremely versatile spice with an attractive copper color and smoky flavor. It can be sprinkled on fish, shrimp, poultry, beef and vegetables, or added to soups, sauces, cheese and pasta. Available in specialty grocery stores, it can also be ordered online.
Produce. Chilean chef Pilar Rodriguez has created recipes featuring unique Chilean flavors. One centers on the carica, also known as Chilean Golden Papaya, and ulmo honey. Carica is a unique fruit that has been described as a combination of a mango and a peach. It can be used as an appetizer or dessert, in salads and hot dishes. You'll find it sold in jars in specialty stores and online. Ulmo honey comes from the ulmo tree, native to Chile. It has a creamy texture and a buttery sweetness that make an excellent accompaniment to mild cheeses. It is also available at specialty stores and online.
Chile offers a wide variety of fresh foods and rich flavors to discover.
Chile's food growing regions
North
goats, llamas, subtropical fruits such as carica, scallops
Central Valley
avocados, olives, apples, grapes, wine
Central Valley South
dairy products, razor clams, kiwi, grains, cattle, wine
Lake Region
cattle, dairy, berries, salmon, Chilean abalones
Extreme South and Patagonia
beef and sheep, Chilean king crab
Seared Salmon & Avocado Tartar
By Chef Pilar Rodriguez
Serves 6
Crust:
1/2 cup fleur de sel (coarse sea salt)
1/2 cup cilantro seeds
1 tablespoon merkén
1 tablespoon cochayuyo molido ahumado (smoked seaweed powder), optional
Salmon:
6 3.5- to 4-ounce boneless, skinless salmon fillets
4 tablespoons olive oil
Avocado Tartar:
2 cups avocado, cut in small cubes
1/4 cup finely diced red onion
2 tablespoon olive oil
2 tablespoon finely diced yellow chili pepper
Salt to taste
Pepper
Pinch sugar
1/2 cup cilantro leaves
1/2 parsley leaves
1/2 teaspoon lemon juice
Lemon zest
Coarsely grind and mix salt and all the spices. Reserve in shallow bowl.
In a non-stick pan, sear salmon filets with olive oil on both sides, just getting a nice golden color (about 90 seconds per side). Do not over cook. The center of the fillet has to be raw.
Press one side of each fillet into salt-spice mixture and set aside.
Mix all ingredients for Avocado Tartar in a bowl and season with salt and pepper to taste. Serve the salmon fillets over the tartar. Serve immediately.
Ulmo Honey Panna Cotta, Grilled Citrus Carica Salad
By Chef Pilar Rodriguez
Makes 8 to 10 4-ounce portions
1 quart cream
1/4 cup ulmo honey OR honey of choice
4 gelatin sheets OR 1 package powdered gelatin
4 full caricas OR fresh papayas cut in half to grill
1 tablespoon olive oil
1 teaspoon sugar
2 tablespoons lemon juice
Lemon zest
Fresh mint leaves
Heat cream in small sauce pan and turn off the heat right before boiling point. Add honey and, using a wooden spoon, mix well with the cream. Cool to room temperature and refrigerate.
Put the gelatin in cold water until you see the gelatin is soft — about three minutes. Discard excess water (gelatin will be softened) and dissolve gelatin in the cream mixture.
Fill panna cotta containers (or 4-ounce ramekins) 3/4 full and chill until set (about three hours in the refrigerator).
Brush the caricas with olive oil and grill them over medium heat until color browns a bit (one minute per side). Right before serving, sprinkle lemon juice, sugar to taste and lemon zest on top. Serve on the side of the Panna Cottas (in containers) with mint to garnish.
Source: Trade Commission of Chile