(Family Features) As a physical representation of cultures and regions from around the world, food can be more than just sustenance – it can connect you and your kitchen to faraway places. Whether you have opportunities to travel the globe or prefer to stick closer to home, foods can bring the heritage of other countries right to your own plate.
To take your own taste tour of the globe, consider these plant-based recipes including Sabra Hummus. More than just a dip, hummus can serve as a canvas for a variety of flavors. Working as a transformative ingredient to elevate nearly any dish, hummus is an ideal base for exploring a world of flavor in your kitchen.
For example, these Vegetarian Spicy Noodles combine angel hair pasta and a soy-hummus sauce that's creamy and rich with distinct Thai flavors. Chipotle Hummus and Mushroom Tacos provide a meatless version of a south-of-the-border favorite with a rich umami base topped with fresh cabbage and lime.
Visit Sabra.com to discover the many ways that hummus can be more than a dip.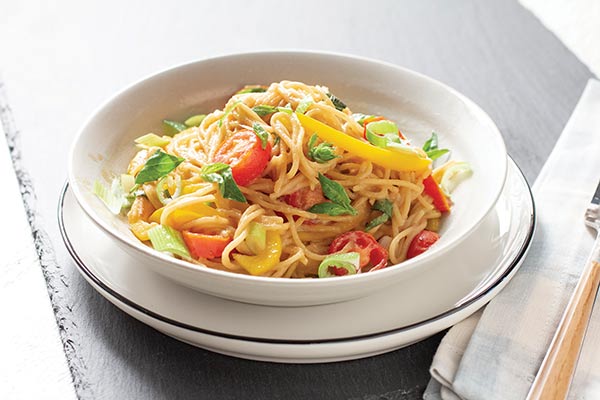 Vegetarian Spicy Noodles
Prep time: 10-15 minutes
Cook time 10-15 minutes
Servings: 2
Sauce:
4 tablespoons soy sauce
2 tablespoons sugar
1/2 cup water
6 tablespoons Sabra Supremely Spicy Hummus, plus additional for garnish
4 quarts water
3 ounces dry angel hair pasta
1 tablespoon minced fresh garlic
2 cups thinly sliced bell pepper
1 cup thinly sliced cherry tomatoes
1 tablespoon thinly sliced Thai basil, divided
1 tablespoon sliced scallions, divided
To make sauce: In large frying pan over medium heat, cook soy sauce, sugar, water and hummus 1-2 minutes until hot and mixed together.
To make noodles: Bring water to boil.
Add pasta to boiling water and cook 5 minutes, or until tender. Strain noodles.
Add garlic, bell peppers and cherry tomatoes to sauce. Let simmer 2 minutes. Add noodles and mix to fully coat noodles, 1-2 minutes. Add 1/2 tablespoon basil and 1/2 tablespoon scallions; reserve remainder for garnish.
Place noodles in bowls and top with hummus and remaining basil and scallions.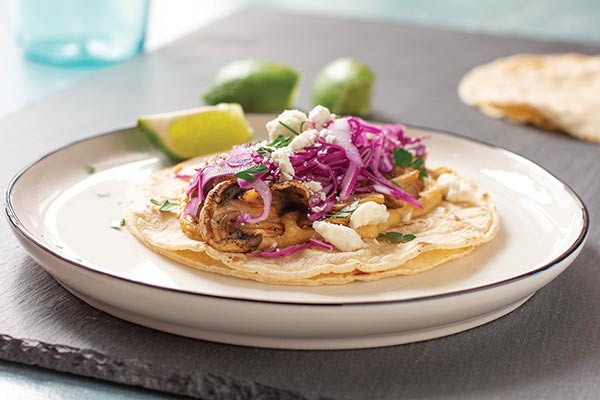 Chipotle Hummus and Mushroom Tacos
Prep time: 10-15 minutes
Cook time: 10 minutes
Servings: 2
Chipotle Hummus:
6 tablespoons Sabra Classic Hummus
1/2 teaspoon ground chipotle, dried
Slaw:
1/4 cup finely shredded purple cabbage
1/2 teaspoon chopped fresh cilantro
1/4 teaspoon lime juice
1/8 teaspoon salt
Mushrooms:
1/2 tablespoon olive oil
8 ounces sliced mushrooms (brown or white)
1/4 teaspoon salt
1/8 teaspoon black pepper
4 small tortillas (corn or flour)
1/2 ounce feta cheese (optional)
To make chipotle hummus: In small bowl, mix hummus and ground chipotle; set aside.
To make slaw: Cut cabbage into quarters to easily remove core; thinly slice. In small mixing bowl, combine cabbage, cilantro, lime juice and salt. Using clean hands, crunch or squeeze together ingredients to bruise cabbage and incorporate.
To make mushrooms: In large frying pan, heat olive oil over high heat. Add mushrooms, salt and pepper. Cook about 6 minutes until all sides of mushrooms are browned. Remove mushrooms from pan.
Using hot pan, add tortillas one at a time to warm up, about 20 seconds on each side.
Spread tortillas with chipotle hummus. Place hot mushrooms in centers of tortillas. Top with slaw and feta cheese, if desired.
Source: Sabra
(Family Features) Summer provides an abundance of delicious, fresh-picked flavors, giving home chefs plenty of opportunities to use them in both classic recipes and newfound favorites. From sides to salads to smoothies and everything in between, summer is all about creating dishes that taste tempting, bright and balanced.
Using seasonal ingredients, like peaches and other sun-ripened fruits, can help play up the bounty of summer for all types of eating occasions. However, with a wide variety of available choices, it can be a dizzying task to select recipes you'll want to make again and again.
This summer, Nature's Intent Organic Apple Cider Vinegar and celebrity chef Candice Kumai – also known as the "Golden Girl of Wellness" – recommend these make-at-home recipes to help brighten and awaken the best flavors at your table.
"Apple cider vinegar is my favorite natural way to cook, look and feel my very best for all of summer," Kumai said. "These recipes feature its powerful benefits and bright taste, which awaken summertime cooking."
Kumai recommends her Carrot Beauty Noodles as a show-stopping side dish to accompany main courses throughout the summer, while a light and savory Miso Kale Caesar Salad can curb and satisfy appetites before dinner. Meanwhile, the fresh-and-fruity versatility of this Peach Smoothie means you can enjoy it at breakfast, as a nutritious midday snack or even for dessert.

All three recipes feature Nature's Intent Organic Apple Cider Vinegar, which is raw, unfiltered, made with the mother and can be a chef's secret ingredient to brighten and awaken taste buds to the true flavors of food by enhancing your favorite recipes during the summer or any time of year. Because it's crafted with care, the clean, crisp flavors provide a difference you can see and taste while helping add a perfect sweet-and-sour balance to traditional meals as well as new favorites.
With so many fresh, delicious choices, summer is the perfect opportunity to make the most of flavors in almost anything you're making, but selecting the right recipes and ingredients can be the first step toward truly soaking up the brightness of the season.
Find more tips and recipes for enjoying summer flavors at NaturesIntentVinegars.com, and find Nature's Intent on Facebook, Instagram and Pinterest.
Carrot Beauty Noodles
Recipe courtesy of Candice Kumai
Prep time: 20 minutes
Cook time: 20 minutes
Servings: 2
2 cups cooked brown rice or quinoa
3 tablespoons organic red miso paste
3 tablespoons Nature's Intent Organic Apple Cider Vinegar
1/4 cup rice vinegar
2 tablespoons roasted sesame oil
2 teaspoons honey
2 teaspoons freshly grated ginger
2 tablespoons reduced-sodium tamari or soy sauce
9 cups spiralized carrots
2 cups shelled organic edamame
1 avocado, cubed
2 tablespoons fresh mint (leaves removed from stems)
2 tablespoons ground sesame seeds
Cook rice or quinoa according to package directions.
In medium mixing bowl, add red miso paste, apple cider vinegar, rice vinegar, roasted sesame oil, honey, ginger and tamari or soy sauce. Whisk well to combine. Add spiralized carrots, edamame and cooked rice or quinoa. Toss well to coat.
Garnish with avocado cubes, fresh mint leaves and ground sesame seeds.
Peach Smoothie
Recipe courtesy of Candice Kumai
Prep time: 5 minutes
Servings: 2
2 1/2 cups unsweetened almond milk
1/2 frozen banana
3/4 cup sweet-potato puree
3 cups frozen organic peaches
1/4 teaspoon freshly ground ginger
1/4 teaspoon cinnamon
1 scoop collagen powder
1-2 tablespoons Nature's Intent Organic Apple Cider Vinegar
In blender, combine almond milk, banana, sweet-potato puree, peaches, ginger, cinnamon, collagen powder and apple cider vinegar; blend until smooth. Serve immediately.
Miso Kale Caesar Salad
Recipe courtesy of Candice Kumai
Prep time: 15 minutes
Cook time: 20 minutes
Servings: 2
Dressing:
1/4 cup tahini paste (ground sesame seed paste)
1/4 cup organic red or white miso paste
1/4 cup rice vinegar
1 teaspoon honey or maple syrup
3 tablespoons Nature's Intent Organic Apple Cider Vinegar
Salad:
1 large bunch finely chopped curly kale, destemmed
1/2 cup (about 1 ear) raw white corn, shaved off cob
2 cups daikon radish (about 1/2 radish), peeled, halved and thinly sliced into half-moons
2 ripe avocados, halved, pitted, peeled and cut into 3/4-inch cubes
2 tablespoons baked hemp seeds
Optional toppings:
8 ounces wild salmon, grilled
8 ounces organic tofu, grilled and cubed
To make dressing: In medium mixing bowl, whisk tahini paste, organic miso paste, rice vinegar, honey and apple cider vinegar.
Add kale, corn and daikon radish. Toss well to coat with dressing.
Serve topped with cubed avocado, hemp seeds and salmon or tofu, if desired.
Source: Nature's Intent