(Family Features) When school is in session, it's the perfect time to renew your family's healthy eating habits by getting in a groove of lunchbox packing.
While packing a healthy school lunch day after day can seem daunting, it doesn't have to be. By taking the free Power Your Lunchbox Promise, you can gain access to customizable, make-ahead lunchbox inspiration like Black Bean Empanadas and Rainbow Bento Boxes, which creatively include servings of fruits and veggies to keep kids' brains charged all day.
Making the promise not only signals a commitment to making healthier meal choices this year, it also helps those in need. For every promise made, health-focused partner brands will collectively donate $1 to Feeding America programs that support families and children. In addition to kid- and registered dietitian-approved breakfast, lunch, snack and dinner recipes, the promise website features coupons, health tips to help your family during the school year, lunchbox ideas and giveaways.
Additionally, teachers have a special section of the site where they can make the promise as a classroom and download free fruit and veggie themed classroom decor and lesson plans.
To find your lunchbox inspiration and make the promise, visit poweryourlunchbox.com.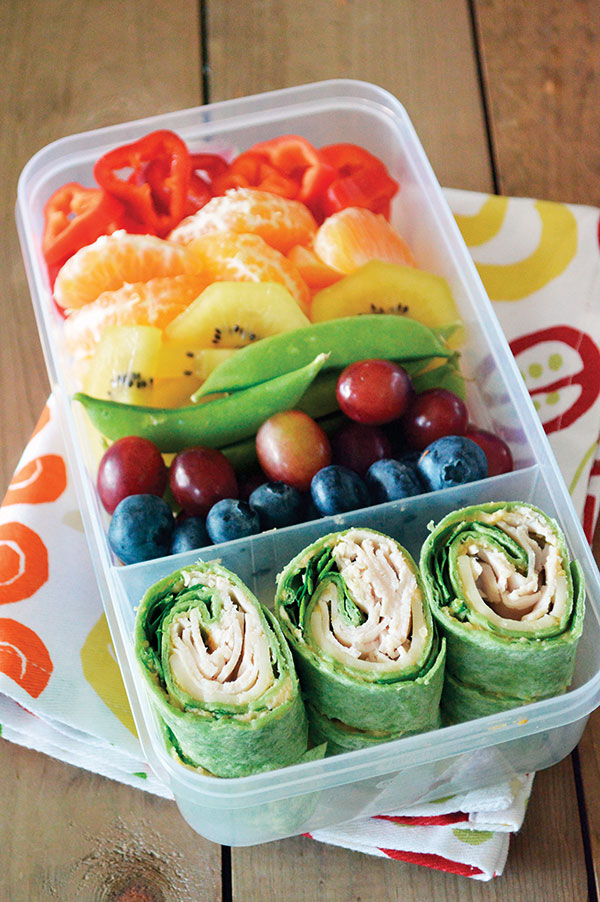 Rainbow Bento Box
Recipe courtesy of Produce for Kids
Prep time: 15 minutes
Servings: 2
2 red mini sweet peppers, sliced
1 mandarin, peeled and segmented
1 kiwi, sliced
1/2 cup sugar snap peas
1/4 cup blueberries
1/2 cup red seedless grapes
1 large spinach wrap
1 tablespoon hummus
2 slices provolone cheese
2 ounces low-sodium deli-sliced turkey
1/2 cup baby spinach, chopped
Assemble two lunchboxes each with half of the peppers, mandarin, kiwi, snap peas, blueberries and grapes.
Lay wrap on flat surface. Spread with hummus and top with cheese, turkey and spinach. Roll up tightly and slice into 1-inch thick rounds. Add half to each lunchbox.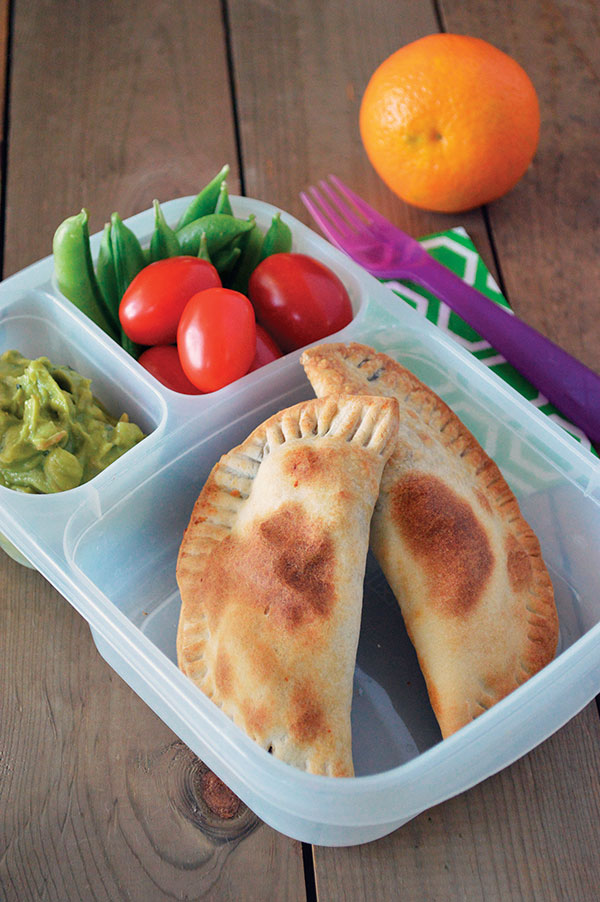 Black Bean Empanadas
Recipe courtesy of Produce for Kids
Prep time: 10 minutes
Cook time: 25 minutes
Servings 6
1/2 teaspoon olive oil
3 mini sweet peppers, finely chopped
1/4 cup finely chopped sweet onions
1/2 cup chopped tomatoes
1 cup no-salt-added black beans, drained and rinsed
1 tablespoon low-sodium taco seasoning
12 frozen empanada discs, thawed
3/4 cup shredded low-fat cheddar cheese
1 large egg white, beaten
6 guacamole minis
6 packages crispy fruit
In skillet over medium heat, heat oil. Add peppers, onions and tomatoes. Cook 3-4 minutes, or until tender. Add black beans and taco seasoning. Cook 2 minutes. Set aside to cool.
Heat oven to 375 F.
Lay empanada dough out on parchment-lined baking sheet. Fill with black bean filling and 1 tablespoon cheese. Fold dough over filling to create pocket. Use fork to press down sides to seal. Brush with egg whites. Repeat with remaining dough, filling, cheese and egg whites.
Bake 20-25 minutes, or until golden brown. Remove from oven and let cool.
Serve two empanadas with guacamole, for dipping, and crispy fruit on side.
Source: Produce for Kids
(Family Features) As winter chills settle in, one way to warm up from the inside-out is with family meals centered around a delicious bowl of comfort food like pasta, soups and stews.
By planning your weeknight menu to include wholesome, organic foods made with no artificial flavors, artificial colors or high-fructose corn syrup, you can create hearty and flavorful dishes in the New Year that will have everyone in the family eager to dig in.
With a high quality, organic sauce in your pantry like one of the Bertolli USDA-certified Organic Pasta Sauces, available in red- and white-sauce varieties, you can quickly whip up a warming and indulgent winter dish while still keeping your resolutions to cook with more quality ingredients. For example, this recipe for Campanelle with Prosciutto and Peas uses Creamy Alfredo Sauce, made with organic cream, aged parmesan cheese and spices, is sure to become a cold-weather family favorite!
Find more recipes to kick-start taste-tempting family mealtimes through every season at Bertolli.com.
Campanelle with Prosciutto and Peas
Cook time: 10 minutes
Prep time: 10 minutes
Servings: 6
12 ounces uncooked campanelle pasta
1 tablespoon Bertolli Extra-Virgin Olive Oil
1 large shallot, finely chopped
1/2 cup dry whitewine
1/2 cup frozen peas
3 ounces thinly sliced prosciutto
1 jar (15 ounces) Bertolli Organic Creamy Alfredo Sauce
4 ounces Fontina cheese, shredded
6 eggs
1 teaspoon freshly ground black pepper
In pot of salted water, cook pasta 2 minutes less than directed on package. Drain pasta.
In large skillet over medium-high heat, heat oil and shallots. Cook 3-4 minutes, or until softened. Add wine; cook 3-4 minutes, or until most liquid has evaporated. Stir in peas, prosciutto, Alfredo sauce and cheese. Add pasta; toss gently. Cook and stir 1-2 minutes to coat pasta with sauce.
In saucepan, bring water to boil and add eggs. Cook 6 minutes. Transfer eggs to ice water and cool before peeling.
Top each serving with soft-set egg and black pepper.
Note: Gouda or Gruyere can be substituted for Fontina. Unpeeled, cooked eggs can be stored in refrigerator up to one week.
Source: Bertolli