(Family Features) After juggling work, school, extracurricular activities, homework and preparing dinner, getting back into a weeknight routine may feel impossible.
With Smithfield Marinated Fresh Pork in your fridge, you can cut down on meal prep and add quality time back into your day. Perfectly seasoned with ingredients like Applewood Smoked Bacon and Steakhouse seasonings, just saute or roast and you can have a delicious meal ready in 30 minutes or less any night of the week.
Consider these quick, flavor-filled recipes for Smoked Bacon Pork Alfredo and Arugula Salad with Steakhouse Pork Tenderloin that everyone will enjoy.
Find more time-saving meal ideas at SmithfieldRealFlavorRealFast.com.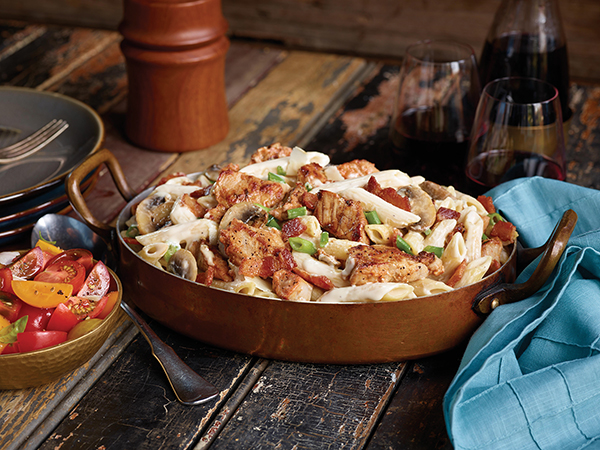 Smoked Bacon Pork Alfredo
Prep time: 8 minutes
Cook time: 22 minutes
Servings: 6-8
1 Smithfield Applewood Smoked Bacon Topped Pork Loin Filet
3 tablespoons olive oil, divided
1 pound dry penne pasta
1 package (8 ounces) sliced fresh mushrooms
salt, to taste, divided
2 jars (15 ounces each) Alfredo sauce
pepper, to taste
1/4 cup finely chopped green onion
grated Parmesan cheese (optional)
Cut pork loin filet into 1/2-inch thick slices then into 1/4-inch wide strips. Bacon will fall off, but reserve for later.
Working in two batches, in large skillet over medium-high heat, heat 1 tablespoon oil. Stir fry half the pork and bacon pieces 7-8 minutes until well browned. Set aside on separate plate; repeat with 1 tablespoon oil and remaining pork and bacon.
Cook pasta according to package directions.
In skillet over medium-high heat, heat remaining oil; add mushrooms and sprinkle lightly with salt, to taste. Cook 3 minutes, or until tender, stirring occasionally.
Drain pasta and return to pot; stir in pork and bacon, mushrooms and Alfredo sauce. Stir over medium heat, about 4 minutes, until heated through. Season with salt and pepper, to taste.
Sprinkle with green onions and Parmesan cheese, if desired.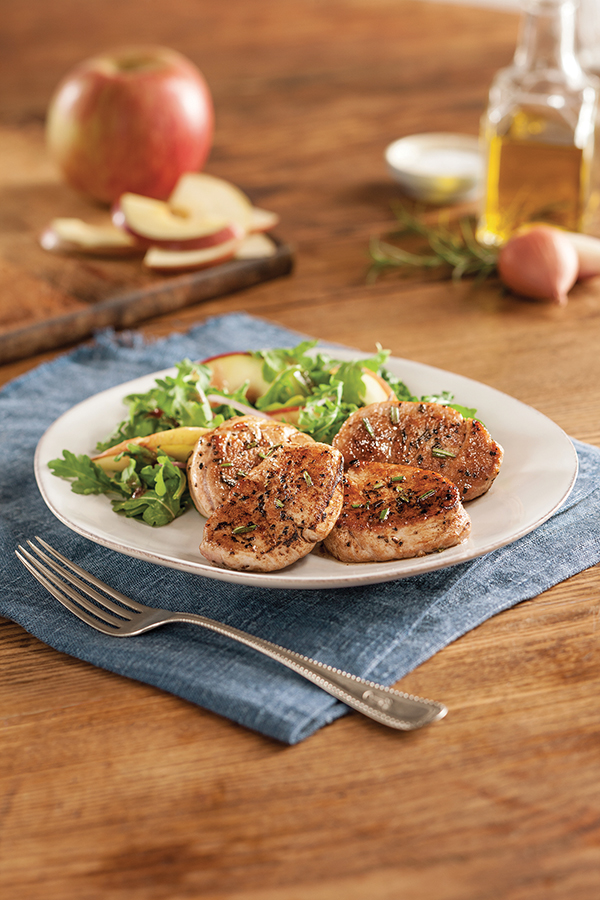 Arugula Salad with Steakhouse Pork Tenderloin
Prep time: 15 minutes
Cook time: 6 minutes
Servings: 4
1 Smithfield Steakhouse Seasoned Pork Tenderloin, cut into 1/2-inch slices
1 sprig fresh rosemary, leaves removed from stem and chopped
2 tablespoons olive oil
6 cups arugula or fresh spinach, washed
1 small sweet onion, thinly sliced
1 Fuji or other sweet red apple, cored and thinly sliced into half moons
salt (optional)
pepper (optional)
blue cheese salad dressing
Season pork medallions with chopped rosemary. In skillet over medium heat, heat oil until hot.
In skillet, cook meat 3-4 minutes per side until medallions are browned and internal temperature reaches 145 F. Remove pork from pan and let stand 3 minutes.
In bowl, toss arugula, onion and apples; season with salt and pepper, if desired. Divide salad into four portions and arrange pork on top of greens. Serve with blue cheese dressing.
Source: Smithfield
Hearty meals to bring the family together
(Family Features) Gathering the family around the table with delicious, traditional meals is the ultimate combination for many home chefs like Catherine Lowe, winner of the 17th season of ABC's "The Bachelor."
Lowe, who partnered as a celebrity spokesperson with Bertolli to create this Roasted Garlic Marinara Braised Chicken with Linguine recipe, enjoys adding authenticity to the table with recipes that provide homemade taste and layers of flavor.
"I pride myself on my strong Italian roots," Lowe said. "My dad taught me how to cook at a young age, and growing up, it was an event to make and enjoy dinner with his side of the family. It's important for me to remember and celebrate that heritage."
Full of hearty vegetables you can see and taste, and inspired by the simple goodness of Tuscan cooking, Bertolli Rustic Cut Pasta sauces help bring homemade flavor to your table. Offered in four varieties – Marinara with Traditional Vegetables, Spicy Marinara with Traditional Vegetables, Roasted Garlic Marinara with Garden Vegetables and Sweet Peppers with Portobello Mushrooms – it's Lowe's secret ingredient to helping make family meals more enjoyable.
Find more family-friendly recipes to bring everyone together at bertolli.com.
Roasted Garlic Marinara Braised Chicken with Linguine
Recipe courtesy of Sean and Catherine Lowe
Prep time: 10 minutes
Cook time: 60 minutes
Servings: 4-6
23 ounces Bertolli Rustic Cut Roasted Garlic Marinara Sauce
6-8 bone-in, skin-on chicken thighs
2 teaspoons kosher salt
1/2 teaspoon freshly ground black pepper
1 tablespoon extra-virgin olive oil
1 pound whole-wheat linguine
8 ounces sliced cremini mushrooms
1/2 cup small diced onion
1/4 cup white wine (optional)
3 ounces baby kale
Parmesan cheese
Heat oven to 350° F.
In 3-quart Dutch oven over medium heat, heat sauce. Season chicken on both sides with salt and pepper.
In large skillet over medium-high heat, heat olive oil. Add chicken, skin-side down, and cook 3-5 minutes, or until skin is crisp and deep golden-brown. Turn chicken over and cook 3-5 minutes until golden-brown on second side.
Remove chicken from skillet, leaving fat in pan. Set aside skillet to be used later.
Add chicken to sauce in Dutch oven in single layer, skin-side up, with skin just above surface of sauce. Cover and bake 40 minutes. Begin to boil water for pasta.
Remove cover from Dutch oven and cook in oven 10 minutes.
Cook pasta al dente according to package instructions. Drain.
Heat reserved skillet and fat over medium-high heat; add cremini mushrooms and onions; saute until lightly browned. Deglaze with white wine, if desired, and cook until dry. Add kale to mushrooms and toss gently to wilt.
Remove Dutch oven from oven and gently transfer chicken to large plate. Add pasta to sauce in Dutch oven and stir gently to coat.
Place portion of pasta in pasta bowl and make well in middle. Spoon mushroom-kale mixture into center of well and top with one piece of chicken.
Shave Parmesan cheese over dish to finish.
Spoon polenta into serving dish and make a well in middle. Place mushroom-kale mixture in well. Top with marinara sauce and one piece of chicken.
Substitution: Portobello, shiitake or button mushrooms may be used in place of cremini mushrooms.
Tip: Serve with creamy polenta instead of pasta. In saucepan, combine 2 cups chicken stock, 2 cups milk, 2 tablespoons butter and 1 teaspoon kosher salt. Bring to boil and whisk in 1 cup instant polenta and cook, while stirring, 5 minutes. Add 1/4 cup grated Parmesan cheese and whisk to combine.
Grilled Mediterranean Stuffed Peppers
Prep time: 20 minutes
Cook time: 20 minutes
Servings: 6
2 tablespoons olive oil, divided
1 1/2 cups (10 ounces) uncooked orzo pasta
1 can (14 1/2 ounces) vegetable broth
1 jar (23 ounces) Bertolli Rustic Cut Spicy Marinara with Traditional Vegetables Sauce, divided
6 ounces crumbled feta cheese
1/2 cup (2 ounces) coarsely chopped smoked almonds
1/2 cup chopped fresh mint, divided
6 large red, yellow or orange bell peppers, top 1/2 inch removed and seeded
Heat grill to high.
In medium skillet on medium-high heat, heat 1 tablespoon oil. Add pasta; cook and stir 2-3 minutes, or until light golden brown. Stir in broth and 1 cup sauce; bring to boil.
Reduce heat to low; cover. Cook 4 minutes, or until pasta is al dente, stirring occasionally. Remove from heat; cool slightly.
Stir in cheese, almonds and 1/4 cup mint. Brush outsides of peppers with remaining oil. Grill 4-6 minutes, or until crisp tender and lightly marked on all sides, turning frequently; cool slightly.
Place peppers in center of 12-by-12-inch square of heavy duty foil. Bring sides of foil up and shape foil around each pepper, leaving tops open. Shape foil into stable base to secure peppers firmly. Keep upright while grilling.
Fill each pepper with 1 tablespoon sauce and about 3/4 cup orzo mixture. Grill peppers 8-10 minutes, or until filling is heated through. Remove from foil. Warm remaining sauce. Sprinkle with remaining mint before serving with warmed sauce.
To prepare peppers: Heat oven to 400° F. Prepare orzo mixture as directed but do not grill peppers. Fill raw peppers with orzo mixture and place on foil squares. Bring sides of foil up and seal tops to fully enclose each pepper.
Arrange on rimmed baking sheet and bake 20-25 minutes, or until peppers are soft and filling is heated through.
Three-Cheese Farmstand Cups
Prep time: 20 minutes
Cook time: 15 minutes
Servings: 6
2 cups cooked mini penne pasta
1 cup small broccoli florets, cut into 1/2-inch pieces
nonstick cooking spray
1/4 cup mascarpone cheese
3 eggs, beaten
1/2 cup grated Parmesan cheese
1 jar (23 ounces) Bertolli Rustic Cut Sweet Peppers and Portobello Mushroom Sauce, divided
1 1/2 cups shredded mozzarella cheese, divided
1/4 cup chopped fresh basil
Heat oven to 375° F. Divide penne pasta and broccoli evenly between 12 standard muffin cups sprayed with cooking spray. Whisk in mascarpone until smooth; gradually whisk in eggs.
Stir in Parmesan, 2 cups sauce and 1/2 cup mozzarella cheese. Spoon 1/4 cup egg mixture over pasta and broccoli in each cup; with spoon press filling down gently. Bake 18-20 minutes, or until set.
Sprinkle tops with remaining mozzarella cheese halfway through bake time. Let stand 3 minutes before unmolding. Warm remaining sauce and serve over top of cups with basil.
Source: Bertolli