(Family Features) As summer comes to an end and the reality of back-to-school season sets in, it can be challenging to get organized and jump back into your day-to-day routine. But even as things get hectic, it's still possible to create delicious dishes that leave you plenty of time to savor meals together as a family using a few simple tips and tricks.
Whether the weeknight dinner rush puts you in a panic or you're simply looking to spice up the same old lunchbox staples, these three steps will make it easy to assemble quick, flavorful dishes ideal for the busy back-to-school season.
1. Plan a weekly menu and shop accordingly so you can avoid scrounging to piece together a meal from the odds and ends in the pantry on a night when you're already pressed for time. Meal planning eliminates all of the guesswork, so your family can enjoy healthy, home-cooked meals while also saving time, money and stress.
2. Rely on a versatile, easy meal-helper that lends itself to a variety of preparations, such as Smithfield Marinated Fresh Pork. Packed with protein and already seasoned with juicy, delicious flavor, it's the perfect base for any weeknight meal. For a hassle-free dinner, try Pork with Balsamic Glaze and Rosemary, which is ready in just 30 minutes from start to finish - less time than it takes the kids to finish their homework.
3. Opt for simple, flavorful dishes that don't require a ton of ingredients or multiple sides. A zesty take on a traditional favorite, this South of the Border Pizza is convenient, kid-friendly and a great way to banish lunchtime boredom. Use this recipe as a starting point then experiment with more toppings to create your own unique family recipe.
Find more family friendly and time-saving recipe ideas at Smithfield.com.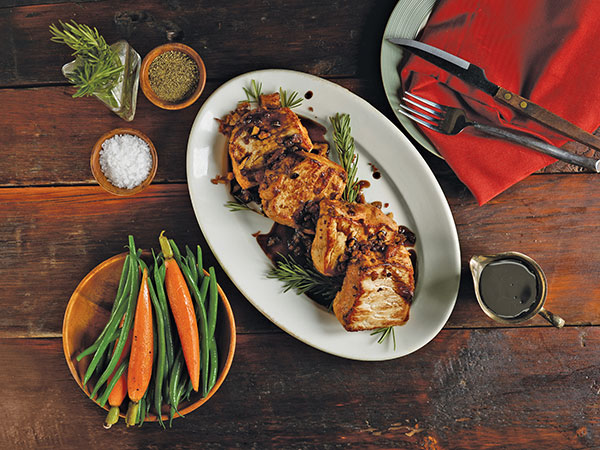 Pork with Balsamic Glaze and Rosemary
Prep time: 5 minutes
Cook time: 25 minutes
1 tablespoon olive oil
1 Smithfield Applewood Smoked Bacon Marinated Fresh Pork Loin Filet, cut into 3/4- to 1-inch thick chops
1/4 cup prepared balsamic vinegar glaze
1 teaspoon chopped fresh rosemary
In large, nonstick skillet, heat half the oil over medium heat.
Working in two batches, cook pork chops 4-5 minutes on each side until internal temperature reaches 150 F. Remove pork from skillet and place on rimmed serving platter; cover to keep warm. Repeat with remaining oil and pork chops.
Serve pork chops drizzled with balsamic glaze and sprinkled with rosemary.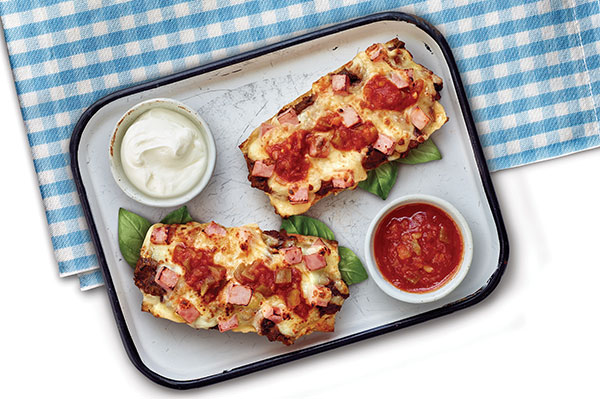 South of the Border Pizza
Prep time: 5 minutes
Cook time: 15 minutes
2 French bread sandwich rolls, halved
8 tablespoons refried black beans
8 tablespoons (2 ounces) Smithfield Anytime Favorites Hickory Smoked Diced Ham
8 slices pepper jack cheese
4 tablespoons picante sauce
4 tablespoons low-fat sour cream
Heat oven to 375 F.
Place four French bread halves on ungreased sheet pan. Spread 2 tablespoons beans evenly over each bread half.
Top each half with 2 tablespoons ham and two cheese slices.
Bake 8-10 minutes, or until cheese is melted and lightly browned.
Remove from oven; top each pizza with 1 tablespoon picante sauce and 1 tablespoon sour cream.
Source: Smithfield
(Family Features) When the temperature drops, it's natural for thoughts — and cravings — to turn toward soothing and hearty comfort foods. There's nothing like a good casserole or a bowl of hot chili to make you feel good all over.
To kick up the fun in your favorite meals, try some comfort foods with salsa added into the mix. Salsa and picante sauces are convenient ways to add different flavors and heat up the whole family with a satisfying meal.
These recipes are fast and easy, making them great weeknight dinners for the busy cook.
For more creative recipes and serving suggestions, visit pacefoods.com.
Turn Up the Heat!
Here are some more ideas from Pace Foods to help you put some zip into your favorite foods.
Zesty Grilled Cheese
Dip your grilled cheese sandwich into chunky salsa or picante sauce for a full-flavored, zingy kick.
Fiesta Meat Loaf
Use chunky salsa or picante sauce instead of tomato sauce or ketchup for a juicy, zesty meat loaf. Just before serving, top with more salsa.
Soup Toppers
Stir any delicious flavored salsa into your soup for a fresh new taste. Try it in black bean, tomato or vegetable soup.
Fiesta Rice
Tired of making the same old side dishes? To freshen up any meal, stir chunky salsa or picante sauce into your cooked rice for a lively side dish the whole family will love.
Monterey Chicken Tortilla Casserole
Prep: 10 minutes
Cook: 40 minutes
Makes: 4
1 cup coarsely crumbled tortilla chips
2 cups cubed cooked chicken OR cooked turkey
1 can (about 15 ounces) cream-style whole kernel corn
3/4 cup Pace Picante sauce
1/2 cup sliced pitted ripe olives
1/2 cup shredded cheddar cheese
Chopped green pepper OR red pepper
Tortilla chips
Layer crumbled chips, chicken, corn and picante sauce in 1-quart casserole. Top with olives and cheese.
Bake at 350°F for 40 minutes or until hot. Top with peppers. Serve with chips.
Chipotle Chili
Prep: 15 minutes
Cook: 8 hours
Makes: 8
1 jar (16 ounces) Pace Chunky salsa
1 cup water
2 tablespoons chili powder
1 teaspoon ground chipotle chile pepper
1 large onion, chopped (about 1 cup)
2 pounds beef for stew, cut into 1/2-inch pieces
1 can (about 19 ounces) red kidney beans, rinsed and drained
Shredded cheddar cheese (optional)
Sour cream (optional)
Stir salsa, water, chili powder, chipotle pepper, onion, beef and beans in a 3 1/2-quart slow cooker.
Cover and cook on LOW for 8 to 9 hours* or until the beef is fork-tender. Serve with cheese and sour cream, if desired.
*Or on HIGH for 4 to 5 hours.
2-Step Beefy Taco Joes
Prep: 5 minutes
Cook: 10 minutes
Makes: 8
1 pound ground beef
1 can (10 3/4 ounces) Campbell's Condensed
Tomato soup (Regular OR 25% Less Sodium)
1 cup Pace Thick & Chunky salsa
1/2 cup shredded cheddar cheese
8 Pepperidge Farm Sandwich rolls, any variety
Brown ground beef in skillet. Pour off fat.
Add soup and salsa. Heat through. Top with cheese. Serve on rolls.
Mexican Four Cheese Potatoes au Gratin
Prep: 10 minutes
Bake: 50 minutes
Stand: 10 minutes
Makes: 6
1 jar (16 ounces) Pace Mexican Four Cheese salsa con Queso
3/4 cup Swanson Chicken broth (Regular, Natural Goodness™ OR Certified Organic)
1/4 cup heavy cream OR half-and-half
3 medium potatoes, peeled and thinly sliced (about 3 cups)
Stir queso, broth and cream together in medium bowl.
Put HALF of potatoes in a 2-quart shallow baking dish. Pour HALF of queso mixture over potatoes. Repeat with remaining potatoes and queso mixture.
Bake at 350°F for 50 minutes or until potatoes are tender. Let stand for 10 minutes.
Mexi-Mac
Prep: 5 minutes
Cook: 20 minutes
Makes: 4
1 pound ground beef
1 cup Pace Picante sauce
1 tablespoon chili powder
1 can (14 1/2 ounces) whole peeled tomatoes, cut up
1 cup frozen whole kernel corn
3 cups cooked elbow pasta
1/2 cup shredded cheddar cheese
Sliced avocado
Sour cream
Cook beef in skillet until browned. Pour off fat.
Add picante sauce, chili powder, tomatoes and corn. Heat to a boil. Cook over low heat 10 minutes. Add pasta. Sprinkle with cheese. Cover and heat until cheese melts. Garnish with avocado and sour cream.
Source: Pace Foods