(Family Features) With the rise in popularity of plant-based diets and dishes, combining them with dairy products can create a superfood power couple. For example, the cheddar cheese found in these Vegetarian Stuffed Peppers helps optimize nutrient absorption from the rice, black beans, corn and tomatoes to create a nutritious and delicious appetizer or meal.
Find more recipes that combine the goodness of dairy and plant-based foods at milkmeansmore.org.
Watch video to see how to make this recipe!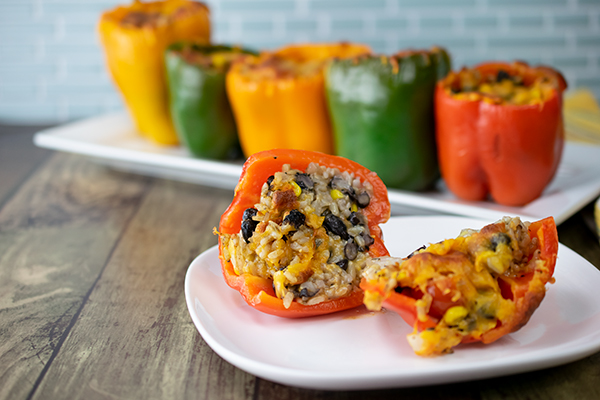 Vegetarian Stuffed Peppers
6 large sweet bell peppers
1/2 cup diced sweet onion
1 cup cherry tomatoes, sliced in half
1 cup frozen corn, thawed
1 1/2 cups cooked black beans plain (drained and rinsed if using canned beans)
2 cups cooked brown rice
1/2 teaspoon chipotle chili powder
1/2 teaspoon dried oregano
1/2 teaspoon ground cumin
3/4 teaspoon kosher salt
1/2 teaspoon black pepper
1 1/2 cups shredded Sharp Cheddar Cheese, divided
Preheat the oven to 350º F. Line a rimmed half sheet pan with non-stick aluminum foil.
Slice the tops off of the sweet bell peppers. Use a spoon to scoop the seeds and white membranes from the insides of the peppers. Discard the pepper tops and seeds. Place the peppers onto the prepared half sheet pan; briefly set aside.
In a large bowl, stir together the diced onion, cherry tomatoes, corn, black beans, and brown rice until combined. Sprinkle the chili powder, oregano, salt, and pepper over top before stirring to distribute the seasonings throughout. Fold 1 cup of the Cheddar cheese into the filling, reserving the remaining cheese for later.
Stuff the open cavities of the sweet bell peppers tightly with filling, mounding a bit of the filling over the top edge of the peppers. Sprinkle the remaining Cheddar cheese over top of the filling. Bake the stuffed peppers for 30 to 35 minutes or until filling is heated through, the peppers soften, and the exteriors begin to wrinkle. Serve immediately.
(Family Features) Nothing brings people together like a barbecue. There seems to be something about being outdoors and the sizzle of fresh food on the grill that makes you want to gather with family and friends.
This summer, you can be the hero of your grill with a few simple tips and tricks:
A great meal starts with great meat. Make sure to use versatile, high-quality and tender cuts like Smithfield Fresh Pork ribs, chops and tenderloins.
Cut down on time, not flavor. Look for pre-seasoned meats such as pork chops, or slice, dice or cube larger cuts like boneless loin to shorten cook time and increase flavor.
Grill like a pro. Use direct heat for burgers and chops, and indirect heat for larger cuts like ribs.
Find more summer grilling tips and pitmaster-perfected recipes at SmithfieldGetGrilling.com.
St. Louis Style Pork Spare Ribs with Coffee Cocoa Dry Rub
Recipe courtesy of pitmaster Chris Lilly
Prep time: 10 minutes
Cook time: 3 1/2 hours
Servings: 4-6
7 teaspoons salt
2 tablespoons dark brown sugar
4 teaspoons chili powder
1 tablespoon ground coffee
2 1/2 teaspoons unsweetened dark cocoa powder
2 teaspoons black pepper
1 teaspoon garlic powder
1 teaspoon onion powder
3/4 teaspoon ancho chile pepper
1/8 teaspoon coriander
1/8 teaspoon turmeric
2 racks Smithfield St. Louis Style Pork Spareribs, membrane removed
Build charcoal fire for indirect cooking by situating coals on one side of grill, leaving other side empty. Heat grill to 250° F.
To make dry rub: In small bowl, combine salt, brown sugar, chili powder, coffee, cocoa, black pepper, garlic powder, onion powder, ancho chile pepper, coriander and turmeric.
Generously apply dry rub onto front and back of pork ribs. Gently pat to ensure rub adheres.
Put ribs meat-side up over indirect heat, away from coals, close lid and cook until ribs are tender, about 3 1/2 hours.
Remove ribs from grill and let rest, uncovered, 5 minutes. Slice ribs between bones and serve.
Pineapple Pork Kebabs
Recipe courtesy of pitmaster Sterling Ball
Prep time: 10 minutes
Cook time: 1 hour
Servings: 3-4
1/2 Smithfield Prime Boneless Fresh Pork Loin
1 sweet onion, cut into 1-1 1/2-inch square pieces
1 red bell pepper, cut into 1-1 1/2-inch square pieces
2 cups pineapple chunks
3-4 tablespoons barbecue rub
2 1/2 cups teriyaki marinade
3-4 flexible skewers
Heat grill or smoker to 250° F. Cut pork loin into 2-inch cubes.
Season pork loin, sweet onion, red bell pepper and pineapple chunks with rub.
Thread pork loin, onion, pepper and pineapple on skewer; repeat until length of skewer is almost full. Repeat with additional skewers.
Put assembled kebabs in large re-sealable bag and add teriyaki marinade. Carefully remove air from marinade bag and refrigerate 20 minutes.
Remove kebabs from marinade bag and place on grill over indirect heat; cook 12-14 minutes, remove and set aside.
Increase grill temperature to 400° F. Sear kebabs at high heat, until caramelized. Using meat thermometer, check pork loin cubes for doneness; remove from heat once pork reaches internal temperature of 145° F.
Source: Smithfield