(Family Features) On those busy evenings when brainstorming a meal the whole family agrees on seems like a tall task, turning to a versatile protein can open a bevy of options. The next time your loved ones are stuck in a dinnertime rut, discover the versatility of veal to present a list of new meal possibilities.
Pairing your favorite traditional mealtime flavors with veal can allow you to uncover family-friendly dishes with familiar taste. Add excitement to the weekly menu with a recipe like these Crunchy Buffalo Baked Veal Cutlet Sandwiches, which offers the classic combination of Buffalo sauce and blue cheese in a dish that requires less than an hour in the kitchen.
Thin veal cutlets are dredged in flour, hot sauce and breadcrumbs before hitting the oven. Once baked, the cutlets are added to your favorite type of roll and topped with blue cheese broccoli slaw and as much additional Buffalo sauce as you desire for a flavor-packed meal your loved ones can savor together.
Find more ways to discover veal's versatility at Veal.org.
Watch video to see how to make this recipe!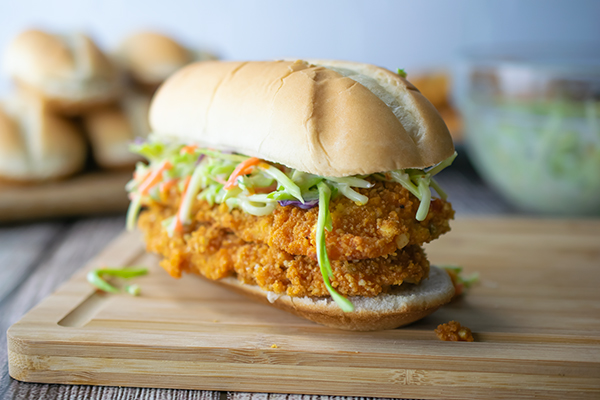 Crunchy Buffalo Baked Veal Cutlet Sandwiches
Prep time: 15 minutes
Cook time: 20 minutes
Servings: 4
1 package broccoli slaw
1/2 cup blue cheese dressing
1 teaspoon salt
1 teaspoon black pepper
1 cup flour
4-6 tablespoons butter, melted
1/3 cup Buffalo-style hot sauce, plus additional for serving, divided
1 cup panko breadcrumbs
3/4 cup blue cheese crumbles
8 veal cutlets, pounded about 1/8-inch thick
4 sub rolls
Preheat oven to 400 F. Line rimmed baking sheet with parchment paper; set aside.
In medium bowl, using tongs, lightly toss broccoli slaw and blue cheese dressing.
In shallow bowl, stir together salt, pepper and flour.
In separate shallow bowl, whisk melted butter and hot sauce until combined.
In bowl of food processor, pulse panko and blue cheese crumbles until combined. Transfer mixture to plate.
Pat veal cutlets dry with paper towels. Dredge one veal cutlet in seasoned flour then coat with hot sauce and butter mixture. Place cutlet on top of panko blue cheese crumbs and gently press down to coat one side. Turn cutlet over and press down again gently to coat, including edges. Place on prepared baking sheet. Repeat with remaining cutlets
Bake 10-15 minutes, or until internal temperature reaches 160 F.
Cut rolls in half, add two cutlets per roll, top each with broccoli slaw mixture and drizzle lightly with Buffalo-style hot sauce.
Substitution: Ranch may be used for blue cheese.
Source: Veal.org
(Family Features) Tender, juicy, flame-kissed and seasoned just right — there may not be anything more satisfying than a perfectly grilled steak.
These recipes and grilling tips from the steak experts at Omaha Steaks will help you put the perfect steak on your plate any time you want.
Get more grilling recipes at www.omahasteaks.com. You can also download the free Steak Time app to get exclusive recipes and an innovative grilling timer.
Peppercorn Crusted Strip Steaks
Serves 4
4 Omaha Steaks Strip Loin Steaks
2 tablespoons olive oil
3 teaspoons coarsely ground black peppercorns
1 teaspoon coarsely ground sea salt
4 teaspoons garlic cloves, minced
Preheat grill on high.
In small bowl, combine black peppercorns, salt and garlic.
Blot steaks dry with a clean paper towel.
Brush both sides of steaks with olive oil.
Evenly apply rub on to one side of each steak.
Grill steaks to desired doneness. Use Steak Time app or grilling chart to determine correct cooking times.
Serve steaks with rub side up.
Buffalo Sirloin Tips
Serves 4 to 6
1 pound Omaha Steaks Sirloin Tips
1 teaspoon kosher salt
1/2 teaspoon chile powder
1/4 teaspoon black pepper
4 to 6 bamboo or stainless steel skewers
1 recipe Buffalo Sauce
Leaves green leaf lettuce
Optional celery sticks, ranch or blue cheese dressing
Preheat grill on high.
Prepare Buffalo Sauce.
Blot sirloin tips dry with a clean paper towel.
In small mixing bowl, combine sirloin tips, salt, chile powder and pepper.
Thread seasoned sirloin tips onto skewers, keeping the thickness even and allowing space between each piece.
Place skewers on grill and cook to desired doneness. Use Steak Time app or grilling chart to determine correct cooking times.
Remove skewers from grill and use tongs to slide cooked sirloin tips into a large bowl.
Toss cooked tips with Buffalo Sauce until well coated.
Use a toothpick to remove tips from bowl onto a plate lined with lettuce leaves.
Pour extra sauce into a dipping cup and serve with tips. If desired, serve with celery or dressings.
Buffalo Sauce
4 tablespoons butter, softened
2 tablespoons hot sauce
2 tablespoons chile sauce
Mix ingredients in mixer or food processor until completely combined.
Filet Mignon with Garlic Butter Medallions
Serves 4
4 Omaha Steaks Filet Mignon Steaks
Kosher salt and ground black pepper to taste
1 recipe Garlic Butter
Preheat grill on high.
Season steaks with salt and pepper.
Grill steaks to desired doneness. Use Steak Time app or grilling chart to determine correct cooking times.
Just before removing the steaks from the grill, place a generous medallion slice of Garlic Butter on each steak.
Let steaks rest 2 minutes, while butter continues to melt and then serve.
Garlic Butter
Serves 4 to 6
2 heads garlic
1 tablespoon olive oil
1/4 pound unsalted butter, softened
1/2 teaspoon sea salt
1 tablespoon Worcestershire sauce
1 tablespoon chopped parsley
Preheat oven to 375°F.
Slice half an inch off tops of garlic heads and place on baking sheet.
Drizzle olive oil over garlic and cover with tented foil. Roast in oven for 1 hour.
Remove garlic from oven and let cool until able to handle. Squeeze roasted garlic out of the skin into food processor or blender.
Add butter, salt, Worcestershire and parsley, blend all ingredients together.
Place mixture in middle of a large piece of plastic wrap. Form into a log and wrap tightly.
Refrigerate 4 to 6 hours. Butter will keep for several weeks in refrigerator.
Ribeye Steak with Shallot Demi-Glace
Serves 4
4 Omaha Steaks Rib Eye Steaks
Kosher salt and ground black pepper to taste
1 cup Shallot Demi-Glace
Prepare Shallot Demi-Glace sauce.
Blot steaks dry with a clean paper towel.
Preheat grill on high. Season steaks with salt and pepper.
Grill steaks to desired doneness using Steak Time app or grilling chart.
Place steaks on serving plate and sauce with the Shallot Demi-Glace.
Shallot Demi-Glace
Serves 4
1 tablespoon cooking oil
1 medium shallot, minced
1/2 cup red wine
1 cup demi-glace (can be found in most grocery and specialty food stores)
Salt and pepper to taste
Preheat oil in a small sauce pan.
Add shallots and cook them for 1 1/2 to 2 minutes. Shallots should be well browned and some should be blackened.
Add red wine and reduce liquid by 2/3.
Add demi-glace and bring to a boil. Reduce sauce while stirring for 2 to 3 minutes or until desired consistency reached. If desired, add salt and pepper.
Top 5 Tips for Perfect Grilling
Clean and pre-heat grill on high.
Lightly oil and season everything before you put it on the grill. This helps the searing process and prevents sticking.
Sear the outside of steaks when grilling, using tongs or a spatula to turn the meat, and cover the grill as much as possible during the grilling process to help lock in the great flavor and to prevent flare-ups.
Use the 60/40 grilling method. Grill for 60 percent of the time on the first side, then grill 40 percent of the time after you turn over the food. This will give you an evenly cooked steak.
Place your cooked steak on a clean plate and allow to rest for five minutes before serving to retain moisture and juiciness.
Here's how long you should keep steaks on the heat for grilling perfection. Cooking times are in minutes and based on fully-thawed steaks.