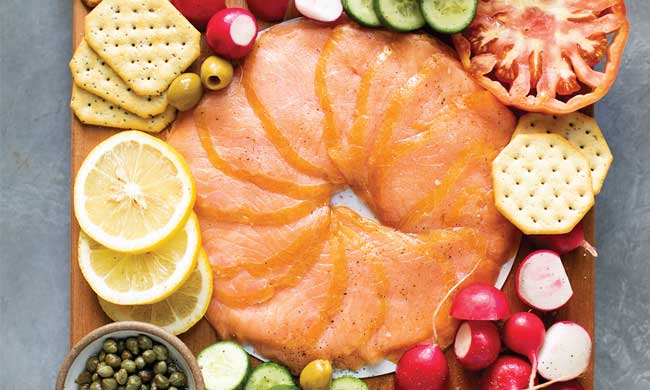 (Family Features) Delicious, colorful and versatile, smoked salmon can make it easy to elevate your holiday festivities, which might look shockingly different this year.
Whether it's your family or a small group of friends, you can feel good about serving sustainable smoked salmon to your guests. Highlight smoked salmon at socially distanced gatherings with these recipes and tips from chef Nora Pouillon, a James Beard Lifetime Achievement Award winner, and her daughter, Blue Circle Foods product director Nina Damato.
Ready, Set, Serve
There's no need to prep or cook smoked salmon - it's sliced and ready to eat so you can impress your guests in no time with a colorful smoked salmon platter.
1. Arrange smoked salmon layers on a decorative platter.
2. Garnish with your favorite charcuterie sides like olives, capers, pickles and sliced lemon, tomato, cucumber or radish.
3. Season with dill sprigs, sea salt and fresh cracked pepper.
4. Serve with an assortment of crackers or buttered triangles of crustless brown bread.
A Seafood Superfood
Smoked salmon is a nutritional powerhouse full of antioxidants, omega-3s and protein. A 2-ounce serving of Blue Circle smoked salmon contains 1,000 mg of health-boosting omega-3s, which meets the daily requirements recommended by the FDA's 2015-2020 Dietary Guidelines for Americans. To make the most of a healthy choice, look for smoked salmon that does not contain sugar or added preservatives.
A Sustainable Protein
To ensure your smoked salmon is sourced with the environment and your health in mind, purchase products that are free from antibiotics, GMOs, added hormones and synthetic colorants.
A Dietary Chameleon
From traditional tastes to keto, gluten-free or dairy-free canapes, smoked salmon fits the bill. Its clean ingredient profile means it satisfies many common dietary restrictions.
For mouthwatering appetizers, try Pouillon's Smoked Salmon Cucumber Boats. If you enjoy pairing smoked salmon with traditional flavors like cream cheese and capers, consider her Smoked Salmon Rolls with Cream Cheese and Caper Filling.
To access more recipes and tips, visit bluecirclefoods.com.
Smoked Salmon Rolls with Cream Cheese and Caper Filling
Recipe courtesy of chef Nora Pouillon
4 ounces Blue Circle Smoked Salmon
olive oil
6 ounces cream cheese
2 tablespoons small capers, drained, plus additional for serving, divided (optional)
1/2 medium red onion, finely diced
1 tablespoon chopped Italian parsley
salt, to taste
pepper, to taste
Layer smoked salmon slices on lightly oiled aluminum foil, overlapping slightly.
Mix cream cheese with capers, onion and parsley. Season with salt and pepper, to taste.
Place thick line of cream cheese mixture along long side of salmon.
Roll up salmon carefully with help of aluminum foil, similar to sushi roll.
Chill in refrigerator 2-3 hours or overnight to firm up roll.
To serve, use sharp knife to slice salmon roll into 1/2-inch long pieces.
Place rolls on serving plate and garnish with additional capers, if desired.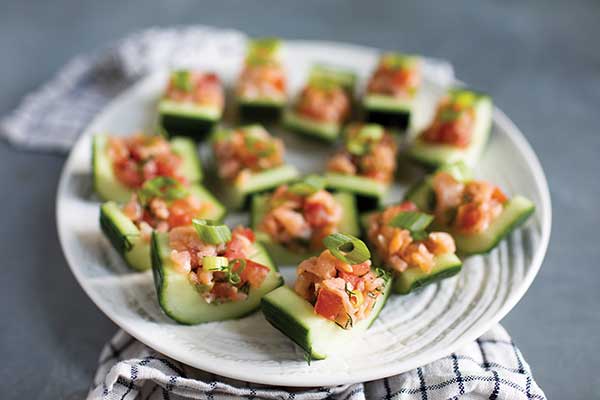 Smoked Salmon Cucumber Boats
Recipe courtesy of chef Nora Pouillon
1 English cucumber (about 1 1/2 inches thick and 10 inches long)
1 medium tomato, seeded and cut into tiny pieces
1/4 cup scallions, finely chopped
1 tablespoon dill sprigs, finely chopped, plus additional for serving (optional), divided
1 tablespoon lemon juice
4 ounces Blue Circle Smoked Salmon, chopped or pulsed
salt, to taste
pepper, to taste
Slice cucumber in half lengthwise and use spoon to scoop out seeds. If cucumber skin is too thick, peel before slicing.
Gently mix tomato, scallions, 1 tablespoon dill, lemon juice and smoked salmon until combined. Season with salt and pepper, to taste.
Fill cucumber halves with smoked salmon mixture.
Slice cucumber boats into 1/2-3/4-inch pieces crosswise.
To serve, place pieces on platter and garnish with additional dill, if desired.
Source: Blue Circle Foods
(Family Features) Regardless of what back to school looks like this year, preparing family meals throughout the week does not have to be a challenge. Shopping at a store like ALDI can stretch your budget and help you make five different meals over five days for about $5 a meal pretax for a family of four.
Using a mix of kitchen staples you already may have, along with fresh ingredients, you can make delicious, affordable recipes for the whole family. Simply select a protein or main ingredient and explore versatile ways to build other meals around it during the week.
Grilled chicken breasts are ideal for on-the-go lunches or weekday dinners. Busy parents can get dinner on the table in less than 30 minutes with an easy Chicken Cacciatore in the pressure cooker or simple prep-ahead Chicken Enchiladas. These convenient dishes make it a snap to add variety by substituting chicken with shrimp, beans or vegetables.
Serving organic produce, fresh and frozen meats, seafood and on-the-go snacks can be easy when you shop at a store like ALDI for the back-to-school season. Plus, you can find foods to fit any dietary style without breaking the bank.
Find more family meal solutions at aldi.us.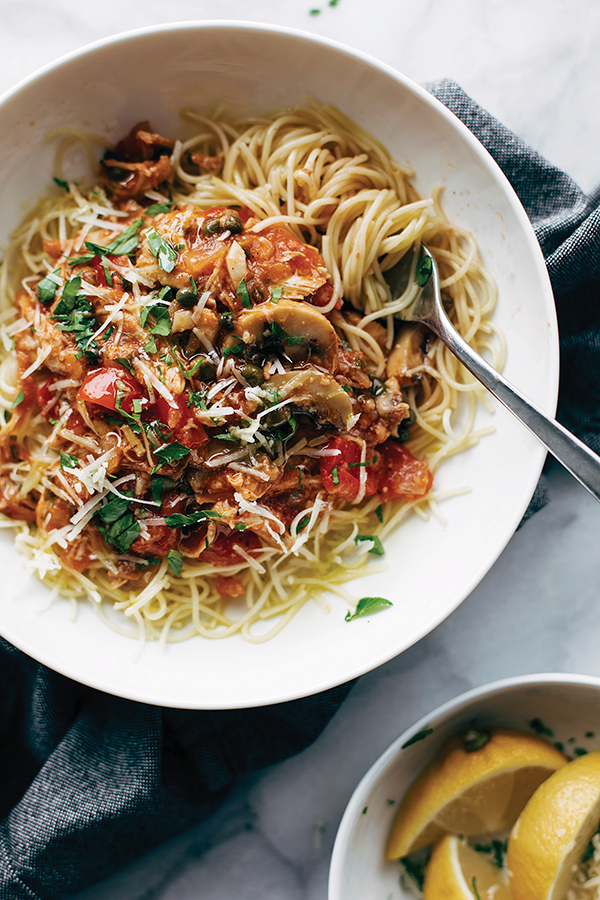 Recipe courtesy of "Pinch of Yum" on behalf of ALDI
Prep time: 15 minutes
Cook time: 15 minutes
Servings: 6
1-1 1/2 pounds chicken breasts or chicken thighs
flour
1 pinch salt, plus 2 teaspoons, divided
2 tablespoons extra-virgin olive oil
1 onion, diced
16 ounces mushrooms, sliced
3 cloves garlic, minced
1/2 cup chicken broth
1 bell pepper, diced
1 can (28 ounces) diced tomatoes
4 tablespoons butter
capers (optional)
parsley, plus additional for topping (optional)
lemon
preferred pasta
Parmesan cheese (optional)
Dredge chicken in flour and pinch of salt. Turn on saute function on pressure cooker. Add oil; saute chicken 2-3 minutes on each side. Remove and set aside (chicken will finish cooking later).
Add onion, mushrooms and garlic. Saute until softened. Add broth and let sizzle out.
Add chicken, bell pepper, tomatoes and remaining salt to pressure cooker. Cook on high pressure 15 minutes. Release pressure.
Shred chicken. Stir in butter, capers, parsley and lemon. Serve with preferred pasta and top with additional parsley and Parmesan cheese, if desired.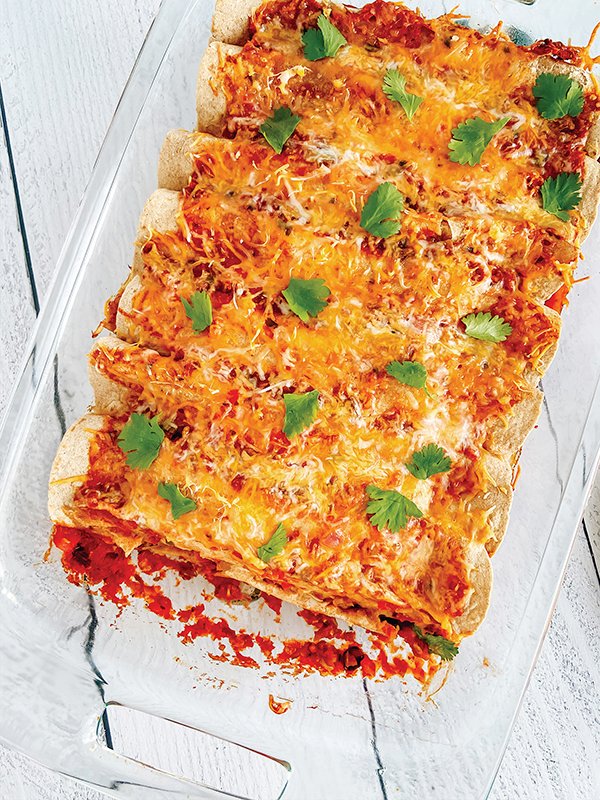 Recipe courtesy of "Wellness for the Win" on behalf of ALDI
Prep time: 25 minutes
Cook time: 25 minutes
Servings: 10
Nonstick cooking spray
1 medium onion, chopped
Chicken:
1 pound chicken breasts
1/4 teaspoon garlic powder
1/4 teaspoon onion powder
1/4 teaspoon chili powder
1/4 teaspoon cumin
salt, to taste
pepper, to taste
Enchiladas:
15 ounces black beans, drained and rinsed
10 ounces diced tomatoes and green chilies, drained
2 cups shredded Mexican cheese, divided
16 ounces restaurant-style salsa, divided
10 whole-wheat tortillas
Optional Toppings:
diced avocado
plain Greek yogurt
cilantro
Preheat oven to 400 F. Spray 9-by-13-inch pan with nonstick cooking spray and set aside.
In medium skillet over medium-high heat, cook onion until translucent, about 3-5 minutes. Transfer to large bowl and set aside.
To make chicken: Season chicken breasts with garlic powder, onion powder, chili powder, cumin and salt and pepper, to taste. Add chicken to same skillet over medium-high heat. Cook 5-7 minutes on each side, or until cooked through. Use fork and knife to shred chicken.
To make enchiladas: In large bowl with cooked onion, add shredded chicken, black beans, diced tomatoes, green chilies and 1 cup shredded Mexican cheese. Use spoon to mix well.
Pour 1 cup salsa on bottom of greased pan and use spatula to spread evenly. Scoop about 1/2 cup chicken and veggie mixture into each tortilla. Roll tightly and place seam side down in pan.
Top enchiladas with 3/4 cup salsa and remaining shredded cheese; use spatula to spread evenly.
Cover pan tightly with foil and bake 25-30 minutes. Remove from oven; serve hot. Add avocado, yogurt and cilantro, if desired.
Source: ALDI