(Family Features) If you're looking to spice up your mealtime routines, especially during those busy school nights, you may find your solution in versatile ingredients that work for a multitude of dishes.
For example, you can turn to plantains as a replacement for often-used recipe staples like potatoes. Plantains are a fruit grown around the world that cooks and eats more like a vegetable. Members of the banana family, they're starchier and lower in sugar, meaning they're still green when ripe.
While you're most likely to find them baked, roasted or fried as a savory side dish at Latin, African or Caribbean restaurants, they're growing in popularity in North America as stars of their own recipes or as nutritious, exotic swaps for starches. For example, these dishes from Dole for Plantain Crusted Salmon Fillets and Slow Cooker Sweet Potato, Plantain and Lentil Caribbean Curry offer quick ways to enjoy plantains while saving time in the kitchen.
As an additional benefit, plantains can be used at every stage of ripeness. They can be boiled like a potato when green; prepared in sauces and soups, air-fried or roasted as snacks when yellow; or baked in desserts and sweet recipes when black or spotted.
Find more ways to enjoy plantains and other fresh fruits and vegetables in family recipes at dole.com.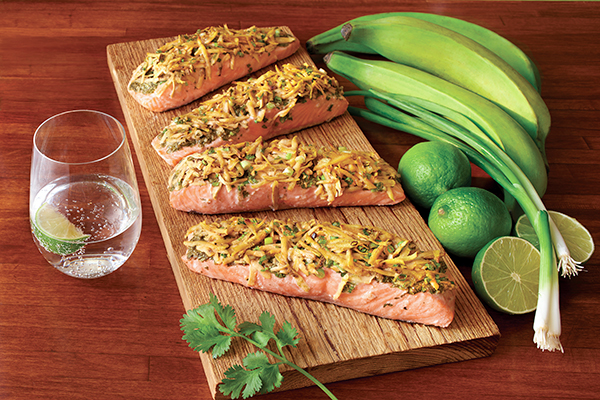 Plantain Crusted Salmon Fillets
Prep time: 15 minutes
Total time: 30 minutes
Servings: 4
Nonstick cooking spray
1/3 cup chopped fresh cilantro
1 1/2 tablespoons olive oil
1 1/2 tablespoons lime juice
1 tablespoon minced garlic
1 teaspoon cumin
4 salmon fillets (6 ounces each), skin on
1/4 teaspoon salt, plus additional, to taste, divided
1 DOLE® Plantain, green or half ripe
2 Dole Green Onions, thinly sliced
1/2 tablespoon grated lime peel
Preheat oven to 425 F. Line baking sheet with foil; spray with nonstick cooking spray and set aside.
Combine cilantro, olive oil, lime juice, garlic and cumin; set aside.
Arrange salmon fillets on prepared baking sheet. Season with salt, to taste. Spread about 1 tablespoon cilantro mixture on top of each salmon fillet to cover.
Using box grater, peel and grate plantain. Place grated plantain in bowl with green onions, lime peel and 1/4 teaspoon salt; toss to combine. Sprinkle about 1/4 cup plantain mixture on top of each salmon fillet, gently pressing to adhere. Spray plantain crust with nonstick cooking spray.
Bake 15 minutes, or until salmon is opaque and plantain crust is lightly browned.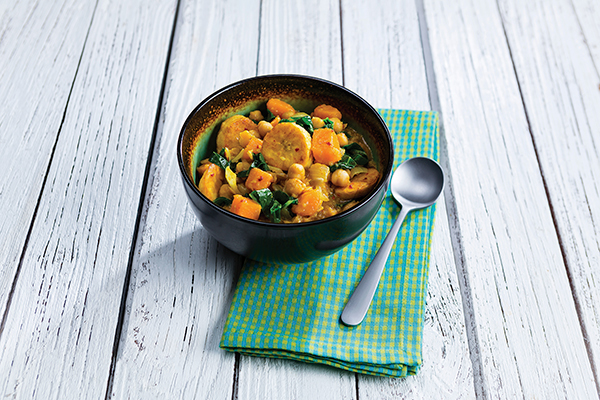 Slow Cooker Sweet Potato, Plantain and Lentil Caribbean Curry
Prep time: 20 minutes
Servings: 6
1 tablespoon, plus 2 teaspoons, grapeseed oil, divided
1 large DOLE® White Onion, chopped
4 cloves garlic, minced
2 teaspoons curry powder
1/2 teaspoon cayenne pepper
1/2 teaspoon grated fresh ginger
1 can (15 ounces) reduced sodium chickpeas, drained and rinsed
2 large Dole Sweet Potatoes, chopped (about 4 cups)
2 medium Dole Plantains, chopped (about 3 cups)
4 cups low-sodium vegetable broth
1/2 cup red lentils
3 cups packed, chopped collard greens
1/4 cup roasted salted pepitas
In large skillet over medium-high heat, heat 2 teaspoons oil; add onion and cook 3 minutes, or until softened, stirring occasionally. Add garlic, curry powder, cayenne pepper and ginger; cook 2 minutes, or until fragrant and starting to brown, stirring occasionally.
Transfer onion mixture to 3-4-quart slow cooker; add chickpeas, potatoes, plantains, broth and lentils. Cover and cook on high 4 hours or low 8 hours, or until potatoes and lentils are tender.
Stir in collard greens; cook 20 minutes, or until greens are tender. Serve garnished with pepitas.
Source: Dole
(Family Features) Taking care of your heart requires a commitment to the right routines and smart decisions, but it doesn't have to be difficult. Simple ingredients already in your kitchen may offer powerful protection to keep your heart healthy.
For example, more than a decade of research shows 100% orange juice and its vitamins and minerals may play a beneficial role in helping lower blood pressure and other risk factors for heart disease.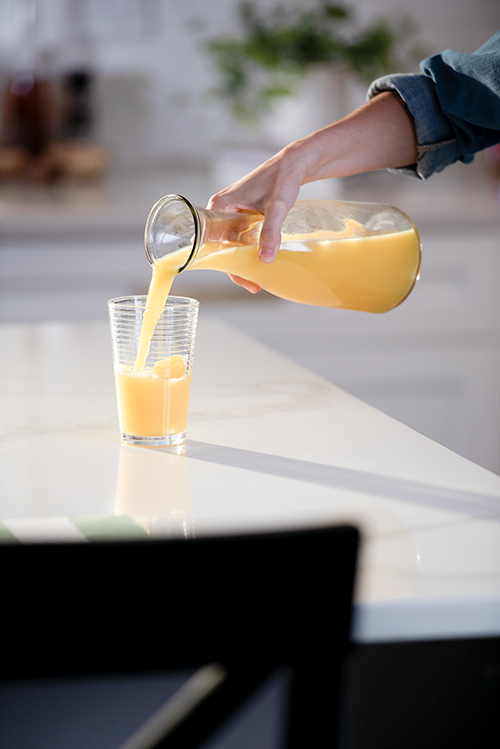 A study published in the "European Journal of Nutrition" by researchers at Eurecat, Centre Tecnològic de Catalunya, in Reus, Spain provides further support for 100% orange juice's role in heart health, and offers additional insight into a unique component in orange juice, called hesperidin, that may have antioxidant activity and contribute to orange juice's cardiovascular benefits.
The study, which was funded by the Florida Department of Citrus, determined that adults with pre- or stage-1 hypertension who drank about 2 cups of 100% orange juice per day saw significant reductions in systolic blood pressure and other markers of heart health and inflammation.
"Nearly half of adults in the United States have high blood pressure," said Dr. Rosa Walsh, scientific research director at the Florida Department of Citrus. "For those with mild hypertension, including something as simple and pure as 100% orange juice in your daily healthy routine may help make significant improvements in such a prevalent problem."
Beyond its heart health benefits, many studies, including a National Health & Nutrition Survey published in "Nutrition Journal," have found that 100% orange juice consumption is associated with higher diet quality and increased levels of key nutrients, including many that are under-consumed, like potassium.
"The vitamin C, antioxidants and potassium found in 100% orange juice can help maintain a healthy blood pressure, which is a big factor in heart health," said Kaleigh McMordie, RDN and founder of the blog "Lively Table."
With no added sugar and no fat, cholesterol or sodium, Florida Orange Juice can help you take advantage of these nutritious benefits from breakfast to dinner with dishes like Poached Salmon with Collard Green Salad, an easy way to add potassium and vitamin C at the family table, especially when paired with an 8-ounce glass of 100% orange juice. For those busy mornings on the go, an Orange Kale Smoothie can be the fuel you need as a filling option with less than five ingredients that's an excellent source of vitamin C, folate and vitamin K and a good source of potassium and thiamin.
For more information on the heart health benefits of 100% orange juice, visit FloridaJuice.com.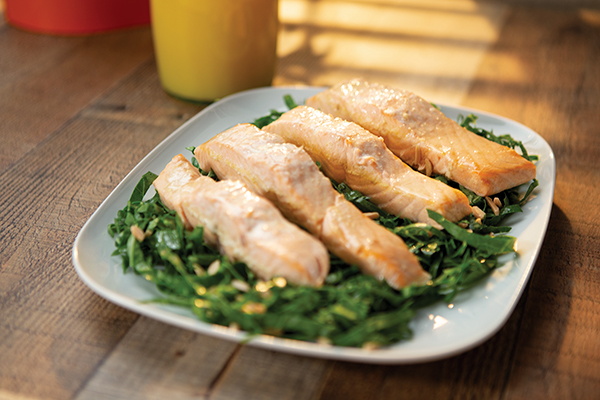 Poached Salmon with Collard Green Salad
1 1/4 cups Florida Orange Juice, divided
Nonstick cooking spray
1 pound salmon filets
1 cup white wine
2 cloves garlic, smashed
2 teaspoons finely grated fresh ginger, divided
2 tablespoons olive oil
1 tablespoon apple cider vinegar
1 tablespoon finely minced shallot
salt, to taste
pepper, to taste
1 small bunch collard greens (about 8 ounces), stems and center ribs removed
1/2 cup toasted, slivered almonds
Preheat oven to 375 F. Spray small glass baking dish with nonstick cooking spray. Set salmon in dish.
In small saucepan over high heat, combine 1 cup 100% orange juice, white wine, garlic and 1 teaspoon grated ginger; bring to simmer.
Pour poaching liquid over salmon and cover with aluminum foil.
Poach in oven 15-20 minutes, or until salmon is cooked through.
In lidded jar, combine remaining 100% orange juice, remaining grated ginger, olive oil, vinegar and shallot; shake to combine. Season with salt and pepper, to taste.
Cut collard greens into thin ribbons and transfer to large mixing bowl. Pour dressing over collard greens; toss well to combine and fully coat.
Remove salmon from liquid and serve on top of collard greens. Sprinkle with almonds.
Season with additional salt and pepper, to taste, and serve.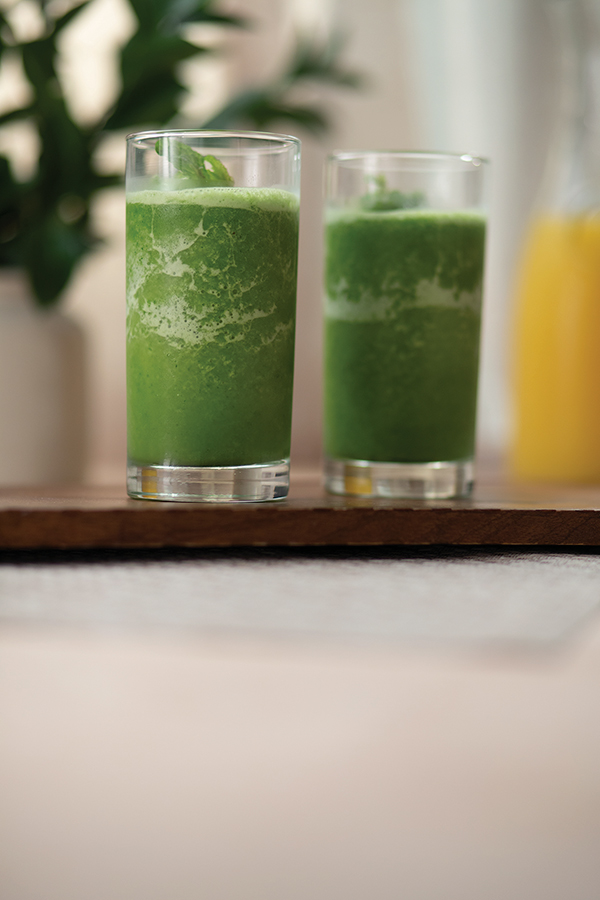 Orange Kale Smoothie
Servings: 2
2 cups Florida Orange Juice
1/4 cup frozen pineapple
1 cup kale, tough stems removed
4 mint leaves
In large blender, blend 100% orange juice, frozen pineapple, kale and mint leaves until smooth.
Pour into tall glass.
Source: Florida Department of Citrus