(Family Features) Holiday meals are all about creating memories with loved ones at the family table. One way to make those special moments truly stand out is to fill your table with delicious recipes and the perfect wine pairings to help make the meal unforgettable.
Begin the dining experience with a perfect light bite like scallops to tease the taste buds. Try pairing this starter with a versatile option from an established producer like Louis Jadot Mâcon-Villages (SRP: $14.99) – which shows floral, apple and citrus aromas and flavors – to help bring out the distinct flavor profile. Choosing wines from an established producer is one way to help ensure you will select crowd-pleasing wines. For example, Jadot – one of the most trusted names in Burgundy – offers consistency and quality at an affordable price point.
"The scallops and truffles complement the wine's crisp, bright and refreshing fruit finish beautifully," said Allison Fasano, resident chef at Urbani Truffles. "The light citrus notes awaken the flavors of the scallops. The beurre blanc is buttery, and the earthiness of the truffles throughout makes for a perfect match with the wine."
A hearty main course like Beef Tenderloin with Truffles alongside Louis Jadot Beaujolais-Villages (SRP: $13.99) – a crisp, fruit-forward, juicy wine with expressive aromas and flavors of ripe red berries – can help fulfill guests' desires for a savory meal.
Find more affordable, versatile wines to pair with holiday recipes at Facebook.com/LoveJadot.
Beef Tenderloin with Truffles
(Filetto Di Manzo con Tartufo)
Recipe courtesy of Allison Fasano, Urbani Truffles resident chef
1 center-cut beef tenderloin, about 3 pounds
salt
freshly ground black pepper
4 tablespoons olive oil
1 teaspoon cornstarch (optional)
1/2 ounce Urbani Black Truffles
2 cloves garlic, minced
1 carrot, diced
1 stalk celery, diced
1 white onion, diced
2 sprigs rosemary
2 bay leaves
3 sage leaves
2 tablespoons Urbani Truffle Butter
2 cups dry wine, divided
2 shallots
1 cup beef stock
Heat oven to 350° F. Season beef on all sides with salt and pepper.
Heat skillet or pan to high with olive oil; add beef and sear all sides, about 3-4 minutes on each side, until brown and crust forms.
Remove beef from pan and let rest. Add cornstarch, truffles, garlic, carrot, celery, onion, rosemary, bay leaves and sage leaves to skillet and lower heat to medium-low. Allow to cook 10-15 minutes, or until vegetables are soft. Add beef back to skillet.
Deglaze skillet with 1 cup wine, scraping up brown bits from bottom of pan.
Place skillet in oven to allow beef to finish cooking at desired temperature.
While tenderloin is roasting, in saucepan over medium heat, melt truffle butter. Add shallots and saute until softened and lightly golden, 8-10 minutes. Add remaining wine and simmer until almost completely reduced. Add stock and simmer until it reduces and thickens slightly, about 10 minutes. Remove sauce from heat and season with salt and pepper.
Source: Kobrand Importers
Asian dishes at home
(Family Features) On busy weeknights, it can be easy to opt for Asian staples like beef and broccoli. Instead, try making your own cuisine at home with quick-cook noodles, from udon to lo mein.
"Popular takeout dishes and noodle bowls can be high in salt and unhealthy fats, but when you make it at home, you can opt for unsalted stocks and add flavor from herbs and spices," said Dr. Wendy Bazilian, McCormick corporate dietitian. "It's also easy to personalize with whatever fresh veggies you have in the fridge, from mushrooms to broccoli."
For example, try Ginger Beef and Broccoli Stir-Fry or Pot Sticker Noodle Stir-Fry for fool-proof crowd pleasers. Or go rogue with your own noodle creation: pick a noodle, customize with broths and sauces, flavor with herbs and spices, add lean protein like chicken or shrimp and top with your favorite fresh or sauteed vegetables.
Find more inspiration at mccormick.com/simply-asia.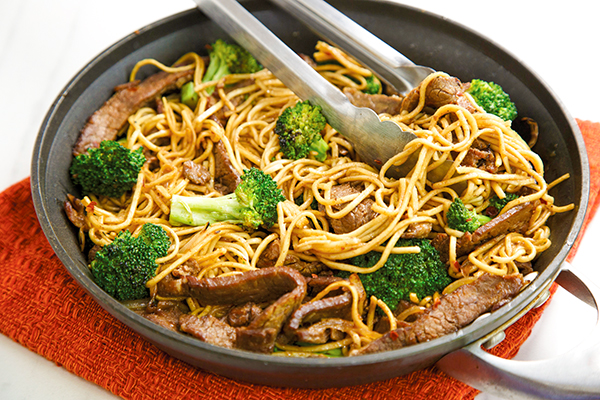 Ginger Beef and Broccoli Stir-Fry
Prep time: 15 minutes
Cook time: 10 minutes
Servings: 5
1/2 cup Kitchen Basics Unsalted Beef Stock
2 tablespoons reduced-sodium soy sauce
1 tablespoon honey
1 teaspoon McCormick Garlic Powder
1 teaspoon McCormick Ground Ginger
1/2 teaspoon McCormick Crushed Red Pepper
1 pound flank steak, thinly sliced
1/2 package (from 14-ounce box) Simply Asia Lo Mein Noodles
3 tablespoons vegetable oil, divided
1 1/2 cups broccoli florets
1 cup thinly sliced onion
1 tablespoon cornstarch
In medium bowl, mix stock, soy sauce, honey, garlic powder, ginger and red pepper until well blended. Reserve 1/3 cup of marinade. Place sliced flank steak and remaining marinade in large, re-sealable plastic bag; turn to coat well. Refrigerate 30 minutes.
Cook noodles according to package directions. Drain. Spread noodles on sheet pan. Set aside.
In large skillet on high heat, heat 2 tablespoons oil. Remove beef from marinade. Discard remaining marinade in bag. Add beef to skillet; stir-fry 3 minutes, or until beef is no longer pink. Using tongs, remove beef from skillet. Add remaining oil, broccoli and onion; stir-fry 3-5 minutes, or until tender-crisp.
In small bowl, mix reserved marinade and cornstarch until smooth. Add to skillet; stirring constantly, bring to boil on medium heat and boil 1 minute. Return beef and noodles to skillet. Cook and stir until heated through.
Tip: Place raw flank steak in freezer 30 minutes to make it easier to slice.
Nutrition information per serving: 395 calories, 15 g total fat, 4 g saturated fat, 58 mg cholesterol, 577 mg sodium, 38 g carbohydrates, 2 g fiber, 27 g protein.
Pot Sticker Noodle Stir-Fry
Prep time: 10 minutes
Cook time: 20 minutes
Servings: 5
1/3 package (from 14-ounce box) Simply Asia Udon Noodles
1 tablespoon oil
1 tablespoon minced fresh ginger
1 pound ground pork
1/2 cup Kitchen Basics Unsalted Chicken Stock
2 tablespoons reduced-sodium soy sauce
1 teaspoon McCormick Garlic Powder
1/8 teaspoon McCormick Crushed Red Pepper
1 cup shredded green cabbage
2 tablespoons finely chopped green onion
Cook noodles as directed on package. Drain. Set aside.
In large saucepan over medium heat, heat oil. Add ginger; cook and stir 30 seconds-1 minute, or until fragrant. Add ground pork; cook and stir until no longer pink. Drain fat.
Stir in stock, soy sauce, garlic powder and red pepper. Bring to gentle boil. Add noodles and cabbage; cook and stir 5 minutes, or until heated through. Remove from heat. Sprinkle with green onion.
Nutrition information per serving: 321 calories, 17 g total fat, 6 g saturated fat, 61 mg cholesterol, 480 mg sodium, 22 g carbohydrates, 1 g fiber, 20 g protein.
Source: McCormick