(Family Features) What better way to serve a hungry gang than with two crowd-pleasers: meatballs and BBQ? Anyone hosting a big game gathering needs to have recipes on-hand that are hearty and tasty, while still being easy to prepare.
The easiest and fastest way to find what you need to feed the fans is by utilizing local club stores like Sam's, where shoppers can huddle and find great game-day foods and entertaining items at affordable prices. These crowd-pleasing recipes start off with Byron's Hand Pulled Pork BBQ and Casa Di Bertacchi Meatballs, both sold at Sam's Clubs nationwide.
The Mini Meatball Hamburgers are made from fully-cooked meatballs crafted from an outstanding, authentic family recipe. The seasoned and lightly steamed meatballs can be warmed up quickly and paired with a tasty sauce for some super-star sliders.
BBQ Nachos take game-day appetizers to a whole new level. Made with hickory-smoked pulled pork that's finished with a sweet and spicy sauce, this BBQ is ready to be warmed up and loaded up with fan-favorite nacho toppings for an appetizer that will have your guests calling for a replay.
For more information about Byron's Hand Pulled Pork BBQ, Casa Di Bertacchi Meatballs, or for additional recipes, visit www.ClubEntertaining.com.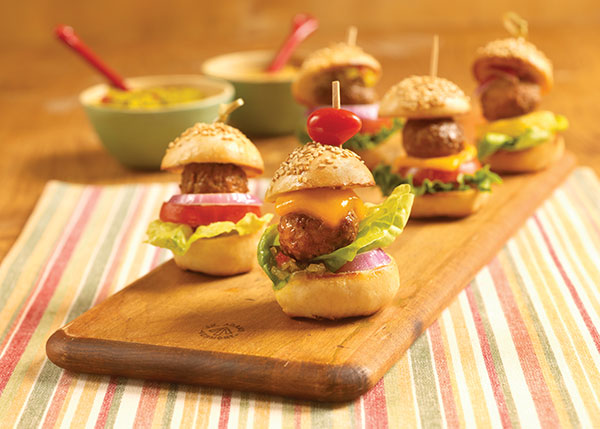 Mini Meatball Hamburgers
Makes 26 appetizers
26 frozen Casa Di Bertacchi fully cooked meatballs (1 pound)
1 cup ketchup
3 tablespoons Dijon honey mustard
26 2-inch rolls, sliced in half horizontally
1 1/2 cups sweet pickle relish
Preheat oven to 400°F.
Place meatballs in 8 x 8 or 9 x 9-inch pan. Bake for 25 to 30 minutes, or until thoroughly heated.
In a small bowl, combine ketchup and mustard. Place a heaping teaspoon of ketchup mixture on the bottom of roll. Place a meatball on top. Follow with a rounded teaspoon of pickle relish. Place top half of roll over top. Repeat for remaining meatballs and rolls. Serve immediately on a large platter.
Cheeseburger Variation: Place a small slice of cheddar cheese over each meatball.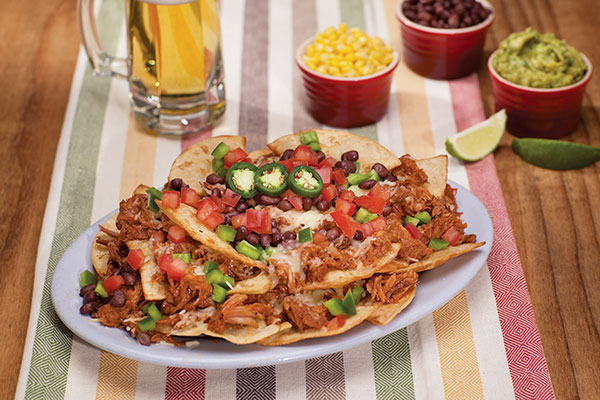 BBQ Nachos
Serves 4
Byron's BBQ
1 cup shredded Monterrey Jack cheese
1/2 cup red onion, diced
1 green bell pepper, diced
1 tomato, diced
1 15-ounce can black beans, rinsed and drained
Tortilla chips
Whole kernel corn
Sliced jalapeño
Fresh guacamole
Sour cream
On a large oven safe serving plate, arrange a layer of tortilla chips; top with BBQ. Sprinkle with cheese, onions, bell peppers, diced tomato and black beans. Heat in microwave (or in oven) until cheese is melted. Garnish with whole kernel corn, sliced jalapeño, fresh guacamole, and sour cream.
Source: Byron's BBQ / Casa Di Bertacchi Meatballs
(Family Features) Warm weather means grilling season is here, and nothing turns up the heat like great summer grilling. It's the perfect opportunity to get away from a stuffy kitchen and enjoy a casual meal outdoors with family and friends.
Whether you prefer gas or charcoal, grilling is convenient for cutting calories and creating your own versions of cookout classics. From your favorite protein to fresh fruit, just about any food can be grilled, so grab your grilling gear and get ready to experiment with different ingredient options.
If you're tired of traditional burgers, try substituting ground duck for beef for savory flavor and a skinnier profile. Made from duck breast meat, all-natural ground duck is 87 percent lean, making it a healthier alternative to most ground beef. Since duck is red meat, its depth of flavor and moist texture can be incorporated into a variety of dishes that usually call for ground beef.
In this recipe, ground duck is used to make a robust, juicy burger that's sure to delight any cookout connoisseur. Top it off with some duck bacon for a hearty and flavorful summer feast. It has less fat than the regular pork variety, giving you an excuse to pile even more on your sandwich. Plus, duck bacon is more like pork bacon than traditional poultry bacons – thick cut with a smoky flavor.
Ready in less than 30 minutes, these burgers featuring a duo of duck products can help you turn up the heat at your next backyard get-together.
Find more recipes for the grill and information about cooking with duck at mapleleaffarms.com.
Duck Bacon Burgers with Cheese
Servings: 6
Burgers:
2 pounds Maple Leaf Farms All Natural Ground Duck
4 tablespoons bread crumbs
2 tablespoons white onion, minced
1 teaspoon minced garlic
1 teaspoon paprika
1/4 teaspoon chili powder
salt, to taste
pepper, to taste
canola oil
6 strips Maple Leaf Farms Duck Bacon, halved
6 hamburger buns
3 tablespoons Maple Leaf Farms All Natural Rendered Duck Fat
6 slices cheddar cheese
6 slices red onion (optional)
6 slices tomato (optional)
lettuce leaves (optional)
Heat grill to medium-high heat.
In large bowl, mix together ground duck, bread crumbs, onion, garlic, paprika and chili powder. Divide mixture into six equal parts and form into patties. Season both sides of each patty with salt and pepper.
Lightly brush grill rack with oil. Place burgers on rack and cook, flipping frequently until internal temperature reaches 155° F.
While burgers are cooking, place bacon on grill and cook until crisp.
Once burgers are done, remove from heat and let sit 3-5 minutes. Brush insides of hamburger bun halves with duck fat and toast lightly on grill.
Serve each burger on toasted bun with two bacon half-strips and slice of cheese then top with red onion, tomato and lettuce, if desired.
Source: Maple Leaf Farms