(Family Features) As a parent, instilling healthy eating habits in your children at an early age can aid in proper growth and development. Eating well goes a long way toward maintaining a healthy weight, increasing energy levels and improving moods while also reducing risk of obesity and other chronic issues such as heart disease and diabetes later in life.
Set your children on a path to making lifelong nutritious choices with these tips:
Foster independence. Allowing your children to help with shopping and meal prep can aid in them taking ownership of what they're eating. Start by divvying up easier tasks such as setting the table then work toward creating snacks and meals on their own. These Rainbow Fruit Parfaits are simple for kids to assemble – just set the ingredients out and let them layer – and can serve as a healthful on-the-go breakfast or after-school snack.
Offer balanced options. Children require balanced diets made up of all three major food groups, including fruits and vegetables, for proper development. Looking for the Produce for Kids logo next to nutritional, family-friendly items at the grocery store is an easy way to identify healthy food choices while also supporting local organizations that help children and families in need.
Be a role model. Typically, your children will follow your behaviors, which includes the types of foods they select at mealtimes. Eating a rainbow of fruits and vegetables can help ensure your family is getting a complete range of nutrients. For example, a recipe like this Rainbow Buddha Bowl provides a combination of fresh and roasted vegetables that can be customized to meet your family's tastes. Thinking about how many colors you eat in a day may inspire your kids to do the same, which can foster a lifetime of healthy eating habits.
To find more healthy meal inspiration, including more than 500 registered dietitian- and family-tested recipes, visit produceforkids.com.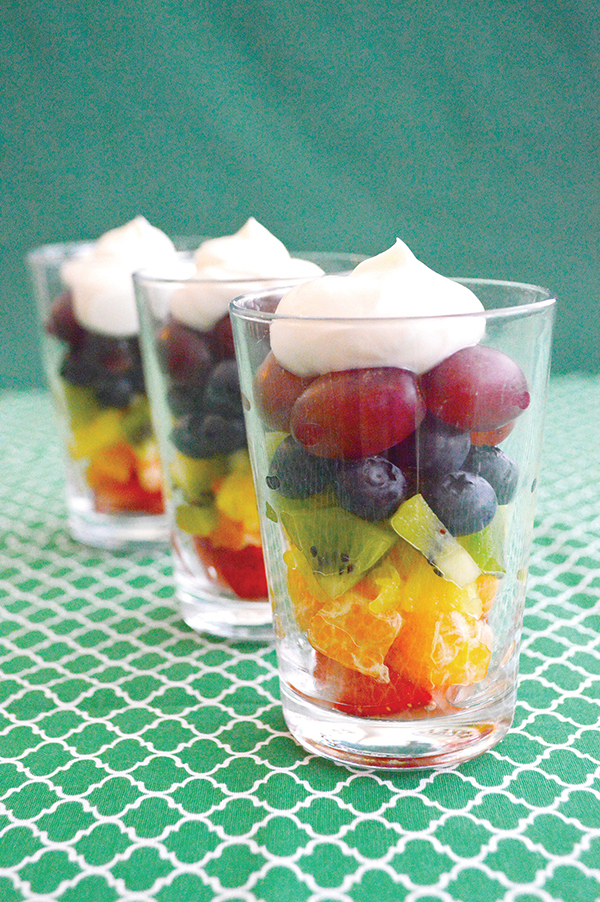 Rainbow Fruit Parfaits
Recipe courtesy of Produce for Kids
Prep time: 10 minutes
Servings: 3
1/2 cup sliced strawberries
2 mandarins, peeled and segmented
1/2 cup chopped pineapple
2 kiwis, peeled and chopped
1/2 cup blueberries
1/2 cup red seedless grapes
1 cup vanilla Greek yogurt
In parfait glasses, layer strawberries, mandarins, pineapple, kiwis, blueberries and grapes.
Top each fruit parfait with yogurt.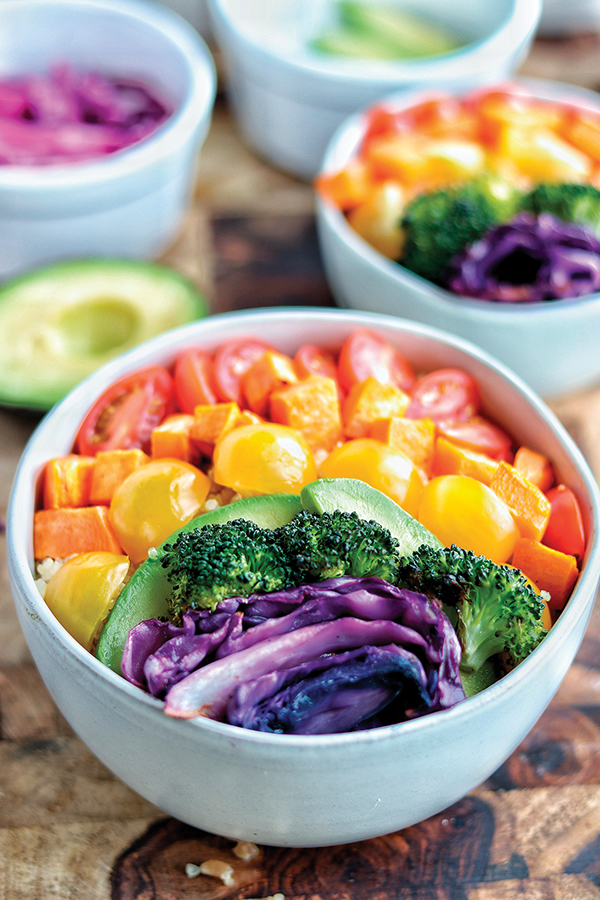 Rainbow Buddha Bowl
Recipe courtesy of Jodi of Create Kids Club on behalf of Produce for Kids
Prep time: 30 minutes
Servings: 4
1 medium sweet potato, peeled and diced
1 cup broccoli florets
1/2 small purple cabbage, sliced
1 tablespoon olive oil
salt, to taste
pepper, to taste
2 cups quinoa, cooked according to package directions
1 cup red cherry tomatoes, quartered
1/2 cup yellow cherry tomatoes, quartered
1 avocado, sliced
4 tablespoons yogurt ranch dressing
Heat oven to 425° F.
Place sweet potatoes, broccoli and cabbage on baking sheet lined with parchment paper. Toss with oil and season with salt and pepper, to taste. Bake 15-20 minutes, or until potatoes are soft.
Divide cooked quinoa into four bowls. Top with roasted sweet potatoes, broccoli, cabbage, red tomatoes, yellow tomatoes and avocado.
Drizzle with dressing.
Source: Produce for Kids
(Family Features) With nearly one-third of Americans suffering from sleep disturbances, according to research from the Centers for Disease Control and Prevention, now is the time to rethink your bedtime routine and consider more natural ways to get a good night's rest.
However, implementing those changes doesn't have to mean overhauling the way you live. Consider these simple tips that can help you sleep better and longer:
Set a comfortable temperature. Making changes in different aspects of your life to achieve better sleep is a fine plan, but it may not make much difference if you aren't comfortable in your own bed. Be sure to maximize comfort for a full night of sleep by finding a temperature that works for you, but in general, the National Sleep Foundation recommends a bedroom temperature between 60-67 degrees F.
Tweak your diet. Making simple changes to what you eat and drink can be a positive health-conscious decision, including helping you get better sleep. For example, Montmorency tart cherries, which are available year-round, are one of the few natural food sources of melatonin, a sleep-regulating hormone. New research from the American Journal of Therapeutics shows that insomniacs who drank U.S.-grown Montmorency tart cherry juice for two weeks extended sleep time by 84 minutes.
Consuming two 8-ounce glasses of Montmorency tart cherry juice as part of your daily diet, once in the morning and once at night, can help enhance your sleep time and efficiency. It can also be added to your favorite morning smoothie or a soothing nighttime beverage, such as this Tart Cherry Moon Milk. For additional information and recipes, visit ChooseCherries.com.
Try bedtime yoga. Rather than scrolling on your smartphone or staring at the TV, consider a different routine before heading to bed. Implementing a brief yoga session is one way to clear your mind each night prior to getting quality shut-eye.
While missing out on quality sleep can negatively impact your health, simple changes to your lifestyle and diet can play a role in improving the quality and duration of sleep.

Tart Cherry Moon Milk
Recipe courtesy of Amanda Paa of Heartbeet Kitchen
Prep time: 5 minutes
Cook time: 5 minutes
Servings: 1-2
6 ounces almond milk
4 ounces Montmorency tart cherry juice
1 tablespoon honey or maple syrup
1/2 teaspoon ashwaganda (Indian ginseng)
dried culinary rose petals
In small pot, heat almond milk and tart cherry juice over medium heat.
Remove from heat and whisk in honey and ashwaganda. Top with rose petals and drink warm.
Note: For a more frothy beverage, blend mixture in blender before topping with rose petals.
Source: Cherry Marketing Institute