Dairy-inspired, plant-based dishes to serve from morning to night
(Family Features) From cereal and milk to yogurt and fruit to broccoli and cheese, combining dairy with plant-based foods creates a superfood power couple that can help ensure you and your family are getting the nutrients you need any time of day.
With the rise in popularity of plant-based diets, dairy can help optimize nutrient absorption from plant foods and provide additional nutrients like high-quality protein, calcium, vitamin D and vitamin B12. You can create delicious meals with the nutrition you need while enjoying the best of plants and dairy.
Combining dairy and plant-based foods can be easier with these dairy-powered recipes from Milk Means More. They are ideal for creating a nutritious and delicious plan for every meal throughout the day. Start with a Blueberry Apple Crisp Smoothie Bowl in the morning then build out your lunch or dinner plans around an appetizer like this traditional Middle Eastern Labneh Spread with grilled pita bread and assorted veggies. For the main course, try Lentil Tacos with Tangy Guacamole and a classic Moroccan staple, Creamy Couscous with Broccoli, Tomatoes and Cheese, on the side.
Find more recipes that combine the goodness of dairy and plant-based foods at milkmeansmore.org.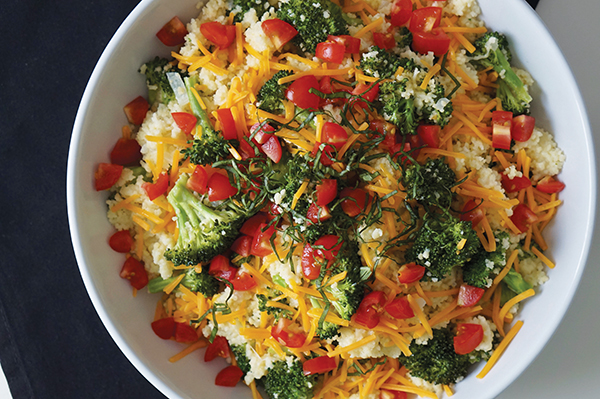 Creamy Couscous with Broccoli, Tomatoes and Cheese
Recipe courtesy of culinary dietitian Marcia Stanley, MS, RDN
Prep time: 15 minutes
Cook time: 5 minutes
Servings: 6
1/2 cup chopped onion
2 tablespoons butter
3 cups broccoli florets
1 teaspoon minced garlic
1/2 teaspoon pepper
3 cups fat-free, 2% or whole milk
1 1/2 cups plain couscous (wheat pasta)
1 cup finely shredded Parmesan cheese
1 cup (4 ounces) shredded cheddar cheese
1 1/2 cups seeded and chopped tomatoes
2 tablespoons slivered fresh basil leaves
In large nonstick skillet over medium heat, cook onion in butter 2 minutes. Add broccoli, garlic and pepper. Cook and stir 2 minutes.
Stir milk into broccoli mixture. Bring to boil. Stir in couscous. Remove from heat. Cover and let stand 5 minutes.
Gently stir Parmesan cheese into couscous mixture. Spread on serving platter. Sprinkle with cheddar cheese. Top with tomatoes and fresh basil leaves.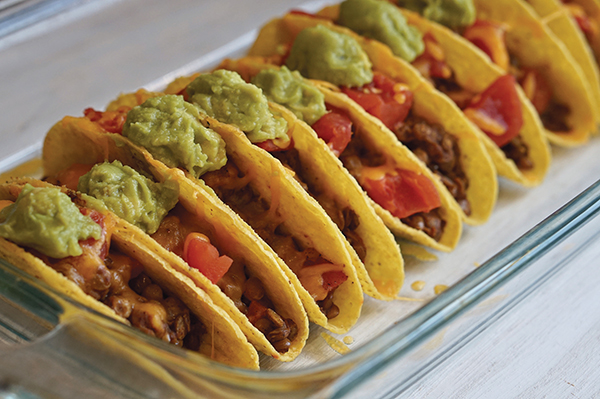 Lentil Tacos with Tangy Guacamole
Recipe courtesy of culinary dietitian Marcia Stanley, MS, RDN
Prep time: 40 minutes
Servings: 6
Tangy Guacamole:
1 medium ripe avocado, pitted, peeled and chopped
1 tablespoon orange, lime or lemon juice
1/4 teaspoon hot pepper sauce
1 clove garlic, minced
1/2 cup plain, fat-free Greek yogurt
Lentil Tacos:
2 1/3 cups water
1 cup dry brown lentils, rinsed and drained
1/2 cup finely chopped onion
2 teaspoons chili powder
2 cloves garlic, minced
1/2 teaspoon salt
1 1/2 cups seeded and chopped tomatoes, divided
1 1/4 cups (5 ounces) shredded cheddar cheese, divided
12 yellow corn taco shells
To make Tangy Guacamole: In small bowl, mash avocado, juice, hot pepper sauce and garlic. Stir in yogurt. Cover and refrigerate until serving time.
To make Lentil Tacos: Heat oven to 400 F.
In medium saucepan over medium-high heat, combine water, lentils, onion, chili powder, garlic and salt. Bring to boil. Reduce heat. Cover and gently boil 12-15 minutes, or until lentils are just tender. Uncover and boil 5-15 minutes, or until most liquid evaporates.
Remove lentils from heat. Stir in 1 cup tomatoes and 3/4 cup cheese. Spoon into taco shells. Stand filled tacos in 13-by-9-by-2-inch baking dish. Sprinkle tacos with remaining tomatoes and cheese. Loosely cover dish with foil. Bake 3-5 minutes, or until cheese melts.
Stir guacamole. Serve with warm tacos.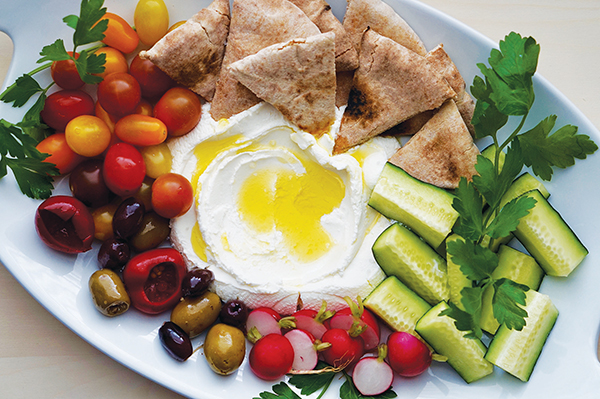 Labneh Spread
Recipe courtesy of Jenn Fillenworth, MS, RDN of Jenny with the Good Eats
Prep time: 5 minutes
Servings: 6
12 ounces whole milk Greek yogurt
1/8 teaspoon salt
1/2 teaspoon fresh lemon juice
2 tablespoons olive oil
1 pinch sea salt, for garnish
fresh herbs, for garnish
pita bread, grilled
assorted seasonal vegetables
In bowl, mix Greek yogurt, salt and lemon juice.
Transfer mixture to fine mesh strainer lined with cheesecloth.
Wrap mixture in cheesecloth and strain over bowl in refrigerator 24-48 hours. Strain longer to make thicker.
Once thickened as desired, remove from cheesecloth and top spread with olive oil, sea salt and fresh herbs.
Serve with grilled pita bread and assorted seasonal vegetables.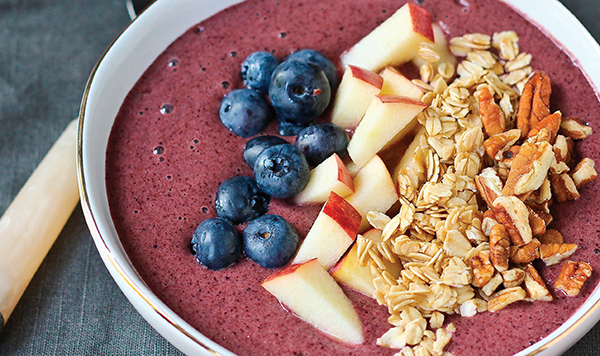 Blueberry Apple Crisp Smoothie Bowl
Recipe courtesy of Rachel Gurk of Rachel Cooks
Prep time: 5 minutes
Servings: 1
1 cup frozen blueberries
2 cups apples, roughly chopped, reserving 2 tablespoons for topping
1 teaspoon cinnamon
1/2 cup plain, non-fat Greek yogurt
1 cup spinach
pure maple syrup, to taste
ice cubes (optional)
Toppings:
2 tablespoons oats
1 teaspoon pure maple syrup
1 tablespoon pecans, chopped
2 tablespoons reserved chopped apple
fresh blueberries
In blender, blend blueberries, apples, cinnamon, yogurt and spinach until smooth. Taste and add maple syrup, to taste. If thicker mixture is desired, add ice cubes.
Pour into bowl. Mix oats with maple syrup. Top smoothie mixture with oats, pecans, apples and blueberries.
(Family Features) From casual gatherings with friends to outdoor athletic activities and leisurely time at home, all of the best summer pastimes have one thing in common: tasty snacks make them more enjoyable.
Light, airy and fresh popcorn is a perfect summer snack. It's naturally low in fat and calories, non-GMO and gluten free – all the makings of an ideal guilt-free treat. Whether you enjoy it one delicious handful at a time, sprinkled with seasonings or as an ingredient in fun summertime recipes, popcorn offers plenty of versatility for every occasion.
You can kick up the heat with a zesty popcorn mix or take a sweeter route with a blend of toasted coconut and bananas. No summer sporting event is complete without some good old toffee-style popcorn and nuts, and even a favorite like ice cream sandwiches can only get better with the addition of sweet, crunchy popcorn and candy.
Spice Up Summer Snacks
Freshly popped popcorn is a light snack perfect for summer, and you can add just about any flavor to satisfy whatever you may be craving. Start by sampling these topping favorites then taste your way to other creative combinations.
Garlic salt
Parmesan cheese
Cumin
Oregano
Dry taco seasoning mix
Dry ranch-style seasoning mix
Lemon pepper
Italian herbs: oregano, basil, marjoram, thyme and crushed rosemary
French herbs: marjoram, thyme, summer savory, basil, rosemary, sage and fennel
Cinnamon
Brown sugar
Nutmeg
Find more popcorn recipes perfect for summer at popcorn.org.
Coconut Monkey Mix
Yield: 7 cups
1 cup flaked coconut (unsweetened or sweetened)
6 cups popped popcorn
1 tablespoon butter or margarine, melted
1 teaspoon sugar
1/8 teaspoon salt
dash of nutmeg
1 cup dried banana chips
Heat oven to 325° F.
Spread coconut in 13-by-9-inch baking pan, breaking up any clumps as needed. Bake 10 minutes, or until edges of coconut begin to brown.
Spread popcorn over coconut and sprinkle with butter; toss. Sprinkle popcorn mixture with sugar, salt and nutmeg; toss.
Bake 5 minutes longer, remove from heat and toss with banana chips. Serve immediately or cool and store in airtight container.
Popcorn Chipwiches
Yield: 12
2 1/2 quarts popped popcorn
1 1/2 cups light brown sugar
3/4 cup dark corn syrup
1/2 cup butter
1 tablespoon vinegar
1/2 teaspoon salt
1 package (6 ounces) chocolate pieces
1/2 cup chopped walnuts
2 pints brick-style vanilla ice cream
Keep popcorn warm.
In 3-quart saucepan, combine brown sugar, corn syrup, butter, vinegar and salt. Cook and stir until sugar dissolves. Continue to cook until hard ball stage (250 F on candy thermometer).
Pour syrup over popcorn; stir to coat. Add chocolate pieces and nuts; stir just until mixed.
Pour into two 13-by-9-by-2-inch pans, spreading and packing firmly. Cool.
In each pan, cut 12 rectangles. Cut each pint of ice cream into six slices. Sandwich each ice cream slice between two popcorn rectangles.
Ballpark Popcorn Crunch
Yield: 3 quarts
1/2 cup butter
1/2 cup brown sugar
3 quarts unsalted popped popcorn
1 cup chopped walnuts
Heat oven to 350° F.
Cream together butter and brown sugar until light and fluffy.
In separate bowl, toss popcorn and walnuts. Add creamed mixture to popcorn and nuts. Combine until coated.
Spread on large baking sheet in single layer.
Bake 10 minutes, or until crisp.
Beach Party Popcorn
Yield: 2 1/2 quarts
1 teaspoon soy sauce
1-2 drops hot pepper sauce
1/3 cup melted butter
2 quarts popped popcorn
2 cups assorted seasoned snacks (crackers, pretzels, etc.)
1/2 package (0.56 ounces) bacon-onion dip mix
Heat oven to 350° F.
Add soy sauce and hot pepper sauce to melted butter.
Put popcorn and seasoned snacks in large bowl. Pour butter mixture over popcorn and snacks; toss. Sprinkle with bacon-onion dip mix; toss again.
Spread mixture in 15 1/2-by-10 1/2-by-1-inch jelly roll pan and bake 8-10 minutes, stirring once.
Source: The Popcorn Board