Turn boring leftovers into exciting and delicious new dishes
(Family Features) What happens to the rest of the roast chicken that didn't get eaten at dinner? Or the extra rice or couscous the family couldn't finish? It might get pulled out a few days later for a meal of boring leftovers that will be met with groans. Or it could just be forgotten. In fact, nearly 15 percent of the food purchased for meals ends up being thrown away.
Why toss out perfectly good food - and potentially hundreds of dollars each year - when you can use those ingredients to create a whole new recipe?
Once cooked, many remains of a meal will stay fresh for up to a week - and some even taste better the second time around. These recipes use common extra ingredients, along with Pompeian olive oils and vinegars, to turn them into exciting new recipes.

For more recipe ideas and coupons, visit www.pompeian.com.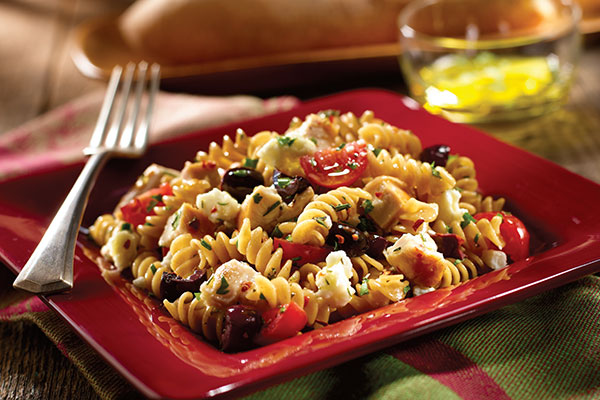 Herbed Olive Chicken Pasta
Serves 4
6 ounces dry whole grain penne or rotini pasta
1 cup cooked chicken breast meat, cut into bite-size pieces
1 cup grape tomatoes, quartered
24 pitted Kalamata olives, or your favorite variety, coarsely chopped
1/4 cup Pompeian Extra Virgin Olive Oil
4 medium garlic cloves, minced
1/4 cup chopped, fresh basil leaves or 1 tablespoon dried basil leaves, crumbled
1 tablespoon chopped, fresh rosemary leaves or 1 teaspoon dried rosemary leaves, crumbled
1/8 to 1/4 teaspoon crushed red pepper, optional
Salt and pepper to taste
2 ounces feta cheese, crumbled (1/2 cup)
Cook pasta according to package directions.
Remove pan from heat. Place chicken in a colander; pour pasta over chicken and shake off excess liquid. Return pasta and chicken to pan. Stir in remaining ingredients, except feta. Top with feta and toss gently, if desired.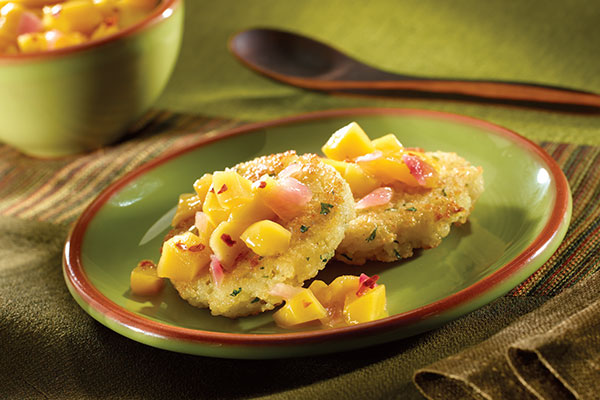 Couscous Cakes with Fresh Mango-Ginger Chutney
Serves 4
Chutney:
2 tablespoons Pompeian Extra Light Tasting Olive Oil
1/4 cup finely chopped red onion
1 cup diced fresh or frozen, thawed mango
2 tablespoons sugar
2 tablespoons Pompeian Red Wine Vinegar
1/4 teaspoon crushed red pepper
1 tablespoon grated ginger
Couscous Cakes:
1 1/3 cups water
2/3 cup original couscous
2 tablespoons grated lemon zest
1/2 cup chopped cilantro leaves
2 large egg whites
2 tablespoons all purpose flour
1/4 cup Pompeian Classic Mediterranean Olive Oil
1/2 teaspoon salt
Chutney: Heat 2 tablespoons oil in medium saucepan over medium heat. Cook onions 2 minutes. Stir in remaining chutney ingredients, except ginger, and bring to a boil over medium-high heat. Reduce heat and simmer, uncovered, 5 minutes or until thickened, stirring frequently. Remove from heat, cool and stir in ginger.
Couscous Cakes: Meanwhile, bring water to a boil in a small saucepan over high heat. Remove from heat, stir in couscous and salt, cover and let stand 5 minutes. Fluff with a fork and let stand 5 minutes to cool. Combine couscous, cilantro, egg whites, flour, and lemon zest in a medium bowl.
Heat 2 tablespoons oil over medium heat. Working with half of the couscous mixture, spoon about 2 tablespoons into skillet to make a mound, repeat, making 8 mounds total. Flatten slightly using the back of a spoon and cook for 3 minutes each side or until golden.
Drain on paper towels. Repeat with remaining oil and couscous mixture.
Serve the couscous cakes with mango chutney.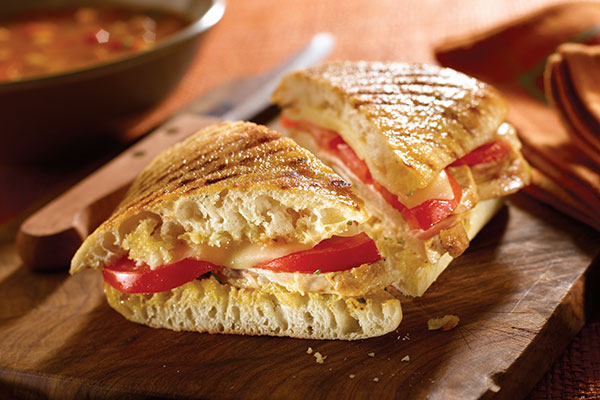 Basil-Rosemary Turkey Panini
Serves 4
12 ounces Italian bread, cut in half lengthwise
Dressing:
1/3 cup Pompeian Extra Virgin Olive Oil
2 tablespoons Pompeian Red Wine Vinegar
1 tablespoon Dijon mustard
1 tablespoon fresh, chopped rosemary or 1 teaspoon dried rosemary leaves, crumbled
2 medium garlic cloves, minced
Salt and pepper to taste
1/8 teaspoon dried pepper flakes, optional
1/2 cup chopped, fresh basil or 2 1/2 tablespoons dried basil leaves
Filling:
1 cup thinly sliced leftover cooked turkey or chicken (about 5 ounces)
1 large tomato, thinly sliced
4 slices Monterey Jack cheese with peppers, provolone, or mozzarella (about 3 ounces total)
Whisk all dressing ingredients, except basil, in small bowl. Lightly brush outside of bread halves with 1 tablespoon dressing mixture and place, cut side up, on a clean work surface. Stir basil into dressing mixture and spoon over bottom half of bread. Arrange turkey, tomato, and cheese on top. Sprinkle lightly with salt and pepper, if desired. Top with remaining bread half and press down firmly to adhere.
Heat large, nonstick skillet over medium low heat until hot. Place sandwich in skillet, cover with a sheet of foil, top with a dinner plate and several bread plates (This will weigh the sandwiches down, to help cook evenly and absorb flavors.) Cook 8 minutes on each side, or until golden brown and cheese is beginning to melt.
Place on cutting board, and using a serrated knife, cut into four equal pieces.
Source:
(Family Features) Long on ingenuity, but short on prep, these recipes elevate holiday leftovers to celebrity status. Leftovers ... whether you love 'em, or hate 'em, everyone seems to ponder one thing: What do you do with them, especially after the holidays? You could eat turkey sandwiches every day for a week, or just give up and toss it out altogether. Better yet, you could transform those mounds of turkey, gravy and stuffing into something new and exciting.
Consider a recipe for Turkey Tetrazzini. It puts a new twist on this perennial Italian favorite. This luxurious dish combines Wyler's Chicken Bouillon granules, butter, cream, white wine and freshly grated Parmesan cheese with your leftover turkey for a dish that's simple to make but elegant enough to serve for company.
If you want to turn the ordinary into the extraordinary and like to flex your culinary muscles, try Turkey Croquettes. Your friends and family will never guess that the origin of these tasty French delicacies was your own humble turkey dinner. The recipe can add flair to any meal as hors d'oeuvres, a side dish or an entree. Just add Heinz HomeStyle Roasted Turkey Gravy for dipping and a side of cranberry sauce — then sit back, relax, and call it a holiday.
Looking for something the kids or grandkids will love? A savory Leftover Turkey Casserole wins the prize for ease and convenience. Pull up a chair and let your little ones spread the mashed potatoes. They can also help you stir leftover turkey, gravy and stuffing together and spoon it on top of the potatoes. And, if you don't have any of your famous, home- made gravy left, a jar of Heinz HomeStyle Roasted Turkey Gravy has a taste that's so close to homemade your guests won't know the difference. Thirty minutes later you have a leftover holiday dinner reinvented into a new one-dish meal.
Leftover Turkey Casserole
Serves: 4 to 6
2 1/2 cups prepared mashed potatoes
2 cups cooked, shredded turkey
1 12-ounce jar Heinz HomeStyle Roasted Turkey Gravy
1 cup prepared stuffing
Salt and pepper to taste
Preheat oven to 350°F. Spray a 2-quart casserole dish with nonstick cooking spray and spread prepared mashed potatoes in the bottom.
Combine turkey and gravy in large skillet and bring to a simmer, stirring occasionally. Remove from heat and stir in stuffing until thoroughly combined. Add salt and pepper to taste, if desired. Spoon turkey mixture on top of potatoes and spread evenly.
Cover and bake 25 to 30 minutes, or until heated through.
Turkey Tetrazzini
Serves: 8
1/2 cup unsalted butter
1/2 cup all-purpose flour
3 cups hot water, combined with 1 tablespoon Wyler's® Chicken Bouillon granules
1/2 cup whole milk
1/2 cup white wine
1 cup heavy cream
1/4 cup chopped parsley
Salt and freshly ground
black pepper to taste
1 pound fettuccini, cooked al dente
1 pound fresh mushrooms, halved and sautéed until tender
3 cups leftover turkey cubes
1 cup freshly grated
Parmesan cheese, divided
1 1/2 cups fresh breadcrumbs
Toasted almonds for garnish
Blend butter and flour in saucepan over low heat and cook, stirring constantly, 3 to 4 minutes. Add chicken broth, milk and wine. Cook until thickened. Add cream and parsley and season to taste with salt and pepper. Combine with cooked fettuccini, mushrooms and turkey. Mix in 1/2 cup Parmesan cheese.
Grease 9- by 13-inch glass baking dish; pour tetrazzini mixture into dish. Sprinkle liberally with breadcrumbs and top with remaining Parmesan cheese and toasted almonds.
Bake in a preheated 350°F oven until bubbly, about 30 minutes.
Turkey Croquettes
Makes: 8 croquettes
Croquettes
1/2 cup chopped onion
3 tablespoons unsalted butter
1/4 cup all-purpose flour plus 1/2 cup additional for dredging
1/2 cup whole milk
1/2 cup water plus 1/2 teaspoon Wyler's® Chicken Bouillon granules
2 cups finely chopped, cooked turkey
3/4 cup mashed potatoes
1/4 teaspoon paprika
1/2 teaspoon poultry seasoning
Pinch of nutmeg
Salt and freshly ground black pepper to taste
1/4 cup chopped parsley
Coating
2 large eggs beaten with 1 tablespoon water
1 1/2 cups dry seasoned bread crumbs
Vegetable oil for deep-frying
Heinz HomeStyle Roasted Turkey Gravy
Leftover cranberry sauce
In small saucepan, cook onion in butter over moderately low heat, stirring 5 minutes. Mix in 1/4 cup flour, and cook, stirring constantly, 3 to 4 minutes. Stir in milk and bouillon. Cook mixture, stirring until it forms a paste. Continue to stir and cook paste 3 minutes. Remove pan from heat, stir in turkey, potatoes, paprika, poultry seasoning, nutmeg, salt, pepper and parsley. Combine mixture well.
Chill turkey mixture, covered, 2 hours or until firm. Divide into 8 portions; roll or mold into desired shape. Dredge balls in additional 1/2 cup flour, shaking off excess. Coat balls thoroughly with egg wash, letting excess drip off; then dredge in bread crumbs. Transfer croquettes to parchment paper. Allow them to dry at room temperature for 30 minutes before frying.
In large saucepan, heat 2 inches of oil until deep-fat thermometer registers 365°F. Fry croquettes in batches 3 to 4 minutes, or until golden brown. Transfer to paper towels to drain. Serve croquettes with gravy and cranberry sauce.
Source: Heinz Gravy / Wyler's Bouillon
Save
Save
Save
Save
Save