(Culinary.net) It's the holiday season and your family can feel the cheer as loved ones fill their appetizer plates and excitement fills the air as gifts are being placed beneath the tree.
Someone asks, munching away near the table, "Wow, how did you make this?" In your mind, you think, "It was too easy."
These Savory Cheese Balls are not only simple to make but perfect for any holiday get-together or celebration. They're fun to create and even more enjoyable to dive in to once finished. Texture and color are the name of the game with this recipe. The result is a beautiful array of red, gold and green, all on one plate.
Start by rolling cream cheese into balls and mixing up three bowls with powerful flavors to create the three different colors. The "green" bowl gets parsley, thyme, rosemary and, of course, some garlic, just for an extra kick of seasoning. The "gold" ball calls for caraway seeds, poppy seeds and garlic. Finally, the "red" ball includes cranberries and pecans.
Simply roll each cream cheese ball around gently until it's coated. It doesn't get any simpler than that. Display the array of cheese balls on a festive plate for something equally cheery and heavenly. Serve the plate with crackers, fruit or vegetables for complementary dipping options.
Find more recipes and holiday fun this season at Culinary.net.
Watch video to see how to make this recipe!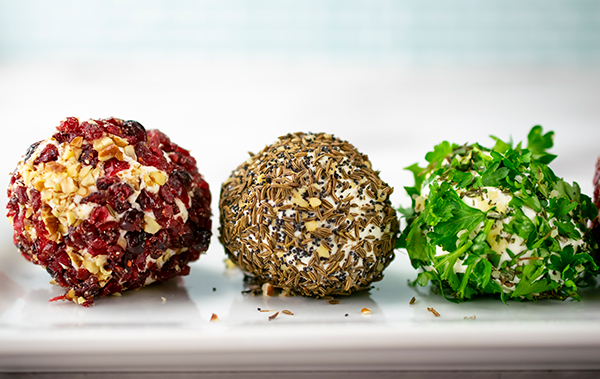 Savory Cheese Balls
Servings: 6-12
2 packages (8 ounces each) cream cheese
2 tablespoons caraway seeds
1 teaspoon poppy seeds
2 cloves garlic, minced, divided
1/4 cup parsley, chopped
2 teaspoons thyme leaves, chopped
1 teaspoon rosemary, chopped
1/4 cup dried cranberries, chopped
2 tablespoons pecans, chopped
crackers (optional)
fruit (optional)
vegetables (optional)
Cut each cream cheese block into three squares. Roll each square into ball.
In small bowl, combine caraway seeds, poppy seeds and half the garlic.
In second small bowl, combine parsley, thyme, rosemary and remaining garlic.
In third small bowl, combine cranberries and pecans.
Roll two cheese balls in seed mixture, two in herb mixture and two in cranberry mixture.
Cut each ball in half and serve with crackers, fruit or vegetables, if desired.
(Family Features) Thoughts of hosting and entertaining during one of the busiest seasons of the year can be stressful. With so much party preparation for the holidays, from decor to drinks and appetizers to activities, it's easy to see how even the most experienced hosts can get a little flustered.
One way to make sure you get to enjoy this year's festivities is to streamline preparation without sacrificing flavor, quality or appearance. By limiting the number of drinks and dishes you serve, you can wow your guests with both your culinary expertise and your smile.
Stick to one or two signature cocktails so you won't have to stock the bar (which can be expensive) or take drink orders and play bartender all night. Save even more time by serving make-ahead cocktails that simply require adding soda when ready to drink. Add white and red wine options, and offer seltzer and cranberry or pomegranate juice for mocktails.
Make a festive centerpiece that's also edible, such as this Wreath Centerpiece from Kaukauna Cheese. Assemble it the day before or the morning of the party, eliminating last-minute stress. It's simple to make and appropriate for nearly any holiday gathering. Plus, the "No-Artificial-Anything" Cheese Ball, with no additives or artificial ingredients, can appeal to the taste buds of hungry guests.
Let your hors d'oeuvres serve double duty as both appetizer and party decor. To make it nearly effortless, head to your local grocery store's deli section. Pick up cured meats, cheeses, pickled vegetables, assorted olives, breads, crackers, nuts and fruits. Arrange on a large platter, board or tray then garnish with rosemary sprigs and scatter with pomegranate seeds for a festive finish in a flash.
For more easy entertaining recipes, visit Kaukaunacheese.com.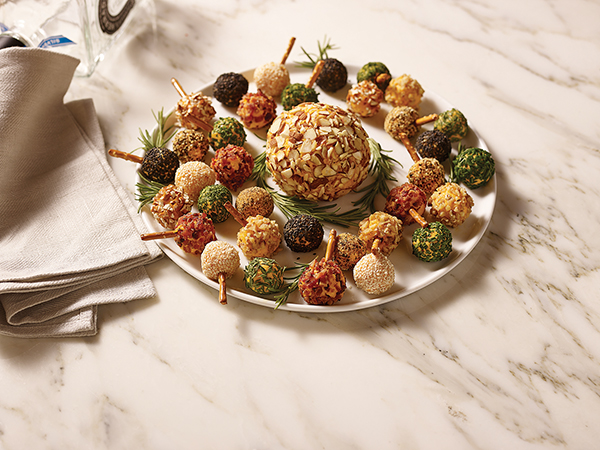 Edible Wreath Centerpiece
1 Kaukauna Port Wine Cheddar Cheese Ball (10 ounces)
1 container (11.3 ounces) Kaukauna Sharp Cheddar Cheese Spread
sesame seeds or poppy seeds
bacon bits or chopped walnuts
10-12 small pretzel sticks
rosemary, for garnish (optional)
Place cheese ball in center of large, round platter.
To make mini cheese balls, shape 1-2 tablespoons of cheese spread into balls. Roll lightly in seeds and bacon bits or walnuts.
Insert pretzel sticks into mini cheese balls up to 1 hour prior to serving. Store in refrigerator. Remove from refrigerator about 15 minutes before serving. Garnish with rosemary sprigs, if desired.
Source: Kaukauna Cheese