(Family Features) Football season, for many people, is just as much about the food as it is about the action. No matter who's playing and whether you're at a tailgate or living room watch party, one thing is for sure: football and flavor go hand-in-hand.
When you're huddling up to figure out how to score a touchdown with your game day spread, consider taking your snacks to the next level by adding an authentic Mexican flair. Opt for traditional Mexican ingredients like chorizo, queso fresco or cotija in meals and snacks that are already football mainstays, including nachos, tacos and quesadillas, and consider all the possibilities that incorporating these flavorful ingredients can add to other classic dishes like sliders and potato skins.
Ideal for tailgate season, Cacique, one of the country's top Mexican food brands, offers Mexican-Style Queso Dips – made with real queso fresco and available in Queso Blanco, Southwestern, Jalapeño and Chipotle flavors – and Fully Cooked Chorizos – made with authentically seasoned premium pork shoulder and available in classic, Chorizo with Bacon & Potato, Chorizo with Eggs and Chorizo with Queso varieties – to help fans easily add Mexican flavor to indulgent game day favorites. Both use high-quality ingredients and are microwavable, so they taste authentic and can be ready in minutes so no one misses any of the big plays or touchdowns.
Consider these twists you can add to your favorite game time snacks:
Loaded Avocados: Give avocados the potato skin treatment by loading them up with delicious toppings like chorizo, queso fresco and crema – just don't eat the skin.
Cheese Fries: Drizzle queso dip over French fries or top with crumbles of flavorful Cacique Chorizo and Cotija in a recipe like these Baked Sweet Potato Fries with Chorizo and Cotija.
Robust Sliders: Skip regular beef patties and spoon the rich seasoning and punch of flavor that chorizo brings to your favorite slider rolls then top with your favorite cheese and salsa.
Mac and Cheese: For a new take on mac and cheese, toss cooked macaroni noodles with your favorite Cacique Queso Dip and top with crushed tortilla chips in a recipe like this Southwestern Mac and Queso.
Discover more ways to incorporate Mexican flair into your game day spread at caciqueinc.com .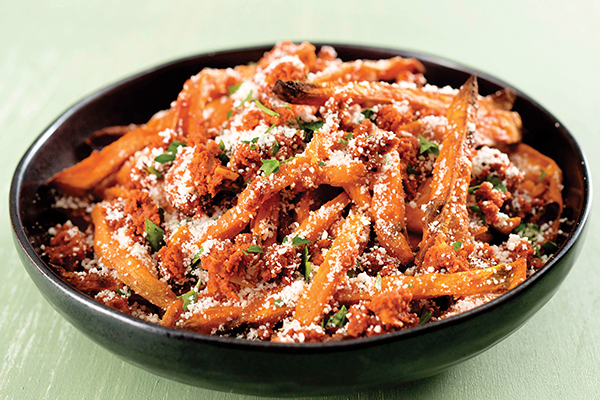 Baked Sweet Potato Fries with Chorizo and Cotija
4 large sweet potatoes, peeled and cut lengthwise into 1/2-inch wide sticks
3 tablespoons olive oil
salt
freshly ground black pepper
1 package Cacique Fully Cooked Chorizo
1 cup Cacique Cotija, crumbled
2 tablespoons chopped fresh cilantro
Heat oven to 400° F and lightly grease large, rimmed baking sheet.
In large bowl, toss sweet potato sticks with olive oil.
Lay fries in single layer on prepared baking sheet and sprinkle lightly with salt and pepper. Bake 15-18 minutes, shaking pan several times, until tender and lightly browned.
When fries are almost done baking, microwave chorizo 3-4 minutes.
To serve, place golden brown fries on serving platter and spoon chorizo over top. Sprinkle with cotija and fresh cilantro.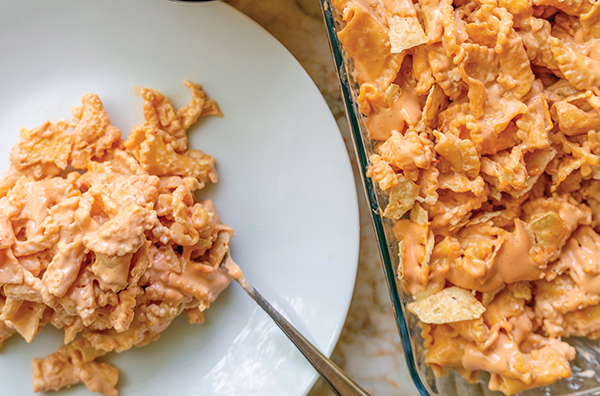 Southwestern Mac and Queso
1 package Cacique Queso Dip
1 box macaroni, cooked according to package instructions
1/4 cup Cacique Queso Fresco, crumbled
1/2 cup tortilla chips, crushed
Microwave queso dip 2-3 minutes; stir. Pour over cooked macaroni and toss until thoroughly coated.
Sprinkle crumbled queso fresco and crushed tortilla chips over macaroni before serving.
Source: Cacique
Impress guests with elegant appetizers
(Family Features) Bringing an element of elegance to your holiday celebration is easy when you start with party-pleasing ingredients, and great tasting food often starts with dairy. Foods like milk, cheese and yogurt not only enhance the flavor and texture of dishes everyone loves, but they also add high-quality nutrients to support the health and wellbeing of your guests.
Each of these recipes features a different variety of cheese as the essential ingredient for success. These decadent, elegant apps, which can be prepared in minutes, are sure to be party favorites. Find more ideas for serving up an elegant, yet simple menu your guests will love at MilkMeansMore.org.
Holiday Baked Brie
Recipe created by Foxes Love Lemons on behalf of United Dairy Industry of Michigan
Prep time: 10 minutes
Cook time: 14 minutes
Servings: 8
2 tablespoons unsalted butter
8 ounces button mushrooms, sliced
kosher salt
ground black pepper
1 Brie round (8 ounces)
3 tablespoons honey
1/4 cup pomegranate arils
1/4 cup shelled pistachios
crackers or toasted bread
Heat oven to 350° F.
In large skillet, heat butter over medium-high heat. Add mushrooms; cook 8-10 minutes, or until deep golden brown, stirring frequently. Season with salt and pepper; remove from heat.
Place Brie on parchment paper-lined rimmed baking pan; drizzle with honey. Transfer to oven and bake 5-7 minutes, or until inside of cheese is softened, but outside remains intact.
Transfer Brie to serving platter; top with pomegranate arils, pistachios and mushrooms. Serve immediately with crackers or bread.
Butternut Squash Queso Dip
Recipe created by Rachel Cooks on behalf of Milk Means More
Prep time: 5 minutes
Cook time: 15 minutes
Servings: 10
12 ounces butternut squash puree, frozen
1 teaspoon extra-virgin olive oil
1/2 finely diced red onion
1 clove garlic, minced
1 can (10 ounces) petite diced tomatoes and green chiles
1/2 teaspoon ground cumin
1/2 teaspoon chili powder
8 ounces Monterey Jack cheese, shredded
Place unwrapped squash in microwave safe bowl and heat in microwave 5 minutes at 50 percent power, or until thawed.
In large saucepan, heat oil over medium heat. Add onion and cook 4-5 minutes, or until translucent. Add garlic and cook 1 minute, or until fragrant.
Add squash, tomatoes, cumin and chili powder, and bring to boil over medium-high heat.
Reduce heat to low and add cheese. Stir until melted and serve immediately.
Parmesan Crisps with Basil and Sun-Dried Tomato
Recipe created by Art From My Table on behalf of Milk Means More
Prep time: 10 minutes
Cook time: 15 minutes
Servings: 8
6 ounces shredded Parmesan cheese
1/2 cup balsamic vinegar
2 tablespoons sugar
8 basil leaves
8 sun-dried tomatoes, jarred
Heat oven to 375° F.
On baking sheet, make eight flat circles out of 1 1/2 tablespoons cheese each. Bake cheese 5 minutes, or until just beginning to turn golden.
Using metal spatula, remove crisps from pan immediately, placing on rack or plate to cool.
Place vinegar and sugar in small saucepan and boil until mixture is reduced to about 1/4 cup and is thickened.
Top each crisp with 1 fresh basil leaf and 1 sun-dried tomato. Drizzle balsamic reduction over top.
Spinach and Artichoke Stuffed Mushroom Caps
Recipe created by The Lemon Bowl on behalf of Milk Means More
Prep time: 20 minutes
Cook time: 25 minutes
Servings: 24
24 large mushrooms, stemmed and reserved
1 tablespoon olive oil
1 clove garlic, grated
1 teaspoon salt
1/2 teaspoon black pepper
2 cups chopped frozen spinach, thawed and drained
1 can artichoke hearts, roughly chopped
2 cups crumbled feta cheese
1/2 cup minced onion
1 pinch chili flakes
1 pinch minced scallions
Heat oven to 350° F and place mushroom caps in single layer on baking sheet lined with foil.
Mince reserved mushroom stems and heat olive oil in large saute pan over medium-high heat. Add garlic and mushroom stems to pan along with salt and pepper. Saute 2-3 minutes, or until mushrooms are softened. Add spinach and artichoke hearts to pan and cook until heated through, about 3-4 minutes. Remove from heat and place mixture in large mixing bowl. Stir in feta cheese and onion. Adjust seasoning, to taste.
Using small cookie scoop, add 2 tablespoons filling to each mushroom cap. Bake mushrooms 20-25 minutes, or until mushroom caps are softened. Sprinkle with chili flakes and minced scallions to serve.
Source: United Dairy Industry of Michigan
Save
Save