It's little secret that eating more nutritious veggies is an essential element of healthier eating. Fortunately, finding ways to boost the veggie content of your favorite dishes may be easier than you think.
Put a creative twist on your meals from breakfast through dinner with these tasty tips:
Experiment with new flavors to enhance the dishes you enjoy regularly. If a ham and cheese omelet is your standard breakfast fare, try adding fresh tomato, peppers and mushrooms for a whole new taste. If you tend to keep things simple, get creative when it comes to topping your morning toast, such as this version that features avocados and radishes. Then at dinner time, give basic pasta a bump by adding broccoli or spinach to your sauce.

Look for veggie-rich versions of your favorite condiments, dips and sauces. For example, Sabra's Veggie Fusions Guacamole has tons of added vegetables with 30 percent less fat than classic guacamole. Available in Garden Vegetable and Mango Lime, you can also opt for the Southwest flavor and get your fiesta fix with a hearty combination of guacamole, sweet corn and rich black beans - the perfect complement to a spicy steak taco.

Find new flavor combinations by swapping out calorie-laden carbs. Ditch the bread and instead use leaves of lettuce to wrap your sandwich. Traditional cold cuts, chicken salad and even burgers taste great nestled in fresh, crisp leafy greens.
Get inspired with more ideas to up your veggie intake at sabra.com.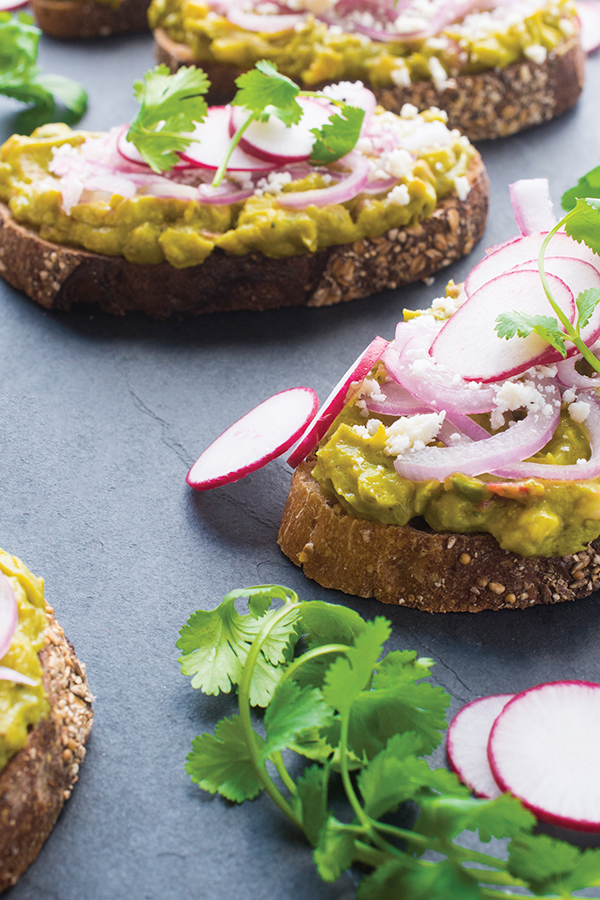 Avocado Toast with Radish and Cotija Cheese
Recipe courtesy of The Lemon Bowl
Yield: 4
1/2 medium red onion, thinly sliced
1 lime, juice only
salt, to taste
4 slices crusty, whole-grain bread, toasted
1 cup Sabra Veggie Fusions Southwestern Guacamole
2 ounces Cotija cheese, crumbled
4 large radishes, thinly sliced
cilantro sprigs (optional)
In small bowl, toss together onion slices with lime juice and salt, to taste; let sit 5 minutes, or as long as overnight.
Top each piece of toasted whole-grain bread with 1/4 cup guacamole.
Place equal parts pickled red onions, crumbled Cotija cheese and radish slices on top of each piece of toast. Garnish with cilantro, if desired, and serve.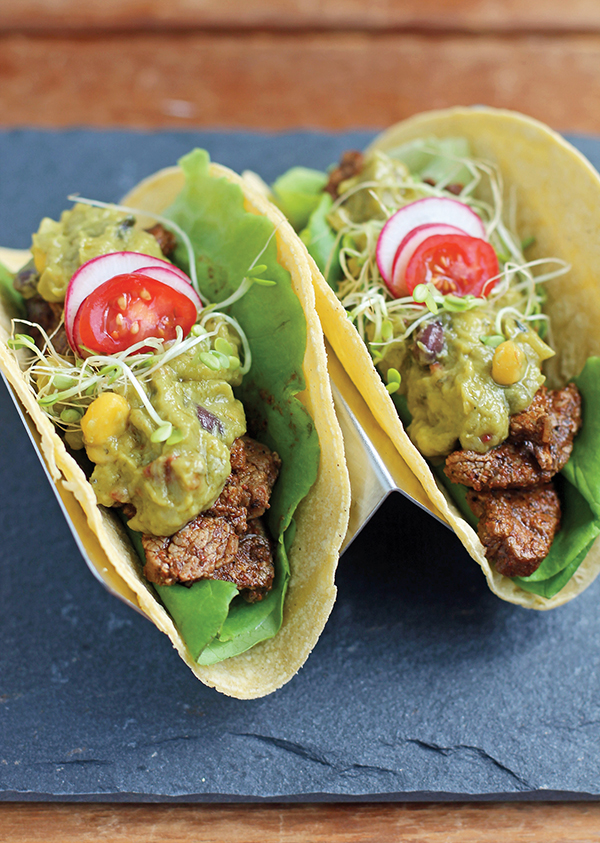 Spicy Steak Tacos with Southwestern Guacamole
Recipe courtesy of Emily Bites
Yield: 8
1 tablespoon chili powder
1/4 teaspoon garlic powder
1/4 teaspoon onion powder
1/4 teaspoon dried oregano
1/2 teaspoon paprika
1 1/2 teaspoons ground cumin
1 teaspoon sea salt
1 teaspoon black pepper
1 pound raw lean, trimmed flank steak, cut into thin strips
1 tablespoon canola oil
8 tortillas (6 inches each)
1 cup chopped lettuce leaves
8 tablespoons Sabra Veggie Fusions Southwestern Guacamole
4 tablespoons clover sprouts
4 grape tomatoes, sliced
1 radish, thinly sliced
In small dish, combine chili powder, garlic powder, onion powder, oregano, paprika, cumin, salt and pepper, and stir together until well mixed.
Place uncooked steak strips into re-sealable plastic bag and add spice mixture. Seal bag and shake/turn until steak is coated with seasoning.
Pour oil into large skillet and bring to medium heat. Add seasoned steak strips and stir to coat steak with oil. Cook, stirring and flipping occasionally, about 5 minutes, or until steak strips are cooked to taste. Remove from heat.
Warm tortillas slightly in microwave then lay out to fill. Divide lettuce and steak between tortillas and top each with 1 tablespoon of guacamole. Sprinkle each taco with sprouts and slices of tomato and radish.
Source: Sabra
(Family Features) While it is widely known that starting your day with a balanced, nutritious breakfast can have a positive impact on overall health, it may be difficult for some people to make it a priority. Whether you generally run low on time in the mornings or have little ones to keep on track before heading out the door, it simply isn't always an option to piece together a grandiose morning meal.
Rather than overhauling your lifestyle, consider some simpler ways to incorporate breakfast into your daily routine. These tips can help you start the day strong – and on time – without sacrificing the day's first meal.
Prep the Night Before
Not everyone is fortunate enough to have ample time in the morning to prepare what some studies consider to be the most important meal of the day. If you're typically short on time before heading out the door, prepare breakfast the night before so you can ensure you're starting each day with proper fuel and nutrition. Even if it's as simple as setting out a bowl, spoon and your favorite cereal before you go to bed, you can set yourself up to shave a few minutes off your morning routine.
Take It To-Go
If your kids are a handful or that snooze button is just too easy to reach each morning, sitting down at the table – even for a quick breakfast – might be out of the question. Preparing in advance by packing a to-go container with your favorite morning foods can be a simple solution to keep everyone happy without adding more strain to the day.
Keep It Simple
Breakfast doesn't have to be elaborate to get your day going in the right direction. Simple options like avocado toast take little time to create yet can go a long way toward adding nutrients in the morning. For a different spin on traditional avocado toast, combine it with a unique taste like Sabra Classic Hummus, which can help you add fiber and protein before the day truly begins. Even if you aren't an avocado person, just by swapping out the jelly you might put on your morning toast for hummus instead can help you reduce sugar intake without compromising on taste.
Find more solutions to busy days and recipes for any occasion at sabra.com.

Hummus Toast
2 tablespoons Sabra Hummus (any flavor)
1 slice whole-wheat or hearty bread, toasted
1/2 cup avocado, sliced
1 sliced radish
1/4 cup tender arugula
1 tablespoon chopped pistachios
salt, to taste
pepper, to taste
Spread hummus on toast.
Top with avocado, radish, arugula and pistachios.
Sprinkle with salt and pepper, to taste.
Source: Sabra