(Family Features) Invite your friends and neighbors over, spread out some comfy seating and dim the lights. Whether it's a kids' birthday party, an adult gathering or nearly anything in-between, hosting a movie night in the comfort of your own home – or on a projector in the yard – can be the perfect escape. Of course, tasty snacks only add to the fun.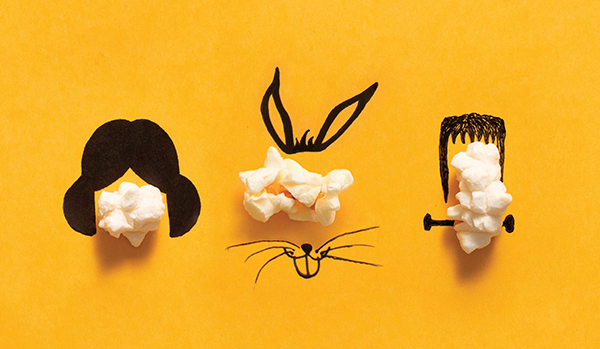 Light and airy popcorn is a movie watching staple, and one you can feel good about eating. At only 30 calories per cup, whole-grain, freshly popped popcorn is naturally low in fat and calories, non-GMO, gluten-free, contains no artificial additives or preservatives and is sugar-free.
Enjoyed a handful at a time or as part of creative, flavorful snack recipes – like Popcorn Pepperoni Pizza Dippers, Sweet and Salty Popcorn Party Mix, Maple Bacon Popcorn Mix and Truffle Popcorn – popcorn offers plenty of versatility to fit nearly any theme.
Get more great popcorn recipes at popcorn.org
Watch video to see how to make this recipe!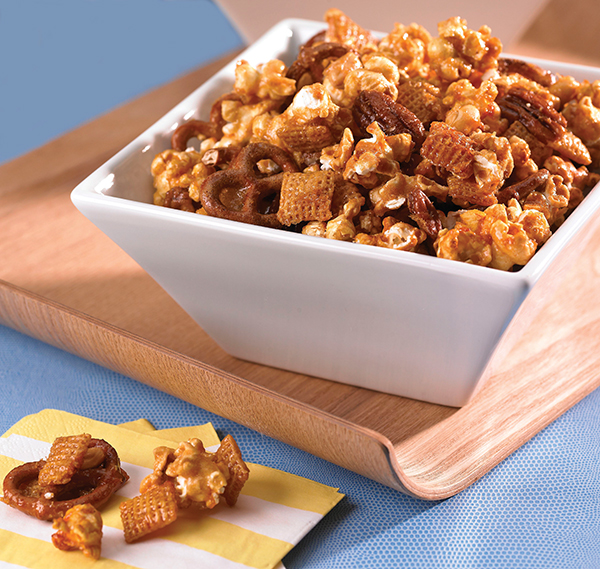 Sweet and Salty Popcorn Party Mix
Yield: 14 cups
10 cups popped popcorn
2 cups miniature pretzel twists
1 cup pecans
1 cup peanuts
2 cups rice, wheat or corn cereal squares
1/2 cup butter (1 stick)
1/2 cup packed brown sugar
1/4 cup corn syrup
1/2 teaspoon baking soda
Heat oven to 300° F.
In large bowl, combine popcorn, pretzels, pecans, peanuts and cereal squares; set aside.
In medium saucepan over medium heat, heat butter, brown sugar and corn syrup. Stir mixture until it begins to boil. Boil 3 minutes without stirring. Remove from heat and stir in baking soda. Note: Mixture will foam.
Pour syrup over popcorn mixture and stir until evenly coated. Pour mixture onto large, rimmed baking sheet or roasting pan. Bake 30 minutes, stirring twice during baking. Stir mixture several times as it cools. Store in airtight container.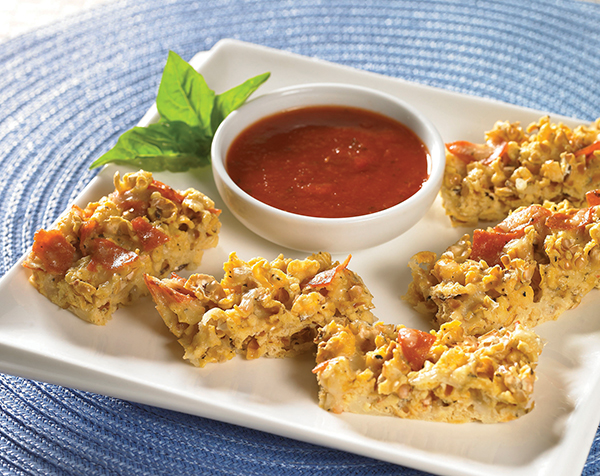 Popcorn Pepperoni Pizza Dippers
Yield: 16 squares
Nonstick cooking spray
2 eggs
1/2 cup tomato and basil reduced-fat cooking cream
1 tablespoon grated parmesan cheese
1/8 teaspoon coarse ground black pepper
10 cups popped popcorn
1 cup shredded mozzarella cheese
1/3 cup thinly sliced pepperoni, coarsely chopped
marinara sauce, for dipping
Heat oven to 350° F. Spray 8-inch square baking pan with nonstick cooking spray.
In large bowl, whisk eggs, cooking cream, parmesan cheese and black pepper. Stir in popcorn, mozzarella cheese and pepperoni.
Spread mixture in prepared pan, patting down with spatula or spoon.
Bake about 15 minutes until set and lightly browned. Let sit 5 minutes. Cut into 16 bars. Serve warm with marinara sauce.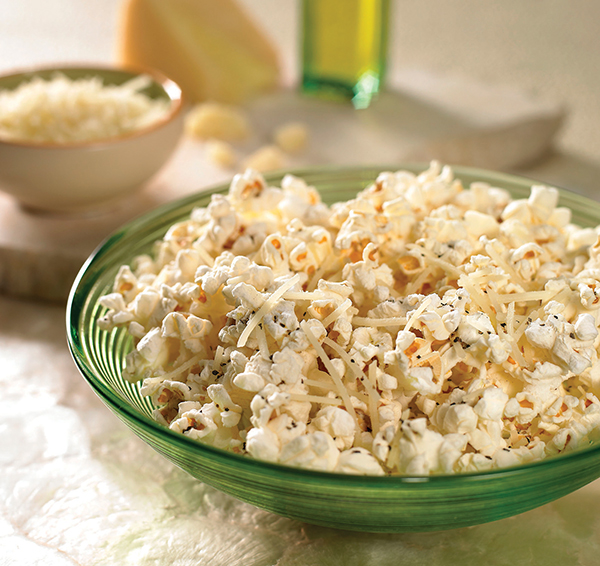 Truffle Popcorn
Yield: 10 cups
1 1/2 tablespoons olive oil
1 tablespoon, plus 2 teaspoons, white truffle oil, divided
1/2 cup popcorn kernels
1 tablespoon butter
3 tablespoons shredded parmesan cheese
1/2 teaspoon sea salt
freshly ground black pepper
In large, heavy-bottomed pot with lid, combine olive oil and 1 tablespoon truffle oil. Add about three popcorn kernels.
Heat over medium-high heat until one kernel pops. Add remaining popcorn kernels; cover.
Once corn begins to pop, shake pot constantly over heat.
When popping slows, remove pot from heat and transfer popcorn to large serving bowl.
Melt butter and mix in remaining truffle oil. Pour mixture over popcorn; toss.
Sprinkle parmesan cheese, salt and pepper over popcorn; toss to distribute evenly.
Serve immediately or store in airtight container.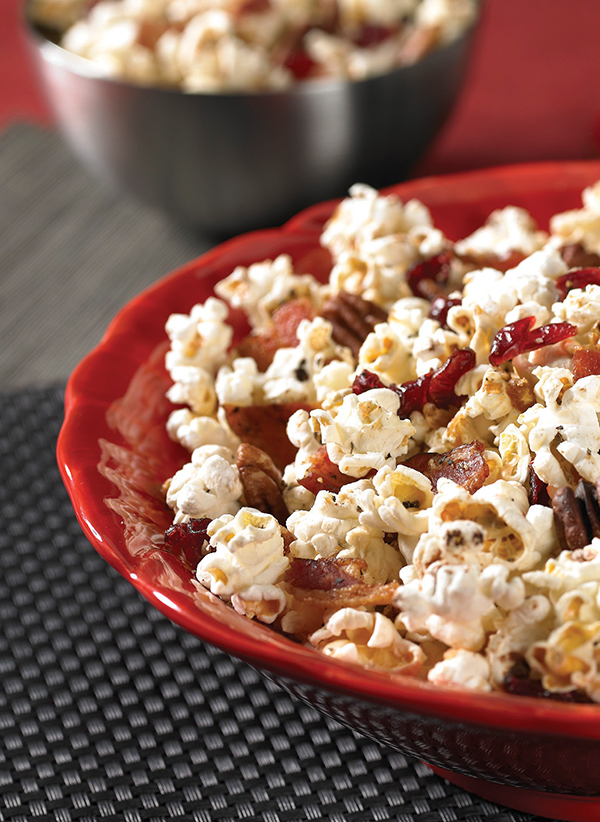 Maple Bacon Popcorn Mix
Yield: 2 quarts
6 slices thick-cut bacon
1/4 cup pure maple syrup
8 cups popped popcorn
2/3 cup pecan halves, coarsely chopped
2/3 cup dried cranberries
2 tablespoons butter or margarine
1/4 teaspoon coarse ground black pepper
1/4 teaspoon maple extract
Heat oven to 400° F. Line jellyroll pan with foil. Place wire rack in pan. Arrange bacon in single layer on rack. Bake 15 minutes until ends of bacon start to curl.
Remove and reserve 2 table­spoons bacon drippings. Brush bacon with 2 tablespoons maple syrup; bake 15 minutes until browned. Cool then coarsely chop bacon.
In large bowl, combine popcorn, pecans and cranberries.
Combine butter, black pepper, maple extract, remain­ing maple syrup and reserved bacon drippings. Cook over low heat until butter is melted. Drizzle over popcorn mixture and mix thoroughly.
Spread popcorn mixture in jellyroll or roasting pan.
Bake 5 minutes. Toss in bacon pieces. Serve warm.
Source: Popcorn Board
(Family Features) No matter what kind of events you have on your social calendar, you can pop up delicious treats that are sure to be a hit.
Whether hosting a get-together for the guys and tuning into the game or having a night in with the girls, freshly popped popcorn, which is naturally low in fat and calories, non-GMO and gluten free, can help you please every palate.
Sweet, spicy, salty or served in more non-traditional ways, the possibilities are endless, and perfect for everything from date night to a family movie night or even a sleepover or kids' party. And since it's healthy and whole grain, popcorn is a satisfying snack suitable for every occasion that you can feel good about serving.
Find more versatile, nutritious recipes for your next event at popcorn.org.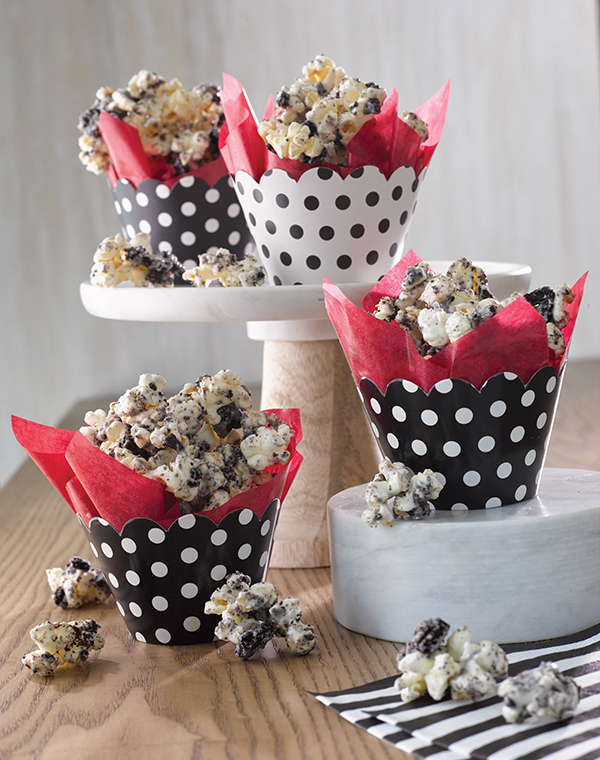 Cookies 'N Cream Popcorn
12 cups popped popcorn
1 package (11 ounces) white chocolate chips
2 teaspoons coconut oil
15 Oreo cookies, coarsely chopped
Place popcorn in large bowl; set aside.
In medium saucepan on low heat, melt chocolate chips and coconut oil; stir until blended.
Pour melted chocolate over popcorn, stirring until well-coated. Stir in chopped Oreos.
Spread mixture on baking sheet and chill until chocolate has set. Break into pieces to serve.
Serves
12 cups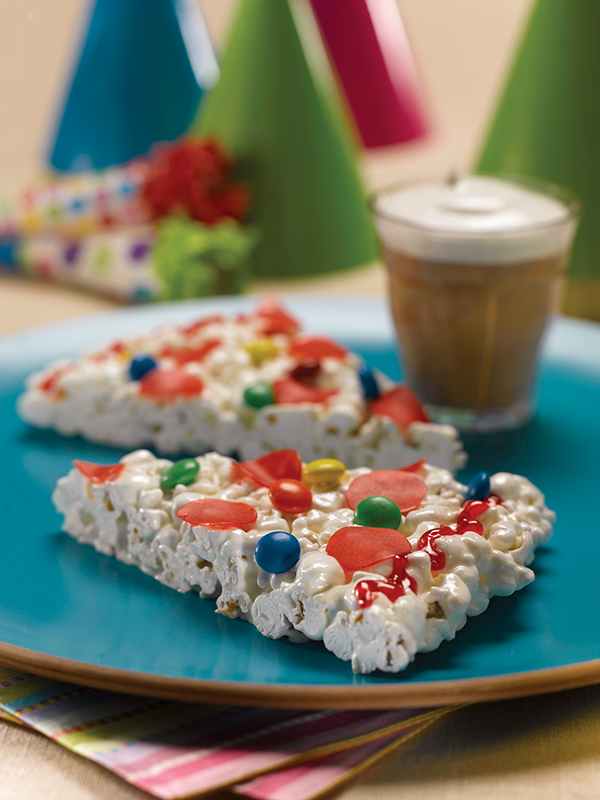 Popcorn Party Pizza
3 tablespoons butter
1 bag (10.5 ounces) mini marshmallows
2 quarts popped popcorn
1 tube (.68 ounces) red piping gel
1 package red raspberry fruit roll-ups
green jelly beans
coconut
candy-coated chocolate pieces
Spray 12-inch pizza pan with cooking spray; set aside.
In large saucepan over medium heat, heat butter.
Stir in marshmallows until melted.
Stir in popcorn until well coated.
Spread mixture evenly onto prepared pizza pan.
Drizzle red piping gel over "pizza" to make "sauce."
Cut small circles (about 1 1/4 inches in diameter) from fruit roll-up and place on pizza for "pepperoni" slices.
Decorate as desired with jelly beans, coconut and candies. Allow to cool completely before cutting into wedges to serve.
Serves
8 slices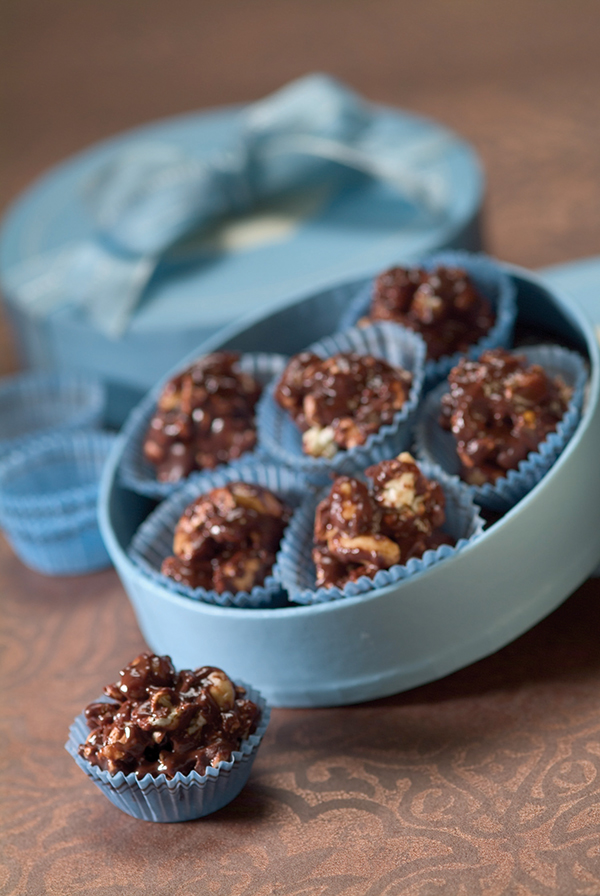 Popcorn and Peanut Truffles
6 cups popped popcorn
1 cup roasted and salted peanuts
1 package (12 ounces) semisweet chocolate chips
1/2 cup honey
In large bowl, stir popcorn and peanuts together; set aside.
In microwave-safe bowl, heat chocolate chips 10 seconds. Stir chips and repeat, stirring after each 10 seconds, until chips are melted. Warm honey in microwave 10 seconds and stir into chocolate until well blended.
Pour chocolate mixture over popcorn mixture and stir until popcorn is evenly coated. With small ice cream scoop, push popcorn mixture into scoop and release onto wax paper to form truffles. Refrigerate until firm.
Serves
30 pieces
Notes, Tips & Suggestions
Truffles can be stored in an airtight container up to 5 days.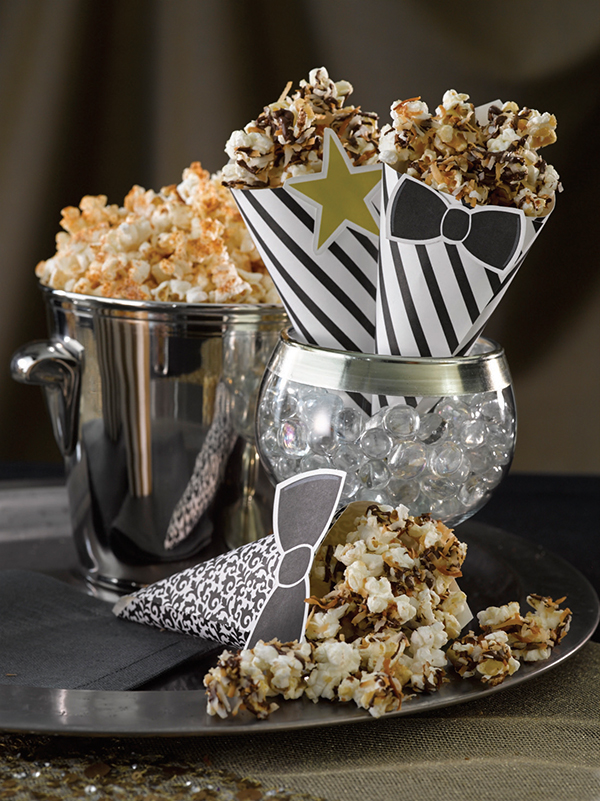 Toasted Coconut and Chocolate Popcorn
10 cups popped popcorn
2 tablespoons butter or margarine
2 tablespoons light brown sugar
1/2 teaspoon coconut extract (optional)
1 cup chocolate chips
1 teaspoon vegetable oil
1 bag (7 ounces) shredded coconut, toasted
Place popcorn in large bowl; set aside.
In small saucepan, combine butter, brown sugar and coconut extract; stir until melted and combined.
Pour over popcorn, coating well. Spread popcorn onto large cookie sheet.
In glass measuring cup, melt chocolate chips and vegetable oil in microwave on low heat until smooth. Drizzle over popcorn. Immediately sprinkle coconut over popcorn mixture; cool.
Break into pieces and serve.
Serves
10 cups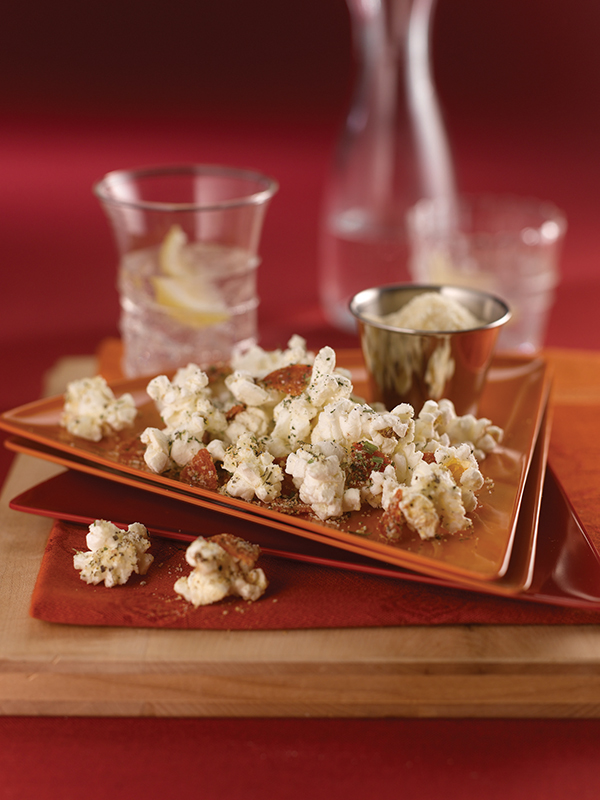 Cheesy Pepperoni Popcorn
1/4 cup nonfat Parmesan cheese
2 teaspoons garlic powder
1/4 teaspoon dried oregano
1/4 teaspoon dried marjoram leaves
1/4 teaspoon dried basil leaves
1/8 teaspoon dried sage
black pepper, to taste
12 cups popped popcorn
3/4 cup turkey pepperoni, cut into bite-size bits
olive oil cooking spray
In small bowl, combine Parmesan cheese, garlic powder, oregano, marjoram, basil, sage and pepper; mix well.
Place cooked popcorn and turkey pepperoni in large bowl; spray lightly with cooking spray.
Sprinkle popcorn and pepperoni with cheese mixture and toss to coat evenly.
Serves
6-8 cups
Source: Popcorn Board