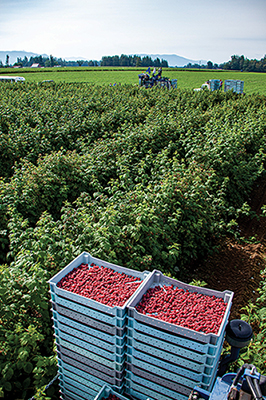 (Family Features) From breakfasts to salads, desserts and beyond, fruit is unique in its ability to add both flavor and nutrition to family-favorite dishes. As you look for ways to incorporate produce in your family's recipes, consider an option with a sweet-tart flavor and eye-catching color: red raspberries.
In the cool, marine climate of the Pacific Northwest, Washington state produces approximately 90% of the nation's frozen red raspberry crop. Picked at the peak of ripeness and frozen within hours of being harvested, flavor and nutrition are locked in to offer convenience and consistent quality out of the freezer section at most grocery stores, perfect for better-for-you desserts like Pecan-Topped Raspberry Cake and Red Raspberry Whole-Fruit Sorbet.
With a distinct flavor that works well in dishes from sweet to savory, red raspberries can add bright flavor and balance to recipes ranging from salads like Spinach and Frisee Salad with Raspberry Pickled Onions and Raspberry Vinaigrette to a morning meal such as this Raspberry Coconut Smoothie Bowl. Plus, 1 cup of the flavorful red fruit includes just 80 calories and contains 6 grams of fiber while providing 28% of the recommended daily allowance of vitamin C, a powerful antioxidant.
Find more recipes at redrazz.org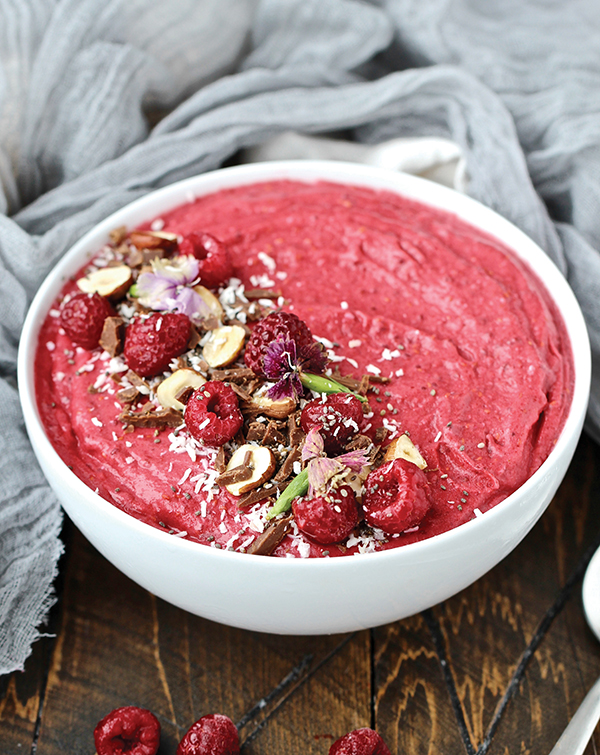 Raspberry Coconut Smoothie Bowl
Servings: 2
2 cups frozen raspberries
1 large frozen banana
2/3 cup light coconut milk
1 tablespoon chia seeds
Toppings (optional):
shredded coconut
shaved dark chocolate
hazelnuts
chia seeds
edible flowers
In blender, puree raspberries, banana, coconut milk and chia seeds until smooth. Mixture will be thick; ingredients may need pushed down to get blender going. If necessary, add more coconut milk.
Pour into two bowls. Garnish each with shredded coconut, shaved dark chocolate, hazelnuts, chia seeds and edible flowers, if desired.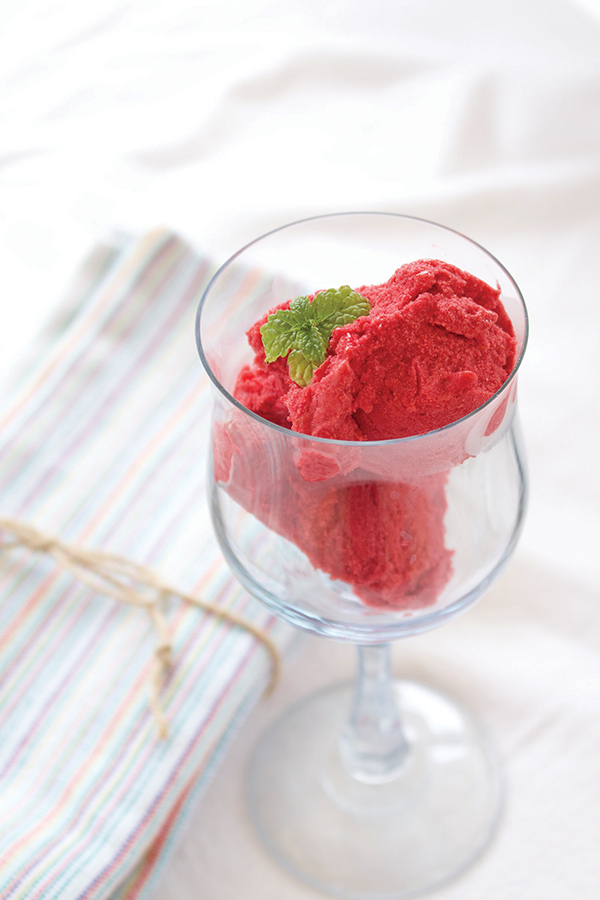 Red Raspberry Whole-Fruit Sorbet
Servings: 8 (1/2 cup each)
4 tablespoons powdered sugar
18 ounces frozen raspberries
1 egg white, pasteurized
In blender, blend sugar and frozen raspberries until smooth.
Add egg white and blend 30 seconds.
Serve immediately or place in container, cover and store in freezer.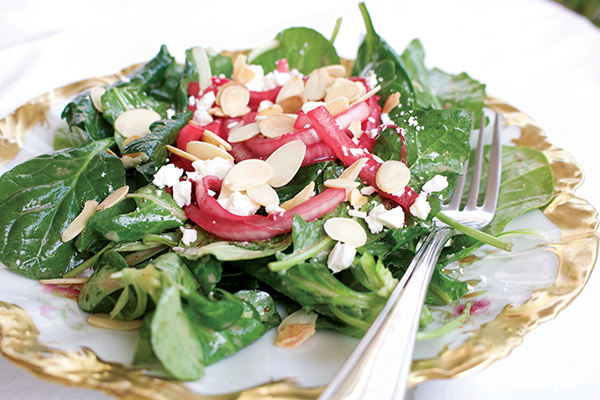 Spinach and Frisee Salad with Raspberry Pickled Onions and Raspberry Vinaigrette
Servings: 4
Raspberry Vinegar:
1 cup frozen raspberries
2 cups vinegar
Raspberry Pickled Onions:
1/2 cup Raspberry Vinegar
1 teaspoon olive oil
2 tablespoons sugar
2 teaspoons kosher salt
1 pound sweet onions, peeled and julienned
1 cup frozen raspberries, partially thawed
Raspberry Vinaigrette:
1 cup Raspberry Vinegar
1 teaspoon fresh shallot, peeled and minced
2 teaspoons Dijon mustard
1/2 tablespoon honey
1/2 teaspoon kosher salt
3/4 cup olive oil
Spinach and Frisee Salad:
8 ounces baby spinach, cleaned and dried
8 ounces frisee lettuce, cleaned, dried and torn
2 ounces Raspberry Vinaigrette
6 ounces Raspberry Pickled Onions
2 ounces feta cheese, crumbled
2 ounces almonds, slivered and toasted
To make Raspberry Vinegar: In clean glass container, combine frozen raspberries and vinegar; cover tightly. Refrigerate 3-7 days prior to use.
Pour vinegar through fine strainer or cheesecloth-lined strainer into clean glass container. Cover container tightly and store in refrigerator. Discard raspberries.
To make Raspberry Pickled Onions: In medium, non-reactive container, combine Raspberry Vinegar, oil, sugar and salt. Stir to dissolve sugar. Add onions and raspberries. Toss well to blend and coat onions.
To make Raspberry Vinaigrette: In blender, combine Raspberry Vinegar, shallot, Dijon mustard, honey and salt. With motor running, slowly add oil in steady stream. Reserve remaining Raspberry Vinegar.
Once blended, pour Raspberry Vinaigrette into clean, non-reactive container; cover and reserve in refrigerator until ready to use.
To make Spinach and Frisee Salad: In medium mixing bowl, combine spinach and lettuce. Add Raspberry Vinaigrette and toss well to coat.
Plate 4 ounces mixed greens.
Top mixed greens with 1 1/2 ounces Raspberry Pickled Onions, 1/2 ounce feta cheese crumbles and 1/2 ounce toasted almonds. Repeat with remaining greens, Raspberry Pickled Onions, feta cheese crumbles and toasted almonds.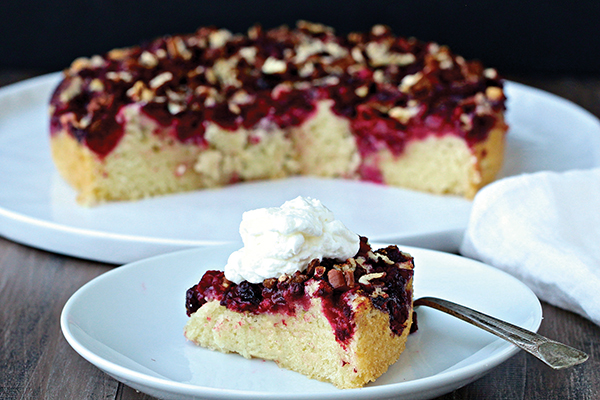 Pecan-Topped Raspberry Cake
Servings: 8
3/4 cup granulated sugar, plus 1 tablespoon, divided
1/2 cup unsalted butter, softened
2 eggs
1 cup all-purpose flour, sifted
1 teaspoon baking powder
1 teaspoon vanilla
1 bag (12 ounces) frozen raspberries
1/2 cup chopped pecans
1 tablespoon lemon juice
1 teaspoon cinnamon
whipped cream
Heat oven to 350 F.
In bowl, cream 3/4 cup sugar and butter. Add eggs one at a time and continue beating until well incorporated. Add flour, baking powder and vanilla; beat well.
Pour batter evenly into 9- or 10-inch prepared pan.
Place frozen raspberries on top of batter. Sprinkle with pecans, remaining sugar, lemon juice and cinnamon.
Bake about 1 hour. Remove from oven and let cool.
Serve with whipped cream.
(Family Features) The Mother's Day brunch is arranged, the cards and flowers are picked out - now it's time to make a show-stopping dessert that will truly make her day. And it's easier than you might think.
When looking for the perfect way to treat mom on Mother's Day, try a simple search on Bing.com. Bing makes it easy to find recipes by meals, convenience, or even ingredients to find just the right recipe - like cheesecake, pie or blackberry cobbler - to truly delight the special mom in your life.
Show your mom just how much she means to you by making her something special and giving her a Mother's Day she won't forget. Here are three delicious ideas.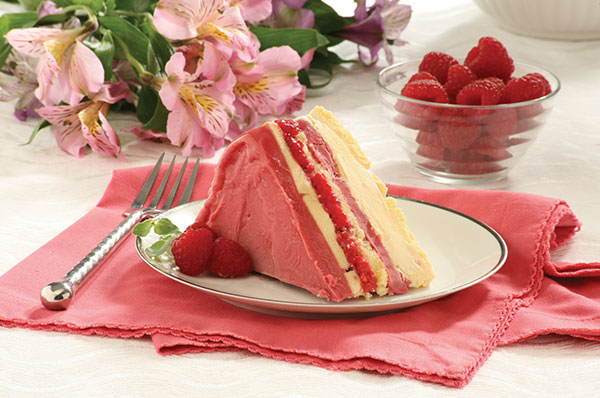 Frozen Raspberry Layer Cake
From Country Living
Prep Time: 20 minutes (not counting freezing times)
Total Freezing Time: 4 hours+
Servings: 8 to 10
2 10 3/4-ounce frozen pound cakes, crusts removed, sliced into 1/4-inch-thick slices
3 cups vanilla ice cream, slightly softened
4 cups raspberry sorbet, slightly softened
1 pint fresh raspberries, rinsed and picked over
3 tablespoons Chambord, or other raspberry-flavored liqueur
Prepare the pan: Trace and cut out a 9-inch circle from parchment paper and fit it into the bottom of a 9-inch springform pan.
Cut out a 3- by 27-inch strip of parchment and fit around inside of pan. Tape to secure parchment paper and set aside.
Assemble the cake: Cover bottom of pan with a single layer of pound cake slices and spread ice cream evenly over cake. Freeze until ice cream hardens - about 25 minutes.
Spread 2 cups sorbet over ice cream, followed by another layer of pound cake slices. Return cake to freezer for 10 minutes.
Combine raspberries and Chambord together in small bowl. Remove cake pan from freezer and place berries evenly over cake.
Top with a final layer of pound cake and remaining sorbet. Wrap tightly with plastic wrap and freeze until firm - at least 4 hours.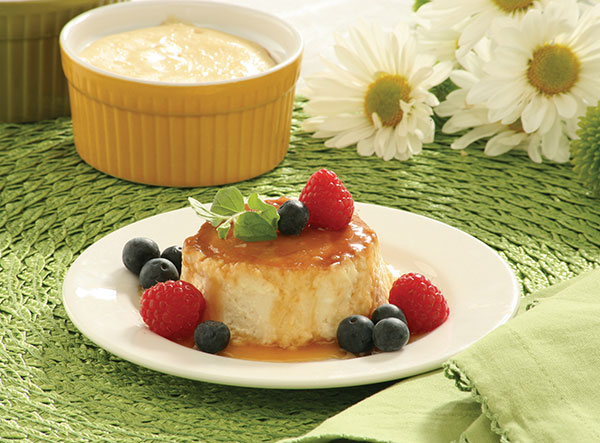 Upside-Down Honey Cheesecakes
From Bon Appétit
Prep Time: 25 minutes
Cook Time: 35 minutes
Chilling Time: 1 hour+
Servings: 12
1 cup sugar
1/3 cup honey
1/4 cup (1/2 stick) unsalted butter
1/3 cup water
3 8-ounce packages cream cheese, room temperature
2/3 cup (packed) golden brown sugar
1 cup sour cream
2 teaspoons fresh lemon juice
2 teaspoons vanilla extract
4 large eggs, room temperature
Assorted fresh berries (for garnish)
Preheat oven to 300°F. Butter twelve 3/4-cup ramekins or custard cups.
Place 1 cup sugar, honey, and butter in heavy medium saucepan. Stir over medium heat until butter melts and mixture is blended.
Increase heat to medium-high and bring to boil. Whisk until mixture darkens slightly and candy thermometer registers 300°F, about 5 minutes.
Remove from heat; add 1/3 cup water (mixture will bubble vigorously); whisk to blend. Divide topping among ramekins (about 2 tablespoonfuls for each). Divide ramekins between 2 roasting pans and chill while preparing filling.
Using on/off turns, blend cream cheese and brown sugar in processor, scraping bowl occasionally. Add sour cream, lemon juice, and vanilla; process until smooth. Add eggs 1 at a time, processing just to blend between additions. Divide filling among ramekins.
Add enough hot water to pans to come halfway up sides of ramekins.
Bake cheesecakes until set, about 35 minutes. Remove from roasting pans and chill until firm, about 1 hour. DO AHEAD: Can be made 2 days ahead. Cover and keep chilled.
Run thin knife around sides of ramekins. Invert onto plates, scooping any remaining topping from ramekins over cheesecakes. Garnish with berries.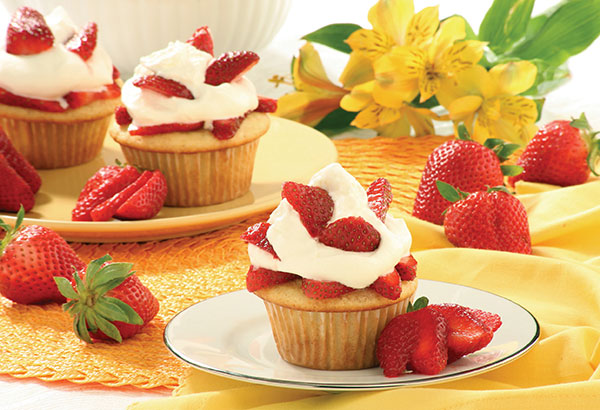 Strawberry Shortcake Cupcakes
From Redbook
Prep Time: 25 minutes
Cook Time: 24 minutes
Servings: 12
1 1/3 cups all-purpose flour
1/2 teaspoon baking powder
1/2 teaspoon baking soda
1/4 teaspoon salt
1/2 cup unsalted butter, softened
2/3 cup granulated sugar
2 large eggs
1 1/2 teaspoons vanilla extract
2/3 cup sour cream
Topping
1 quart strawberries, hulled, thickly sliced
1/3 cup granulated sugar
1 tablespoon lemon juice
1 1/2 cups cold heavy cream
3 tablespoons confectioners' sugar
1 tablespoon vanilla extract
Heat oven to 350° F. Line 12 standard muffin cups with paper liners.
In medium bowl, whisk flour, baking powder, baking soda, and salt. In large bowl with mixer on medium, beat butter and sugar until light and creamy. Beat in eggs, 1 at a time, then vanilla. With mixer on low, alternately beat in flour mixture and sour cream until combined. Continue to beat on medium until batter is thick and smooth.
Spoon batter into a zip-top bag. Snip a 1/2-inch corner from bag and fill liners slightly less than two-thirds full. Bake 24 to 26 minutes, or until lightly golden and a pick inserted in the center of a cupcake comes out clean. Cool in pan on a wire rack 5 minutes; remove cupcakes from pan and cool completely.
Toss strawberries several times in a bowl with sugar and lemon juice until very syrupy. In large bowl, beat cream, confectioners' sugar, and vanilla until soft peaks form.
Use a skewer to poke several holes into top of each cupcake. Spoon some syrup from bowl over top, allowing it to absorb into cupcakes. Top with sliced berries and a dollop of cream. Arrange a few sliced berries in cream and drizzle with remaining strawberry syrup.
Source: Bing.com