(Family Features) The trend of farm-to-table foods is becoming increasingly popular, leading many to ask: Where is my food really coming from? With so many available options in the grocery store, it is important to serve your family nutritious, high-quality foods to ensure healthy eating habits.
Milk is one of the original local, farm-to-table foods. It's a product from farm families who care about their cows. In fact, 97 percent of dairy farms are still family owned and operated - passed down from generation to generation.
For dairy farmers, "farm to table" is more than just a buzzword - it's a part of their livelihood. They value the trust consumers have in them to produce a high-quality product that is farm fresh and locally sourced. In fact, most milk is produced from cows within 300 miles of where it's sold.
Not only is milk farm fresh, it's naturally nutrient-rich. The ingredient list is short: milk and vitamins A and D. These simple ingredients, plus minimal processing for safety, make milk and milk products a wholesome part of a nutritious, balanced diet. Add milk at mealtime to ensure your family is getting high-quality protein and other essential nutrients, including 8 grams of protein per every 8-ounce serving.
For a trendy twist on the original farm-to-table food, and a tasty way to start your morning right, try this Lavender Honey Flavored Milk recipe. It's a delicious way to serve wholesome and natural flavors with milk. For more recipe ideas and milk facts, visit milklife.com.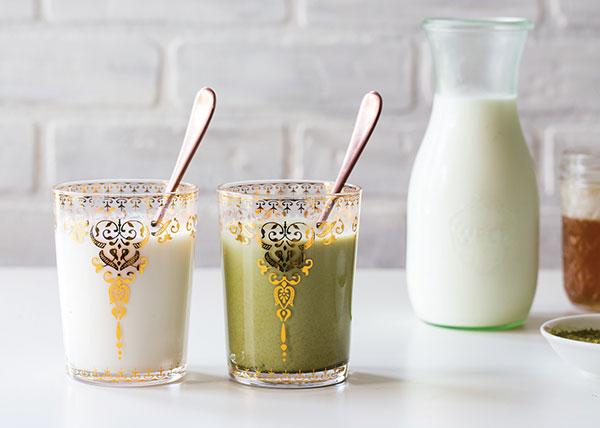 Lavender Honey Flavored Milk
Recipe courtesy of Emily Caruso of Jelly Toast
Servings: 1
Lavender Honey Milk:
8 ounces fat free milk
1 ounce Lavender Honey Syrup (Recipe below)
Lavender Honey Syrup:
1/2 cup honey
1/2 cup water
2 tablespoons culinary lavender blossoms, dried
To make syrup: In small sauce pan, combine honey, water and lavender. Set saucepan over medium-low heat and stir constantly until mixture is hot, but not boiling, and honey is melted.
Remove from heat and allow syrup to cool completely. Strain syrup through fine mesh sieve and discard lavender. Refrigerate syrup in lidded jar until ready to use. Note: Makes about 6 ounces of syrup.
Pour 8 ounces milk into glass. Stir in 1 ounce Lavender Honey Syrup until well combined.
Variation: Stir in 1 teaspoon matcha green tea powder into Lavender Honey Milk for added flavor and color.
Nutritional information per serving: 170 calories; 5 mg cholesterol; 8 g protein; 35 g carbohydrates; 105 mg sodium; 302 mg calcium (30% of daily value).
Source: MilkPEP
(Family Features) If the very notion of holiday hosting has you feeling a bit overwhelmed, get organized with these simple ideas that can help you serve up a successful holiday celebration.
Entertainment: Ensure guests enjoy a good time by offering entertainment that is suitable for their personality types. If your guests are more drawn to energetic activities, choose light-hearted, competitive games like charades. For guests who are more laid back, organize classic board games. There are many popular games available in special holiday editions for extra-festive fun. You can also simply play holiday movies and music in the background for crowds that would rather just mingle.
Beverages: Stock up on refreshments all ages can enjoy. Keep a kid-friendly favorite like lemonade on hand, and tea is a traditionally well-received option for the grownups. Put a special holiday touch on your drink menu with a recipe like this Holiday Hot Tea featuring Milo's Famous Sweet Tea, which has been fresh brewed from custom-blended tea leaves with no added acids or preservatives for generations.
Favors: Send guests home with a sweet memory of the event, such as an ornament that connects to the party's theme or a bag of seasonal treats like homemade cookies or candy to nibble on during the trip back home.
Simple Snacks: Building your menu around simple snacks and finger foods guests can nibble on while they mingle is perfectly acceptable for almost any type of holiday gathering. Include options that can satisfy all the taste buds. You can even combine sweet and sour with a seasonal crowd-pleaser like this Lemonade Cranberry Orange Bread, which draws its flavor from a secret ingredient: Milo's All Natural Lemonade.
Find more holiday hosting ideas and recipes at drinkmilos.com .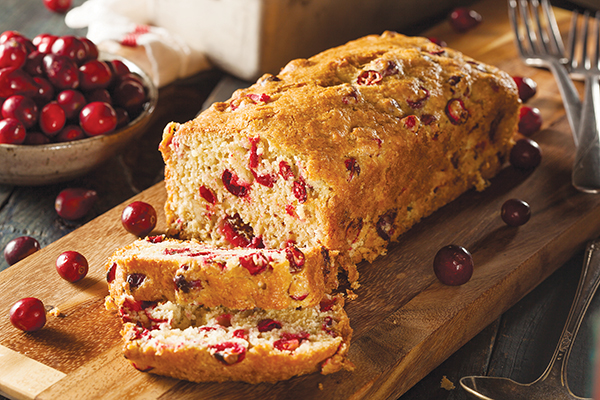 Lemonade Cranberry Orange Bread
Prep time: 15 minutes
Cook time: 1 hour
Servings: 8
1 can cranberry sauce
3/4 cup Milo's All Natural Lemonade
1 orange, zest only
2 tablespoons vegetable oil
1 egg
2 cups flour
1 cup sugar
1 1/2 teaspoons baking powder
1 teaspoon salt
1/2 teaspoon baking soda
Heat oven to 350° F.
In large bowl, mash cranberry sauce into small pieces. Add lemonade, orange zest, vegetable oil and egg; mix until blended.
In separate bowl, combine flour, sugar, baking powder, salt and baking soda. Combine wet and dry ingredients; mix until batter is formed.
Pour batter into greased loaf pan. Bake 1 hour. Let cool 20 minutes before slicing and serving.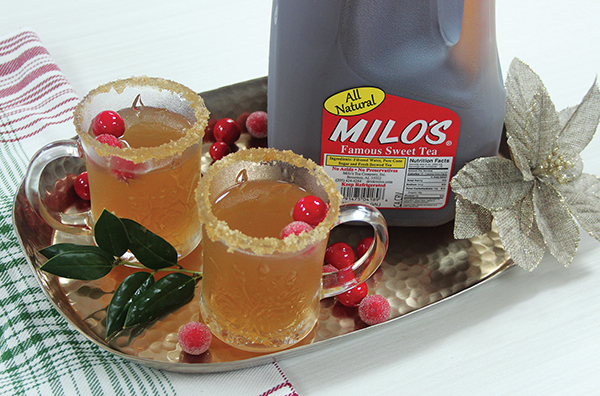 Holiday Hot Tea
Prep time: 5 minutes
Cook time: 2 hours, 30 minutes
Servings: 12
12 cups Milo's Famous Sweet Tea
2 cans (12 ounces each) frozen limeade juice concentrate
1 orange, thinly sliced, plus additional for garnish (optional)
12 whole cloves
4 cinnamon sticks
1 teaspoon vanilla
1 cup fresh cranberries
1 cup ginger ale
raw sugar, for garnish (optional)
In large slow-cooker, combine sweet tea, limeade concentrate, orange slices, cloves, cinnamon sticks, vanilla, cranberries and ginger ale; stir.
Heat on high 30 minutes then reduce heat to low for 2 hours, or heat on low 2 hours then reduce setting to warm overnight.
Invert moistened glass rims in sugar then fit orange slice over rim, if desired.
Note: For easier serving, place cloves in tea ball or double layer of coffee filters sealed with kitchen twine.
Photo courtesy of Getty Images (Lemonade Cranberry Orange Bread)
Source: Milo's Tea Company