(Family Features) Time available to cook, your family's preferred dishes, ingredients you have in the pantry - there are plenty of considerations that may limit your options for an at-home menu. Add in a gluten allergy, or simply a desire to avoid it, and it may feel impossible to appease everyone.
However, all it takes is simple ingredient swaps to turn a family favorite into a gluten-free recipe. From pizza at dinnertime to a chocolatey dessert, these dishes offer easy, flavorful ways to make your menu gluten-free.
A Healthier Homemade Pizza
Creating a gluten-free dinner can be as easy as tweaking some of your loved ones' favorite meals. Even pizza can offer a gluten-free solution when you rethink the ingredients included.
Satisfy your family's needs with an option like Toufayan Gluten-Free Wraps in place of traditional crust in this Gluten-Free Barbecue Skillet Pizza. Made from wholesome, all-natural ingredients with no cholesterol or trans fats, these easily foldable wraps are available in four flavors, making them perfect for homemade pizza.
Visit Toufayan.com to find more mealtime solutions.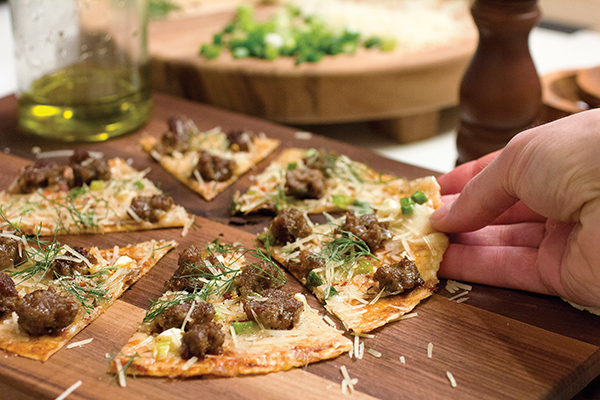 Gluten-Free Barbecue Skillet Pizza
Servings: 6
1 tablespoon olive oil, divided
1 Toufayan Gluten-Free Original Wrap
3 tablespoons gluten-free barbecue sauce
4 cooked sausage links, crumbled
2 cups diced Mozzarella cheese
2 tablespoons chopped green onion
fresh Parmesan cheese, for garnish (optional)
fresh fennel fronds, for garnish (optional)
crushed red pepper, for garnish (optional)
salt, to taste
pepper, to taste
Heat oven to broil.
Heat cast-iron skillet over medium heat. Add 1-2 teaspoons olive oil; spread to cover bottom of skillet.
Place wrap in skillet, brush with barbecue sauce and add sausage, Mozzarella and green onion.
Fry 2-3 minutes, or until bottom of wrap is golden and crispy.
Place skillet under broiler until cheese is melted and bubbly, about 2 minutes.
Remove from broiler, place on cutting board and sprinkle with Parmesan, fennel fronds and crushed red pepper, if desired.
Season with salt and pepper, to taste; drizzle with remaining olive oil, cut and serve.
Dish Up a Dynamic Dessert
Going gluten-free isn't just for meals from breakfast to dinner - you can cut gluten from delicious desserts, too.
This Cookie Brownie Supreme calls for layers of cookie dough, cookies and brownies for a taste bud tempting way to round out a meal with those you love. One of the key ingredients is Goodie Girl Chocolate Creme Sandwich Cookies, made with real cocoa and a sweet cream filling between two chocolate wafers. They're made without artificial flavors, colors or preservatives for a gluten-free, vegan and peanut-free treat.
Find more varieties and dessert ideas at goodiegirl.com.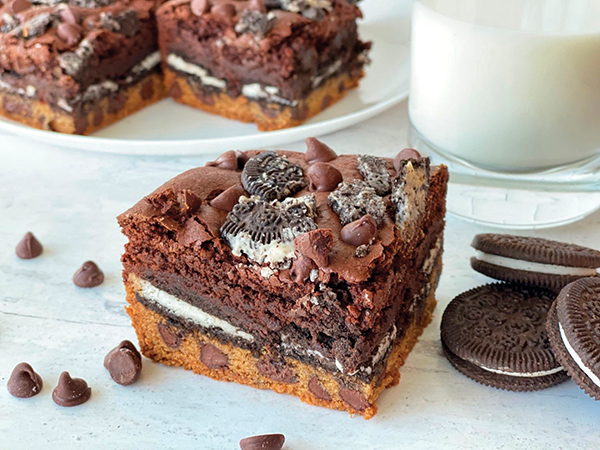 Cookie Brownie Supreme
Recipe courtesy of glutenfreewith3.com
Cookie Dough Layer:
1 stick softened butter
1/2 cup brown sugar
1/4 cup sugar
1 1/4 teaspoons vanilla extract
1 egg
1/2 teaspoon baking soda
1/4 teaspoon salt
1 1/4 cups gluten-free flour
1 cup semi-sweet chocolate chip
Cookie Layer:
25 Goodie Girl Chocolate Creme Sandwich Cookies
Brownie Layer:
1 stick butter
1 1/2 cups sugar
1/2 teaspoon salt
1 teaspoon vanilla extract
3/4 cup cocoa powder
3 eggs
3/4 cup gluten-free flour
1 teaspoon baking powder
6 Goodie Girl Chocolate Creme Sandwich Cookies, crushed
1/4 cup semi-sweet chocolate chips
vanilla ice cream (optional)
chocolate syrup (optional)
Preheat oven to 350 F. Prepare 9-by-9-inch cake pan with parchment paper.
To make cookie dough layer: In large bowl, combine softened butter, brown sugar, sugar and vanilla. Mix with handheld mixer until combined and creamy. Add egg and beat until combined.
In small bowl, combine baking soda, salt and flour. Beat flour mixture gradually into sugar mixture. Once completely combined, fold in chocolate chips. Add cookie dough layer to bottom of prepared pan and spread evenly.
To make cookie layer: Layer cookies on top of cookie dough layer.
To make brownie layer: In saucepan, melt butter, sugar and salt until completely combined. Remove from heat and transfer to large bowl. Add vanilla, cocoa and eggs; mix. Slowly add flour and baking powder. Mix until completely combined.
Pour brownie mixture over cookie layer. Spread evenly.
Top with crushed cookies and chocolate chips.
Bake 50 minutes. Let cool completely before removing from pan. Slice and top with vanilla ice cream and chocolate syrup, if desired.
Source: Toufayan
(Family Features) From filling dinners to favorite desserts, comfort foods can bring smiles to friendly faces. As temperatures drop, lean on recipes that add flavor and bring warming scents to your kitchen.
Loaded with comforting ingredients like READ German Potato Salad, this Cheesy German Potato Soup can appease appetites with tantalizing taste. Ideal at dinner parties or festivities throughout winter, Mini Chocolate-Beet Cheesecakes with Maple-Orange Glaze combine Aunt Nellie's Sliced Beets with familiar cheesecake flavor for a tempting treat.
Visit readsalads.com and auntnellies.com for more comforting inspiration.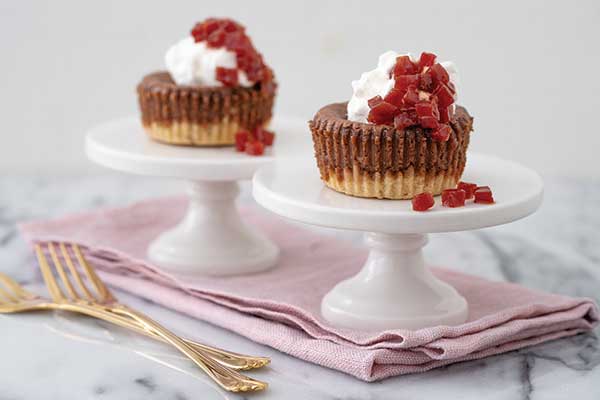 Mini Chocolate-Beet Cheesecakes with Maple-Orange Glaze
Servings: 12
Crust:
1/2 cup all-purpose flour
1/4 cup chopped walnuts
3 tablespoons salted butter, softened
Cheesecake:
1 jar (15 ounces) Aunt Nellie's Sliced Beets
1 package (8 ounces) cream cheese, softened
1/4 cup pure maple syrup
1 large egg
1/2 cup semi-sweet chocolate chips, melted
Topping:
2 tablespoons frozen orange juice concentrate
3 tablespoons pure maple syrup
1/8 teaspoon ground cinnamon
whipped cream (optional)
Preheat oven to 350 F. Line 12 medium muffin cups with foil liners.
To make crust: In medium bowl, combine flour and walnuts.
Using fork or pastry blender, cut in butter until mixture resembles fine crumbs. Place about 1 tablespoon mixture into each lined muffin cup. Lightly press crumbs into bottom. Bake 5-6 minutes, or until crust begins to brown.
To make cheesecake: Drain beets, reserving 2 tablespoons liquid. In blender, puree 1/2 cup beets and reserved liquid until smooth; set aside. Dice remaining beets; set aside.
In large bowl, combine cream cheese and syrup. Beat until smooth. Add egg; mix until blended. Stir in reserved pureed beets. Add melted chocolate; mix well. Spoon about 3 tablespoons cream cheese mixture into muffin cups over warm crusts. Bake 15 minutes, or until filling is set. Let cool to room temperature. Place cheesecakes in refrigerator at least 30 minutes.
To make topping: In small saucepan, combine reserved diced beets, orange juice concentrate, syrup and cinnamon. Cook and stir over medium heat until mixture comes to boil, stirring frequently. Continue cooking and stirring until mixture thickens and appears glossy, 5-8 minutes. Remove from heat; let cool to room temperature.
Remove cheesecakes from muffin liners. Top evenly with glazed beets. Serve with whipped cream, if desired.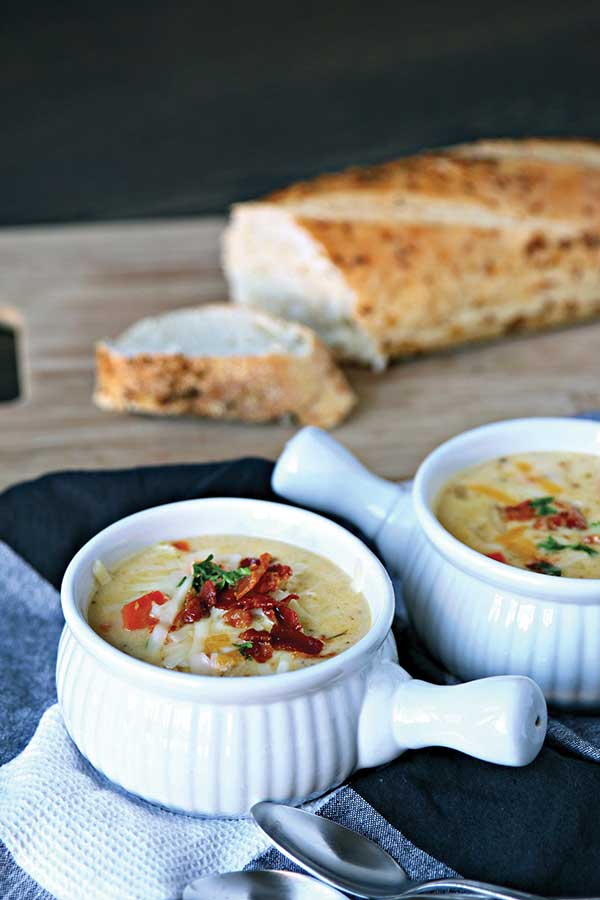 Cheesy German Potato Soup
Recipe courtesy of "Today's Creative Life"
Servings: 8
1 1/2 cups shredded cheddar cheese
1 cup shredded Gruyere cheese
3 tablespoons all-purpose flour
8 slices bacon, chopped
3 large carrots, chopped
1 medium onion, diced
2 cloves garlic, minced
6 cups low-sodium chicken broth
1/2 teaspoon ground black pepper
1/2 teaspoon crushed red pepper flakes
1/2 teaspoon dried thyme
1 tablespoon dried parsley
2 cans (15 ounces each) READ German Potato Salad
1 cup heavy cream
1 cup whole milkchopped parsley or chives (optional)
Place cheeses and flour in gallon-size zip-top bag. Close bag. Shake until cheese is covered with flour; set aside.
In large Dutch oven over medium heat, cook bacon until crisp, stirring occasionally. Transfer to paper towel-lined plate; set aside.
Pour off all but 2-3 tablespoons bacon drippings. Return Dutch oven to medium heat. Add carrots, onion and garlic. Cook until onions are translucent and carrots are softened, 3-4 minutes. Add chicken broth, black pepper, red pepper flakes, thyme and parsley. Stir in potato salad. Continue cooking over medium heat 5 minutes, or until potatoes are heated through, stirring occasionally.
Reduce heat to low. Slowly stir in cream and milk. Cook 5-8 minutes until blended and heated through, stirring frequently. Slowly add cheeses, stirring until melted.
Top with bacon. Garnish with parsley or chives, if desired.