(Family Features) Making the holiday season special is an important tradition for many families, and it's likely to take on heightened importance this year with gatherings, celebrations and festivities taking on a different look than years past. One family-favorite way to create holiday magic is through delicious desserts that can be made and enjoyed together.
Don't be afraid to try something new this year by turning to foods typically associated with warmer weather. For example, watermelon is available year-round and makes a surprisingly nutritious, flavorful addition to your seasonal spread, whether it's the main ingredient or included in recipes from entrees to sides and drinks to desserts.
For a kid-friendly, tasty treat, ask your little ones to help make these Holiday Watermelon Cutouts. Because they only require a few ingredients and plenty of creativity, they're perfect for getting the whole family involved. Or try this Watermelon and Blueberry Cheesecake as the highlight at your dessert table with its creamy, fruity flavor and eye-popping looks.
To find more holiday dessert solutions and other sweet recipe ideas, visit watermelon.org.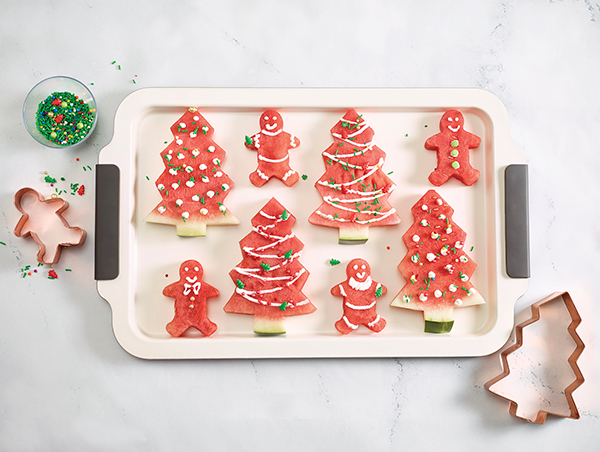 Holiday Watermelon Cutouts
Recipe courtesy of the National Watermelon Promotion Board
1/2 watermelon, cut into 1/2-inch thick disks
vanilla frosting or yogurt
sprinkles, for decorating
Using holiday cookie cutters, cut shapes out of watermelon disks.
Decorate watermelon shapes with yogurt.
Top with sprinkles.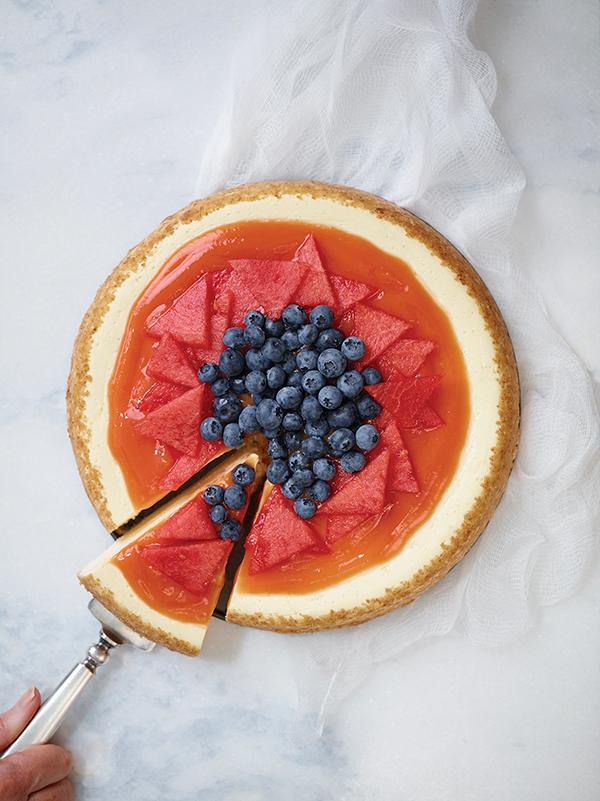 Watermelon and Blueberry Cheesecake
Recipe courtesy of the National Watermelon Promotion Board
Servings: 12
Cheesecake:
Nonstick cooking spray
1/3 cup graham cracker crumbs (2 graham crackers)
24 ounces fat-free cream cheese, at room temperature
8 ounces low-fat cream cheese, at room temperature
1 cup white sugar
3/4 cup no-calorie sugar substitute
3/4 cup fat-free half-and-half
1/4 cup fresh lemon juice
2 tablespoons lemon peel, finely grated
2 teaspoons vanilla extract
1 1/2 cups liquid egg substitute (equivalent of 6 eggs)
Watermelon-Blueberry Sauce:
3 cups watermelon juice, with pulp
6 teaspoons cornstarch
6 tablespoons lemon juice
3 tablespoons sugar
3 tablespoons no-calorie sugar substitute
1-1 1/2 teaspoons lemon extract
2 cups diced watermelon
3 cups blueberries
To make cheesecake: Preheat oven to 350 F.
Spray bottom and sides of 9-inch springform pan. Sprinkle graham cracker crumbs in pan and tilt to spread evenly over bottom and sides, leaving extra crumbs on bottom.
Using electric mixer, beat fat-free cream cheese, low-fat cream cheese, sugar and sugar substitute until creamy and well-blended. Slowly add half-and-half, lemon juice, lemon peel and vanilla; continue beating. Add egg substitute until mixture is thoroughly blended and creamy. Pour into crumb-lined pan.
Place springform pan in large roasting pan. Pour enough water into roasting pan to come halfway up sides of springform pan. Bake cheesecake until firm, slightly golden and top is cracked, about 1 hour, 25 minutes. Remove springform pan from water and refrigerate, uncovered, until cold, about 3 hours or overnight.
To make watermelon-blueberry sauce: In blender, whip watermelon juice, cornstarch, lemon juice, sugar and sugar substitute until smooth. Pour into small saucepan over medium-high heat and bring to gentle boil until topping begins to thicken. Remove from heat and place in refrigerator to cool. Just before serving, add lemon extract, diced watermelon and blueberries; stir to thoroughly blend.
To serve, run knife around sides of cheesecake and remove springform pan sides. Top each slice with generous helping of watermelon-blueberry sauce.
(Family Features) If spending more time at home than usual has you reaching for snacks more often, keep some quick, flavorful options on-hand to help fuel you and your family throughout the day when hunger pangs strike.
One versatile pantry staple that can fit a variety of snack cravings: popcorn. With no artificial additives or preservatives, light and airy popcorn is naturally low in fat and calories, non-GMO and gluten free, making it a sensible option to enjoy one handful at a time or sprinkled with seasonings that satisfy your taste buds. A whole-grain food, popcorn has energy-producing carbohydrates and fiber, which can help keep you satisfied longer. Plus, it's simple enough to make that kids can help in the kitchen by popping it themselves or adding toppings.
Whether you're craving something sweet, salty, spicy – or nearly anything else – freshly popped popcorn can serve as the perfect base ingredient to simply mix in your favorite toppings or create more unique tastes by combining a variety of herbs and spices. For example, consider these hacks to add easy flavor:
Pop it on the stove. Stovetop popping allows you to choose your toppings. Cover the bottom of a pot with a thin layer of oil and popcorn kernels, shake to coat, cover with a lid then turn on the heat. Once popping has slowed to 2-second intervals, remove from heat and add toppings.
Add some sweetness. When you're in the mood for something sweet, add a dash of salt and a pinch of sugar (or more to meet your taste) to a bowl of popcorn. Or add sugar to the pan before it's popped, like this recipe for Sugar Corn.
Melt some butter. For a classic taste treat, melt a little butter and pour over your bowl of popped corn.
Satisfy multiple cravings. Pop a large pot of popcorn and divide it in half; top one half with sweeter toppings like honey, which is a key ingredient in Honey Matcha Popcorn, and the other with something savory, like nutritional yeast or dill. When hunger strikes, you're ready, regardless of the flavor craving.
Spice it up. Cayenne pepper and a blend of other spices can be sprinkled on popcorn to create a spicier snack like Cajun Corn.
Add mix-ins. Add dried fruits, nuts or candies to a bowl of popcorn to make your own trail mix.
Cheese, please. A sprinkle of Parmesan cheese can make your snack a bit more substantial. Mix in some dried herbs like basil and parsley to create this Popcorn Con Pesto.
For more snack ideas that deliver on both flavor and nutrition, visit popcorn.org.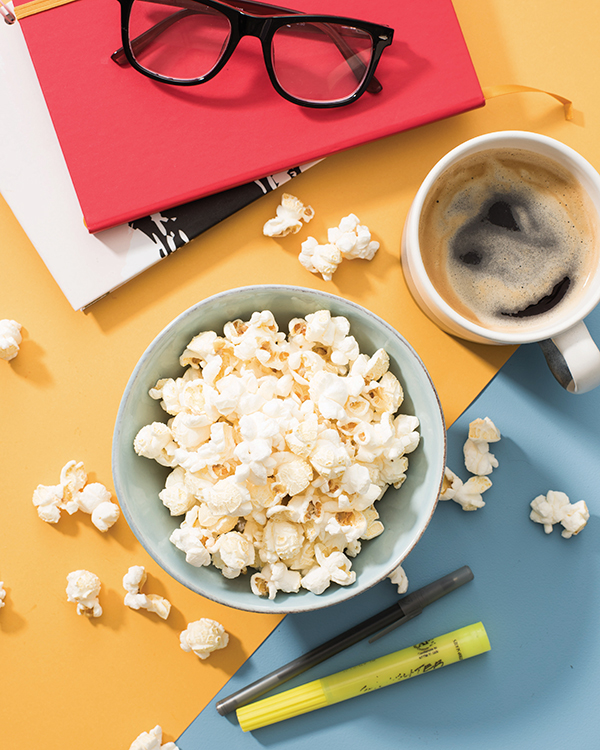 Sugar Corn
Yield: 8 cups
1/4 cup vegetable oil, for popping
1/2 cup popcorn kernels
1 pinch white sugar, plus additional, to taste
In medium pan, heat oil until hot.
Add popcorn to pan and sprinkle sugar over it. Add more sugar, if desired, to taste.
Cover and shake pan continuously until popcorn is popped.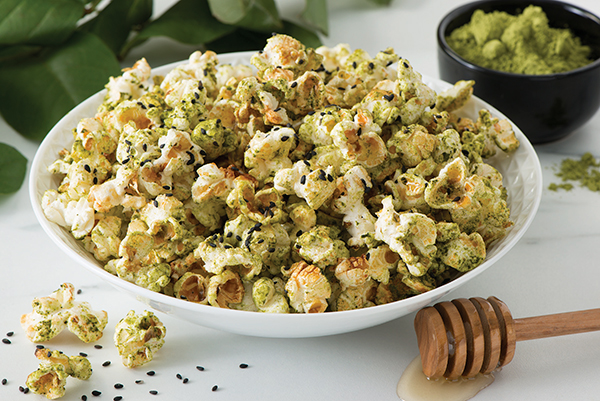 Honey Matcha Popcorn
Yield: 12 cups
12 cups unsalted, unbuttered popped popcorn
1/4 cup butter
1/4 cup honey
1 teaspoon matcha green tea powder
1/2 teaspoon salt
1 tablespoon black sesame seeds
Preheat oven to 300 F.
Line large, rimmed baking sheet with parchment paper. Place popped popcorn in large mixing bowl.
In small saucepan over medium heat, melt together butter, honey, matcha powder and salt, stirring until dissolved. Pour over popcorn; toss to combine. Spread onto baking sheet. Sprinkle with sesame seeds.
Bake, stirring occasionally, 25-30 minutes, or until popcorn is dry. Let cool completely before serving.
Tip: Matcha powder can be found in the tea and coffee aisle at supermarkets.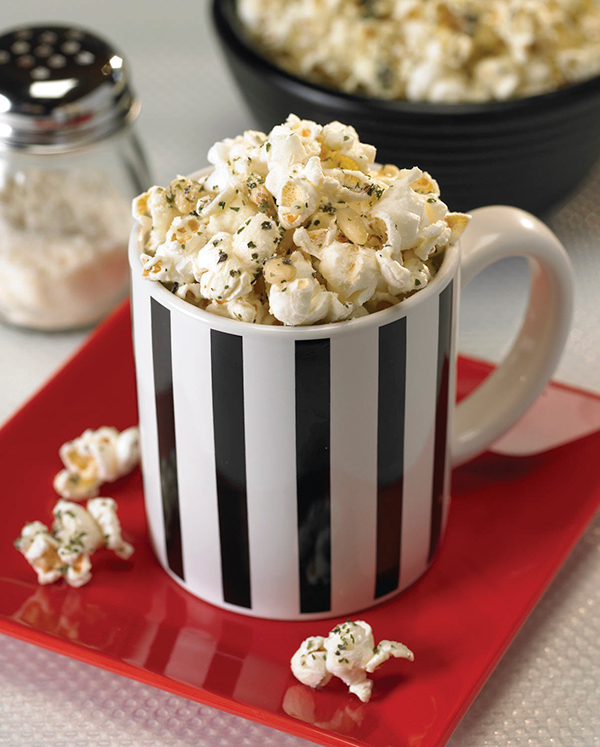 Popcorn Con Pesto
Yield: 5 quarts
5 quarts popped popcorn
1/2 cup butter
1 tablespoon dried basil leaves, crushed
1 teaspoon dried parsley, crushed
1 teaspoon garlic powder
1/3 cup Parmesan cheese
1/2 cup pine nuts (optional)
Place popped popcorn in large bowl and keep warm.
In small saucepan, melt butter; add basil, parsley, garlic, Parmesan cheese and nuts, if using.
Stir to blend.
Pour over popped popcorn, stirring well.
Note: Dried thyme or oregano, or combination of ingredients, may be used in place of basil.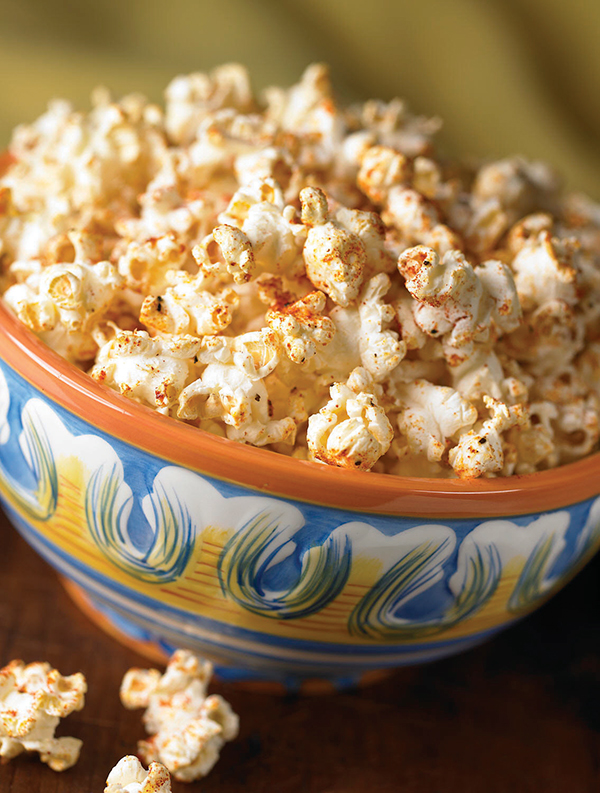 Cajun Corn
Yield: 2 1/2 quarts
1/4 cup butter, melted
2 1/2 quarts popped popcorn, warm
1 teaspoon paprika
1/2 teaspoon onion powder
1/2 teaspoon garlic powder
1/4 teaspoon cayenne pepper
1 teaspoon lemon pepper
Heat oven to 300° F.
In bowl, pour butter over warm popcorn.
In separate bowl, combine paprika, onion powder, garlic powder, cayenne pepper and lemon pepper; sprinkle over popcorn. Toss to mix.
Bake 5-10 minutes for crispy popcorn.
Source: Popcorn Board