(Family Features) When a trip to the ice cream parlor isn't in the cards, bring the ice cream parlor home with DIY sundaes! Making the perfect sundae might look like a hefty task, yet with a little creativity this all-American dessert is one of the easiest to make. By offering an assortment of ice cream flavors and toppings, everyone in the family can concoct their own personalized combinations.
There is no wrong way to craft this ice cream dessert, but read on for tips that will help you recreate the ice cream parlor in your kitchen.
Dishes. Glass bowls are traditional favorites, but be imaginative and rummage through your forgotten dishes to find something special. Chill the dishes for 30 minutes in the freezer to keep the ice cream from melting while creating your sundae.
Ice cream. Pick ice cream flavors that go well together or use vanilla, which tastes great with everything. Scoop the ice cream with a slightly warmed metal scoop to make it easier.
Mix-ins. From crushed cookies to gummy bears, there is no limit to what can go in a sundae. Fruit and chocolate chips are popular toppings and toasted nuts provide a crunchier texture. Create a mix-in buffet by placing all the goodies on the kitchen counter with a bowl and a spoon for each.
Toppings. Once dishes are filled with ice cream and mix-ins, drizzle syrup over top. Caramel, chocolate, strawberry, peppermint and English toffee are popular choices. Don't forget the whipped cream and cherry, if desired. Sprinkles, malt powder and mint leaves make good finishing touches as well.
Dig in! Long-handled spoons are great - they are ideal for scooping out everything, right down to the bottom. And remember kids love colorful spoons with funny characters or motifs on them.
Try these sundae recipes for creative combinations. For more summer sundae ideas, visit www.BlueBunny.com.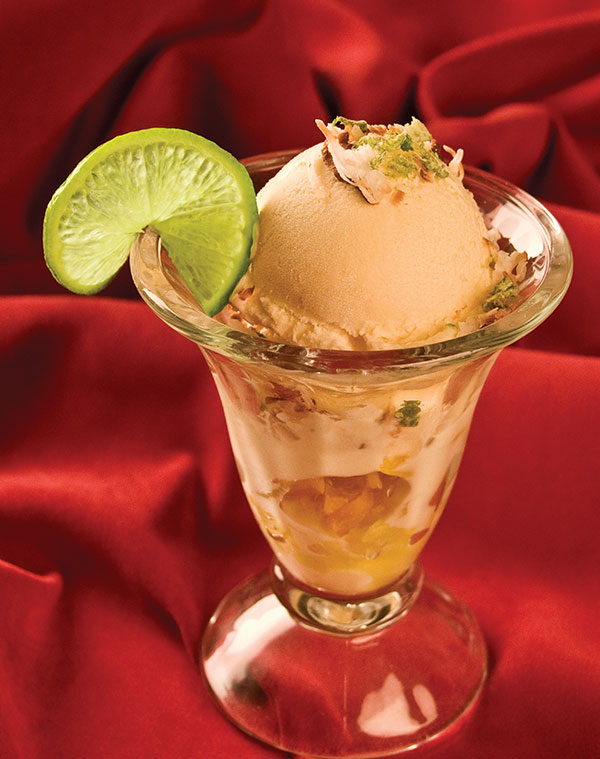 Caribbean Sundae
Makes 4 servings
1/2 cup canned crushed pineapple in juice, drained
1/2 cup chopped mango, thawed if frozen
2 cups Blue Bunny Premium Vanilla Ice Cream
8 teaspoons unsweetened shredded coconut, toasted
1 teaspoon grated lime peel
4 slices fresh lime
Place one tablespoon crushed pineapple and one tablespoon chopped mango into each of four small parfait glasses. Top with quarter cup ice cream. Sprinkle with one teaspoon of toasted coconut. Repeat layering. Top each parfait with one-fourth teaspoon grated lime peel.
Garnish rim of each parfait glass with a slice of lime. Serve immediately.
Cinnamon Bun Hot Apple Sundae
Makes 8 servings
1 4-inch frosted cinnamon roll
3 1/2 cups Blue Bunny Premium Vanilla Ice Cream, softened
1/2 cup glazed walnuts
1 can (21 ounces) apple pie filling
1/2 cup butterscotch-caramel topping
Glazed walnuts, optional
Cut cinnamon roll into half-inch pieces; set aside quarter cup for topping.
Combine three cups of ice cream, cinnamon roll pieces (not reserved amount) and half cup glazed walnuts in large bowl; gently mix to combine. Freeze at least two hours.
Warm apple pie filling in microwave-safe container or in small saucepan over medium-low heat. Spoon about one-third cup apple pie filling into eight serving bowls.
Top each bowl with one scoop (scant half cup) of the ice cream. Drizzle each with one tablespoon butterscotch-caramel topping, several pieces of reserved cinnamon roll and glazed walnuts, if desired. Serve immediately.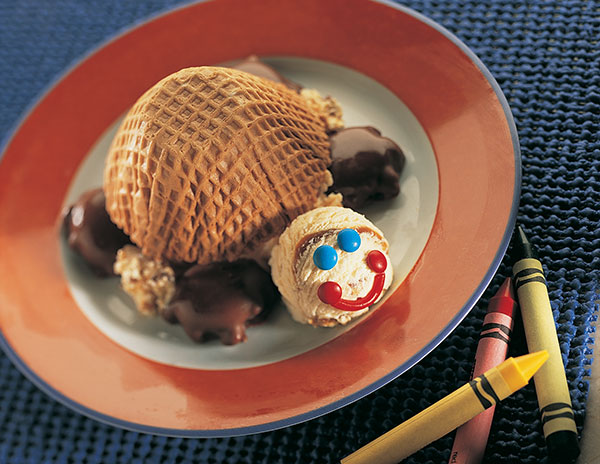 Turtle Sundae
Makes 4 servings
4 3 1/2-inch waffle bowls
5 cups Blue Bunny Premium Homemade Turtle Sundae Ice Cream
16 chocolate Turtle candies
Assorted candy, for facial features
1 1.5-ounce package chocolate covered crisp wafer stick candy, such as Pepperidge Farm Pirouettes
Form four scoops of ice cream and set aside. Fill each waffle bowl with remaining ice cream. Place each waffle bowl ice cream side down on an individual dessert plate. Place each of the four ice cream scoops that were set aside against each waffle bowl for the turtles' heads.
Arrange four turtle candy pieces partially under the bottom of each waffle bowl to form the turtles' legs. Press assorted candy pieces into ice cream scoops for eyes and mouth. Place one chocolate wafer stick partially under waffle bowl for tail. Serve immediately.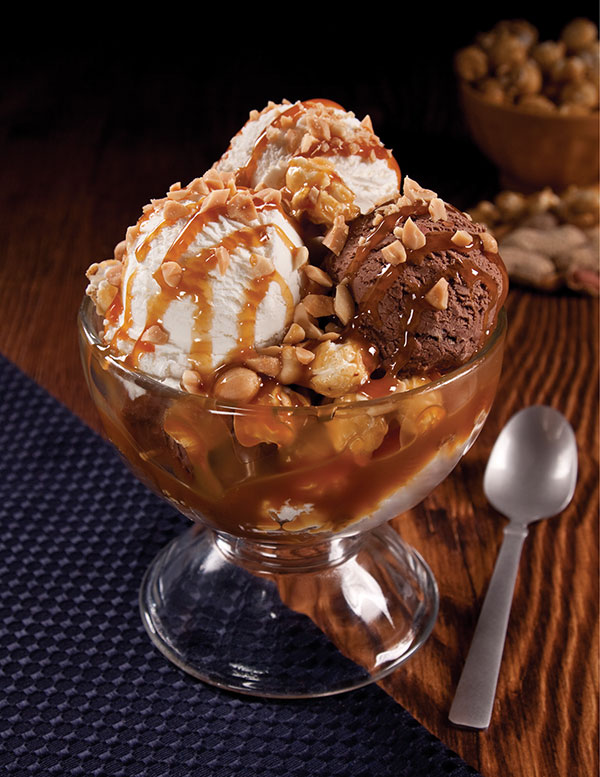 Caramel Corn Sundae
Makes 4 servings
2 cups (each) Blue Bunny Vanilla, Chocolate and Butter Pecan Ice Cream
3 cups caramel corn
1/4 cup caramel sauce
1/4 cup toasted peanuts
Scoop vanilla ice cream onto frozen parchment-lined sheet pan. Repeat with chocolate and butter pecan ice cream. Using rubber gloves, coat each ice cream scoop with caramel corn. Repeat until all ice cream scoops are coated. Layer scoops in a sundae glass with peanuts and caramel sauce. Serve immediately.
Source: Blue Bunny Ice Cream