(Family Features) While Father's Day is for honoring dads, it's also a great opportunity to honor the men who have been father figures to us - stepfathers, grandfathers, uncles, even friends who have played that role in our lives.
This year, take some extra time to tell those men how much they've meant to you. A card or letter, a phone call or a face to face conversation - you'll give them a Father's Day gift they'll never forget.
To show them your appreciation, have them over for a special dinner. Grill up some chicken and top it with this Cilantro Cream Sauce. Serve with some southwestern-inspired rice and follow it all up with these Double Chocolate Warm Pudding Cakes for a homey dessert.
For more Father's Day dinner and dessert ideas, visit VeryBestBaking.com.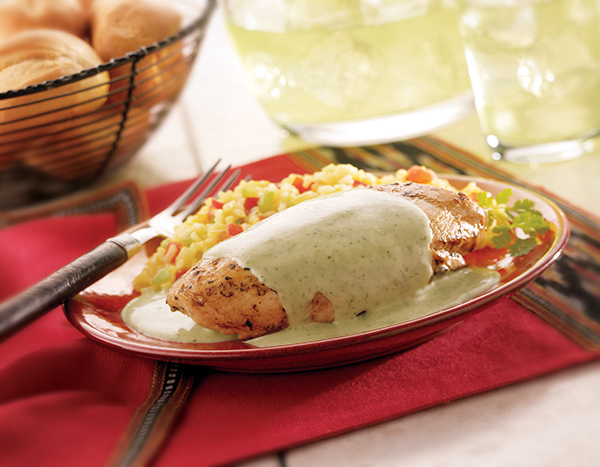 Cilantro Cream Sauce over Chicken
Makes 6 to 8 servings
6 to 8 boneless, skinless chicken breast halves, cooked and kept warm
2 cups loosely packed fresh cilantro
1 can (12 fluid ounces) Nestlé Carnation Evaporated Milk
1 cup water
2 teaspoons granulated chicken flavor bouillon
3 tablespoons butter or margarine
3 tablespoons all-purpose flour
Ground black pepper to taste
PLACE cilantro, evaporated milk, water and bouillon in blender; cover. Blend until smooth.
MELT butter in medium saucepan over medium heat. Remove from heat. Stir in flour, stirring constantly until smooth. Stir in cilantro mixture. Cook over medium-low heat, stirring constantly, until mixture comes to a boil and thickens slightly. Season to taste with pepper.
POUR sauce over chicken breasts.
Nutrition Information per serving: 330 calories; 120 calories from fat; 14g total fat; 8g saturated fat; 130mg cholesterol; 380mg sodium; 9g carbohydrate; 0g fiber; 6g sugars; 40g protein; 10% Vitamin A; 20% Calcium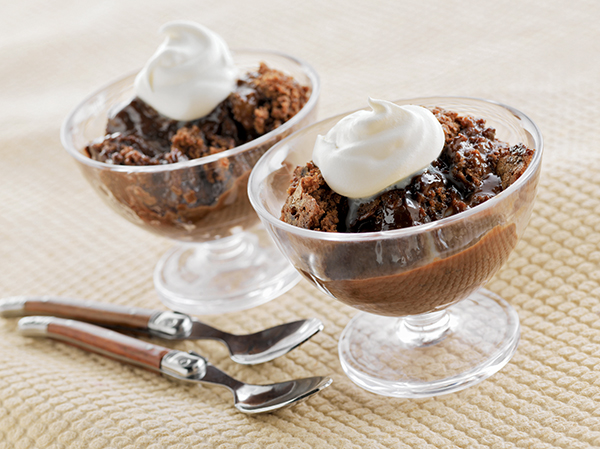 Double Chocolate Warm Pudding Cakes
Makes 8 servings
Nonstick cooking spray
1 cup all-purpose flour
1 1/4 cups granulated sugar, divided
3 tablespoons plus 1/4 cup Nestlé Toll House Baking Cocoa, divided
2 teaspoons baking powder
1/4 teaspoon salt
1 can (12 fluid ounces) Nestlé Carnation Evaporated Lowfat 2% Milk, divided
1 tablespoon vegetable oil
1 teaspoon vanilla extract
2 tablespoons water
Lowfat whipped topping or ice cream (optional)
PREHEAT the oven to 350° F. Spray 8-inch-square baking pan or dish with nonstick cooking spray.
COMBINE flour, 3/4 cup sugar, 3 tablespoons cocoa, baking powder and salt in medium bowl. Add 1/2 cup evaporated milk, oil and vanilla extract; whisk until just blended. Spread batter into prepared baking pan.
COMBINE remaining 1/2 cup sugar and 1/4 cup cocoa in small bowl. Microwave remaining 1 cup evaporated milk and 2 tablespoons water in small, uncovered microwave-safe bowl on HIGH (100%) power for 1 minute. With wire whisk, stir in sugar-cocoa mixture into milk mixture until blended. Gently pour over chocolate batter in pan.
BAKE for 20 to 25 minutes (25 to 30 minutes if using glass dish) or until cake layer forms on top and edges are bubbly. Let stand for 10 minutes. Spoon into serving dishes, spooning chocolate sauce over cake. Top with whipped topping.
TIP: Individual servings can be reheated in microwave for 10 seconds.
Nutrition Information per serving: 250 calories; 25 calories from fat; 3g total fat; 1g saturated fat; 5mg cholesterol; 220mg sodium; 45g carbohydrate; 1g fiber; 32g sugars; 5g protein; 15% Calcium
Source: VeryBestBaking.com