(Family Features) Your next snack or office lunch can get a boost of flavor from this Smashed Cucumber and Grape Salad, perfect for making ahead of time to pack along for whatever the day might bring your way.
As an easy, versatile ingredient that can be used in a wide variety of recipes, grapes offer delicious taste, texture and color – plus a healthy boost – that make them an appealing addition to snacks and meals.
To find more good-for-you recipe inspiration, visit GrapesFromCalifornia.com.
Watch video to see how to make this recipe!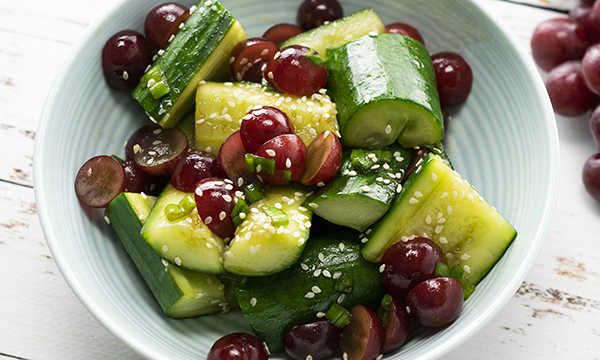 Smashed Cucumber and Grape Salad
Servings: 6
1 1/4 pounds English or Persian cucumbers, ends trimmed
1 teaspoon kosher salt
2 tablespoons rice vinegar
1 tablespoon reduced-sodium soy sauce
2 teaspoons granulated sugar
1-2 teaspoons chili oil
1 teaspoon toasted sesame oil
1 cup halved Grapes from California
2 scallions, thinly sliced
2 teaspoons toasted sesame seeds
Using rolling pin, lightly smash whole cucumbers to break open. Tear or cut cucumbers into 1 1/2-inch pieces and season with salt. Transfer to sieve and drain 10 minutes.
In large bowl, whisk vinegar, soy sauce, sugar, chili oil and sesame oil; stir in grapes and scallions.
When cucumbers are done draining, add to bowl with grape mixture and stir to combine. Sprinkle with sesame seeds and serve.
Nutritional analysis per serving: 70 calories; 1 g protein; 11 g carbohydrates; 2.5 g fat (32% calories from fat); 0 g saturated fat; 0 mg cholesterol; 170 mg sodium; 1 g fiber.
(Family Features) The busy pace of back-to-school schedules can make it feel like nearly every aspect of life has you under a time crunch. Fortunately, when it comes to feeding the family, there are some simple foods you likely already have on hand that can provide easy solutions for snacks and mealtime alike.
A go-to fruit like California grapes is a fresh staple you can depend on because they are always ripe and ready to eat when you buy them. While grapes are indeed ideal for snacking because they hold, store and travel well, this healthy and delicious fruit is also a simple addition to meals throughout the day. Grapes require minimal preparation, so they're equally easy as a side dish or as a fun way to deliver the fresh produce factor in a wide range of family-friendly recipes, such as these Grape and Ricotta Pita Pizzas.
Tips like these show how you can easily incorporate grapes into every meal:
Breakfast: A cup of creamy yogurt and crunchy granola takes on a sweet note when topped with a handful of grapes. Slice or quarter grapes then mix well for a medley of textures and flavors in every bite.
Morning snack: Pair grapes with cheese and crackers for a sweet and savory snack to keep your energy strong and your hunger in check until lunchtime.
Lunch: A handful of grapes can balance out a sandwich and add some sweet indulgence to the midday meal.
After school: Grapes offer hydration and quick energy so they're the perfect way to fuel up for after school sports or to lend some extra brain power for study time.
Dinnertime rush: Use grapes for an easy side dish that goes with anything. A quick meal like grilled cheese and grapes brings out the kid in everyone.
Evening snack: Toward the end of the day, cravings can creep up but keeping a bowl of fresh grapes on hand for after dinner snacking helps avoid alternative salty, highly processed choices.
Find more great ideas for enjoying grapes throughout the day at grapesfromcalifornia.com.
Grape and Ricotta Pita Pizzas
Servings: 4
2 whole-wheat pita pocket breads (about 6 inches in diameter)
1 tablespoon olive oil
1/2 cup part-skim ricotta cheese, divided
1 cup seedless red or black California grapes, thinly sliced or halved
2 teaspoons honey
1 teaspoon lemon juice
6 large or 12 small fresh basil leaves, cut into ribbons
Heat oven to 450° F. Line two baking sheets with parchment paper.
Slice pita pockets in half so each forms two rounds, creating four rounds total. Place pita rounds on baking sheets cut-side up and brush top of each with oil.
Spread 2 tablespoons ricotta cheese on each pita, leaving about 1/2-inch border around edges then arrange sliced grapes in single layer on top of cheese. Bake until edges are crisped and cheese is warmed, 5-7 minutes.
In small bowl, stir together honey and lemon juice until honey is dissolved.
When pizzas are done, drizzle each with about 1/2 teaspoon honey-lemon mixture. Sprinkle basil on top of pizzas. Serve immediately.