(Family Features) As you gather with loved ones for the holidays, you can enhance the magic of the season by adding Chispa – a special spark – to your dinner table. It's as easy as adding classic Mexican dishes to your menu.
The key to adding this special spark is using authentic Mexican ingredients, which you can find in recipes like Chorizo and Oaxaca Tamales and Oaxaca, Potato and Chorizo Empanadas. These flavorful dishes feature delicious additions from Cacique, one of the country's top authentic Hispanic food brands, that the whole family will love.
When planning your flavor-fueled festivities, consider these must-have ingredients.
Chorizo: Whether pork, beef or soy, chorizo adds the spices and hearty flavors of Mexican cuisine to any recipe.
Oaxaca: Similar in flavor to mozzarella but even meltier, you can enjoy this buttery cheese in many dishes.
Crema Mexicana: With a neutral, fresh-tasting flavor and silky, pourable texture, this everyday table cream is used for balancing spicy dishes.
Find more delicious additions to your holiday menu at CaciqueFoods.com.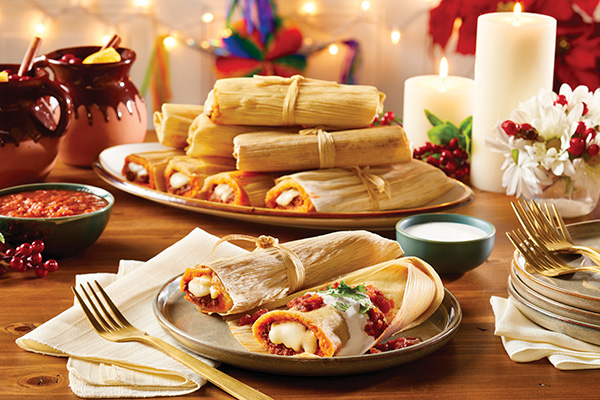 Chorizo and Oaxaca Tamales
Prep time: 60 minutes
Cook time: 60 minutes
Servings: 10-12
40 dried corn husks
water
3 packages Cacique Pork, Beef or Soy Chorizo
1 medium onion (about 1 cup), minced
8 pounds basic tamale dough, at room temperature
3 packages (10 ounces each) Cacique Oaxaca Cheese, cut into 1/2-inch strips
tamale steamer
Cacique Crema Mexicana, for serving
Cacique Homestyle Mild Salsa, for serving
In large bowl, cover corn husks with boiling water and soak at least 1 hour. Remove excess water and pat each husk dry.
In large skillet, cook chorizo according to package instructions. Add onions; saute over medium heat until translucent, about 5 minutes. Cool thoroughly.
To make tamales: Prepare one husk at a time by placing husk on open palm, smearing 3 tablespoons tamale dough on husk from side to side and to bottom, leaving 3 inches of top untouched for folding. Place 1 tablespoon chorizo mixture in center and top with one strip of Oaxaca. Fold 1/3 of husk to left and 1/3 to right, overlapping; pinch bottom to seal and gently fold over top to create small rectangle.
Add adequate room temperature water to tamale steamer and set steamer grate. Place formed tamales, vertically and upside down, tightly packed. Once first layer of tightly packed tamales is complete, begin second layer of tamales horizontally.
Cover and steam over medium-high heat 45 minutes-1 hour. Check water level at 45 minutes. If water is low, gently add hot water to side of pot.
Remove one tamale to check doneness. Tamale is cooked when dough separates from husk when unwrapping. Serve hot with crema and salsa.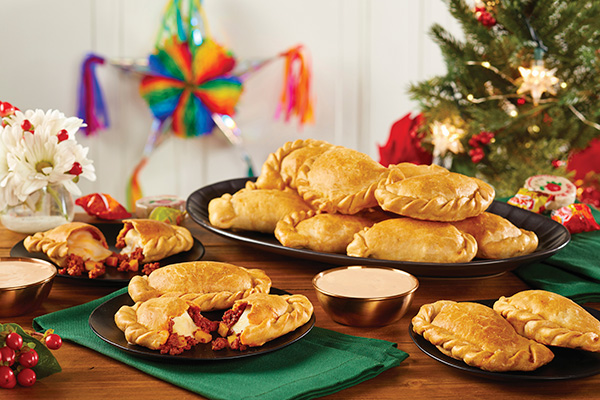 Oaxaca, Potato and Chorizo Empanadas
Prep time: 20 minutes
Cook time: 30 minutes
Yield: 24 empanadas
Dough:
1 stick, plus 6 tablespoons, cold unsalted butter, cubed
4 cups all-purpose flour
1/2 teaspoon salt
1/2 cup warm water
1 egg, at room temperature, whisked
Filling:
1 package Cacique Pork Chorizo
2 russet potatoes, cubed
5 ounces Cacique Oaxaca Cheese, cubed
1 egg, well-beaten, for egg wash
Preheat oven to 350 F.
To make dough: Use pastry cutter or fork to cut butter into flour until it forms crumbly consistency. Sprinkle in salt and stir. Pour in warm water and egg; stir until clumpy dough forms. Knead dough about 5 minutes. Cut dough into 24 pieces and, using hands, roll each piece into ball. With rolling pin, roll balls evenly into 5-6-inch circles.
To make filling: In pan over medium heat, cook chorizo, stirring until it crumbles. Add cubed potatoes. Cover and cook until potatoes are soft then uncover and cook 5-10 minutes until liquid evaporates.
Fill empanadas by placing 2-3 tablespoons chorizo and potato mixture with 2-3 Oaxaca cubes in each dough circle. With finger, run egg wash across one side of circles. Fold over and seal edges by pressing down with fork or create folds and pinch to seal filling inside. Brush tops with egg wash.
Prepare parchment-lined baking sheets and place empanadas on sheets. Bake 12-15 minutes until golden-brown.
(Family Features) What's a fiesta without the authentic taste of Mexico? From chili enchilada sauce to crushed tomatillos, authentic Mexican foods are an important part of Mexican culture and celebrations. And, why not? They're fun, flavorful and nutritious.
With the convenience of today's authentic Mexican foods such as Las Palmas, you can serve up fast and flavorful meals for your entire family in just minutes. Try an old favorite like Mexican Pozole and add Las Palmas Enchilada Sauce for an extra rich and flavorful taste. Or offer your family zesty Chicken Enchiladas stuffed with shredded boneless chicken and smothered in Las Palmas Enchilada Sauce. And for something fun, offer Chilaquiles with layers of tortillas, Las Palmas Enchilada Sauce and cheese topped with jalapeños, sour cream and avocado .
Today, Las Palmas is one of the largest selling Mexican cooking sauces in the United States. While it has grown from its humble beginnings, it still remains authentic to its roots, using only the highest quality chiles and other fresh ingredients. Las Palmas offers a wide variety of Mexican cooking sauces including Red and Green Chili Enchilada Sauce, Red Chile Sauce and Hot Enchilada Sauce plus other Mexican cooking staples such as Green Chiles and Crushed Tomatillos.
For any celebration, from Mexican Independence Day to Las Posadas, celebrate Mexican culture, food, family and friends with Las Palmas. For more information, visit bgfoods.com.
Chicken Enchiladas
Zesty enchilada sauce and diced green chiles give these chicken enchiladas their kick. Serve them with Mexican rice and spicy black beans.
Serves 4
Preparation time: 15 minutes
Cooking time: 30 minutes
2 cans (10 ounces each) Las Palmas Enchilada Sauce, divided
2 cups cooked, shredded boneless, skinless chicken breast meat
1 cup Mexican blend or Monterey Jack cheese, divided
1 can (4 ounces) diced green chiles, drained
8 (6-inch) corn tortillas, warmed
PREHEAT oven to 350°F. Grease 11- by 7-inch baking dish.
SPREAD 1/2 cup enchilada sauce on bottom of prepared baking dish. Combine chicken, 1/2 cup enchilada sauce, 1/2 cup cheese and chiles in medium bowl. Spoon chicken mixture evenly down center of each tortilla; roll up. Place seam-side down in baking dish. Top with remaining enchilada sauce and cheese.
BAKE 15 to 20 minutes or until heated through and cheese is melted.
Top with sour cream and chives, if desired.
Mexican Pozole
Pozole is a staple of Mexican cuisine. It's a pork and hominy dish rich in spiciness and flavor and a favorite at any Mexican fiesta.\
Serves 6
Preparation time: 15 minutes
Cooking time: 75 minutes
1 tablespoon vegetable oil
2 pounds pork shoulder, trimmed of fat and cut into bite-size pieces
3 medium onions, chopped
8 cloves large garlic, finely chopped
4 cups water
1 can (29 ounces) Mexican-style hominy, drained
2 cans (10 ounces each) Las Palmas Enchilada Sauce
1 can (7 ounces) diced green chiles
2 teaspoons dried oregano, crushed
1/2 cup chopped cilantro
Tortilla pieces
HEAT oil in stockpot; add pork, onions and garlic. Cook, stirring frequently, for 12 to 14 minutes or until pork is cooked through. Stir in water, hominy, enchilada sauce, chiles and oregano; bring to a boil. Reduce heat to medium; cook, stirring occasionally, 40 to 45 minutes or until pork is tender and stew thickens slightly. Top with cilantro and tortilla pieces before serving.
Chilaquiles
Layer upon layer of tortilla chips, salsa and grated cheese go into this mouthwatering chilaquiles. Jalapeños, sour cream and avocado finish this dish with zest and cooling creaminess.
Serves 8
Preparation time: 20 minutes
Cooking time: 15 minutes
Vegetable oil
12 (6-inch) corn tortillas, cut into 1-inch strips
1 cup chopped onion
1 jar (16 ounces) salsa — thick & chunky
1 can (10 ounces) Las Palmas Enchilada Sauce
1 1/2 cups shredded Monterey Jack or mild cheddar cheese
1/4 cup sliced pickled jalapeños
1 cup sour cream (optional)
2 avocados, pitted and sliced
PREHEAT oven to 350ºF.
POUR vegetable oil to 1-inch depth in medium skillet; heat over high heat 3 to 4 minutes. Place tortilla strips in oil; fry, turning frequently with tongs, until light golden brown. Remove from skillet; place on paper towels to drain.
REMOVE all but 1 tablespoon oil from skillet. Add onion; cook, stirring occasionally, 1 to 2 minutes or until tender. Stir in salsa and enchilada sauce. Bring to boil. Reduce heat to low; cook, stirring frequently, 3 to 4 minutes.
LAYER half of tortilla strips in ungreased 13- by 9-inch baking dish. Top with half of salsa mixture and half of cheese; repeat layers. Bake 10 to 15 minutes or until cheese is melted. Top with jalapeños, sour cream and avocado just before serving.
NOTE: Frying step may be eliminated by using tortilla chips or breaking taco or tostada shells into small pieces and using them in place of tortilla strips for a quick and easy alternative.
Source: Las Palmas