(Family Features) When the winds howl and the chill of changing seasons brings a crispness to the air, one way to warm up from the inside out is with favorite foods. Filling up on comforting recipes like hearty soups and stews can be the solution you need to fight off cold temperatures.
Consider quick and easy ingredients that add a little warmth to your plate as the cravings for comfort kick in.
Cheese
A family favorite in recipes year-round, ooey-gooey cheese is a hallmark of cool-weather recipes. Consider creamy mac and cheese mixed with your preferred protein, homemade Mexican cuisine topped with melted chile con queso or an appetizer plate with options like brie, Manchego, aged cheddar, Parmesan and more.
Rice
If you're craving a meal that's big on flavor but short on prep time, it's hard to top the classic comfort food combo of chicken and rice. This Parmesan Chicken and Rice with Spinach and Artichoke starts with the homestyle taste of fully cooked Minute Chicken & Herb Seasoned Rice Cups with carrots, onion and garlic. The BPA-free cups offer a quick and flavorful option for an on-the-go power-up loaded with chicken, vegetables and herbs paired with hearty rice. Ready in only 1 minute, you can enjoy the flavored rice right out of the cup or prepare it as part of this 5-minute recipe on a busy weeknight.
Pasta
Whether you prefer spaghetti or penne, bowtie or stuffed shells, pasta provides a simple base for delicious meals loaded with comforting ingredients. For an easy weeknight meal, just choose a type of pasta, sauce and protein to put dinner on the table in 30 minutes or less.
Curry Paste
Available in many varieties, curry paste is a common ingredient in South Asian dishes. It typically consists of ingredients like garlic, chiles or peppers, ginger and lemongrass. When you'd like to add some spice to your menu without bothering with takeout, this Thai Chicken and Rice Soup calls for green curry paste, which is generally spicier than red or yellow versions, but any can be substituted based on your heat tolerance. You can take the dish up a level with lightly seasoned Minute Cilantro & Lime Jasmine Rice for zesty flavor in a BPA-free, microwaveable cup for a simple solution when life gets hectic and preparing a time-consuming meal becomes challenging.
Cayenne
Serving up a touch of spice in a wide variety of favorite recipes can be as easy as adding ground cayenne. Made of dried cayenne peppers finely ground to a powder, it's commonly used in dishes ranging from deviled eggs and pastas to shrimp and barbecue as an easy way to add a warming kick to cold-weather meals.
Find more comfort food recipes at MinuteRice.com.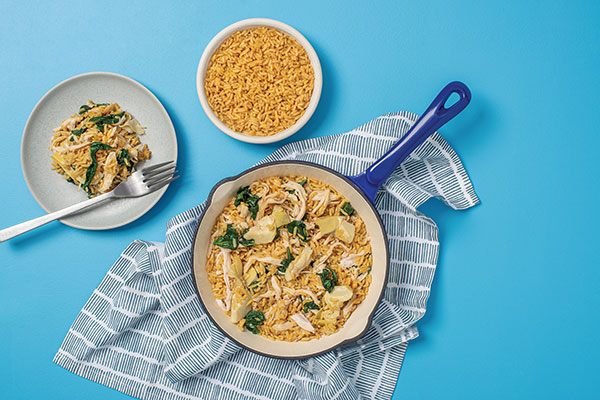 Prep time: 5 minutes
Cook time: 5 minutes
Servings: 1
1 Minute Chicken & Herb Seasoned Rice Cup
1 tablespoon olive oil
1 cup spinach, stems removed
2 ounces chicken, cooked and shredded
1/4 cup canned artichokes, drained and quartered
1/4 cup shredded Parmesan cheese
Heat rice according to package directions.
In medium saute pan over medium heat, heat olive oil. Add spinach and saute 1 minute.
Add chicken and artichokes; saute 2 minutes, or until heated through.
Add cheese and rice; stir to combine until heated through.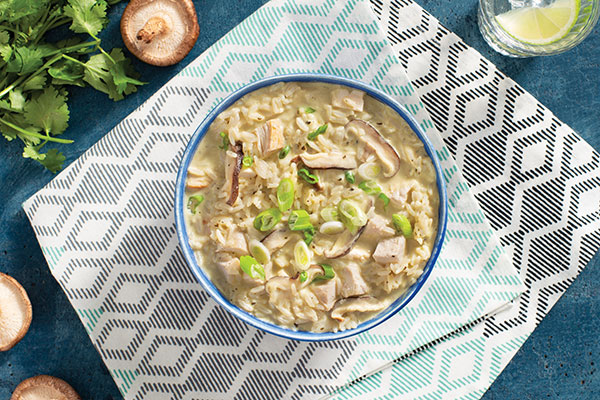 Prep time: 2 minutes
Cook time: 5 minutes
Servings: 1
1 Minute Ready to Serve Cilantro & Lime Jasmine Rice Cup
1/2 cup (3 ounces) cooked rotisserie chicken, chopped
1/2 cup chicken broth
1/2 cup coconut milk
1 tablespoon Thai green curry paste
3 small shiitake mushrooms, thinly sliced
1 green onion, thinly sliced
Heat rice according to package directions.
In medium, microwave-safe bowl, combine chicken, broth, coconut milk, curry paste and mushrooms.
Microwave on high 3 minutes. Stir in rice and garnish with green onion.
Source: Minute Rice
(Family Features) Deck your kitchen, dining room or patio with bright decor and fun, festive springtime frills – brunch season is here. Whether your weekend morning meal is shared with that special someone or friends, family and neighbors, warm, sunny days can bring out the best of brunch.
Impress your loved one with these Mini Banana Rice Pancakes for two, a healthy and satisfying meal made with Minute Brown Rice & Quinoa Cups. This recipe allows for more moments together at the table because the whole-grain combination is ready in just 1 minute and prep time is minimal.
Pairing the crunchiness of red quinoa with the chewy texture of brown rice, these cups earned a spot on the "Men's Health" Best Foods for Men Awards in 2022. Plus, packed in single-serve portions, you can eat the grains right out of the BPA-free cup for a simple lunch or snack that provides a good source of fiber with 55 grams of whole grains in each serving.
If you need a dish that feeds a crowd, put this Hearty Bacon and Egg Breakfast on the menu. Ready in 35 minutes, it can satisfy brunch cravings for a group of up to 12 as a main course that easily pairs with other morning favorites.
As an ideal complement to the eggs, bacon and cheese, Minute Rice & Quinoa can make this family-style recipe a breeze. In just 10 minutes, the tasty blend of brown rice, red rice, wild rice and quinoa cooks up light and fluffy for a slightly chewy, nutty flavor. It's also a dependable replacement for oatmeal in other breakfast dishes so you can complete your mission to make meals quick and enjoyable. Not to mention, the bag is BPA-free and recyclable via store drop-off in most communities, while the carton is recyclable curbside.
Find more brunch inspiration for spring celebrations at MinuteRice.com.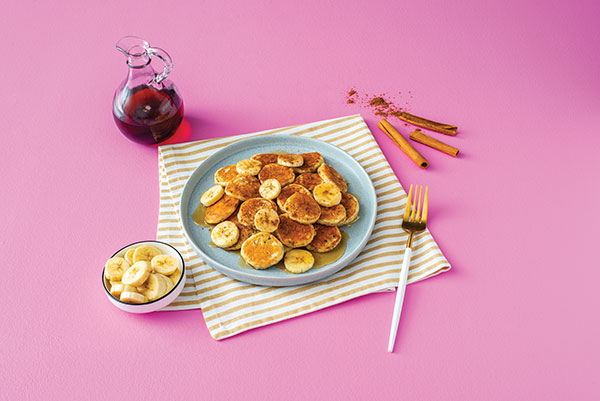 Prep time: 15 minutes
Cook time: 20 minutes
Servings: 2
1 cup Minute Brown Rice & Quinoa
1 1/4 cups all-purpose flour
1 teaspoon baking powder
1/2 teaspoon baking soda
1/4 teaspoon salt
1 cup milk
2 teaspoons freshly squeezed lemon juice
2 bananas, divided
1 egg, beaten
1/4 cup pure maple syrup, divided
4 teaspoons butter, melted
2 tablespoons vegetable oil, divided
1/8 teaspoon ground cinnamon
Heat rice and quinoa according to package directions.
In large bowl, whisk flour, baking powder, baking soda and salt.
In medium bowl, whisk milk and lemon juice. Let stand 5 minutes.
Mash 1/2 banana. Transfer to milk mixture. Add egg and 1 teaspoon maple syrup; stir to combine. Stir in melted butter.
Pour milk mixture over flour mixture. Whisk just until combined; do not overmix. Fold in rice and quinoa. Let batter rest 10-15 minutes.
Preheat large nonstick skillet over medium heat; brush with 1 teaspoon oil. Once skillet is hot, reduce heat to medium-low. In batches, adding oil as necessary, scoop 1 tablespoon batter per pancake into skillet and cook 3-4 minutes, or until bubbles start to form. Flip and cook 1-2 minutes until golden on bottom.
Slice remaining half and full bananas. Serve pancakes with remaining maple syrup, banana slices and cinnamon.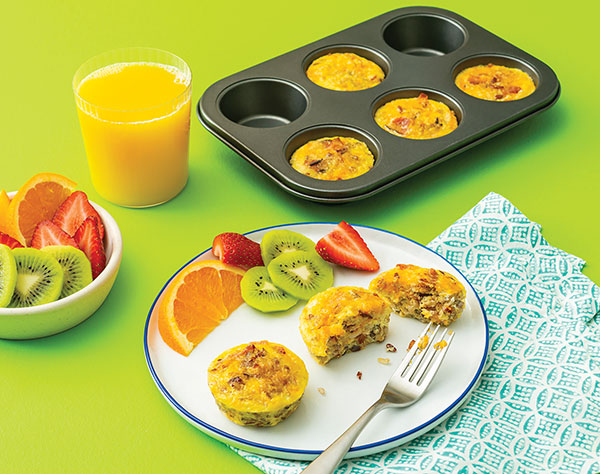 Prep time: 5 minutes
Cook time: 30 minutes
Servings: 12
Nonstick cooking spray
1 1/2 bags Minute Rice & Quinoa
9 eggs, lightly beaten
5 bacon slices, cooked and crumbled
3/4 cup shredded cheddar cheese
1/2 teaspoon salt
black pepper, to taste
Preheat oven to 325 F. Coat 12-cup muffin pan with nonstick cooking spray.
Prepare rice and quinoa according to package directions.
In medium bowl, combine rice and quinoa, eggs, bacon, cheese, salt and pepper, to taste.
Divide batter between prepared cups and bake 18-20 minutes, or until eggs are just set.
Source: