(Family Features) School days offer nearly endless opportunities for learning and exploration in the classroom, but education doesn't have to end with the final bell. Parents can ensure their students feel energetic, creative and confident by inspiring snack choices that are as smart as they are fun to make together.
Whether you're whipping up a snack to send to school or your little learners need an energy boost before starting afternoon homework, creative snacking can help encourage inspiration. As a trusted ally with better-for-you and convenient whole-fruit lunchbox snacks kids can enjoy, Sun-Maid offers these easy tips and ways to embrace the fun side of snack time.
Keep It Simple: Look for recipes with five ingredients or less so your children can show their artful nature without becoming overwhelmed. Plus, this often leads to a more budget-friendly at-home treat.
Shop Together: Gathering ingredients and equipment is an important part of any recipe, and bringing your future chefs along helps them feel like it's their creation from start to finish. Additionally, some important life lessons can be learned along the way, like how to navigate the store and compare costs.
Provide Kid-Friendly Instructions: There are many ways kids can lend a hand in making their own snacks, like mixing ingredients, washing produce or arranging a plate or platter. However, some steps are best left to the adults – make sure to do any cutting, slicing or dicing before letting children take the reins, for example, then just enjoy the creative fun.
With childhood favorites like crackers, marshmallows and vanilla yogurt covered raisins, Gimme S'mores Trail Mix offers a perfect way to get young minds thinking in the kitchen. A little guidance is all it takes to teach them each step of the recipe to make a crafty, delicious treat. Plus, with only a few simple ingredients that just need to be mixed together, it's a low-stress, low-mess way to cook up creativity.
For a healthier version of a snack time superstar, Apple Nachos combine sweet apples like Honeycrisp, peanut butter and versatile, whole-fruit Sun-Maid Raisins. Naturally made with nothing but grapes and California sunshine, these sweet raisins have been trusted as a better-for-you snack for kids and grown-up kids alike since 1912.
With zero grams of added sugars, they give parents the confidence they need to choose snacks that provide both great taste and nutrition for a happy and healthy family. As a household staple, they can be enjoyed as part of tasty recipes or as a standalone treat kids crave and parents approve.
Find more sweet ideas to inspire confidence and creativity at sunmaid.com.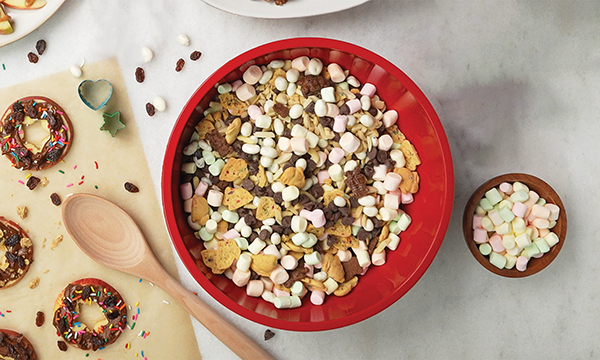 Gimme S'mores Trail Mix
Prep time: 5 minutes
Servings: 6
1/2 cup Sun-Maid Vanilla Yogurt Covered Raisins
3 cups graham crackers, assorted flavors
1 1/2 cups colored mini marshmallows
2 cups slivered almonds
1 cup chocolate chips
In large bowl, mix raisins, graham crackers, marshmallows, almonds and chocolate chips.
Serve immediately, or store in airtight container up to 1 week.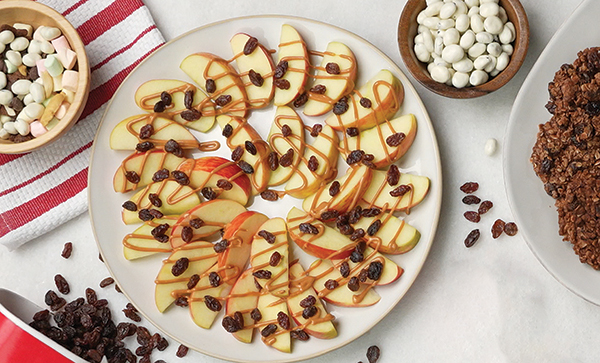 Apple Nachos
Prep time: 10 minutes
Cook time: 1 minute
Servings: 4
5 sweet apples, such as Honeycrisp
lemon juice (optional)
2 tablespoons peanut butter
1/2 cup Sun-Maid California Sun-Dried Raisins
Wash and slice apples.
Arrange one layer of sliced apples on serving plate. To keep apples from browning quickly, squeeze lemon juice on top, if desired.
In microwave, melt peanut butter about 30 seconds until smooth.
Drizzle 1 tablespoon peanut butter over first layer of apples. Sprinkle with 1/4 cup raisins.
Repeat with remaining apples, peanut butter and raisins.
Source: Sun-Maid Raisins
(Family Features) The traditional dishes served year after year at your family's holiday gatherings may bring comfort and a sense of nostalgia, but you can open your loved ones up to a whole new world by incorporating recipes from around the globe.
People of all different cultures across the Earth are often connected by food, whether it's a classic holiday dish or a unique take on a traditional dish, like this raisin-infused Challah. While the dishes themselves may drastically differ, using similar ingredients can be a unifying thread.
For those looking to pull off worldly cuisines this holiday season, consider a familiar and nearly universal ingredient like raisins, an innovative and delicious addition incorporated in culturally diverse dishes. On top of their versatile flavor, Sun-Maid Raisins offer a better-for-you whole fruit option with no added sugar per 1/4-cup serving.
Consider these global recipe ideas enjoyed at holiday gatherings around the world.
Germany
Apple Strudel: Quite possibly one of the most famous German desserts of all, raisins add a delicious chewiness to this traditional strudel.
Lebkuchen: A traditional German cake similar to gingerbread that's full of sweet spices, walnuts, dates and raisins.
Italy
Cuccidati Siciliani: Typically at their most popular during the holiday season, these Italian fig cookies feature raisins inside the deliciously fruity filling.
Panettone: Also a holiday favorite, Panettone is a towering round of sweet bread speckled with raisins, citrus and almonds.
England
Fruitcake: Traditional fruitcake is chock-full of dried raisins, golden raisins, cherries, dates, pineapple and apricots soaked in dark tea overnight.
Bread Pudding: This English staple uses stale bread, spices, sweetener and raisins to create a dense and delicious cake.
Poland
Cinnamon-Raisin Rugelach: These flavorful pastries are characterized by a melt-in-your-mouth cheese-based dough with a sweet cinnamon, raisin and walnut filling.
Greece
Christopsomo: Considered sacred in many Greek households and translating to "Christ's Bread," this revered dish is usually prepared the day before Christmas Eve and is served with nothing but bare hands at the table. Raisins, nuts, cinnamon, cloves and nutmeg are all found throughout the loaf.
Armenia
Ghapama: A baked pumpkin stuffed with partially cooked rice, raisins, nuts, cinnamon and honey.
Ireland
Irish Soda Bread: The cakey texture of this Irish favorite is complemented by sweet, chewy raisins throughout the loaf.
Visit SunMaid.com to find more recipes perfect for holiday gatherings.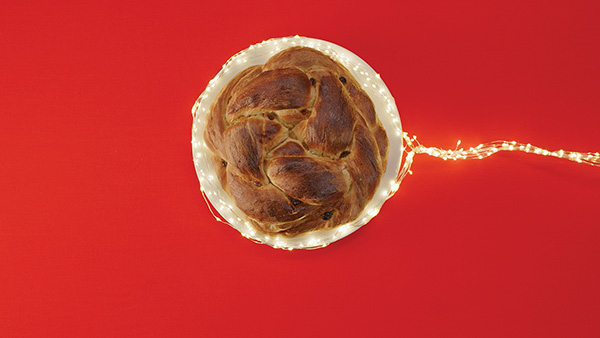 Crown Raisin Challah
Yield: 3 loaves
Dough:
2 envelopes (1/4 ounce each) active dry yeast
1/2 cup sugar
1/4 cup honey
3 cups warm water
2 teaspoons cinnamon
1/3 cup olive oil
2 extra-large eggs, plus 3 egg yolks
2 tablespoons kosher salt
1 cup Sun-Maid raisins
3 cups bread flour
6 1/2 cups all-purpose flour
Egg Wash:
2 extra-large eggs
2 tablespoons sugar
To make dough: In big bowl, mix yeast, sugar, honey and warm water. Let yeast bloom about 7 minutes.
Add cinnamon, oil, eggs, egg yolks and salt. Mix well. Add raisins. Add flours and mix until sticky. Dough should be creamy yellow.
Turn dough out onto floured surface and knead 12-15 minutes, or until smooth. Oil bowl, place dough back in bowl and cover tight with plastic wrap. Let rise in warm place about 1 1/2 hours, or until doubled.
Punch dough down, cover and let rise another 45 minutes. Punch down again and cut into three equal pieces. Let rest about 10 minutes then roll each piece into snakes about 30 inches long; taper at one end. Starting with thick end, roll each snake into spiral shape like snail shell. Use a little water and stick tapered end onto body of spiral. Mold into place with hands.
Oil loaves lightly, cover with plastic wrap and let rise until poofy, about 25 minutes.
Preheat oven to 375 F.
To make egg wash: In small bowl, whisk eggs and sugar. Gently brush loaves with egg wash, taking care not to deflate them.
Bake 45 minutes, or until loaves are golden. Let cool completely.
Photo courtesy of Getty Images (mother and daughter baking)
Source: