(Family Features) Macaroni and cheese, the classic American comfort food staple beloved by kids and adults alike, just got easier to prepare. No, not packaged or frozen-from your own stovetop (no baking) in under 30 minutes.
Stovetop Mac & Cheese begins with Dreamfields pasta, a premium pasta made from durum wheat semolina - just like traditional pasta, but with a healthful twist. A one cup serving of Dreamfields not only tastes great, but also has only five grams of digestible carbohydrates and five grams of fiber - which is twice the amount in traditional pasta. The fiber comes from inulin, a 100 percent natural prebiotic fiber (which may help promote healthy digestion) found in common foods like asparagus, raisins and chicory root.
To prepare this one pot, four ingredient, stovetop mac and cheese, simply cook the pasta according to package directions, drain, then add the prepared light Alfredo sauce, shredded reduced-fat cheddar cheese and nonfat milk. Stir for a couple of minutes and you'll be rewarded with a creamy, delicious dish.
Many people don't realize how versatile this iconic favorite is. Try different cheeses -Colby, Swiss, goat, Gouda, blue, or a combination. Don't stop there. Vegetables like broccoli florets, green peas and cherry tomatoes make great stir-ins, as do protein choices such as cooked turkey, chicken or ham, even meatballs. It's a deliciously doable winner...one pot, four ingredients, on the table in under 30 minutes.
For this and more amazing recipes, visit www.dreamfieldsfoods.com.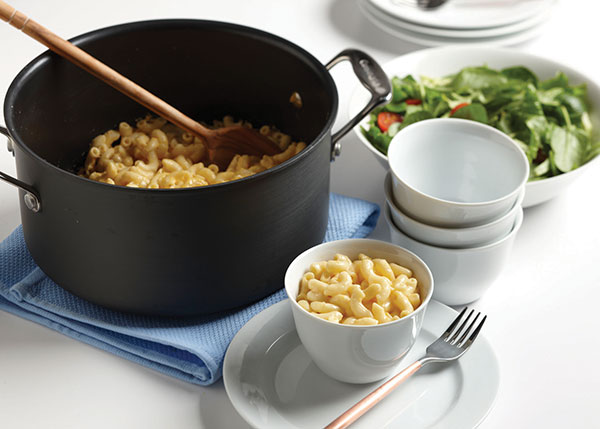 Stovetop Mac & Cheese
Makes 6 servings
Preparation Time: 10 minutes
Cook Time: 13 minutes
1 box Dreamfields Elbows
1 cup prepared light Alfredo sauce
2 cups shredded reduced-fat cheddar cheese or part-skim mozzarella cheese or a combination
1/2 cup skim milk
Cook pasta according to package directions. Drain and return to pan; remove from heat.
Immediately add Alfredo sauce, cheese and milk to pasta; stir constantly until cheese is melted. Add additional milk if necessary for desired consistency. Serve immediately.
Stir-ins: Cooked chicken, turkey, ham cubes, hot dog pieces, meatballs, cooked chicken or turkey sausage, cooked broccoli florets, green peas, chopped tomato or halved cherry tomatoes.
Nutrition information (1/6 of recipe): 385 calories; 20 g protein; 11 g digestible carbohydrates*; 13 g total fat; 7 g saturated fat; 35 mg cholesterol; 570 mg sodium; 6 g total dietary fiber.
NOTE: If traditional pasta is used in this recipe there is a total of 51 g carbohydrate. For more information go to www.dreamfieldsfoods.com.
Source: Dreamfields Foods
(Family Features) As winter chills settle in, one way to warm up from the inside-out is with family meals centered around a delicious bowl of comfort food like pasta, soups and stews.
By planning your weeknight menu to include wholesome, organic foods made with no artificial flavors, artificial colors or high-fructose corn syrup, you can create hearty and flavorful dishes in the New Year that will have everyone in the family eager to dig in.
With a high quality, organic sauce in your pantry like one of the Bertolli USDA-certified Organic Pasta Sauces, available in red- and white-sauce varieties, you can quickly whip up a warming and indulgent winter dish while still keeping your resolutions to cook with more quality ingredients. For example, this recipe for Campanelle with Prosciutto and Peas uses Creamy Alfredo Sauce, made with organic cream, aged parmesan cheese and spices, is sure to become a cold-weather family favorite!
Find more recipes to kick-start taste-tempting family mealtimes through every season at Bertolli.com.
Campanelle with Prosciutto and Peas
Cook time: 10 minutes
Prep time: 10 minutes
Servings: 6
12 ounces uncooked campanelle pasta
1 tablespoon Bertolli Extra-Virgin Olive Oil
1 large shallot, finely chopped
1/2 cup dry whitewine
1/2 cup frozen peas
3 ounces thinly sliced prosciutto
1 jar (15 ounces) Bertolli Organic Creamy Alfredo Sauce
4 ounces Fontina cheese, shredded
6 eggs
1 teaspoon freshly ground black pepper
In pot of salted water, cook pasta 2 minutes less than directed on package. Drain pasta.
In large skillet over medium-high heat, heat oil and shallots. Cook 3-4 minutes, or until softened. Add wine; cook 3-4 minutes, or until most liquid has evaporated. Stir in peas, prosciutto, Alfredo sauce and cheese. Add pasta; toss gently. Cook and stir 1-2 minutes to coat pasta with sauce.
In saucepan, bring water to boil and add eggs. Cook 6 minutes. Transfer eggs to ice water and cool before peeling.
Top each serving with soft-set egg and black pepper.
Note: Gouda or Gruyere can be substituted for Fontina. Unpeeled, cooked eggs can be stored in refrigerator up to one week.
Source: Bertolli