(Family Features) Gifts and cards are surely appreciated, but one of the best gifts for many parents is simply time spent together. No special occasion is necessary – just loving moments enjoyed as a family.
You can make those moments memorable with a tasty snack like Apple and Blood Orange Pinwheels made with the satisfying texture and taste of Envy Apples. With a consistently balanced, refreshing sweetness coupled with crisp elegant crunch, they're easily spotted by their large, sharable size and crimson red skin perfect for snacks that bring loved ones together.
Pair these fruit-forward pinwheels with a relaxing day spent watching a family-friendly show like "Strawberry Shortcake" as she and her pals discover hidden treasures while on vacation, encounter mysterious monsters and tangle with out-of-control spring flowers while she "bakes the world to a better place" all year round.
Find more recipe ideas to celebrate moms and dads at EnvyApple.com.
Watch video to make this recipe!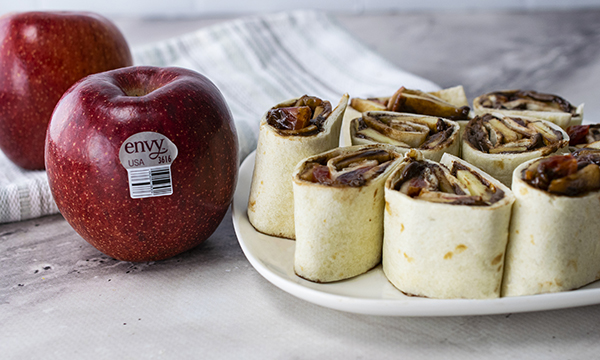 Apple and Blood Orange Pinwheels
Prep time: 10 minutes
Servings: 4
1 flour tortilla (10 inches)
1/2 cup hazelnut spread
1 Envy Apple, sliced thin
2 blood oranges, peeled and sliced
Using spatula or spoon, coat one side of tortilla with hazelnut spread.
Evenly layer apple slices on hazelnut spread, applying light pressure with hands so they stick to tortilla
Layer blood orange slices over apple slices.
Roll up tortilla tightly.
Cut tortilla into 5-8 slices, each approximately 1 1/2-2 inches.
Secure pinwheels with toothpicks or arrange tightly on serving tray.
Source: Envy Apples
(Family Features) When it comes to preparing a spread for a holiday gathering, some may look to traditional wine varieties such as Chardonnay or Cabernet Sauvignon. However, as holiday traditions become less traditional, you can also branch out in your selection of wines.
Produced from the indigenous grapes of Sicily, wines from Sicilia DOC offer fresh taste, quality and variety. The wines come to life when paired with a variation of holiday dishes.
These three tips can help you pair Sicilian wines with the dishes you may serve as part of your holiday spread:
For the Light White Wine Fan
With a low alcohol percentage and fruity notes, an option such as Grillo can be a fan favorite at any holiday gathering and makes for a perfect hostess gift. This white wine features notes of white peaches and grapefruit and can pair well with seafood appetizers, baked casseroles, vegetarian sides or a well-known Sicilian dish like this Green Bean and Blood Orange Salad.
For Guests Looking for a Graceful Red Wine
A modern take on Pinot Noir, Frappato is a light-to-medium-bodied wine with a lingering freshness that's persistent and balanced with notes of cherry and strawberry. This wine pairs well with both white and dark meat of flavorful holiday turkeys as well as pastas, pizza, roasted meats, potatoes and cheeses.
For Friends Who Favor a Complex Red
For guests who favor Cabernet Sauvignon or Merlot, an option such as Nero d'Avola is a nice alternative, with aromas of ripe cherry, rose, sweet spices, licorice and cocoa. As a go-to red wine, it pairs well with a hearty charcuterie platter, roasted meats, lamb, pizza and pastas.
For more holiday wine pairings and recipes, visit winesofsicily.com.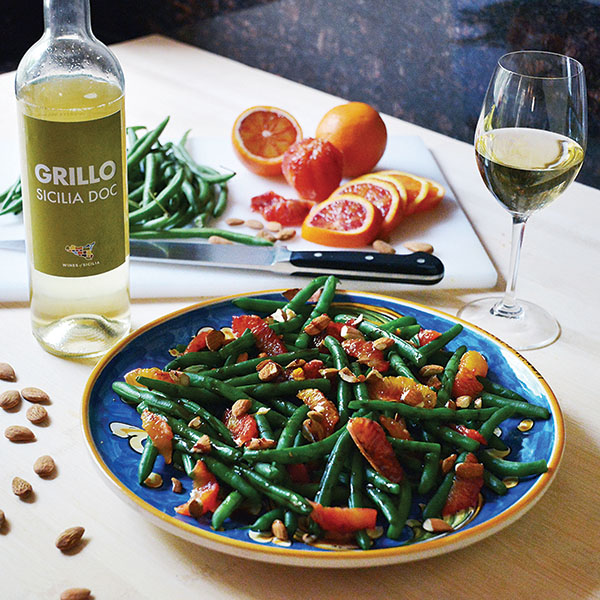 Green Bean and Blood Orange Salad
Recipe courtesy of Wines of Sicilia DOC Servings: 8
Salt
2 pounds thin green beans
6 blood oranges
1/4 cup balsamic vinegar
1 tablespoon honey
pinch of red pepper flakes
maple syrup
almonds
Add salt to large pot of boiling water. Add green beans and cook until tender and bright green. Drain beans in colander and transfer to bowl of ice water to cool. Once cool, drain and pat dry with towel.
Peel four oranges and remove white pith. Working over bowl, cut between membranes to release sections into bowl. Zest one remaining orange and juice both uncut oranges; reserve zest. Transfer juice to saucepan and add vinegar, honey and pepper flakes. Bring to boil then simmer over moderate heat until reduced to syrup, 10 minutes. Season with salt.
In large bowl, toss beans, orange sections and 3 tablespoons vinegar syrup. Transfer to serving platter; drizzle with maple syrup, almonds and orange zest.
Pair each serving with a glass of Grillo.
Source: Wines of Sicilia DOC