(Family Features) When it comes to family fun, it's hard to beat Halloween, and with all the candy flying around, it's an opportunity to add something nutritiousand delicious to festive celebrations.
Chocolate milk can provide the best of both worlds. It satisfies kids' sweet tooth while providing all the nutrients of classic white milk, like calcium, vitamin D and high-quality protein to help keep little skeletons strong, making it a Halloween hit for kids and parents alike.
Carve out some quality time to make memories during the eeriest time of the year with this Scary Sweet Cemetery – including chocolate pudding, gummy worms and sandwich cookies – to get kids cooking and crafting, all while nourishing their bodies and bones with nutritious chocolate milk.
Visit MilkLife.com for more kid-friendly, DIY Halloween treats.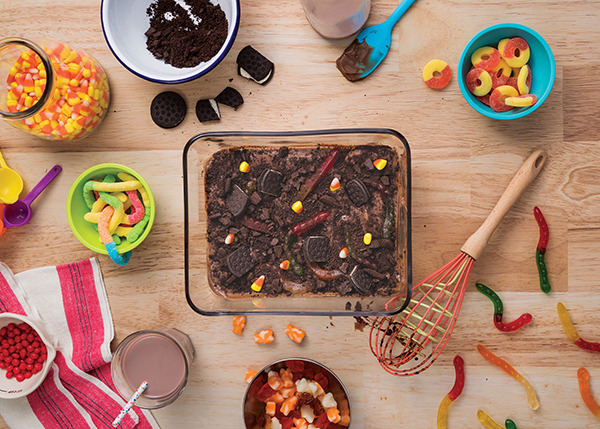 Scary Sweet Cemetery
Recipe courtesy of MilkPEP
Servings: 6
Pudding:
2 tablespoons unsweetened cocoa powder
2 tablespoons cornstarch
2 cups cold chocolate milk
1 pinch salt
1 large egg
4 ounces chopped semisweet chocolate (about 3/4 cup)
10 ounces chocolate vanilla sandwich cookies (about 20 cookies)
12 gummy worms
In large saucepan over high heat, stir cocoa powder, cornstarch, chocolate milk and salt to incorporate dry ingredients into milk. Cook until mixture starts to boil then reduce heat to simmer until mixture starts to thicken, about 3-5 minutes.
In large bowl, using whisk, beat egg, slowly drizzling hot chocolate mixture into bowl, whisking continuously. Fold in chopped chocolate and stir until chocolate has completely melted.
Pour pudding mixture into glass baking dish. Place piece of parchment paper on top of surface of pudding. Chill in refrigerator 3 hours, or overnight.
To prepare "dirt," place chocolate vanilla sandwich cookies in large re-sealable bag. Using rolling pin, crush cookies into crumbs.
When ready to serve, sprinkle cookie crumbs over pudding and place gummy worms on cookie crumb layer, making sure to "bury" parts of gummy worm ends as if worms are coming out of dirt.
Nutritional information per serving: 460 calories; 18 g fat; 8 g saturated fat; 35 mg cholesterol; 6 g protein; 75 g carbohydrates; 4 g fiber; 250 mg sodium; 104 mg calcium. Nutrition figures based on using low-fat chocolate milk.
Source: MilkPEP
(Family Features) If you're planning a monster bash this Halloween, brew up drinks so frightfully delicious that it will spook the taste buds of every little ghost, witch and goblin.
The Spooky Smoothie is a flavorful combination of vanilla milk and Greek yogurt, which is blended with ice and topped with whipped cream. The fun is all in the orange-tinted Limited Edition TruMoo Lowfat Vanilla Milk, so make sure to serve it in a clear glass. And ghosts will rise from the dead for the chocolaty Monster Mash Mudslide. For more information, visit www.facebook.com/TruMooMilk.
Both of these tasty concoctions feature TruMoo, which is made with 35 percent less total sugar than the leading chocolate and vanilla milk competitor and has no high fructose corn syrup. That's one thing that won't scare you this Halloween season.
Spooky Smoothie
Yield: 4 servings
3 cups Limited Edition TruMoo Lowfat Vanilla Milk, orange color
1 1/2 cups lowfat vanilla Greek yogurt
5 cups ice cubes
1/4 cup fat free whipped cream
Candy corn for garnish, optional
In blender, combine vanilla milk, yogurt and ice cubes. Blend on high speed until smooth and creamy.
To serve, pour into serving glasses. Top with whipped cream and candy corn.
Monster Mash Mudslide
Yield: 4 servings
4 cups TruMoo Lowfat Chocolate Milk
10 chocolate wafer cookies, coarsely broken
1/2 cup frozen non-dairy whipped topping, thawed
8 mini chocolate chips or mini chocolate candies (orange/brown color recommended)
In blender, blend chocolate milk and chocolate wafer cookies until smooth. Heat mixture in saucepan or microwave until just heated through.
To serve, pour chocolate milk mixture into 4 glasses. For each serving, spoon a large, upright dollop of whipped topping to resemble a ghost. Insert chocolate chips or chocolate candies into dollop for eyes.
Note: To enjoy a cold mudslide, do not heat in saucepan or microwave.
Source: TruMoo