(Family Features) Your next snack or office lunch can get a boost of flavor from this Smashed Cucumber and Grape Salad, perfect for making ahead of time to pack along for whatever the day might bring your way.
As an easy, versatile ingredient that can be used in a wide variety of recipes, grapes offer delicious taste, texture and color – plus a healthy boost – that make them an appealing addition to snacks and meals.
To find more good-for-you recipe inspiration, visit GrapesFromCalifornia.com.
Watch video to see how to make this recipe!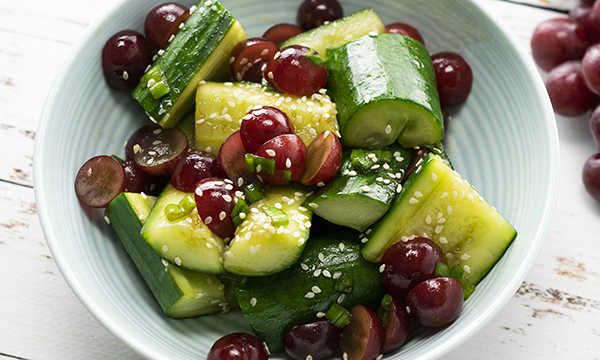 Smashed Cucumber and Grape Salad
Servings: 6
1 1/4 pounds English or Persian cucumbers, ends trimmed
1 teaspoon kosher salt
2 tablespoons rice vinegar
1 tablespoon reduced-sodium soy sauce
2 teaspoons granulated sugar
1-2 teaspoons chili oil
1 teaspoon toasted sesame oil
1 cup halved Grapes from California
2 scallions, thinly sliced
2 teaspoons toasted sesame seeds
Using rolling pin, lightly smash whole cucumbers to break open. Tear or cut cucumbers into 1 1/2-inch pieces and season with salt. Transfer to sieve and drain 10 minutes.
In large bowl, whisk vinegar, soy sauce, sugar, chili oil and sesame oil; stir in grapes and scallions.
When cucumbers are done draining, add to bowl with grape mixture and stir to combine. Sprinkle with sesame seeds and serve.
Nutritional analysis per serving: 70 calories; 1 g protein; 11 g carbohydrates; 2.5 g fat (32% calories from fat); 0 g saturated fat; 0 mg cholesterol; 170 mg sodium; 1 g fiber.
Make a heart-healthy menu with flavorful fruit
(Family Features) Heart-healthy foods can play a role in healthy aging. Whether you enjoy them by the handful as a refreshing snack or use them to add color, crunch and a touch of sweetness to a meal, grapes are a heart-healthy option that make eating better easy.
Grapes of all colors – red, green and black – are a natural source of beneficial antioxidants and other polyphenols. At just 90 calories per serving, they also contain no fat, no cholesterol and virtually no sodium.
With a juicy burst of flavor, grapes show how simple it can be to make good-for-you-dishes that also taste great. Even though California grapes are a snacking staple in most kitchens, you may not realize how versatile they can be for cooking. For example, grapes add a sweet touch to a crunchy yogurt salad and complement the bold spice on a skewer of grilled shrimp. Fresh, flavorful grapes even put a tangy, fresh twist on a soothing glass of iced tea.
Grapes and Brain Health
A grape-enriched diet helped protect against metabolic brain decline in Alzheimer's-related areas of the brain, according to research from the University of California-Los Angeles. The pilot study, funded by the California Table Grape Commission, was conducted among people with early memory decline and showed that subjects who didn't consume grapes exhibited significant metabolic decline in these critical regions. Additionally, those consuming the grape-enriched diet showed beneficial changes in regional brain metabolism that correlated to improvements in cognition and working memory performance, according to a report published by Experimental Gerontology.
Find more delicious recipes to make healthy eating easy at GrapesfromCalifornia.com.
Zahtar Shrimp and Grape Kabobs
Servings: 6
2 tablespoons zahtar
1 clove garlic, minced
1 teaspoon chopped fresh thyme
2 tablespoons white balsamic vinegar
1 teaspoon honey
1/8 teaspoon sea salt
1/8 teaspoon pepper
2 tablespoons extra-virgin olive oil
36-40 large shrimp (about 2 pounds), shelled and deveined
1 cup whole green California grapes
1 cup whole red California grapes
In medium bowl, combine zahtar, garlic, thyme, vinegar, honey, salt, pepper and olive oil. Whisk to combine. Add shrimp and toss to coat. Cover and refrigerate at least 30 minutes or up to 4 hours.
Thread shrimp and grapes onto skewers. Heat grill or grill pan to medium-high.
Grill skewers, turning once, until shrimp are lightly charred and cooked through and grapes are caramelized but firm, about 2-3 minutes per side.
Nutritional information per serving: 190 calories; 20 g protein; 12 g carbohydrate; 6 g fat (28% calories from fat); 1 g saturated fat (5% calories from saturated fat); 180 mg cholesterol; 870 mg sodium; 1 g fiber.
Savory Yogurt with Grape and Cucumber Salad
Servings: 4
Dukkah:
1/3 cup raw cashews
1/3 cup hazelnuts
1/4 cup sesame seeds
2 tablespoons cumin seeds
2 tablespoons coriander seeds
2 tablespoons dried thyme
1/2 teaspoon salt
Yogurt:
3 cups plain, nonfat Greek yogurt
1/2 cup green California grapes, halved
1/2 cup red California grapes, halved
1 cup English cucumber, diced
1 tablespoon minced shallot
1 tablespoon extra-virgin olive oil
1 tablespoon white balsamic vinegar
salt, to taste
pepper, to taste
4 tablespoons dukkah
1 teaspoon lemon zest
To make dukkah: Heat oven to 350 F. Spread cashews and hazelnuts on baking sheet and toast 6-8 minutes. Transfer to food processor and set aside. In skillet over medium heat, toast sesame seeds, cumin seeds and coriander seeds until fragrant, 1-2 minutes, then transfer to food processor. Add dried thyme and salt. Pulse mixture until coarsely ground. Makes about 1 cup that can be stored in an airtight container.
Divide yogurt into four 3/4-cup portions. In small bowl, combine grapes, cucumber, shallots, olive oil, vinegar, salt and pepper. Toss to combine. Top each bowl of yogurt with 1/2 cup grape mixture, 1 tablespoon dukkah and sprinkle of lemon zest.
Nutritional information per serving: 220 calories; 19 g protein; 18 g carbohydrate; 8 g fat (33% calories from fat); 1.5 g saturated fat (6% calories from saturated fat); 10 mg cholesterol; 140 mg sodium; 2 g fiber.
Sparkling Hibiscus Tea with Grapes and Mint
Servings: 8
6 cups water, divided
1 tablespoon honey
6 hibiscus tea bags
2 cups green California grapes, divided
10 mint leaves
1 navel orange, sliced
ice
16 ounces sparkling water
Using tea kettle or saucepan, bring 3 cups water and honey to boil. Add tea bags, turn off heat and steep 6-8 minutes. Remove tea bags and allow remaining liquid to cool 15 minutes.
In martini shaker or bowl, muddle 1 cup grapes with mint leaves. Add muddled grape and mint mixture to 48-60 ounce pitcher along with remaining water and orange slices. Stir in hibiscus tea mixture. Refrigerate at least 30 minutes. Strain before serving.
To serve, add ice to 8-ounce glass. Top with 3-4 grapes, 2 ounces sparkling water and hibiscus tea mixture.
Nutritional information per serving: 70 calories; 1 g protein; 16 g carbohydrate; 10 mg sodium; 1 g fiber.