(Culinary.net) Sweets with enhanced fruit flavors are often among the best of the best when it comes to family treats. Fruit can add levels of sweet, tart or even citrus flavor to all kinds of recipes.
From grapefruit to berries and lemons, there are a variety of fruits that can take your delightful desserts to the next level of flavor.
For example, these Baked Lemon Donuts are a unique dessert that can double as a sweet, fruity breakfast. Delicious and packed with lemon zest, they are coated in a lemon-sugar topping for a burst of lemon in every bite.
To make this recipe, start with 2 cups of flour in a mixing bowl. Add sugar, baking powder and salt then whisk everything together.
Then add buttermilk, eggs, melted butter, lemon juice, vanilla extract and lemon zest to the dry ingredients. Stir until all ingredients are combined to form dough.
Use a piping bag or cut a corner off a re-sealable storage bag then pipe the dough into a donut pan and bake at 350 F for 9 minutes.
While the donuts are in the oven, add some lemon zest to a half cup of sugar and mix.
When they are perfectly baked, dip the tops of each one into some melted butter then into a lemon-sugar mixture.
The end result is fluffy little donuts that are filled with light and scrumptious lemon flavor and covered with lemon sugar for a hard-to-resist lemony treat.
Late night or early morning, these donuts can leave you – as well as anyone you choose to share them with – craving "just one more."
Find more unique recipes at Culinary.net.
Watch video to see how to make this recipe!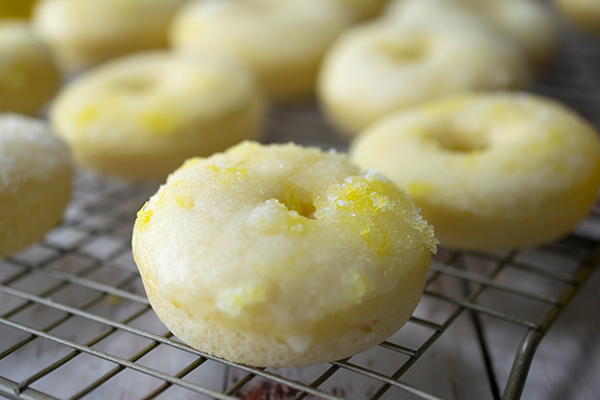 Baked Lemon Donuts
Serves: 12
2 cups flour
3/4 cup sugar
2 teaspoons baking powder
1 teaspoon salt
3/4 cup buttermilk
2 eggs
2 tablespoons butter, melted
2 teaspoons lemon juice
1/2 teaspoon vanilla extract
1 teaspoon lemon zest
Lemon Sugar Topping:
1/2 cup sugar
1 teaspoon lemon zest
1/2 cup butter, melted
Heat oven to 350 F.
In large bowl, whisk flour, sugar, baking powder and salt.
Add buttermilk, eggs, butter, lemon juice, vanilla extract and lemon zest. Stir until combined.
Pipe batter into donut pan.
Bake 9 minutes. Cool on wire rack.
To make topping: In bowl, combine sugar with lemon zest. In separate bowl, place melted butter.
Place donut face down in melted butter then face down in lemon sugar topping. Repeat with all donuts.
(Family Features) While everyone knows that breakfast is the most important meal, eating the same dishes over and over again can turn the meal that fuels the rest of your day into a lackluster one at best. From pancakes and waffles to eggs on toast, even these tried-and-true classics can wear out their welcome on your kitchen table.
Mixing up your meals – and adding in breakfast favorites such as bacon – is the perfect way to make any dish better, no matter what time of day you choose to put breakfast on the table.
Full of flavor, Farmland Hickory Smoked Bacon is hand-trimmed, slow smoked and available in several varieties, so any meal from brunch to dinner can delight your taste buds.
Switch things up with a quick and easy breakfast pizza, or put a new twist on a traditional breakfast sandwich by replacing the standard biscuit or muffin that holds it all together with a doughnut – both recipes are sure to be a hit for breakfast, lunch, brunch or dinner.
For more ideas to put breakfast-inspired meals on the table all day long, bacon lovers can visit farmlandbaconclub.com to find original videos, contests, giveaways and extreme bacon recipes.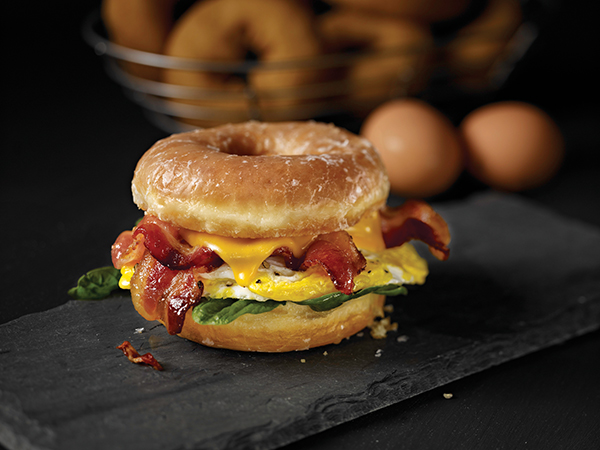 Bacon Doughnut Breakfast Sandwich
4 sandwiches
4 slices Farmland Hickory Smoked Thick Cut Bacon
1 teaspoon olive oil
4 cups baby spinach (optional)
1 tablespoon butter
4 eggs
4 glazed doughnuts
4 slices real cheddar cheese
Fry bacon for 10 minutes, until outside is crispy and brown.
In large, deep skillet over medium-high heat, heat olive oil and saute spinach until wilted. Set aside.
In another large skillet, melt butter over medium-high heat until melted. Carefully crack eggs into skillet and fry until yolk is done.
Assemble sandwiches as follows: doughnut bottom, spinach, egg, slice of cheese, bacon, doughnut top.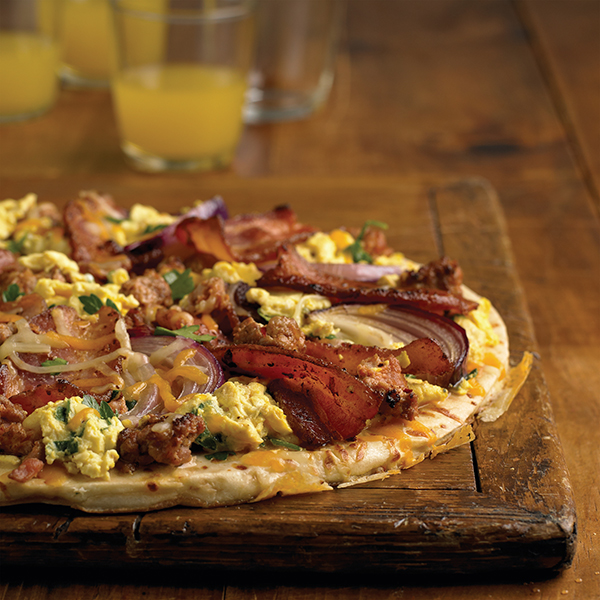 Bacon and Egg Breakfast Pizza
Makes 1 pizza
1 package (16 ounces) Farmland Hickory Smoked Bacon
1 can (10 ounces) refrigerated pizza crust dough
2 cups frozen hash brown potatoes with onions and peppers, partially thawed
1/4 cup chopped green bell pepper
4 eggs
1/4 cup milk
1/2 teaspoon salt
1/2 teaspoon pepper
1 cup (4 ounces) shredded cheddar cheese
Heat oven to 425° F.
Cook bacon according to package directions; drain.
Press crust into lightly greased 14-inch pizza pan, forming 1/2-inch rim. Bake 5 minutes.
Arrange potatoes, bacon and green pepper over crust. Whisk together eggs, milk, salt and pepper; pour over pizza.
Sprinkle with cheese. Bake for 11-13 minutes or until golden brown and eggs are set.
Source: Farmland Foods