(Family Features) Moms and kids can make Father's Day exciting this year by making Dad some great tasting treats from the heart.
Not only will it keep spending in check, the results will taste delicious and kids will have fun being part of the action.
Start by serving Dad breakfast in bed. Try a Kiwifruit Potassium Power Smoothie, an all-natural smoothie that is a meal in itself. Kids can personalize the breakfast by peeling and cutting kiwifruit into stars, hearts and other fun shapes to add to the smoothie. (Kiwifruit shapes can also top pancakes or cereal.)
Later in the day, older kids can be Dad's helper at the grill. Try sweet and juicy fruit skewers along with Curried Turkey Sliders With Chutney - the tropical flavor of the kebabs and the tangy curry of the sliders make the perfect taste combination that will make Dad feel really special.
Fresh fruit also perks up cocktails and mocktails. A Green Kiwifruit Vesper cocktail or mocktail is just the thing to finish off an unforgettable Father's Day.
Quick tips on cooking with kiwifruit
Green kiwifruit is a natural meat tenderizer. Simply peel and mash a kiwifruit and spread it on a cut of meat. Let stand for 10 to 15 minutes and then lightly scrape off the kiwifruit before cooking.
Look for plump and smooth-skinned kiwifruit with no wrinkles, bruises or punctures. Ripe green and gold kiwifruit will keep at room temperature for a few days. Keep them in a plastic bag in the refrigerator to store longer.
To speed up the ripening process, put kiwifruit in a brown bag with an apple or banana and leave on your kitchen counter.
More recipes and nutritional information are available at www.zesprikiwi.com.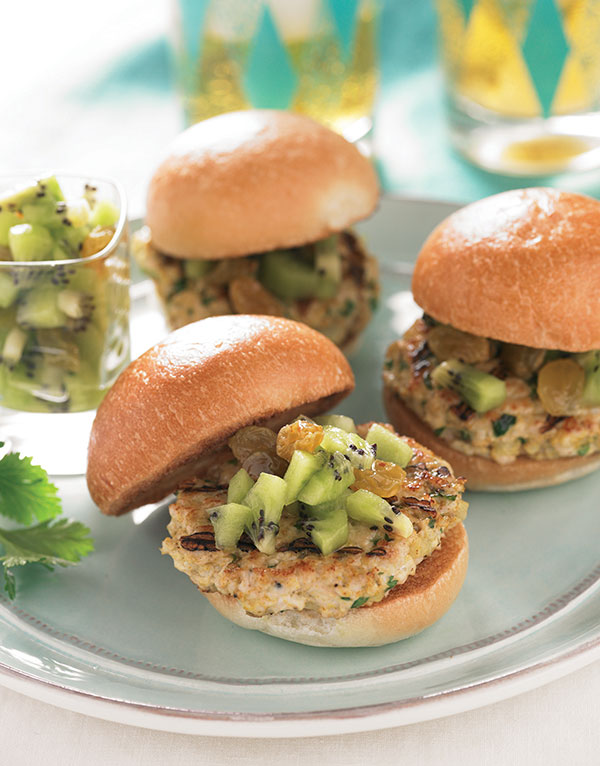 Curried Turkey Sliders With Kiwifruit Chutney
Prep time: 15 minutes
Cook time: 6 minutes
6 servings
Chutney
2 Zespri green kiwifruit, peeled, finely diced
1 tablespoon golden raisins
2 teaspoons sugar
1/8 teaspoon salt
Combine kiwifruit, raisins, sugar and salt in small bowl and mix. Make chutney just prior to serving.
Curried Turkey Sliders
1 pound lean ground turkey
1/4 cup finely diced onion
2 tablespoons chopped cilantro
1 1/2 teaspoons curry powder
1/2 teaspoon salt
1/4 teaspoon ground black pepper
12 mini burger or small dinner rolls, split and toasted
Preheat grill to medium. Combine turkey, onions, cilantro, curry powder, salt and pepper in medium bowl. Shape into 12 2-inch mini burger patties. Grill patties for 2 to 3 minutes on each side, turning once, until cooked through. Place on buns; top with chutney.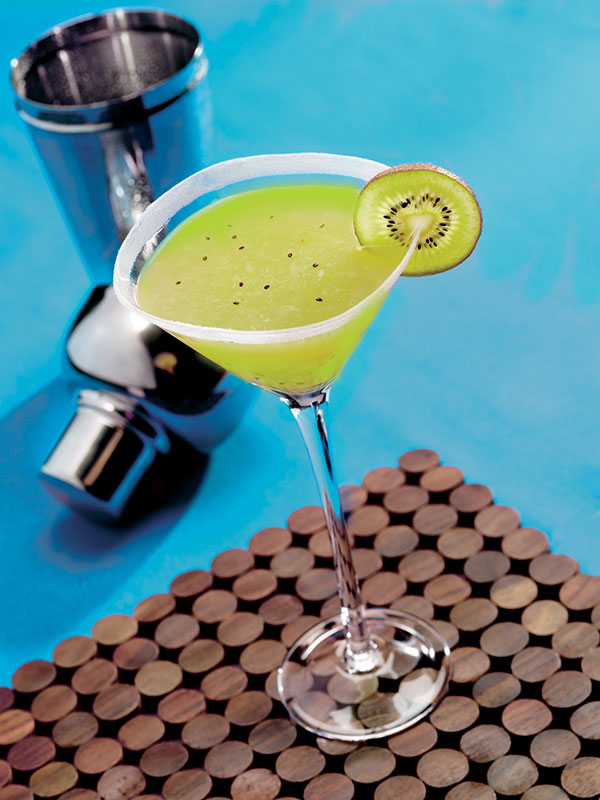 Green Kiwifruit Vesper
Prep time: 3 minutes
2 cocktails
2 Zespri green kiwifruit, peeled, chopped
2 ounces vodka
2 ounces gin
2 ounces Lillet Blanc
1 cup ice
Muddle kiwifruit, vodka, gin, Lillet Blanc and ice in cocktail shaker. Shake all ingredients and strain into two sugar-rimmed martini glasses. Garnish with unpeeled kiwifruit slice.
For a mocktail, substitute 6 ounces white grape juice and a dash of bitters for alcohol.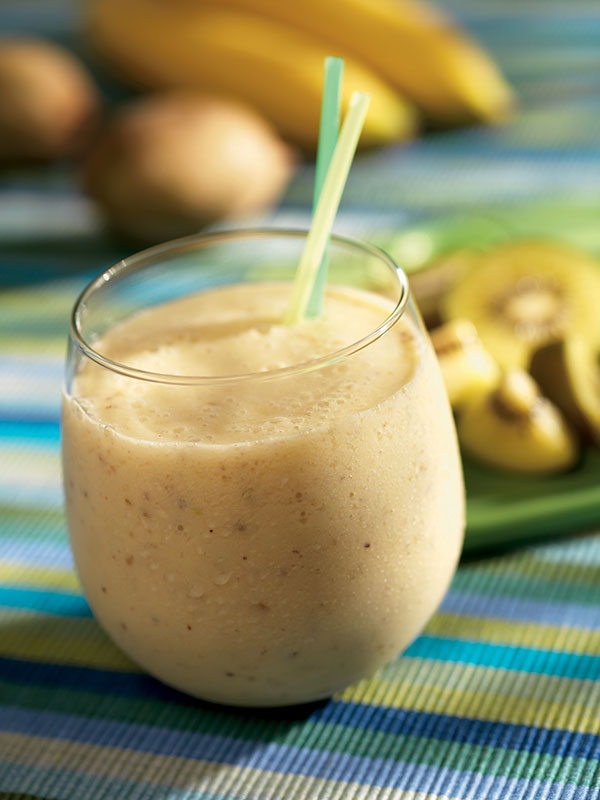 Kiwifruit Potassium Power Smoothie
Prep time: 5 minutes
2 servings
1 cup vanilla soymilk, fortified (or regular milk)
1 cup orange juice, calcium fortified
2 Zespri gold or green kiwifruit, washed, unpeeled, chopped
1 banana, sliced
1/2 cup ice cubes
2 tablespoons soy protein powder
1 teaspoon honey
Blend all ingredients in blender on high for 20 to 30 seconds or until smooth. Serve immediately.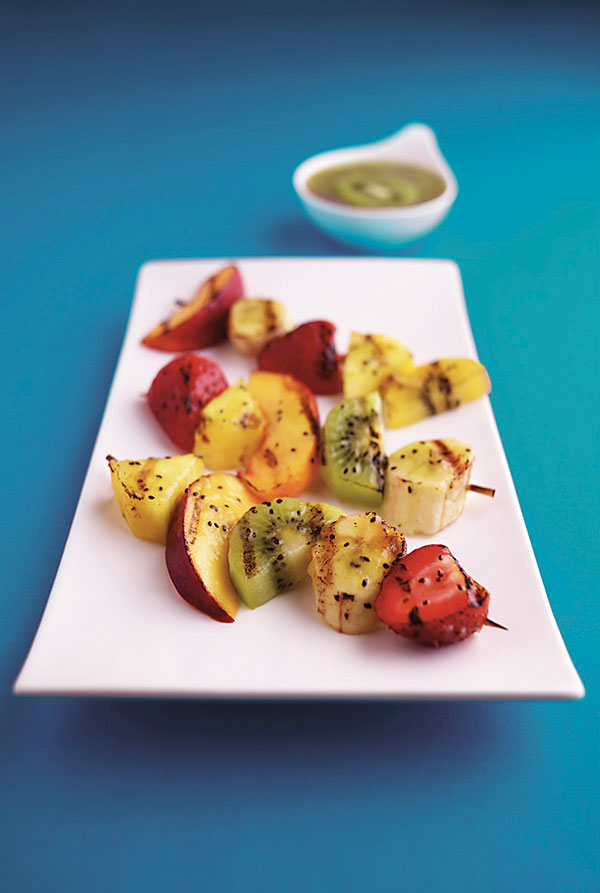 Summer Kebabs
Prep time: 15 minutes
Marinating time: 30 minutes
Cook time: 10 minutes
8 servings
2 Zespri green kiwifruit, peeled and cut into halves
2 tablespoons lemon juice
1/2 cup honey
1 teaspoon ginger, fresh, grated
1/2 teaspoon cinnamon, ground
8 Zespri green kiwifruit, peeled and cut in half widthwise
2 peaches, peeled, pitted and cut into 1-inch pieces
1/2 pineapple, peeled, cored and cut into 1-inch pieces
8 strawberries, hulled
2 bananas, peeled and cut into 1-inch pieces
8 wooden skewers
Purée lemon juice, honey, ginger, cinnamon and 2 kiwifruit, in food processor until smooth to make kiwifruit glaze. Do not crush kiwifruit seeds; set aside.
Place prepared fruit in large bowl. Pour puréed kiwifruit glaze over fruit and gently toss to coat. Marinate for 30 minutes. Arrange mixed fruits on skewers. Brush grill with oil. Preheat grill.
Grill fruit over medium heat for 5 minutes on each side, brushing with kiwifruit glaze until light brown. Serve immediately.
Source: Zespri Kiwifruit