(Family Features) The focus for home chefs hosting during the holidays is often centered around the big feast, but if you're welcoming guests for an extended period or just looking to fuel your immediate family for the festivities, eggs are the perfect partner for cracking holiday cooking and entertaining.
Breakfasts, brunches, lunches, snacks, desserts and more offer delicious opportunities to enjoy flavorful foods with those you love. While preparing a variety of meals may feel overwhelming, you can simplify the season by leaning on eggs to elevate all types of recipes.
This holiday season, home cooks seeking hacks to crack the code of creating memorable, enjoyable, affordable holiday recipes can turn to a versatile ingredient like eggs. An important ingredient of globally influenced dishes honoring different cultures and religions around the globe, eggs can help you tap into celebrations regardless of your own traditions. Plus, eggs make entertaining easy and cost-effective in favorite dishes prepared year after year or when getting creative in the kitchen with something new.
Whether you're cooking for a crowd or simply spending precious moments with your nearest and dearest, there's no need to compromise easy, affordable indulgence. Add a touch of delicious decadence to brunch with this Sunchokes and Potato Quiche by New York Times best-selling cookbook author and founder of @PreppyKitchen, John Kanell, a flavor-forward way to bring everyone together and make entertaining eggstra special. You can have it all with a homemade crust and veggie-loaded filling by starting with the simple crack of an egg.
Transform your holiday celebrations and make this year one to remember by sharing your creations using #CracktheHolidayswithEggs, and find more recipe inspiration at IncredibleEgg.org.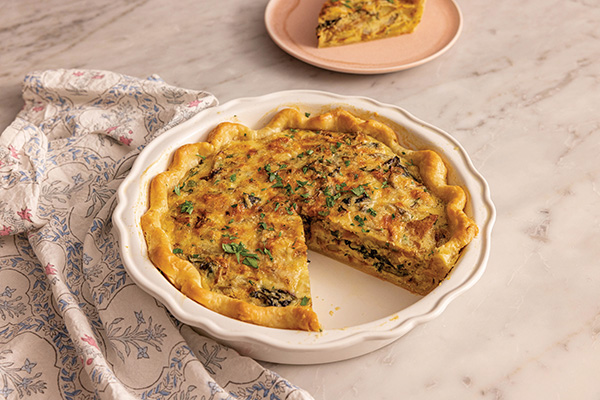 Sunchokes and Potato Quiche
Recipe courtesy of John Kanell (@PreppyKitchen) on behalf of the American Egg Board
Prep time: 20 minutes
Cook time: 55 minutes
Servings: 10
Crust:
1 lemon, zest and juice only
1 egg
1 1/3 cups flour
9 tablespoons butter
1/4 teaspoon salt
Quiche:
1/3 cup Yukon gold potatoes, cut into1/2-inch cubes
3/4 cup sunchokes, sliced 1/2-inch thick
2 tablespoons olive oil
1/2 teaspoon salt
1/2 teaspoon pepper
1 onion, chopped
2 tablespoons butter
2 cups Swiss chard, chopped with stock removed
Custard:
6 eggs
1/3 cup grated Parmesan
1/2 cup grated gouda
1/2 cup heavy cream
2 tablespoons parsley, chopped
2 tablespoons fresh thyme, chopped
To make crust: In small bowl, whisk lemon juice with egg.
In large bowl, mix flour, butter and salt. Mix using hands. Drizzle in lemon mixture. Add lemon zest.
Using fingers, knead dough to break down butter. Cover dough with plastic wrap and roll into disc while at room temperature then refrigerate until firm.
To make quiche filling: Preheat oven to 425 F.
Toss potatoes and sunchokes with olive oil, salt and pepper then spread out on baking sheet.
Bake 15-20 minutes, or until fork tender, tossing pieces halfway through.
Add onion to well-buttered pan and cook over medium heat about 15 minutes, stirring frequently, until caramel colored. Add Swiss chard and continue cooking until wilted, stirring occasionally. Set aside to cool.
Roll out dough on pastry mat or well-floured surface. Prick with fork. Carefully transfer dough to quiche pan, fold edges under and crimp then transfer to freezer.
To make custard: Reduce oven temperature to 375 F.
In large bowl, whisk eggs, cheeses, heavy cream, parsley and thyme.
Add caramelized onions and vegetables then mix. Add mixture to crust.
Tent with foil and bake about 20 minutes.
Reduce oven temperature to 350 F and bake about 40 minutes.
For food safety, casseroles containing eggs should always be cooked at a minimum of 160 F.
Notes: Bake times depend on size of quiche. Deeper quiches may require additional bake time. As quiche cools, filling continues to set; it may wobble when removed from oven.
Photo courtesy of Getty Images (mother and daughter baking)
Source: American Egg Board
(Family Features) The holiday season is meant for spending quality time with friends and family, not stressing out over hosting. With some simple tips, you can cut down on hectic preparations while creating a memorable holiday full of food and fun guests can savor.
Consider these suggestions from the entertaining experts at Real California Milk:
Plan Ahead
Heading into your seasonal soiree with a plan in place can help avoid snafus. Make a shopping list of ingredients and decorations. Then put together a schedule a few days prior to the event to cover last-minute preparations.
Elevate Holiday Classics
Elevating classic appetizers is a simple way to savor the season. A trend on the rise, the Grazing Table starts with the table as the canvas, adds elements of the traditional cheese board then takes it to the next level with an arrangement of appetizers or brunch dishes and seasonal decor. Another way to lift your holiday spread is using high-quality, authentic ingredients like Real California Milk cheeses, made with milk from California dairy farm families, which are key ingredients in this Sweet Citrus and Spice Cheese Board.
Prepare Dishes and Decorations in Advance
Preparing for guests can be one of the most time-consuming aspects of hosting. Decorating at least a day ahead and setting the table the night before, for example, can help minimize stress. Welcome guests with holiday cheer and trendy decor like a virtual yule log made of melting cheese, complete with holiday music.
For more holiday inspiration and recipes like antipasto skewers and yogurt-pesto dip, queso fundido and cheese logs and bundts, visit realcaliforniamilk.com/recipes.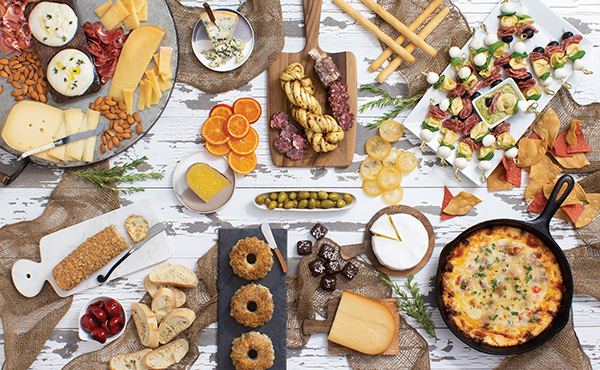 Grazing Table
Toma cheese, sliced
natural almonds
prosciutto
salami
Real California aged cheddar, sliced
Real California burrata cheese
olive oil
herbs
blue cheese
Real California braided marinated string cheese
dry salami, sliced
premade antipasto skewers
yogurt pesto dipping sauce
Real California aged Gouda
brie cheese
Real California cheese log
Real California cheese bundts
dry jack cheese
sweet red piquante peppers
green California olives
premade Real California queso fundido
breadsticks
tortilla chips
dark chocolate sea salt caramels
dried citrus, such as oranges and lemons
artisan bread, sliced
On large board, plate or tray, arrange sliced toma cheese, almonds, prosciutto, salami and aged cheddar. In center, place burrata cheese and top with olive oil and herbs.
On separate small plate, place blue cheese; crumble.
On medium board, arrange braided string cheese and dry salami slices.
On serving platter, arrange antipasto skewers around bowl of yogurt pesto dipping sauce.
On separate small cheese board, place Gouda, brie cheese and cheese log.
On slate, arrange cheese bundts. On separate plate, place dry jack cheese.
In separate bowls, place piquante peppers and green olives.
Arrange boards, plates, bowls and skillet of queso fundido on table, as desired.
Fill blank spaces on table with breadsticks, tortilla chips, dark chocolate sea salt caramels, dried oranges, dried lemons and bread slices. Add floral arrangements and holiday decor for finishing touches. Complete table with cheese knives and spreaders.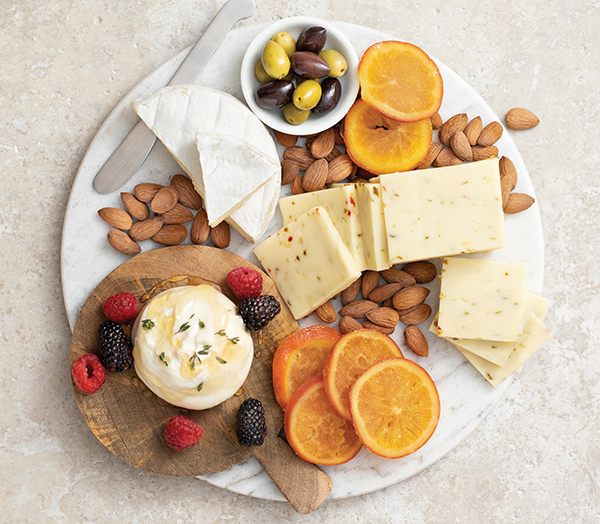 Sweet Citrus and Spice Cheese Board
Real California brie cheese
black olives
green olives
dried oranges, sliced
Real California pepper jack cheese sliced
almonds
raspberries
blackberries
Real California burrata cheese
honey, for garnish
fresh herbs, for garnish
To assemble cheese board: On large board, plate or tray, arrange brie cheese, olives, dried orange slices, sliced pepper jack cheese and almonds.
On smaller board, arrange raspberries and blackberries around burrata cheese placed in center of board. Garnish cheese with honey and fresh herbs. Place smaller board into empty space on larger board.
Source: