(Family Features) The traditions of the holidays often include family-favorite meals and seasonal sweets, but enjoying those beloved treats doesn't always mean giving up health-conscious eating.
This year, before you decide what to prepare for holiday get-togethers, consider the benefits of recipes like this Apple Coffee Cake that follow heart-healthy eating plans. One such plan, the Dietary Approaches to Stop Hypertension (DASH) plan, offers benefits for the heart and helps prevent and treat high blood pressure, too.
Developed by the National Heart, Lung, and Blood Institute (NHLBI), DASH takes a flexible, balanced approach to eating that can help boost your health for the long haul.
It requires no special foods and instead provides daily and weekly nutritional goals.
It can lower two major risk factors for heart disease – high blood pressure and high LDL (bad) cholesterol levels, according to NHLBI-funded research.
It can help you lose weight if you follow the plan and increase your physical activity, research shows.
If combined with reductions in salt and sodium, it often provides greater health benefits than the eating plan does alone.
To learn more and find DASH-friendly recipes, visit nhlbi.nih.gov/DASH.
Watch video to see how to make this recipe!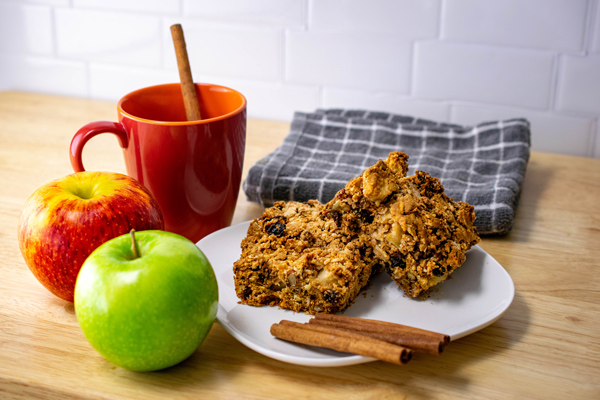 Apple Coffee Cake
Recipe courtesy of The Heart Truth program, part of the National Heart, Lung, and Blood Institute
Prep time: 10 minutes
Cook time: 40 minutes
Servings: 20
5 cups tart apples, cored, peeled and chopped
1 cup sugar
1 cup dark raisins
1/2 cup pecans, chopped
1/4 cup vegetable oil
2 teaspoons vanilla
1 egg, beaten
2 1/2 cups sifted all-purpose flour
1 1/2 teaspoons baking soda
2 teaspoons ground cinnamon
Preheat oven to 350 F. Lightly oil 13-by-9-by-2-inch pan.
In large mixing bowl, combine apples with sugar, raisins and pecans; mix well. Let stand 30 minutes.
Stir in oil, vanilla and egg.
Sift together flour, baking soda and cinnamon. Using about 1/3 of mix at a time, add to apple mixture, stirring just enough to moisten dry ingredients.
Turn batter into pan. Bake 35-40 minutes until toothpick inserted in center of cake comes out clean.
Cool cake slightly before serving.
Source: National Heart, Lung, and Blood Institute
(Family Features) Eating with heart health on your mind has never tasted so good. While many aspects of life can impact heart health, opting for nutritious foods plays an especially important role.
"Heart-healthy eating can be delicious and on-trend with vibrant colors and sweet-tart flavors. There are simple ways to add nutrient-rich ingredients to your favorite recipes that add depth of flavor and texture, too," said Michelle Dudash, registered dietitian. "Packed with beneficial phytonutrients, including anthocyanins, research shows Montmorency tart cherries may help lower levels of cholesterol and triglycerides, reduce blood pressure, reduce inflammation and reduce belly fat – all factors linked to heart disease risk."
Start the day off by blending frozen tart cherries into a Tart Cherry Granola Smoothie Bowl or incorporating dried tart cherries into your favorite trail mix when it's time for a snack. This heart-healthy, ruby-red fruit has a distinct sweet-tart taste that makes an easy addition to a variety of dishes and is available year-round in dried, frozen, juice and concentrate forms.
To learn more about the health benefits of Montmorency tart cherries and find more delicious recipes, visit ChooseCherries.com.
Recipe courtesy of Sonja Overhiser of A Couple Cooks on behalf of the Cherry Marketing Institute
Prep time: 10 minutes
Cook time: 45 minutes
Servings: 2
Granola:
1/4 cup olive oil
1/2 cup maple syrup
1 teaspoon vanilla extract
3 cups old-fashioned rolled oats
3/4 teaspoon kosher salt
1/2 teaspoon cinnamon
1 cup sliced almonds
1 cup dried Montmorency tart cherries
1/2 cup pepitas
Smoothie Bowl:
2 1/2 cups frozen Montmorency tart cherries
2 tablespoons fresh lemon juice (1 lemon)
1 1/2 tablespoons maple syrup
1 ripe banana
1 cup almond milk, plus additional (optional)
Heat oven to 325° F.
In small bowl, whisk together olive oil, maple syrup and vanilla.
In separate bowl, stir together oats, salt, cinnamon and almonds. Pour in mixture. Bake about 45 minutes until golden brown, stirring every 15 minutes and watching carefully near end of baking, stirring more, if necessary.
Roughly chop dried cherries.
When granola is baked, cool slightly then stir in cherries and pepitas.
Note: Granola can be stored in air-tight container up to 1 month.
To make smoothie bowl: Blend together tart cherries, lemon juice, maple syrup, banana and almond milk. If necessary, add additional milk for a smoother consistency.
Serve smoothie in bowl with 1/4 cup tart cherry granola.
Source: Cherry Marketing Institute
Save
Save
Save