Easy ways to grill up something surprisingly good
(Family Features) Bananas aren't just for breakfast or lunch anymore. By grilling this popular fruit, you can add a whole new flavor dimension to a dinnertime recipe and turn a basic dessert into something wow.
Adding bananas to your summer grilling routine is a fun way to eat fruit. You can grill them in their peels while the BBQ coals are still hot or add peeled slices to a tasty kabob - it's that simple. From kid-friendly desserts to grown-up dishes with a tropical twist, make it easy on yourself and go bananas on the grill.
For more Dole Banana recipes and serving suggestions, go to www.dole.com/en/products/bananas. To share banana recipes anytime, go to www.facebook.com/DOLEbananas.
Did You Know?
With no fat, cholesterol or sodium, vitamin-packed bananas are a guilt-free summertime treat.
Banana peels are great for polishing shoes. Use (the inside of) an empty peel on your leather shoes as you would shoe polish and then buff off with a soft cloth. The banana's oils soak into the leather and, like most commercial shoe polishes, contains potassium.
As bananas ripen, the starch in the fruit turns to sugar. Therefore, the riper the banana, the sweeter it will taste.
Ten or more bananas growing together are called "hands" and a single banana is called a "finger." Four to six bananas sold in the store are called a "cluster."
How to Store Bananas
Remove bananas from plastic produce bag and store at room temperature. The warmer it is, the faster the bananas will ripen.
To slow ripening, refrigerate (peel will turn black but the fruit inside will be fresh and ripe). Bananas can be frozen once the banana is peeled and stored in a freezer bag until ready to use (use a bit of fresh lemon juice to reduce browning).
If bananas are too green, place them in a brown paper bag, in a warm dry area (but not in direct sunlight) for a day or two to encourage ripening. If there is still not enough yellow appearing on the peel, place a ripe apple in the bag with the bananas.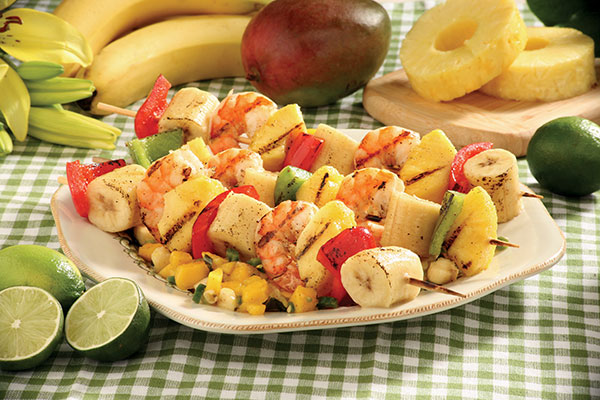 Island Kabobs with Tropical Fruit Salsa
Preparation : 10 minutes
Grill Time: 10 minutes
Makes: 4 servings
2 ripe, firm Dole® Bananas, peeled, each cut into 6 pieces, plus 1 ripe Dole Banana, peeled and diced
12 chunks Dole Tropical Gold Pineapple
16 extra large or jumbo shrimp, shelled and deveined
1 green or red bell pepper, cut into 8 pieces
2 tablespoons lime juice
2 tablespoons olive oil
1/2 teaspoon ground allspice
1 mango, peeled and diced
1 tablespoon chopped mint
1 Dole Green Onion, minced
2 to 3 teaspoons minced jalapeño pepper
Thread banana pieces, pineapple, shrimp and bell pepper pieces equally onto skewers.
Whisk together lime juice, oil and allspice in small bowl. Brush 2 tablespoons over kabobs.
Combine remaining marinade with diced banana, mango, mint, green onion and jalapeño pepper; place in a serving dish.
Grill kabobs over medium high heat 8 to 10 minutes, turning once or until the shrimp are opaque. Arrange the kabobs on top of the salsa.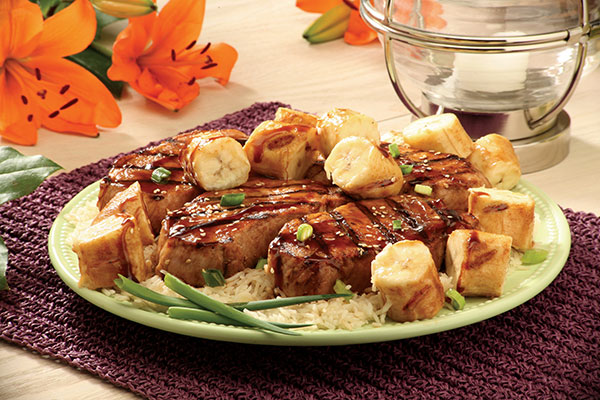 Teriyaki Pork Chops with Grilled Bananas
Preparation : 20 minutes
Grill Time: 20 minutes
Makes: 3 to 4 servings
1/4 cup dry sherry
2 tablespoons soy sauce
1 tablespoon packed brown sugar
1 tablespoon vegetable oil
1 pound boneless pork chops (3 to 4)
2 large firm Dole Bananas, peeled
1/2 teaspoon cornstarch
2 cups hot cooked rice
2 tablespoons sliced Dole Green Onion
1 tablespoon toasted sesame seed
Combine sherry, soy sauce, brown sugar and oil in small bowl. Remove 2 tablespoons sherry mixture and brush on pork chops and bananas.
Grill pork 8 to 10 minutes on each side until cooked through. Grill bananas 2 to 3 minutes on each side until heated through. Cut each into 1-inch pieces.
Combine remaining sherry mixture and cornstarch in small saucepan; cook, stirring until thickened.
Arrange pork and bananas over rice on serving plate; drizzle with sauce. Sprinkle with green onion and sesame seed.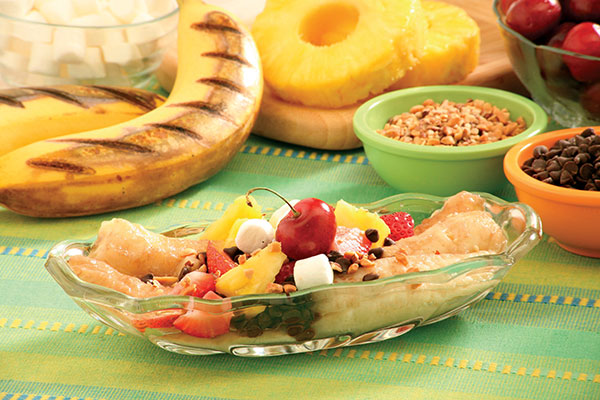 Grilled Bananas
No prep needed.
Grill Time: 10 minutes
Makes: 4 servings
4 Dole Bananas, unpeeled
Assorted favorite dessert toppings
Place unpeeled bananas on grill over medium high heat.
Grill 4 to 5 minutes on each side until peels blacken and soften. Insides will be custard-like.
Serve warm or chilled with your favorite toppings such as fresh fruit, chopped nuts, miniature marshmallows, chocolate bits, caramel or frozen yogurt.
Grilled Caribbean Fruit Salsa
Preparation: 10 minutes
Grill Time: 8 minutes
Makes: 4 servings
1/2 fresh Dole Tropical Gold Pineapple, peeled and sliced vertically
1 large, ripe firm Dole Banana, slice in half vertically
1 mango, skinned, peeled and sliced in half vertically
1/4 cup olive oil
1 tablespoon fresh lime juice
1/4 cup red onion, minced
1/4 to 1/2 teaspoon crushed red pepper flakes
2 kiwi, diced
Combine pineapple, banana and mango slices with the olive oil and lime juice.
Brush to coat the fruit. Place fruit on grill.
Grill fruit 4 to 5 minutes each side, remove and cool slightly.
Roughly chop the grilled fruit, reserving juices.
Combine fruit and reserved juices with the red onion, red pepper flakes and kiwi.
Serve warm or room temperature. Great with grilled chicken or fish.
Source: Dole
(Family Features) Barbecue, grilling, cookout – no matter what you call it, cooking food over an open flame is practically an American pastime. Few other cuisines have such distinctive regional twists and terminology as this fiery favorite. Memphis loves its ribs, North Carolinians their pulled meats and Texas, Alabama and St. Louis, to name a few, have their own riffs on American favorites.
While each regional barbecue favorite is traditionally prepared with beef or pork, more adventurous eaters can adopt the same cooking and flavor techniques but use lamb instead. Swapping proteins doesn't need to be difficult. For example, Californians who like tri-tip can recreate that Santa Maria-style flavor by mixing together salt, pepper, garlic and dried herbs to dry brine a boneless leg of lamb for 24 hours then grill it to their preferred doneness.
Before it makes it to your table, American lamb is raised by dedicated farmers and ranchers with a shared connection to the land, the animals and the local communities they serve. There are more than 80,000 family farmers and ranchers caring for more than 6 million sheep in both small flocks and large operations throughout the United States. American lamb is available year-round and cuts range from loins and shanks to chops and roasts.
If you're feeling adventurous, try these riffs on classic barbecue dishes featuring American lamb. For more tantalizing recipes, visit AmericanLamb.com.

Tender lamb riblets (also known as spare ribs) are sweet and tender when slow-cooked on the grill. These Memphis-style ribs are suffused with a spicy-sweet dry rub, smoked to perfection and brushed with a tangy yet spicy Memphis-style barbecue sauce.

This tender pulled smoked lamb shoulder is rubbed with fragrant citrus, aromatics and spices then smoked until falling off the bone. It's served with a spicy citrus and vinegar sauce, a crunchy, creamy fennel and herb slaw, and grilled flatbreads.

Lamb kabobs are a straightforward, flavorful dish perfect for a relaxed cookout. Bite-sized pieces of boneless leg of lamb are marinated in a yogurt-garlic mix and grilled with red onions until smoky and tender. Serve kabobs with a classic tzatziki and grilled flatbreads.

Lamb's unique flavor does wonderfully with just a little char from the grill, making it an excellent choice for burgers. A hint of red onion, garlic powder and sea salt play up hearty taste, while a simple roasted garlic and rosemary spread lends a creamy, herbaceous counterpoint.

Grilling a whole leg of lamb is a celebratory act and is the perfect centerpiece for an evening spent outdoors. Inspired by Texas-style barbecue, this recipe features a dry rub with toasted spices, vibrant paprika and plenty of kick. This dish is best accompanied by thick-cut toast and your favorite sides.

Few cuts of meat are as satisfying as perfectly grilled lamb loin chops with a crispy exterior that gives way to meltingly tender meat. The distinctive flavor of lamb chops – rich with an edge of earthiness – is highlighted beautifully by a refreshing Italian-style salsa verde and grilled lemon halves. Grilled vegetables, dressed simply with olive oil, sea salt and a squeeze of lemon, are an ideal side.
Source: American Lamb Board